First Thing Today Audio | September 14, 2021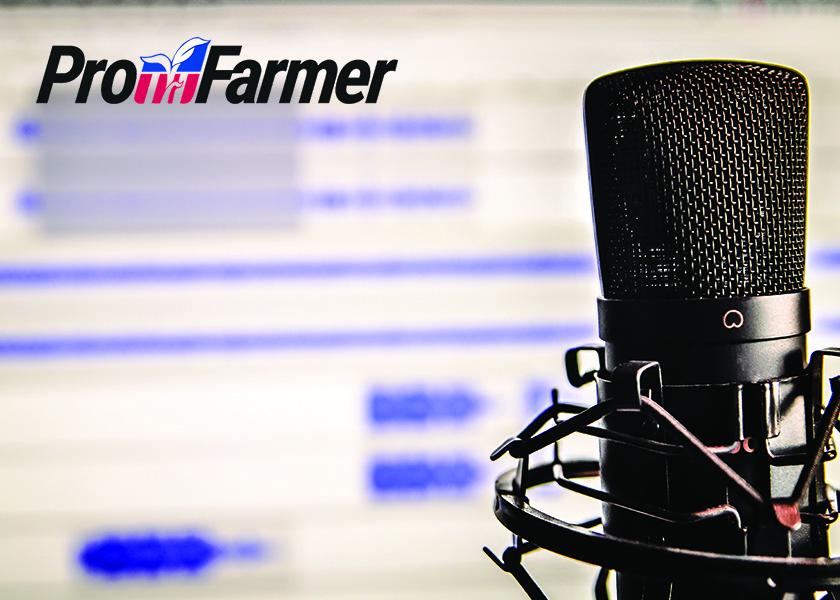 Corn futures are 3 cents higher in most contracts, while soybeans are up 4 to 6 cents. Nearby winter and spring wheat futures are up 8 to 9 cents. The greenback is marginally lower and crude oil futures are slightly higher. Tropical Storm Nicholas is expected to produce torrential rainfall, strong winds, and high surf from the Upper Texas coast to southern Louisiana today.
Following are highlights from USDA's crop progress and condition update for the week ended Sept. 12.
Corn: 87% dented, 37% mature, 4% harvested, 58% "good" to "excellent" (G/E)

Soybeans: 38% dropping leaves, 57% G/E

Cotton: 96% setting bolls, 36% bolls open, 5% harvested, 64% G/E

Winter wheat: 12% planted
Crop Consultant Dr. Michael Cordonnier edged his corn harvested acreage estimate slightly higher to 85.0 million acres in a nod to USDA's higher harvested acreage estimate. He also raised his corn yield projection 0.5-bu. higher to 176 bu. per acre. Cordonnier estimates the U.S. soybean yield at 50.3 bushels per acre with harvested acreage at 86.43 million acres.
House Democrats have detailed their proposed tax increases. They are pushing higher rates on corporations, investors and high-income business owners as they try to piece together enough votes for legislation to expand the social safety net and combat climate change.
Nearly 50% of U.S. offshore oil production remains out of service two weeks after Ida. That makes Hurricane Ida the most damaging storm for the region's output in more than 15 years.
The pipeline operator Kinder Morgan Inc. announced plans to convert some Louisiana tank and piping infrastructure to hold used cooking oils and other feedstocks for Neste, one of the world's biggest refiners of renewable fuels.
President Biden Monday said that he was nominating Elaine Trevino to be chief agricultural negotiator at the Office of the U.S. Trade Representative (USTR). Trevino is currently president of the Almond Alliance of California.
Saudi Arabia has suspended beef imports from five unnamed meatpackers in Brazil following the detection of two atypical cases of BSE earlier this month.
Canada's cattle and swine herd are likely to contract beginning in 2022, and the 2021 drought is likely to reduce Canada's calf crop next year, says a USDA attaché in the country.
Cash cattle traded at an average price of $124.79 last week, down 82 cents from the week prior, according to USDA. That's roughly $2.50 below where October futures settled Monday.
The pork cutout and cash hog prices opened the week under pressure. The seasonal tendency is for both markets to strengthen this week. Until that occurs, futures are likely to remain under pressure.
---