First Thing Today | July 16, 2021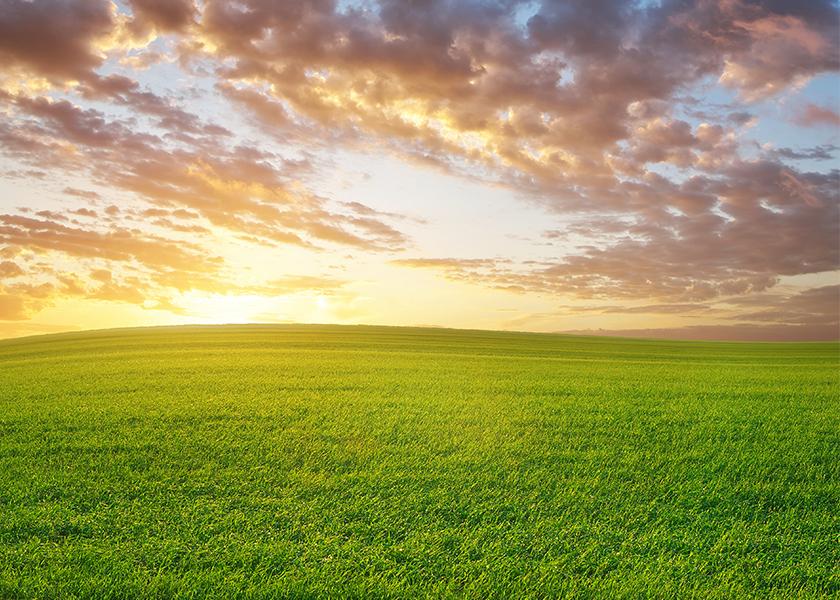 Grain and soy futures rallying leading up to the weekend… Corn futures are 3 to 4 cents higher to start the day, with soybeans up 12 to 15 cents. Spring wheat futures have shot 17 to 19 cents higher, with the September contract taking out the $9.00 mark and hitting a new contract high of $9.13. Winter wheat futures are 12 to 14 cents higher. The greenback and crude oil futures are slightly higher.
Extreme heat expected for spring wheat country… Harsh weather is likely for the Northern Plains and southern Canadian Prairies over the next 10 days to two weeks for both crops and livestock. Extreme heat is likely July 18-24 and rain is desperately needed. Rainfall over the past week for the Corn Belt will be significant, with a period of warmer, drier weather expected July 17-29 and pollination underway. "Northeastern South Dakota, eastern North Dakota, and the northern half of Minnesota missed much of the rain this week and will see little to no rain through at least the next 10 days while temperatures warm Saturday into next week," World Weather Inc. reports, saying crop stress will steadily for this region. Favorable conditions are expected outside of the northwest Corn Belt.
Brazil's corn contract washouts expected to be the highest since 2016… Drought and an untimely frost have sliced Brazil's safrinha corn crop, resulting in a number of companies exiting their contracts on washout clauses. In a washout, a party pays a settlement amount to get out of a grains contract. Some traders cited by Reuters say this could lead to the biggest wave of export cancellations for Brazil in five years. The crop shortfall has pushed domestic prices sharply higher, with a lot of corn that was earmarked for exports being directed there given attractive premiums, according to those Reuters sources. One of them said corn trades now being washed out were set between 40 reais ($7.82) and 45 reais per 60-kilogram bag of corn; domestic buyers are now willing to pay 90 to 95 reais for that grain. Meatpackers have reportedly been eager buyers of any redirected product. The unnamed broker also said Cargill and Gavilon would not export any corn via the country's Paranagua port this year.
USDA's U.S. and global forecasts have faced increased scrutiny, including from us... Lawmakers have reached out to us (and others) for our ideas on what is needed to improve NASS estimates and World Board forecasts ahead of a discussion with USDA officials. We've provided some thoughts, but we would like Member feedback. Email your ideas to editors@profarmer.com and we'll pass them along.
Argentina's wheat crop off to an encouraging start… More than 96% of Argentina's 2021-22 wheat crop has been planted, and nearly 59% of the crop is rated good to excellent, the Buenos Aires Grains Exchange said in its weekly update. But it added the next seven days offer little to no rainfall for most wheat producing areas.
France's soft wheat crop rating slides after soggy week… France's farm office lowered its good to excellent rating for the country's soft wheat crop by 3 percentage points to 76%. Eastern areas of the country have been overly wet, delaying harvest and raising some quality concerns, according to World Weather Inc. Just 4% of the crop had been cut as of July 12, a weekly advance of just three percentage points and well behind 42% harvested last year at this time.
Tepid demand at latest Chinese auction of imported corn… China's grains stockpiler Sinograin said it sold 12,441 MT of GMO corn imported from the U.S. at an auction today, representing 7% of the total offer. A separate auction of 23,488 MT of non-GMO corn imported from Ukraine resulted in no sales.
Xi Jinping raises food security to 'national security' concern… The Chinese Communist Party (CCP) Leader Xi Jinping recently emphasized the problem of food security, saying that ensuring grain security should be a "national security" concern. On July 9, Xi presided over The 20th Meeting of the Central Comprehensively Deepening Reforms Commission, admitting that it is "more urgent than ever to ensure the independence and control of seeds" and even elevating the grain security to "a strategic level of national security." Li Yanming, China issues expert and commentator in America, told The Epoch Times Chinese-language edition that the issue of food security being raised by Xi personally to a strategic level of national security is a testament to the existence of a food problem in China—whether or not the CCP acknowledges them.
Cotton AWP above 75 cents… The Adjusted World Price for cotton rose to 75.96 cents per pound, effective today, the first time above 75 cents since the week of Feb. 26 and the highest mark since it was at 79.67 the week of Aug. 10, 2018. The AWP stayed atop 70 cents for 29 straight weeks in 2018 and it has now been above that mark six straight weeks. Meanwhile, USDA announced that Special Import Quota #13 will be established July 22 for 53,310 bales of upland cotton, applying to supplies purchased not later than Oct. 19 and entered into the U.S. not later than Jan. 17.
Bank of America says the tax credit alone will add over 1% to monthly disposable income… The IRS and Treasury said it sent payments for almost 60 million children on Thursday, totaling $15 billion. The funds would supplement what some families lost after a number of states cut off topped up unemployment benefits. "[W]e expect consumer demand to continue to outpace supply, at least through the end of the year," thanks in part to the child tax credit, JPMorgan Funds' David Kelly wrote.
Yellen sees 'several more months of rapid inflation,' worries about impact on home buyers… Treasury Secretary Janet Yellen cautioned Thursday that prices could continue to rise for several more months, though she expects the recent startling inflation run to ease over time. In a CNBC interview, Yellen added that she worries about the problems inflation could pose for lower-income families looking to buy homes at a time when real estate values are surging. "We will have several more months of rapid inflation," Yellen told Sarah Eisen during a Closing Bell interview. "So, I'm not saying that this is a one-month phenomenon. But I think over the medium-term, we'll see inflation decline back toward normal levels. But, of course, we have to keep a careful eye on it." Housing prices in the nation's largest cities climbed nearly 15% in the most recent measurements from S&P CoreLogic Case-Shiller.
Schumer schedules vote to proceed on bipartisan infrastructure measure but pay-for issue flares up... Senate Majority Leader Charles Schumer (D-N.Y.) announced he will schedule a vote on Wednesday to proceed to the legislative vehicle that lawmakers hope to use to pass the bipartisan infrastructure package. But a bipartisan group of Senate negotiators is looking to replace a proposal to provide $40 billion in new funding for the Internal Revenue Service (IRS), which is projected to net $100 billion in new revenues through tougher tax enforcement because the idea is drawing heat from conservatives. Coming up with another $100 billion in revenue is a task, even for this spend-happy Congress.
Germany confirms its first cases of African swine fever (ASF) in farm pigs… The virus was confirmed in pigs on two farms in the eastern state of Brandenburg, which borders Poland where ASF is widespread. ASF has been present in Germany's wild boar population for over a year, but until now the country had been able to keep the disease out of its farm operations. The virus was found in pigs on one organic farm with 200 animals and on a smallholding with only two pigs, the Brandenburg health ministry said. All of the animals have been slaughtered. Import bans have been in place against German pork since last year, resulting in EU producers like Spain increasing shipments to Asian markets and Germany boosting sales within the EU. Germany's ag minister said German shipments of pork to other countries within the EU will continue thanks to the regionalization concept. Analysts say immediate market impact should be limited given existing bans.
Mostly steady cash trade as beef values slide… August live cattle futures are trading in line with this week's cash action that has ranged from $119 in Texas to $126 in Iowa, with the bulk of action occurring at levels steady with last week's trade. Weekly beef export sales failed to impress, and boxed beef values remain under pressure. Choice dropped $3.01 Thursday and Select dropped another $1.27. Choice has fallen more than $12 over the past week.
Cash hog bids drop… Pork production is running near its lowest levels of the year, but seasonals signal production will pick up late summer heading into fall. Through Thursday, this week's kill stands at 1.846 million head, 11,000 head under year-ago levels. Cash hog bids dropped a national average of $3.03 yesterday after solid gains the two days prior. The pork cutout value climbed 83 cents yesterday, but movement was lackluster at 301.07 loads.
Overnight demand news… Taiwan's Flour Millers' Association bought an estimated 500,000 MT of milling wheat to be sourced from the United States.
Today's reports