Lowering Estate Tax Exemption Level Will Have Impact on Ag Sector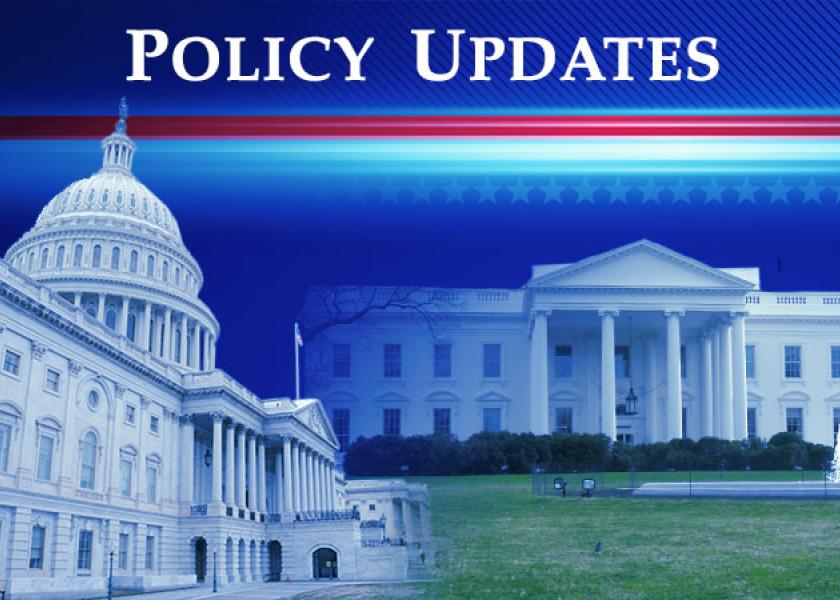 Fuel prices surge in Europe | Big sorghum acreage boost | Debt limit pressure
---
In Today's Digital Newspaper
---
Market Focus:
• More analysts predicting short-term pullback in equities, but futures signal higher open
• Oil prices continued their rise early today; Europe soars
• Investors have poured $3.4 billion into global crypto ETPs so far this year
• 70% of world's shipping capacity controlled by top six container operators
• KC Southern: Canadian Pacific Railway's recent takeover offer is superior
• Ag demand update
• Commodity price pressure to start the week
• Tropical storm headed for Texas, Typhoon to disrupt shipments out of key Chinese ports
• Short-term dredging contract for Argentina's Parana River reached
• Russian wheat export prices continue to climb
• India cuts import taxes amid soaring edible oil prices
• Beef prices still searching for a low
• Seasonals indicate cash hog and pork prices should improve soon
Policy Focus:
• Four-page doc reveals Dems' reconciliation game plan
• Five House committees will hold reconciliation markups today
• Sens. Manchin, Sanders far apart on final social infrastructure price tag
• CR on tap when House returns on Sept. 20
• Debt limit a messy Democratic leadership issue
Afghanistan:
• Afghan refugee resettlement flights into U.S. paused at request of CDC
• 300 unaccompanied minors among thousands of Afghans who fled on American flights
• Blinken testifies this afternoon before House Foreign Affairs Committee
• U.N. seeks more humanitarian aid
China Update:
• Biden administration targeting Beijing's widespread use of industrial subsidies
• Chinese fish prices soaring
• Chinese regulators continue to apply pressure on biggest tech companies
Trade Policy:
• Taiwan, U.S. to hold trade meeting on agriculture
• On Tuesday U.S. trade embargo on Cuba officially expires, but expected to be renewed
• India cuts import taxes on veg oils

Coronavirus Update:
• 63% of U.S. population have had at least one vaccine dose
• 53.7% of people in U.S. fully vaccinated
• What gives President Biden authority to mandate vaccinations?
• Plans for Covid vaccine passports in England dropped
Politics & Elections:
• Biden continues to dip in approval rating polls
• Biden reacts to slip in polls
• California voters will decide whether to oust their governor on Tuesday
• Germany's election
Congress:
• Congressional calendar

Other Items of Note:
• North Korea's latest test
---
MARKET FOCUS
---
Equities today: Global stock markets were mostly firmer in overnight trading. U.S. stock futures are up, pointing to major indexes recovering some ground following the S&P 500's longest losing streak since February.
     U.S. equities Friday: The Dow closed down 271.66 points, 0.78%, at 34,607.72. The Nasdaq fell 132.76 points, 0.87%, at 15,115,49. The S&P 500 declined 34.70 points, 0.77%, at 4,458.58.
     For the week: The S&P had its worst week since June, down 1.7%. The Dow and Nasdaq also closed negative on the week, down 2.2% and 1.6%, respectively.
     Will equity downturn continue? In a note, the Bank of America team led by Savita Subramanian, head of U.S. equity and quantitative strategy, moved its year-end price target for the S&P 500 price to 4,250 — a 4.7% reduction from the 4458.58 level at which the benchmark index closed Friday. For 2022, Bank of America set a 4,600 price target for the end of the year.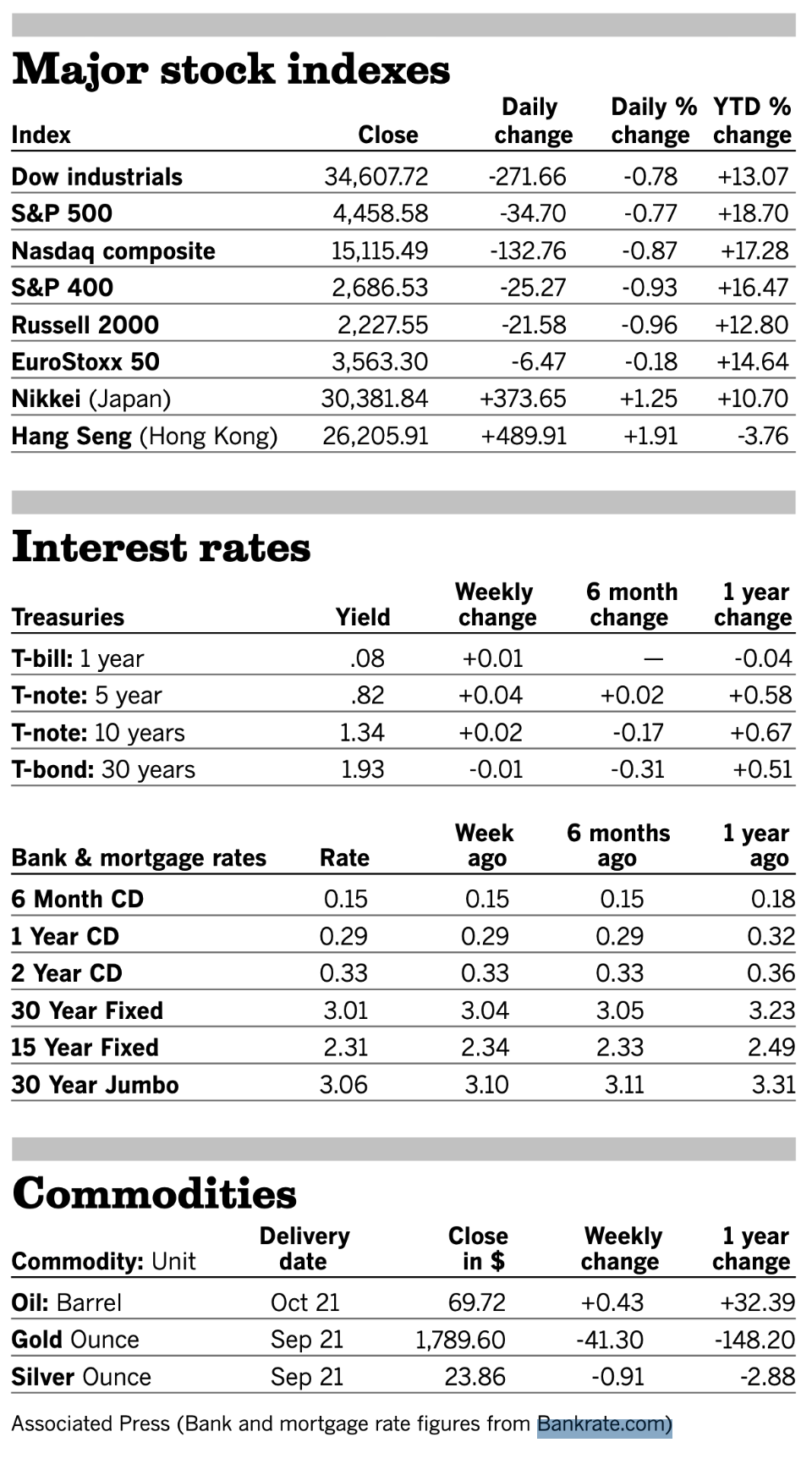 On tap today (see detailed list of events and reports below):
     • European Central Bank President Christine Lagarde speaks on the role of women in a post-Covid-19 recovery at 9:30 a.m. ET.
     • USDA Grain Export Inspections, 11 a.m. ET.
     • U.S. federal budget figures for August are out at 2 p.m. ET.
     • USDA Crop Progress report, 4 p.m. ET.
     • President Biden will depart Wilmington, Del., to make a Western swing featuring stops in Boise, Idaho, to visit the National Interagency Fire Center, and Sacramento, to survey wildfire damage from the Caldor fire and deliver an afternoon speech. Biden will also make a political appearance in Long Beach, Calif., to support the governor ahead of a Tuesday recall election.
Market perspectives:
     • Outside markets: The U.S. dollar index is firmer to open the week with weakness in the euro against the greenback. The yield on the 10-year U.S. Treasury note is lower, trading under 1.33%, with a mixed tone in global government bond yields. Gold and silver futures are showing declines ahead of US trading, with gold around $1,790 per troy ounce and silver around $23.62 per troy ounce.
     • Crude futures show additional advances ahead of U.S. trading, with U.S. crude around $70.25 per barrel and Brent around $73.40 per barrel. Crude was higher in Asian action, with U.S. crude up 39 cents at $70.11 per barrel and Brent up 37 cents at $73.29 per barrel.       

     • Oil prices continued their rise early today after notching impressive gains at the end of last week. West Texas Intermediate crude futures rose above $70 per barrel, while Brent crude futures climbed above $73.50. U.S. supply concerns are behind the move higher, with Hurricane Ida damage affecting production more than expected. Another reason: reports that Russia is struggling to meet its OPEC+ quotas. Goldman Sachs analysts are bullish. "Going into the autumn we believe oil is the market that is poised to rally significantly," they said in a note today, reiterating an $80 per barrel target for the fourth quarter with upside risks into the beginning of 2022. Bank of America analysts have a $100 target for Brent crude for the middle of 2022 but said a colder than normal winter could roll that forward by six months.
     • Energy prices in Europe hit records after wind stops blowing, the WSJ reports (link), as heavy reliance on wind power, coupled with a shortage of natural gas, has led to a spike in energy prices.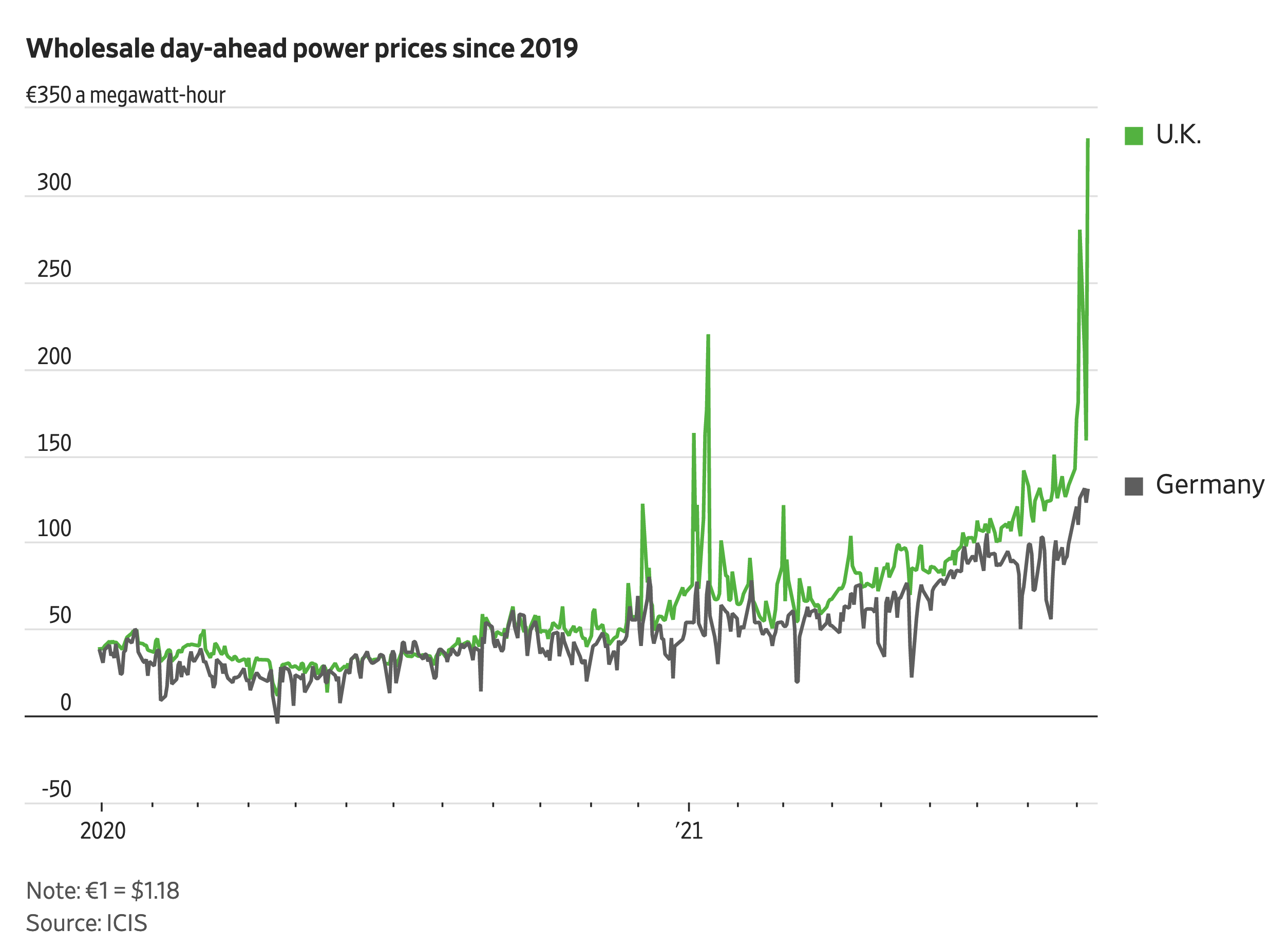 • So far this year, investors have poured $3.4 billion into global crypto ETPs, according to Simon Mott, chief marketing officer at Trackinsight, helping to push assets to $9.25 billion, most of which reside in Europe.
     • Around 70% is the percentage of the world's shipping capacity that's controlled by the top six container operators, according to maritime data provider Alphaliner. A wave of shipping consolidation over the past five years is adding to the supply-chain woes caused by Covid-19 outbreaks, further delaying the movement of cargo across the oceans. Germany's Hapag-Lloyd recently joined CMA CGM in freezing prices, Lloyd's List Intelligence reports, days after maritime regulators from around the world met to address global supply chain congestion.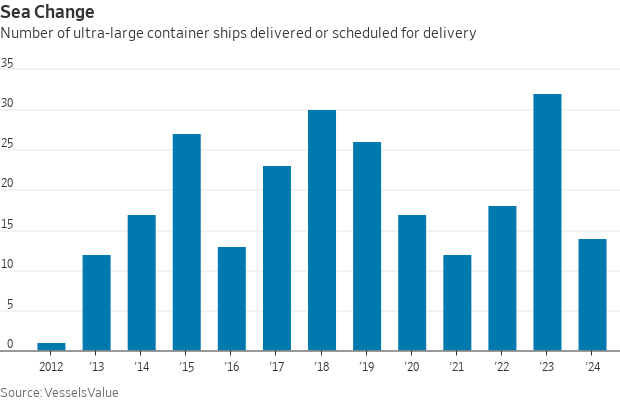 • USDA's update on U.S. acreage: NASS boosted corn acres by 600,000 acres, decreased soybeans by 300,000 acres, and added 800,000 acres of sorghum (700,000 increase in harvested area) — the sorghum info was much higher than the majority of analysts.
     • Kansas City Southern said Canadian Pacific Railway's recent takeover offer is superior to one it already accepted from Canadian National Railway. Canadian National now has five business days to improve its $30 billion offer to avoid termination of the deal. It could also choose to walk away — and receive a $700 million breakup fee and reimbursement for a similar fee it previously covered. Link to details via the WSJ.
     • Ag demand: Saudi Arabia's state wheat buying agency has purchased 382,000 MT of the grain in an international tender; The EU, Black Sea region, North America, South America and Australia submitted offers in the optional origin tender. Jordan tendered to buy 12,000 MT of animal feed barley; it made no purchase in its tender to buy 120,000 MT of barley.
     • CFTC Commitments of Traders report (Source: Barron's)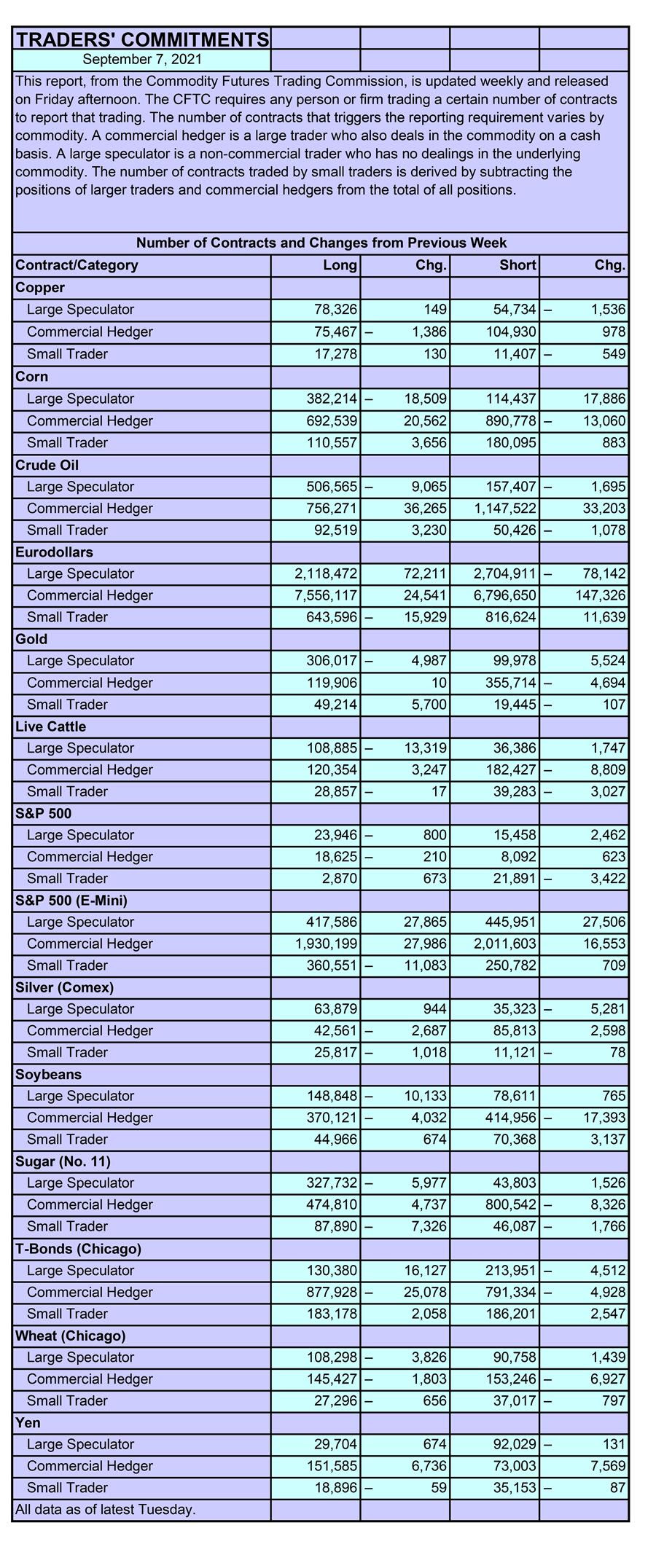 • NWS weather: Tropical Storm Nicholas to produce torrential rainfall, strong winds, and high surf from the Texas coast to southern Louisiana with life-threatening storm surge and flooding possible; High Risk of Excessive Rainfall near the Upper Texas Coast today... ...A hotter than normal mid-September in store across most of the mainland U.S, Excessive Heat Warnings issued in parts of the Southwest.... ...Severe weather possible from the Central Plains to the Great Lakes and Northeast; Elevated Risks for fire weather in parts of the West.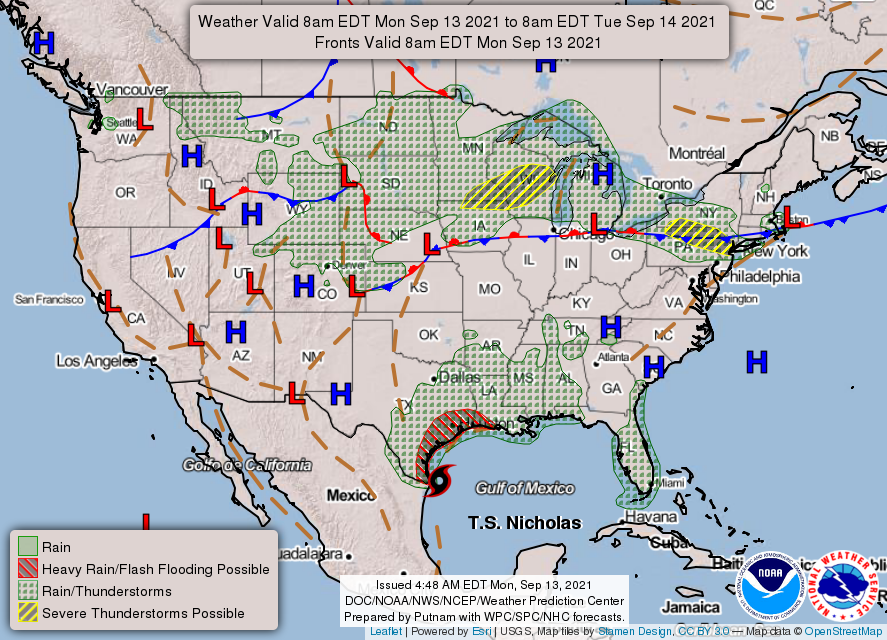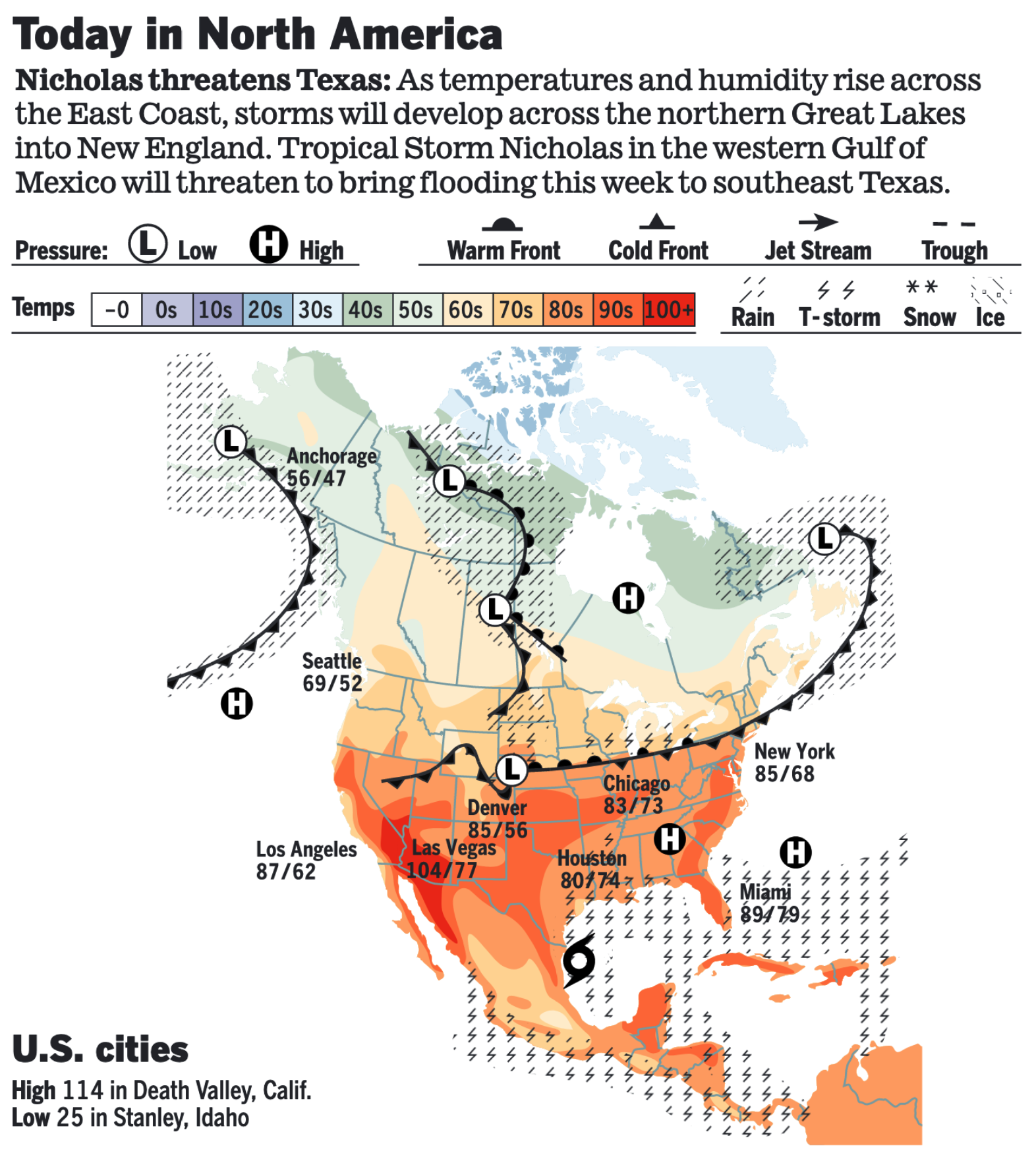 Items in Pro Farmer's First Thing Today include:
• Commodity price pressure to start the week
• Tropical storm headed for Texas, Typhoon to disrupt shipments out of key Chinese ports
• Short-term dredging contract for Argentina's Parana River reached
• Russian wheat export prices continue to climb
• India cuts import taxes amid soaring edible oil prices
• Beef prices still searching for a low
• Seasonals indicate cash hog and pork prices should improve soon
---
POLICY FOCUS
---
— Budget reconciliation updates:
Four-page doc reveals Dems' reconciliation game plan. Link to our special report. Here are some highlights, with details in the special report.



Highlights:
— Top capital gains rate increases to 25% from 20%
— Top corporate tax rate rises to 26.5% from 21%
— Increases carried-interest holding period to five years from three
— Cuts some estate-tax discounts, no major effect on family farms and businesses (lowering the estate tax exemption level will have an impact)
— Cuts tax rate for businesses with income of less than $400,000 to 18%
— Crypto subject to wash sale and disguised sale rules
— Estimated revenue from corporate-tax changes likely to total $900 billion
— Estimated revenue boost from high-income individuals ~$1 trillion
Five House committees will hold reconciliation markups today: Agriculture, Energy and Commerce, Financial Services, Judiciary and Veterans' Affairs. The Democrats' soft deadline for finishing all committee work on the reconciliation package is Wednesday, Sept. 15. Democratic leaders want to vote on the package by October, but many congressional observers signal a more likely date of sometime in October, perhaps November. If so, what does that mean for House Speaker Nancy Pelosi's pledge to have a House vote on the bipartisan $1 trillion infrastructure bill by Sept. 27?
Sen. Joe Manchin (D-W.Va.) reaffirmed in multiple Sunday show appearances that he opposes spending another $3.5 trillion, but may be open to roughly half as much. He says the pending measure is too big, is moving too fast and would be tough to sell to his constituents. He maintains he's not the only Senate Democrat who would vote against the measure.
Senate Budget Committee Chairman Bernie Sanders (I-Vt.) said he will not back any bill that falls below the $3.5 trillion total. Sanders originally envisioned a measure worth $6 trillion over a decade but agreed with Democrats to reduce his ideas by nearly half.
— CR on tap when House returns on Sept. 20. House Speaker Nancy Pelosi (D-Calif.) and House Majority Leader Steny Hoyer (D-M.) said in a caucus call Friday afternoon that the House will take up a continuing resolution (CR) to keep the federal government open past the end of the fiscal year when the chamber returns on Sept. 20. The CR will likely extend until Dec. 10, but no date has been finalized.
     It is still unclear whether the CR will include language regarding the debt limit. Hoyer did say that he wants to eliminate the need for any formal vote to increase the debt limit. White House Press Secretary Jen Psaki on Friday again urged Congress to raise the debt limit in a bipartisan manner. According to a Congressional Research Service report (PDF link) sought by Senate Majority Leader Chuck Schumer (D-N.Y.), former President Donald Trump racked up $5.7 trillion in debt between August 2019 — the last debt limit increase —- and the end of his term in January 2021.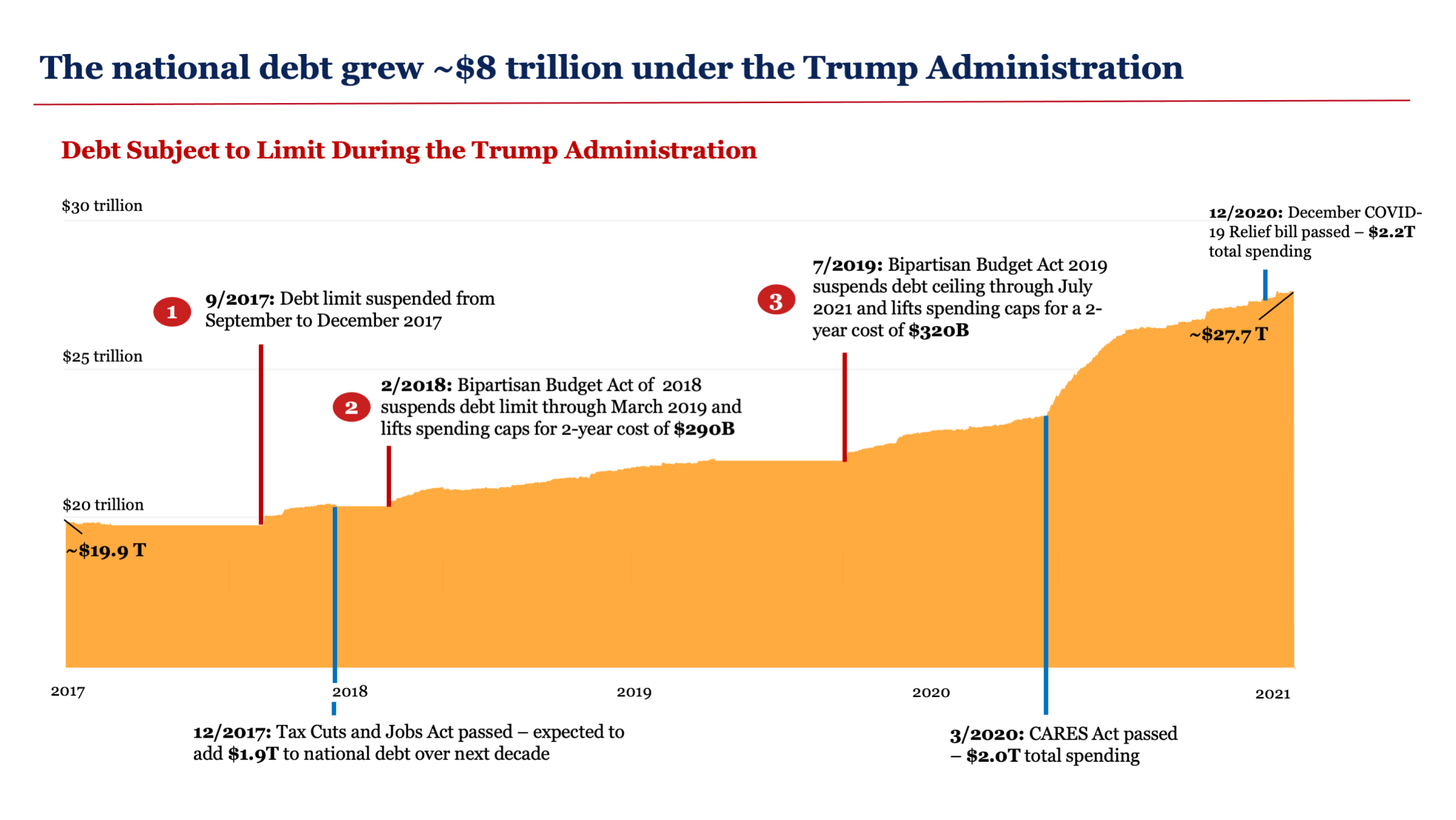 ---
AFGHANISTAN
---
— Afghan refugee resettlement flights into the U.S. were paused at the request of the CDC due to four diagnosed cases of measles among Afghans who recently arrived in the country.
— Some 300 is the estimated number of unaccompanied minors who were among the thousands of Afghans who fled on American flights, according to United Nations children's agency UNICEF. The chaos of the evacuations from Kabul's airport left many families separated. The U.S. faces challenges resettling the children and reuniting them with family members, who could be anywhere in the world.
— Secretary of State Antony Blinken will testify this afternoon before the House Foreign Affairs Committee and at Senate Foreign Relations Tuesday. Meanwhile, the Senate Armed Services Committee is holding a closed briefing on Wednesday with General Austin Scott Miller, former Commander of U.S. Forces-Afghanistan.
— United Nations is seeking more than $600 million for the remainder of 2021 at a donors conference in Geneva today for Afghanistan assistance. The U.N. wants to help 11 million people following the Taliban takeover.
---
CHINA UPDATE
---
— Biden administration is targeting Beijing's widespread use of industrial subsidies that give its companies an edge over foreign rivals, an effort that could lead to new sanctions on Chinese imports and further strain U.S.-China relations, the Wall Street Journal reports (link). Administration officials are considering launching an investigation into Chinese subsidies under Section 301 of the U.S. trade law, which could lead to new tariffs, according to the WSJ report. The White House is also looking to team up with the European Union, Japan and other allies in Asia, and rally support within the World Trade Organization to take on Chinese subsidies.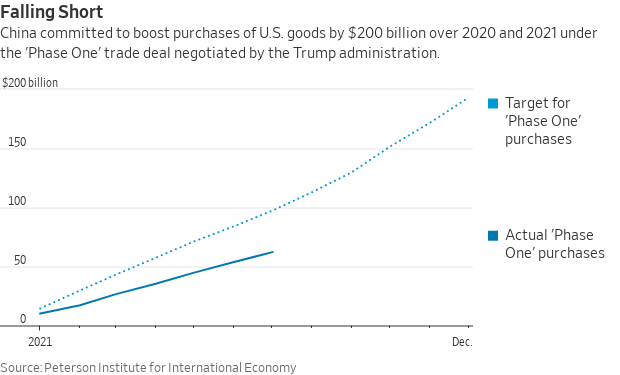 — Chinese fish prices soaring. China's African swine fever outbreak sent its consumers on the hunt for alternative sources of protein, and fish has historically been among the cheapest sources. But after a 50% price spike the past year, fish prices now top those for chicken and pork. The price rise has helped lift China's consumer prices for the past six months, despite a decline in pork prices. The fish price surge has been driven by tougher environmental standards, reduced rain in some areas and an increase in demand as the ASF outbreak resulted in a more diverse diet for Chinese consumers. Chinese consumption of the staple pork dropped 25% from 2018 to 2020, according to USDA.
— Chinese regulators continue to apply pressure on the country's biggest tech companies, this time reportedly looking to split up Alibaba founder Jack Ma's Alipay. Beijing is pushing for Alipay to create a separate app for its loan business. Leader Xi Jinping is making these moves to address social inequality and "avoid an existential threat from an outsider of the Chinese Communist Party" that could challenge the hierarchy, Thanos Papasavvas, CIO at ABP Invest, said on Bloomberg TV earlier this month.
---
TRADE POLICY
---
— Taiwan, U.S. to hold trade meeting on agriculture. Officials from the two sides will hold the first working-level meeting this week under Trade and Investment Framework Agreement, focusing on agriculture, Taipei-based Economic Daily News reports citing unidentified officials. Issues on agenda include processed pork products, pineapples and orchids.
— On Tuesday, Sept. 14, the U.S. trade embargo on Cuba officially expires, although it is expected to be renewed.
— India cuts import taxes on veg oils. Import taxes on palm oil, soyoil and sunflower oil would be lowered under a notification by the Indian government as the country seeks to quell price increases on vegoils. The base import tax on crude palm oil would fall to 2.5% (10% prior), to 2.5% on sunflower oil (7.5% prior) and soyoil (7.5% prior). The base tax on refined palm oil, soyoil and sunflower oil would fall to 32.5% (37.5% prior). That would put total import taxes at 24.75% for crude palm oil, soyoil and sunflower oil, the notice said. Refined palm oil, soyoil and sunflower oil would see a total import tax of 35.75%.
---
CORONAVIRUS UPDATE
---
— Summary: Global cases of Covid-19 are at 224,705,329 with 4,631,661 deaths, according to data compiled by the Center for Systems Science and Engineering at Johns Hopkins University. The U.S. case count is at 40,956,297 with 659,975 deaths. The Johns Hopkins University Coronavirus Resource Center said that there have been 380,241,903 doses administered, 178,692,875 have been fully vaccinated, or 54.4% of the U.S. population.
     63% of the U.S. population have had at least one vaccine dose.
     53.7% of people in the U.S. are fully vaccinated.
— What gives President Biden the authority to mandate vaccinations? Proponents say the answer is in a 51-year-old law aimed at protecting workers from "grave dangers." (Link for details via a NYT item.) In response to Republican governors vowing to fight the requirements, Biden said: "Have at it." Some legal experts expect it to be challenged and struck down. Whether courts uphold it will be a major ruling, especially regarding how the executive branch's powers are defined.
     Details: A bill passed by Congress in 1970 allows the U.S. gov't to protect workers' health and safety. That law rests upon a 1905 U.S. Supreme Court decision holding that Congress had the authority to regulate local commerce as long as it involved the interstate movement of goods and services. A 1937 ruling established that labor-management disputes were related to interstate commerce and were subject to federal rules, further solidifying OSHA's authority.
— England drops vaccine passport plan. The plan to mandate virus vaccine passports for nightclubs and crowded events in England will not go ahead, U.K. Health Secretary Sajid Javid said on Sunday. It comes after British lawmakers across the political spectrum voiced strong opposition to the plans this week. Speaking on the BBC's The Andrew Marr Show on Sunday, the health secretary said he "never liked the idea" of forcing people to show their papers in everyday activities, but the government was right to look at the evidence. "What I can say is that we've looked at it properly and whilst we should keep it in reserve as a potential option, I'm pleased to say that we will not be going ahead with plans for vaccine passports," Javid said.
---
POLITICS & ELECTIONS
---
— Biden continues to dip in approval rating polls. A Reuters/Ipsos tracking poll Friday showed Biden with a 47% national approval rating and a 46% national disapproval rate. A Civiqs tracking poll this week showed Biden's approval ratings in several battleground states — Arizona, Florida, Georgia and North Carolina — trailing his disapproval ratings by 10 points to 14 points.
     Biden reacts. Commenting to reporters on the sidelines of one of several events commemorating the Sept. 11, 2001 terror attacks, Biden said it's important for the U.S. to show unity of purpose amid partisan divisions and to show that democracy works. "If you take a look at the polling data, as down as my numbers have dropped, you'll see my package is overwhelmingly popular," Biden said at Shanksville, Pennsylvania, where one of the hijacked Sept. 11 jetliners crashed in a field. "That is why you're going to see -- and I get it -- a lot more direct attacks on me. "I'm a big boy, I've been doing this a long time," he said.
— California voters will decide whether to oust their governor, Gavin Newsom, on Tuesday, following a recall effort led by conservatives unhappy with his pandemic response. Polls project he will win, with Republican talk-show host Larry Elder a lead candidate among a field of 46 challengers. President Biden heads to California today to campaign for Newsom. More than a third of registered voters already cast mail-in ballots (link to NY Times; link to LA Times). The recall election gives Democrats a chance — along with Virginia's gubernatorial race in November — to test strategy going into difficult midterm elections in 2022.
— Germany's election. A snap poll following Sunday night's live television debate named Social Democrat (SPD) leader Olaf Scholz as the convincing winner, adding further momentum to his bid to become German chancellor after the Sept. 26 election. Armin Laschet, whose Christian Democrats trail Scholz's SPD in polls, attempted to portray a vote for Scholz as a vote for a coalition with the far-left Die Linke, which opposes NATO and has soft euroskeptic leanings. Scholz did not rule out a coalition with Die Linke, but said: "An acknowledgement of transatlantic relations, NATO and the European Union are necessary for a good government."
---
CONGRESS  
---
— Congressional calendar: The Senate returns to Washington today for the first time in a month. The House won't be back until next week.
---
OTHER ITEMS OF NOTE     
---
— North Korea's latest test. North Korea successfully tested new long-range cruise missiles over the weekend, state media reported, calling them a "strategic weapon of great significance." This is the second missile test North Korea has conducted this year after it tested short-range ballistic missiles in March. The test adds urgency to meetings this week in Japan between U.S. envoy for North Korea Sung Kim and his South Korean and Japanese counterparts.
---
EVENTS AND REPORTS
---
Monday, September 13
· President Joe Biden in Idaho and Colorado and will campaign with California Governor Gavin Newsom (D).
· 9/11 commemoration. House and Senate leaders hold a congressional remembrance ceremony to mark 20 years since the terror attacks on Sept. 11, 2021.
· Budget reconciliation markup: Agriculture. House Agriculture Committee resumes markup of the legislative proposals to comply with the reconciliation directive included in section 2002 of the Concurrent Resolution on the Budget for FY 2022, SConRes 14.
· Budget reconciliation markup: Judiciary. House Judiciary Committee markup of the legislative proposals to comply with the reconciliation directive.
· Budget reconciliation markup: Energy and Commerce. House Energy and Commerce Committee markup of legislative recommendations to comply with reconciliation directive.
· Budget reconciliation markup: Financial Services. House Financial Services Committee to markup legislative proposals to comply with the reconciliation directive.
· Budget reconciliation markup: Veterans Affairs. House Veterans' Affairs Committee to markup legislative proposals to comply with the reconciliation directive.
· Afghanistan withdrawal. House Foreign Affairs Committee hearing on "Afghanistan 2001-2021: Evaluating the Withdrawal and U.S. Policies - Part 1," with Secretary of State Antony Blinken.
· Food and nutrition. Bipartisan Policy Center virtual discussion on "Improving Food and Nutrition Security During Covid-19 and the Economic Recovery."
· Trade issues. Washington International Trade Association and the George Washington University Institute for International Economic Policy virtual 2021 Intensive Trade Seminar Sept. 13-14, with remarks Monday from Deputy Treasury Director for Investment Security, Investment Review and Investigations David Shogren on "Foreign Investment and Export Controls."
· Highway safety. National Transportation Safety Board Chair Jennifer Homendy delivers keynote remarks at the 2021 Governors Highway Safety Association meeting.
· Administrative procedures. Assembly of the Administrative Conference of the United States teleconference on recommendations to federal agencies, the President, Congress, and the Judicial Conference of the United States regarding the improvement of administrative procedures.
· U.S. economy. TriNet holds its PeopleForce Conference with former Treasury Secretary Lawrence Summers delivering remarks on "Future state of the U.S. economy."
· Digital currencies. Brookings Institution virtual discussion on "The Future of Money: The End of Cash and the Rise of Digital Currencies."
· Fall legislative preview. CQ RollCall and FiscalNote virtual discussion on "Fall Legislative Preview."
· Methane emissions. American Association for the Advancement of Science virtual discussion on "Anticipating Changes in Federal Methane Emissions Standards for Oil and Gas Operations."
· National security and supply chains. Wiley virtual discussion on "National Security Concerns in International Supply Chains: New Laws, Policies and Funding."
· Afghan situation. American Bar Association virtual discussion on "Afghanistan on the Brink: Risk Assessments for Women's Rights, Cultural Heritage Preservation and Economic Relief."
· Afghanistan withdrawal investigation push. Washington Post Live virtual discussion with Rep. Peter Meijer (R-Mich.) on "his push for a congressional investigation into the Biden administration's withdrawal from Afghanistan."

· Economic report.  Treasury Budget  
· USDA reports. AMS. Export Inspections ERS: Season-Average Price Forecasts | Wheat Data  NASS: Crop Progress
---