Focus on USDA's Supply and Demand Reports Today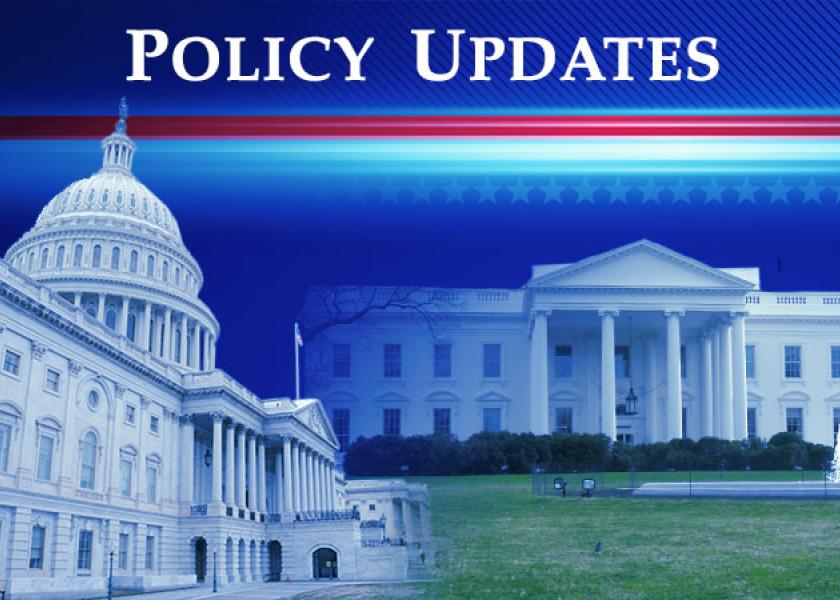 China buys more U.S. soybeans | Huge impacts of proposed tax changes on ag sector
---
In Today's Digital Newspaper
---
Market Focus:
• USDA daily export sale: 132,000 MT soybeans to China, 2021-2022 marketing year
• Shortage of workers continues
• Delta variant derailing rebound in air travel
• Fed's Kaplan, Rosengren to sell all stocks amid ethics concerns
• U.S. oil demand fell sharply last week, primarily because of Hurricane Ida
• Avg. global container shipping spot rates more than four times level a year ago
• California, other western states this year endured hottest summer on record
• Ag demand update
• Corn and soybeans up slightly heading into USDA reports
• Bigger corn and soybean crop estimates expected
• ADM expects to resume export loadings at two Louisiana terminals by month's end
• Exchange trims soybean production outlook for Argentina, noting better returns for corn
• Demand remains light at Chinese auctions of imported corn
• Russian again hikes tax on wheat exports
• Highly pathogenic bird flu in France
• Better boxed beef movement holds
• Cash hog prices drop
Policy Focus:
• Budget reconciliation updates
• Vilsack getting lots of negative reviews re: WSJ op-ed push for altering stepped-up basis
• USDA accepts more than 2.5 million acres in Grassland CRP signup 
Afghanistan:
• First international passenger flight departed Kabul yesterday for Doha, Qatar
• United Nations and aid organizations looking for ways to help Afghan people
• Pentagon leaders to testify on U.S. pullout from Afghanistan  
Biden Administration Personnel:
• Biden selects new FERC nominee
• CFTC Commissioner Dan Berkovitz plans to retire Oct. 15
• White House withdraws ATF nominee
China Update:
• Biden, Xi have extended telephone conversation
• China releasing oil from crude stockpiles to counter rising prices
• Recap of China's 2020-21 corn, soybean, sorghum imports
• China boosts corn import projection for 2020-21
Trade Policy:
• Agriculture gets little mention in relaunch of U.S./Mexico discussions
Energy & Climate Change:
• Biden administration seeks to accelerate approvals of biofuels
• Long-delayed USDA aid to biofuel sector is coming: Vilsack
• Vilsack touts renewable energy infrastructure investments
• Kerry heads to India to talk climate change
• Climate credit head-scratcher
Livestock, Food & Beverage Industry Update:
• Here we go again: Lawmakers announce bill to restore beef MCOOL
Coronavirus Update:
• Biden will require two-thirds of American workers to get vaccinated 
Politics & Elections:
• Congressional redistricting, visualized  
• Newsom likely to keep his California governor job, new poll shows
Congress:
• Just 87 lawmakers in office on 9/11 are still serving
Other Items of Note:
• Drone zone
• Cotton AWP tops 80 cents
---
MARKET FOCUS
---
Equities today: Global stock markets were mostly firmer in overnight trading. The Dow opened up around 200 points higher. Asian equities finished with gains. Japan's Nikkei was up 373.65 points, 1.25%, at 30,381.84. Hong Kong's Hang Seng rose 489.91 points, 1.91%, at 26,205.91. European equities are posting moves higher in early action. The Stoxx 600 is up 0.2% with most regional markets seeing gains of 0.2% to 0.4%.
     U.S. equities yesterday: The Dow closed down 151.69 points, 0.43%, at 34,879.38. The Nasdaq was 38.38 points, 0.25%, 15,248.25. The S&P 500 declined 20.79 points, 0.46%, at 4,493.28.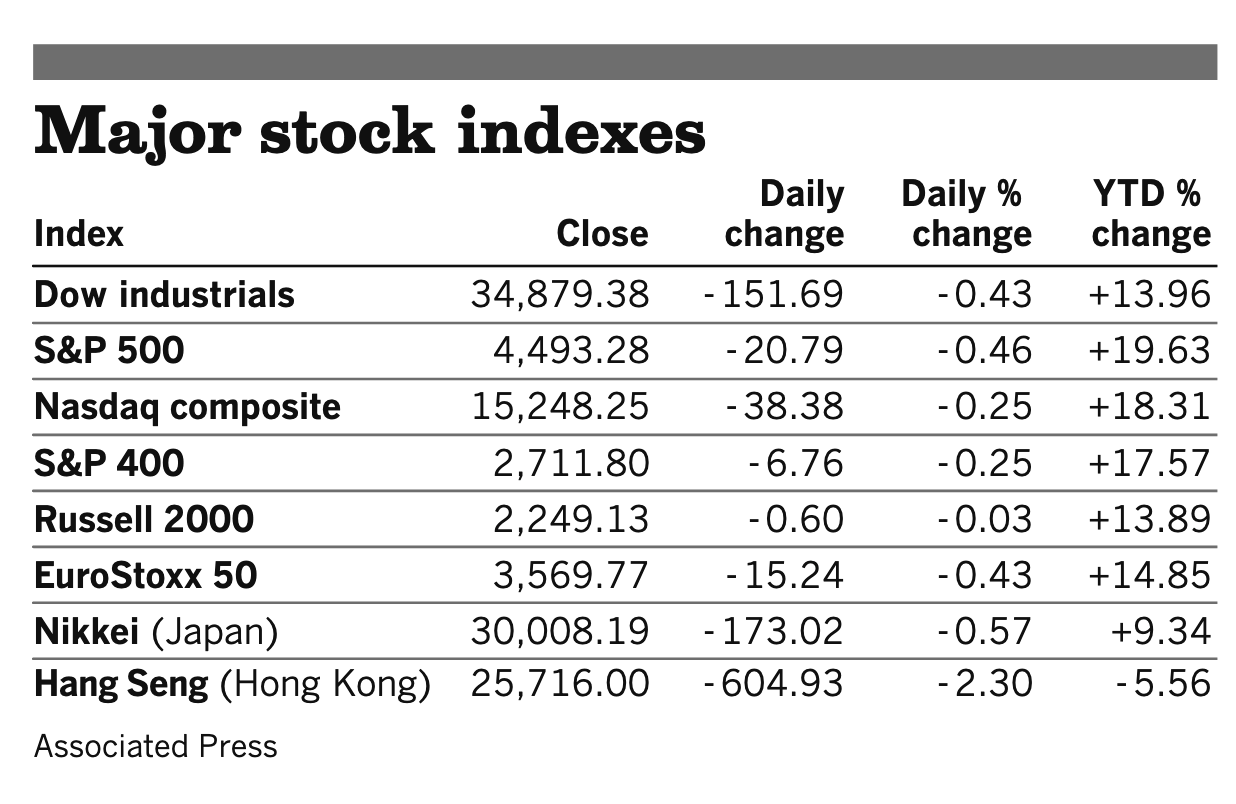 On tap today:
     • U.S. producer price index for August is expected to increase 0.6% from a month earlier. (8:30 a.m. ET)
     • USDA Weekly Export Sales report, 8:30 a.m. ET.
     • Cleveland Fed President Loretta Mester speaks on monetary policy at 9 a.m. ET.
     • U.S. wholesale inventories for July are expected to increase 0.6% from a month earlier. (10 a.m. ET)
     • USDA Crop Production and WASDE reports, noon ET.
     • Baker Hughes rig count is out at 1 p.m. ET.
Shortage of workers continues. A recent U.S. Chamber of Commerce survey found that 88% of commercial construction contractors reported moderate-to-high levels of difficulty finding skilled workers, and more than a third had to turn down work because of labor deficiencies.
Major airline carriers said new travel bookings have slowed in recent weeks and cancellations have increased, tempering airlines' outlook after less than two months earlier some had projected the recovery would continue to strengthen.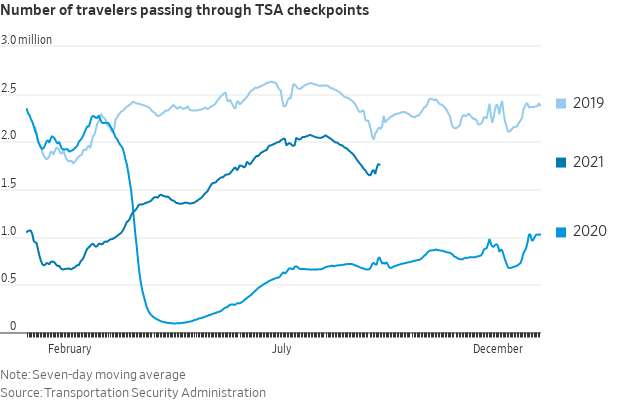 Fed's Kaplan, Rosengren to sell all stocks amid ethics concerns. The presidents of the Federal Reserve banks of Boston and Dallas said they are selling their individual stock holdings by Sept. 30, in moves aimed at quenching ethical concerns over their trading activity last year. They both released near-identical statements yesterday after their most recent financial disclosure documents showed active trading in a range of investments during a year in which the central bank took sweeping policy actions to protect the U.S. economy from Covid-19. Rosengren said his investments complied with Federal Reserve ethics rules. But to avoid "even the appearance of any conflict of interest," he will sell his stocks by Sept. 30 and put the proceeds into diversified index funds or cash savings.
Market perspectives:
     • Outside markets: The U.S. dollar index is weaker as several foreign rival currencies including the euro are higher against the greenback. The yield on the 10-year U.S. Treasury bond is higher, trading around 1.32% with a mostly firmer tone to global government bond yields. Gold and silver futures are slightly weaker ahead of U.S. economic data, with gold around $1,799 per troy ounce and silver around $24.15 per troy ounce.

     • Oil prices have rallied ahead of U.S. trading as markets focus on supply issues in the U.S. linked to Hurricane Ida. U.S. crude is trading around $69.45 per barrel and Brent around $72.75 per barrel. Futures were higher in Asian action, with U.S. crude up 10 cents at $68.24 per barrel and Brent up 14 cents at $71.49 per barrel.
     • U.S. oil demand fell sharply last week, primarily because of Hurricane Ida. Oil demand declined to roughly 20 million barrels per day from 22.8 million barrels p/d the week prior, the Energy Information Administration said in its Weekly Petroleum Status report. Demand is about 7% below the same week of 2019 before the coronavirus pandemic.
     • $10,083.84 and rising: The Drewry Shipping Consultants weekly World Container Index for average global container shipping spot rates on major trade lanes, up $97 from the previous week for the 21st straight weekly increase and more than four times the level a year ago.
     • USDA daily export sale: 132,000 MT soybeans to China, 2021-2022 marketing year.
     • Ag demand: Tunisia's state grains agency reportedly reached an agreement to buy around 75,000 MT of soft milling wheat and 100,000 MT of animal feed barley. An importer group out of the Philippines purchased around 112,000 MT of feed wheat in a tender. Algeria's state agency is thought to have purchased around 60,000 MT of animal feed barley to be sourced from optional origins. Morocco is seeking 363,000 MT of soft wheat from the U.S. under a preferential tariff import quota. Jordan made no purchase in its international tender to buy 120,000 MT of animal feed barley.
     • California and several other western states this year endured the hottest summer on record, according to federal data released Thursday. California, Idaho, Nevada, Oregon and Utah also set all-time heat records for the meteorological summer, spanning June through August. Sixteen other states also saw a top-five warmest summer on record, according to the National Oceanic and Atmospheric Administration, which issued its findings Thursday. Nationwide, the stretch from June to August tied with the 1936 Dust Bowl summer as the hottest on record, with temperatures across the country averaging 2.6 degrees above average.
     • NWS weather: Mid-September heat wave in the Nation's Heartland lasting into the upcoming weekend... ...Red Flag Warnings and Elevated Fire Weather Conditions in parts of the Northwest and eastern Wyoming; wildfire smoke to become widespread throughout the Plains... ...Showers and storms in Florida today, followed by the central Plains and Great Lakes Saturday; keeping a watchful eye on tropical activity in the western Gulf of Mexico this weekend.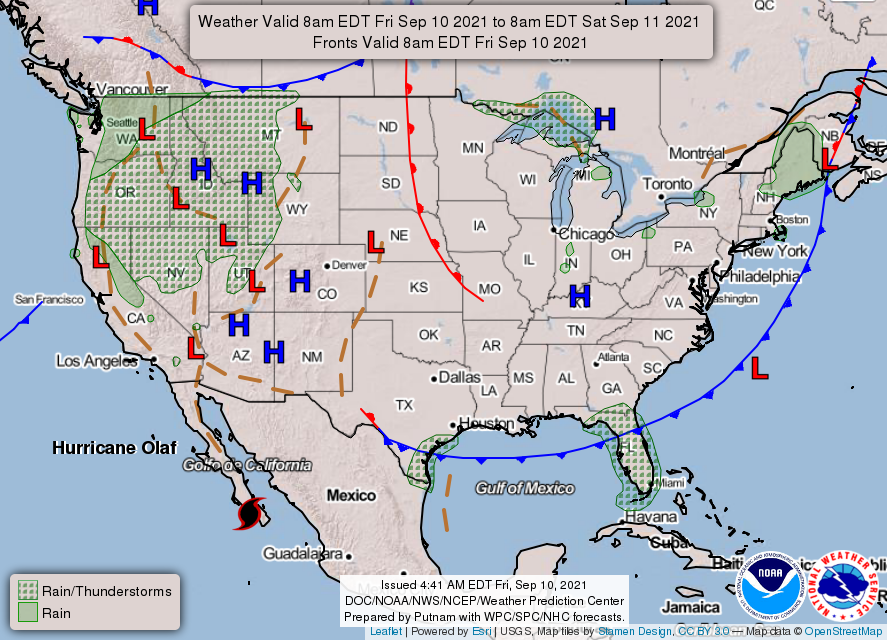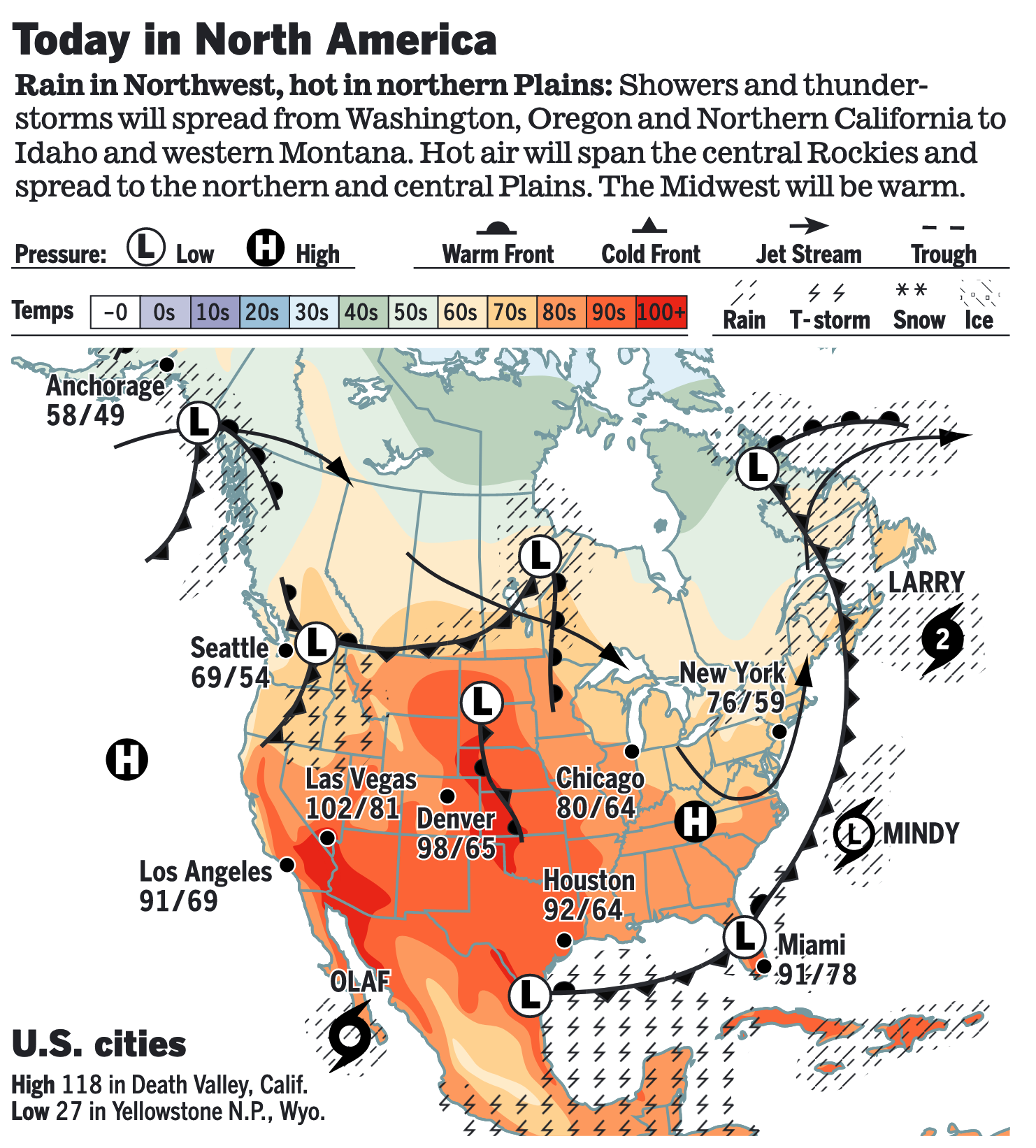 Items in Pro Farmer's First Thing Today include:
     • Corn and soybeans up slightly heading into USDA reports
     • Bigger corn and soybean crop estimates expected
     • ADM expects to resume export loadings at two Louisiana terminals by month's end
     • Exchange trims soybean production outlook for Argentina, noting better returns for corn
     • Demand remains light at Chinese auctions of imported corn
     • Russian again hikes tax on wheat exports
     • Highly pathogenic bird flu in France
     • Better boxed beef movement holds
     • Cash hog prices drop
---
POLICY FOCUS
---
— Budget reconciliation updates:
Sen. Joe Manchin (D-W.Va.) has been in talks with Senate Finance Chairman Ron Wyden (D-Ore.) and has made it clear he won't cave on aggressive climate provisions sought by many Democrats. He's also met with other rank-and-file Democrats, including Sen. Michael Bennet over the Colorado Democrat's push to broaden and bolster the child tax credit, which the West Virginian wants to bring down to a level far lower than what many in his party want.
Rep. Stephanie Murphy (D-Fla.), a prominent moderate House Democrat, indicated she is planning to vote against the provisions under consideration in the House Ways and Means Committee's markup of portions of Democrats' $3.5 trillion spending bill, citing concerns about the legislative process. "Despite this committee's extraordinary efforts, I find myself in an impossible situation, " she said, adding that she expects to vote no "unless something changes." She wants to see the whole Ways and Means package, including pay fors. Ways and Means will consider pay fors next week.
House Ways and Means Committee measures include a provision bolstering retirement savings. The panel will continue its markup next Tuesday and Wednesday, Chair Richard Neal (D-Mass.) said. Yesterday the panel by a 22-20 vote approved measures aimed at bolstering Americans' savings for retirement. The legislation would apply a tax penalty to employers with more than five employees who do not automatically enroll in a retirement plan unless the workers opt out. The bill specifies that the retirement accounts must deduct 6% of wages from paychecks, rising to 10% over several years, and sets target-date funds as the default investment. Committee Republicans lamented the tax penalty, warning that it would lead to job losses and hurt the smallest businesses. Two Democrats, Stephanie Murphy of Florida and Ron Kind of Wisconsin, voted against the retirement legislation. The panel also approved paid family leave for U.S. workers on a 24-19 vote largely along party lines during a markup of their legislation yesterday. Details: A universal paid leave mandate administered by Treasury that provides up to 12 weeks of family and medical leave for all workers including those self-employed at up to 85% of their weekly pay. It's unclear how the new entitlement would interact with existing state paid leave and employer programs.
Forestry, climate change dominate House Ag reconciliation package. The prospective legislation would total $89 billion in new spending and provide $9.7 billion to reduce greenhouse gas emissions, $9 billion in grants for forest restoration and resilience projects, and $4.5 billion to develop the Civilian Climate Corps, a Biden initiative to conserve and restore public lands and waters. The House Agriculture Committee is set to mark up the bill today. The bill includes $7.75 billion for research, extension, education, and urban agriculture, $18.69 billion in funding for rural development, energy, biofuels, and broadband, and $40 billion in U.S. Forest Service infrastructure. Missing from the bill and summary is the $28 billion Committee Democrats have slated for conservation programs which is reportedly still going to be a part of the package but was omitted for now. Also missing from the bill is any investment in the farm safety net. Link to special report on the topic.
House Small Business Committee approved $25 billion in small-business aid over the next decade in its portion of the $3.5 trillion tax and spending legislation. The panel's bill includes $9.5 billion for a new initiative to provide capital to firms in underserved markets and critical industries, such as infrastructure, child care and manufacturing. The initiative will work through Small Business Investment Companies, which are privately owned entities licensed and operated by the U.S. Small Business Administration to provide financing to small businesses and startups. The legislation also devotes $1 billion for business development academies and accelerator programs at historically Black colleges and universities and other institutions that serve minorities.
Education and Labor Committee is on track today to approve $761 billion in benefits, including $450 billion for childcare and universal pre-K education and $111 billion to provide two free years of community college.
More votes are planned in coming days, including on tax credits and rates as well as drug-price provisions and Medicare benefits.
House Energy and Commerce panel will propose $150 billion for the Department of Energy's Clean Electricity Performance Program. The committee plans to mark up its portion of the 10-year reconciliation bill (SConRes. 14) on Monday as panels work to finish drafting the legislation by Sept. 15. The bill would devote $13.5 billion to electric vehicle infrastructure. The money would go toward constructing charging infrastructure in publicly accessible locations, multi-unit housing, workplaces, and underserved regions, as well as electrifying industrial and medium-heavy duty vehicles.
Tax on stock buybacks mulled. Sens. Sherrod Brown (D-Ohio), chair of the Senate Banking Committee, and Ron Wyden (D-Ore.), chair of the Finance Committee, are proposing a measure to tax the amount that companies spend on stock buybacks at 2 percent, which Democrats say would raise $270 billion over a decade to go toward the chamber's $3.5 trillion social policy spending bill. The Finance Committee is also considering rule changes that would make it more difficult for companies to use business partnerships to avoid some taxes
— Vilsack getting lots of negative reviews in ag sector regarding his op-ed in WSJ re: push for altering stepped-up basis. Recall that former House Agriculture Committee Chairman Collin Peterson (D-Minn.) called it ruinous for producers wishing to pass on the family farm due to the transfer tax that is imposed. Opposition has also come from former Senate Finance Committee Chairman Max Baucus (D-Mont.) and former Senators Blanche Lincoln (D-Ark.) and Heidi Heitkamp (D-N.D.). Recall also that the Senate has gone on record — 99-0 — in support of Sen. John Thune's (R-SD) amendment to maintain the full benefit of stepped-up basis. Link to Vilsack's op-ed.
     Comments: Based on information from tax policy experts, there would be major implications for farmers and ranchers from the proposed tax policy changes. These include:
Transfer tax: Many family farms appreciate in value over the lifetime of the primary owner and that appreciation is currently automatically given to an heir when inheriting the family farm. Regarding the transfer tax: Under the new proposal a son or daughter inheriting the family farm from a parent would owe 39.6% on the difference in the value from the original purchase to the time of inheriting on anything over $1 million as well as the 3.8% NIIT tax. This would hit the majority of family farmers who rely on the farm for their primary income. The only solution many of these farmers would have is to sell off a portion of the family farm to pay the tax and likely be left with a farm no longer able to provide them a stable income.
Regarding estate taxes, the acreage, equipment, and capital required to operate a family farm has rapidly increased in the recent past. The increase in the estate tax exemption lined up with this recent trend and allows for the seamless transition from generation to generation in a family farming operation.  With the proposed reduction in estate tax, this transition would quickly become extremely difficult for family farms. With tax levels exceeding 40% for many family operations, it would put the future generations in jeopardy of not being able to continue the business and further pushing the younger generation away from farming. In a time where the average age of farmers is quite high it seems counterintuitive to put in place additional barriers for the next generation.
Regarding any proposed changes to 1031 exchanges, many farmers and ranchers use section 1031 to currently exchange appreciated property with new property for many purposes including upgrading land quality and acquiring land located in a more convenient location. Farmers and ranchers would no longer have the ability to upgrade their land without paying the exorbitant taxes on the original property sold.
— USDA accepts more than 2.5 million acres in Grassland CRP signup, double last year's signup. USDA said it accepted offers for more than 2.5 million acres from agricultural producers and private landowners for enrollment through this year's Grassland Conservation Reserve Program (CRP) Signup. This is double last year's enrollment and brings the total acres enrolled across all CRP signups in 2021 to more than 5.3 million acres, surpassing USDA's 4-million-acre goal. Producers and landowners submitted offers for nearly 4 million acres in Grassland CRP, the highest in the signup's history.
---
AFGHANISTAN
---
— First international passenger flight departed Kabul yesterday for Doha, Qatar, with Americans, Canadians and Britons on board. A total of 10 U.S. citizens and 11 lawful permanent residents left Afghanistan via a charter flight out of Kabul yesterday, U.S. Department of State spokesman Ned Price said. Taliban authorities allowed a total of 113 Americans, U.S. permanent residents and holders of other Western passports to leave Afghanistan on Thursday. There will be another such flight today. There was no indication that the Taliban would allow the tens of thousands of Afghans who qualify for special U.S. visas to leave. They said that Afghans with dual citizenship would be allowed to depart.
     U.S. issues a statement. "The Taliban have been cooperative in facilitating the departure of American citizens and lawful permanent residents on charter flights," a spokeswoman for the National Security Council said. "They have been businesslike and professional in our dealings with them in this effort. This is a positive first step."
— United Nations and aid organizations are looking for ways to help the Afghan people without bolstering the country's new Taliban administration.
— Pentagon leaders to testify on U.S. pullout from Afghanistan. Top U.S. military leaders will answer questions from senators about the U.S. pullout from Afghanistan, which left behind Americans who may number in the hundreds. Secretary of Defense Lloyd Austin will testify before the Senate Armed Forces Committee later this month, the top Democrat and Republican on the panel announced on Sept. 9. Gen. Mark Milley, the chairman of the Joint Chiefs of Staff, and Gen. Frank McKenzie, the head of U.S. Central Command, are also slated to appear before the panel on Sept. 28. Also announced was a closed-door briefing on Sept. 15 with Gen. Austin Scott Miller, former commander of U.S. Forces–Afghanistan, and a Sept. 30 review of U.S. military operations in Afghanistan, during which senators will hear from outside experts.
---
BIDEN ADMINISTRATION PERSONNEL
---
— Biden selects new FERC nominee. President Biden announced he is nominating Willie Phillips Jr. to be the newest commissioner of the Federal Energy Regulatory Commission (FERC), an agency expected to play a major role in facilitating the White House's aggressive climate agenda. If the Senate confirms Phillips, who would replace former GOP commissioner Neil Chatterjee, it would give Democrats a 3-2 majority. Phillips is chairman of Washington D.C.'s Public Service Commission, the utility regulator, and was previously assistant general counsel for the North American Electric Reliability Corporation. In its statement announcing Phillips' nomination, the White House said FERC — an independent agency — will play an "important role" as the administration looks to "tackle the climate crisis, advance environmental justice, and create a clean electricity grid by 2035."
— CFTC departure is leaving a five-person panel with one Republican and one Democrat. CFTC Commissioner Dan Berkovitz, a Democrat, says he plans to leave on Oct. 15, which could heighten the urgency for President Biden to fill vacancies and nominate a permanent chairman. Rostin Behnam, another Democrat on the panel, is expected to be Biden's pick to lead the CFTC. Dawn Stump, a Republican commissioner, is remaining in her seat.
— White House withdraws ATF nominee. The White House said Thursday it will withdraw the nomination of gun-control advocate David Chipman to lead the Bureau of Alcohol, Tobacco, Firearms and Explosives (ATF) after Chipman ran into bipartisan opposition in the Senate." The nomination had stalled for months, and while the White House and top Democrats "had been pushing to save his nomination for weeks," they "could not secure the necessary votes, with some Democrats saying privately they would not vote for him," according to the Associated Press.
---
CHINA UPDATE
---
— Biden calls Xi Jinping in bid to reset strained relations. President Biden held his second call with Chinese leader Xi Jinping since becoming president to break an impasse in the Sino/U.S. relationship after previous top-level meetings produced were mostly contentious. The leaders spoke by telephone for 90 minutes last night, their first discussion since February. The White House said the two leaders had a "broad, strategic discussion" and that Biden had "underscored the United States' enduring interest in peace, stability and prosperity in the Indo-Pacific and the world." The two leaders also discussed the "responsibility of both nations to ensure competition does not veer into conflict" during the call.
     China's foreign ministry said the talks were candid and quoted Xi as saying that U.S. policies towards Beijing were responsible for "serious difficulties" in relations. It was the first time the two presidents have spoken since February. Biden requested the call after the White House concluded that Chinese officials who met their U.S. counterparts this year were "unwilling to engage in serious or substantive conversations," according to a senior U.S. official. The two leaders discussed the Biden administration's complaint that Chinese officials have been "playing for the press" rather than engaging seriously in negotiations, an official said.
— China is selling oil from its strategic reserves to lower prices in a major intervention from the world's largest oil importer. The government is combating rising raw materials costs and indicated it could release more reserves to balance the market. China did not specify how much oil it will sell. Worried about inflation, in the past two months, the National Food and Strategic Reserves Administration has held at least three similar auctions for state reserves of several metals, including copper, zinc and aluminum.
— Recap of China's 2020-21 corn, soybean, sorghum imports. Data from USDA for the week ended Sept. 2 provided a summary of shipments of U.S. corn, soybeans and sorghum to China. However, Census Bureau data will be the final tally on the shipments and that will not come until later this year.
     For 2020-21, USDA said that accumulated U.S. corn exports to China totaled 21,389,851 tonnes, with 1,156,000 tonnes carried into the 2021-22 marketing year. Outstanding sales of U.S. corn to China for 2021-22 now total 11,900,800 tonnes. U.S. sorghum exports to China were at 6,810.926 tonnes for 2020-21, with 181,044 tonnes rolled into 2021-22 putting total outstanding sales for 2021-22 at 1,166,551 tonnes, which included new sales for the week of 68,500 tonnes. The U.S. shipped 35,363,040 tonnes of soybeans to China in 2020-21 with 715,782 tonnes carried into 2021-22. Combined with new sales of 764,000 tonnes, outstanding sales to China for soybeans total 9,422,282 tonnes for 2021-22. Other activity for the week included net reductions of 35 tonnes of wheat, and net sales of 261,466 running bales of upland cotton. USDA data shows China did import 235 tonnes of U.S. barley, a result of the Phase 1 agreement with China.
     Net sales for 2021 included 2,745 tonnes of beef and 14,953 tonnes pork.
— China boosts corn import projection for 2020-21. China lowered its estimates for corn use in feed and industrial consumption for corn in the 2020-21 marketing year by 2 MMT each, citing high prices. But despite the smaller usage estimates, China's ag ministry raised its corn import projection by 4 MMT to 26 MMT based on strong imports of the grain from the United States. Looking out to 2021-22, China cut its corn consumption in feed forecast by 3 MMT to 187 MMT, as domestic hog prices remain low, slowing expansion. China's corn crop is expected to climb 11.1 MMT from year-ago in 2021-22, and consumption is expected to rise 8.5 MMT. China expects the rise in production to trim corn imports to 20 MMT in 2021-22. China's ag ministry expects the country to import 98.6 MMT of soybeans in 2020-21 and 102.0 MMT of the oilseed in 2021-22. Consumption is expected to climb 5.8 MMT in 2021-22 and production is expected to slip a bit, narrowing the trade balance to 1.42 MMT. China's cotton imports are expected to slide from 2.8 MMT in 2020-21 to 2.5 MMT in 2021-22.
— German official labels talks with China on ASF 'difficult.' Discussions between Germany and China on African Swine Fever (ASF) were labeled "difficult" Friday by German junior agriculture minister Uwe Feiler. Germany has pressed China to adopt a regionalization concept on pork trade relative to ASF after China banned imports from Germany in September 2020 after the first ASF case was found in the country. "These negotiations are proving difficult," Feiler said. He pointed out that Germany is not alone in wanting China to adopt a regionalization concept which would limit any trade restrictions relative to ASF to specific states/regions of the country where the disease was found as opposed to blocking shipments from the entire country. "But other countries have shown their readiness to accept the regionalization concept and we are continuing to work towards China also accepting this," Feiler said. Germany has confirmed 2,070 ASF cases and Feiler said the country had been successful in containing it to a small eastern region in Germany. The U.S. also does not have a regionalization agreement with China on ASF but one relative to avian influenza was successfully negotiated as a result of the Phase 1 Agreement with China.
---
TRADE POLICY
---
— Agriculture gets little mention in relaunch of U.S./Mexico discussions. There was scant attention given to agricultural trade between the U.S. and Mexico as both sides touted the relaunch of the U.S./Mexico High-Level Economic Dialogue (HLED) that was established in 2013. Recaps of the agreement to relaunch the HLED effort noted that the relations with Mexico was important, and that Mexico was currently "our largest trading partner in goods, including as a top market for U.S. agricultural exports."
     There was no mention of rising tensions between the two over Mexico's action on glyphosate and inaction on approving several GMO crop varieties. A presidential decree in Mexico has created considerable uncertainty on the biotech crop front as the country is poised to halt imports of GMO corn. But it remains unclear exactly what that decree covers — specifically whether it covers just GMO corn used for food but also corn for feed use.
     A statement from U.S. Trade Representative Katherine Tai also failed to mention any agriculture-related trade issues and focused considerable attention on the Biden administration's "worker-centric policies."
     Mexican officials indicated the discussions were very high level and did not delve into issues under the U.S.-Mexico-Canada Agreement (USMCA), with Mexico Economy Minister Tatiana Clouthier indicating the HLED discussions were not the right format for such discussions. "The high-level economic dialogue doesn't touch on topics that are already being discussed in other spaces," Clouthier told reporters. "This did not include the topic of USMCA."
---
ENERGY & CLIMATE CHANGE
---
— Biden administration seeks to accelerate approvals of biofuels so their use would generate biofuel credits. The White House announced the push as part of actions to propel sustainable aviation fuels and lower emissions tied to air travel. EPA and the Energy Department will take steps "designed to expedite the regulatory approval process to support newly developed fuels and feedstocks that may be viable for inclusion as able to generate Renewable Identification Numbers (RINs) under renewable fuel in the federal Renewable Fuel Standard (RFS) program," the White House said. Link to White House fact sheet.  
— Long-delayed USDA aid to the biofuel sector is coming. USDA is finalizing plans for $700 million that will be distributed to biofuel producers as compensation for pandemic-related losses. "We're doing the best we can to try to move these things forward," USDA Secretary Tom Vilsack said Thursday about the biofuel industry aid ahead. Vilsack attributed the wait to the regulatory process, and added that once USDA completes required rulemaking, the department "doesn't have the capacity to spend a single dime until [the White House Office of Management and Budget (OMB)] has signed off." Bottom line, according to Vilsack: "The help is going to be there and we're going to continue to look for ways in which we can assist the [biofuels] industry."
— Vilsack touts renewable energy infrastructure investments. USDA Secretary Tom Vilsack announced $464 million in renewable energy infrastructure investments Thursday (Sept. 9) through the Rural Energy for America Program (REAP) and Electric Loan Program (ELP) and reiterated the Biden administration is working as quickly as possible to finalize details for COVID-19 aid to the biofuels sector.
     USDA is investing nearly $129 million through REAP loans and grants to help agricultural producers and rural small businesses purchase and install renewable energy systems and make energy efficiency improvements. Of that total, around $121.2 million is allocated for 12 low-cost loans, while over $7.4 million will flow through 411 grants. Projects across 48 states and Puerto Rico were selected for funding, Vilsack said. "The combination of these renewable energy projects and energy efficiency projects will essentially save the equivalent of 379 million kilowatt hours (KWh) of electricity, which is enough essentially to fuel and take care of the needs of over 35,000 homes," Vilsack said of the REAP loans and grants, during a media call.
     Meanwhile, the department is investing around $335 million through ELP to build or improve 1,432 miles of power line in rural areas. Of that total, $102 million in loans are aimed at the deployment of smart grid technology, the department detailed. Vilsack said the ELP investments aim to improve energy efficiency of the rural grid "which will increase reliability and provide for a more resilient system."
     Funding for the investments came through USDA's existing budget allocations, Vilsack confirmed.
     As for additional investments, Vilsack said that will hinge on the outcome of legislative action on a bipartisan $1-trillion physical infrastructure package and a Democrat-led $3.5-trillion budget reconciliation package. "The scope and the intent and the expansion and the opportunity to continue to do more of this is very much linked to the ability of Congress to continue its work on both the bipartisan infrastructure and jobs bill and also the reconciliation bill which will continue to provide resources for investments in climate-smart technologies," he remarked.
     Vilsack was pressed about why REAP and ELP renewable subsidies are needed given dramatic declines in the cost of renewable energy equipment. "I'm not sure that that is a subsidy, it's just basically making credit available," he responded. "Oftentimes, projects like these may be more difficult or more expensive" for commercial banks to underwrite, and government investment can be particularly helpful in getting rural projects "off the ground and operating more quickly," he added.
     Anaerobic digester projects included? Vilsack was asked if any anaerobic digester projects — which can generate methane fuel from livestock and poultry waste — were among those awarded funding. Vilsack responded that he was unsure but noted that the administration has invested in at least 18 such projects since President Joe Biden took office in January.

— Kerry heads to India to talk climate change. U.S. climate envoy John Kerry will visit India next week to press the world's third-biggest source of carbon emissions to step up its efforts to fight climate change, according to people familiar with his schedule. Kerry will meet Sept. 13 with India's environment minister Bhupender Yadav. He'll likely push India to commit to achieving net-zero emissions, ahead of a key international climate conference that starts at the end of next month, according to reports.
— Climate credit head-scratcher. California allowed a ranch in Mendocino County to sell carbon credits to companies, even though the trees the credits were based on were destroyed in a 2018 wildfire. Link for details via the Los Angeles Times.
---
LIVESTOCK, FOOD & BEVERAGE INDUSTRY
---
— Lawmakers announce bill to restore beef mandatory country-of-origin labeling (MCOOL). Here we go again. Several lawmakers announced they would introduce legislation (link) to direct the Biden administration to reinstate MCOOL requirements for beef products. Senate Agriculture Committee member John Thune (R-S.D.), Sens. Jon Tester (D-MT), Mike Rounds (R-S.D.) and Cory Booker (D-N.J.) said in a statement that next week they would formally introduce the "American Beef Labeling Act" to mandate that U.S. Trade Representative (USTR) Katherine Tai, in consultation with USDA Secretary Tom Vilsack, develop World Trade Organization-compliant mandatory COOL requirements within one year of the legislation's enactment. If USTR failed to reinstate COOL requirements for beef within a year, the legislation would be "automatically reinstated for beef only," according to the announcement.
     "Transparency in labeling benefits both producers and consumers," Thune said in a statement. "Unfortunately, the current beef labeling system in this country allows imported beef that is neither born nor raised in the United States, but simply finished here, to be labeled as a product of the USA. This process is unfair to cattle producers and misleading for consumers. When you see a 'product of the USA' label on the grocery store shelf, it should mean just that."
     Current regulations allow cattle that is born and raised in other countries, but processed in the U.S. to be labeled as a product of the U.S.
     A previous U.S. MCOOL law was successfully challenged by Canada and Mexico at the WTO. The law was found to violate WTO rules because it placed an unfair recordkeeping and verification burden on the two countries, which were eventually authorized to retaliate against the U.S. for $1 billion in 2015. The U.S. repealed its MCOOL law after the WTO ruling. Canada and Mexico are still authorized to deploy retaliation against the U.S. if they reinstate MCOOL after it was removed for pork and beef.
     In July, USDA announced a comprehensive review of the "Product of USA" label for meat which is managed by the Food Safety and Inspection Service (FSIS). "We have taken note of the many comments submitted to USDA and the FTC regarding meat labeling and understand that the current 'Product of USA' label on meat products may no longer effectively serve either of those purposes, to the detriment of consumers, producers, and fair and competitive markets," USDA Secretary Tom Vilsack said at the time.
---
CORONAVIRUS UPDATE
---
— Summary: Global cases of Covid-19 are at 223,233,869 with 4,606,927 deaths, according to data compiled by the Center for Systems Science and Engineering at Johns Hopkins University. The U.S. case count is at 40,602,892 with 654,598 deaths. The Johns Hopkins University Coronavirus Resource Center said that there have been 377,622,065 doses administered, 177,433,044 have been fully vaccinated, or 54.1% of the U.S. population.
— President Biden will require two-thirds of American workers to get vaccinated against the coronavirus, including many private-sector employees, health care workers and federal contractors — as well as most federal workers, who could face disciplinary measures if they refuse. The actions were made via a combination of executive orders and new federal rules. Employees of the United States Postal Service will be required to get a Covid-19 vaccine or be tested under Biden's new vaccine initiative, contrary to confused early reporting after the administration rolled out the mandate Thursday evening. There will be medical exemptions allowed. The new requirements are part of a six-point initiative to boost vaccinations, improve access to testing and make Covid-19 treatments more widely available.
     Biden said it's no longer about personal freedoms when it comes to the vaccine, and that getting the vaccine is a "not personal choice… The time for waiting is over." He also argued that individuals who were hesitant to get the vaccine because it lacked the Food and Drug Administration's approval, should now receive their doses. "This is not about freedom or personal choice, it's about protecting yourself and those around you," the president said. "My job as president is to protect all Americans, so tonight, I'm announcing that the Department of Labor is developing an emergency rule to require all employers with 100 or more employees, that together employ over 80 million workers, to ensure their workforces are fully vaccinated or to show a negative test once a week."
     Details. Biden announced a new rule is being developed that will require all private employers with 100 or more employees to mandate vaccines or weekly testing. More than 80 million Americans working in the private sector will be required to receive a Covid-19 vaccine or produce a negative test result at least once a week after Biden signs the new executive order. The rule will be issued from the Department of Labor's Occupational Safety and Health Administration (OSHA) "in the coming weeks," and implemented with an Emergency Temporary Standard. If a business fails to comply with the rule they could face fines up to $14,000 per violation. Biden also will sign an executive order requiring about 100 million federal employees to get the Covid-19 vaccine, without the option of getting regular testing instead. Administration officials said that federal employees will have 75 days to be fully vaccinated, with limited exemptions for religious or medical reasons. Employers will also have to give workers paid time off to get vaccinated or to recover from any side effects of getting vaccinated.
     Republican governors vowed legal battles over Biden's plan to require private companies to vaccinate their employees.
     Business reaction was mixed. The Business Roundtable and the U.S. Chamber of Commerce both welcomed the Biden administration's actions. "President Biden's announcement prompts critical questions that require immediate clarification," said the Consumer Brands Association, which represents makers of packaged goods. "As with other mandates, the devil is in the details. Without additional clarification for the business community, employee anxieties and questions will multiply." Following the announcement, companies like General Motors and Delta Air Lines issued statements describing the efforts they've made to get their employees vaccinated, but didn't announce whether they endorsed Biden's plan. Companies will now face new decisions, like whether to pick up the tab for weekly testing and how to handle religious exemptions — tasks many are already finding challenging. A recent poll by Aon of 583 global companies found that of the employers that have vaccine mandates, 48% said they were allowing for religious exemptions; only 7% said they would fire a worker for refusing to get vaccinated.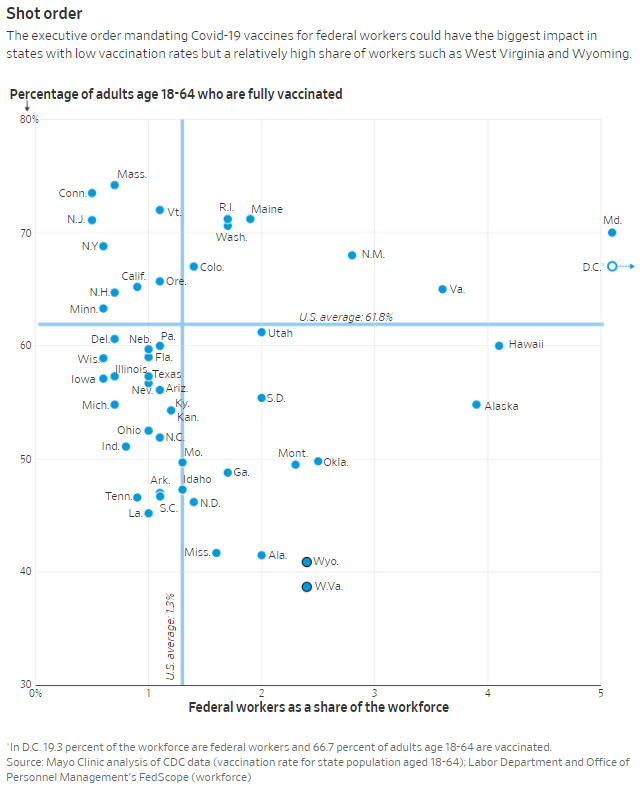 ---
POLITICS & ELECTIONS
---
— Congressional redistricting, visualized. The once-a-decade redrawing of U.S. congressional and state legislative boundaries is underway across the country. The redistricting process will alter the country's political landscape, as parties and interest groups jockey to shape districts in ways that could cement their advantage for the next 10 years. Link to the Washington Post's interactive hub. Check it to see how redistricting works in your state.
— Newsom likely to keep his California governor job, new poll shows. Momentum has turned against the effort to recall Gov. Gavin Newsom with just days to go before voting ends. According to a UC Berkeley Institute of Governmental Studies poll cosponsored by the Los Angeles Times released Friday, 60.1% of likely voters surveyed oppose recalling Newsom compared with 38.5% in favor of ousting the governor. Fewer than 2% of likely voters remained undecided or declined to answer, suggesting the issue is largely settled in the minds of California voters. The findings, which were gathered by pollsters between Aug. 30 and Sept. 6, align with results from a batch of recent independent polls, all of which showed a decisive advantage for Newsom as the Sept. 14 recall election approaches. A poll by the Berkeley institute just six weeks ago found that likely voters' opinions were almost evenly split.
---
CONGRESS  
---
— Just 87 lawmakers, or roughly 16% of Congress, who were in office on 9/11 are still serving: 30 senators and 57 House members.
---
OTHER ITEMS OF NOTE     
---
— Drone zone. The U.S. Navy's Fifth Fleet, tasked with guarding the Strait of Hormuz, one of the world's most crucial oil chokepoints, is planning to offload some of that work to the Pentagon's drone fleet. Vice Adm. Brad Cooper, who leads the Bahrain-based fleet, said the Navy would introduce unmanned airborne, sailing, and underwater vehicles in the region to put more U.S. eyes on a variety of threats that could interrupt oil traffic or pose a threat to U.S. vessels, including mines and boats decked out with bombs.
— Cotton AWP tops 80 cents. The Adjusted World Price (AWP) for cotton is at 80.11 cents per pound, effective today (Sept.10), above 80 cents for the first time since it was 80.06 cents per pound the week of Aug. 3, 2018, and the highest since it hit 82.99 cents per pound the week of June 15, 2018. Meanwhile, Special Import Quota #21 will be established September 16 for 53,532 bales of Upland cotton, applying to supplies purchased not later than Dec. 14 and entered into the U.S. not later than March 14.
---