Court to Biofuel Proponents: Statutory Language Clearly Intended for E10 Fuel, Not E15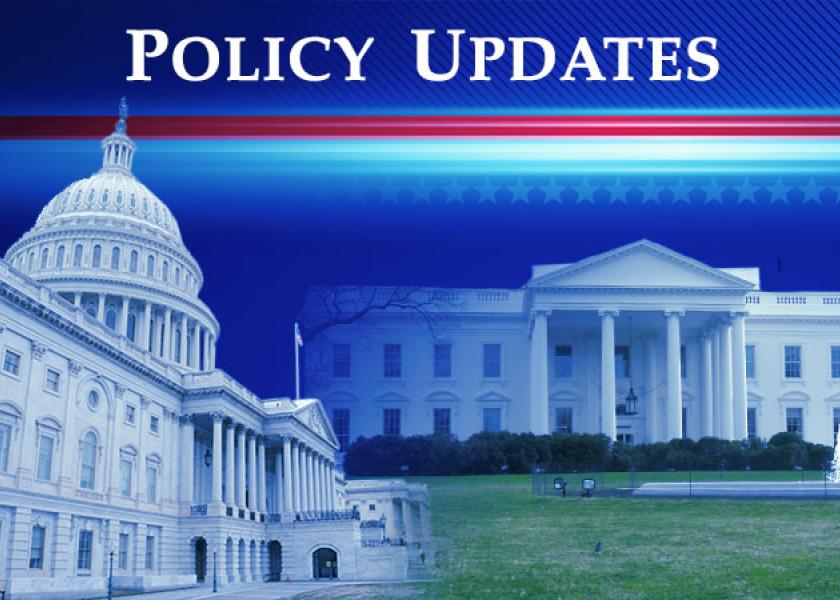 U.S. agricultural export, imports were nearly tied in May
---
In Today's Digital Newspaper
---
Market Focus:
• Financial traders looking ahead to Wednesday's FOMC minutes
• Equities take a pause from recent runup to record values
• FAO/OECD do not expect a commodity price supercycle
• U.S. oil prices rose to six-year highs on OPEC+ deadlock
• Crude oil futures have turned mixed after earlier advances
• Prices to ship containers from Asia to U.S. and Europe rising at historic pace
• China port backlog gone
• Ag demand update
• Rain ahead for Northern Plains, Canadian Prairies and U.S. Midwest
• Consultant lowers U.S. corn and soybean yields on stressful weather
• Cordonnier cuts corn crop pegs for Brazil and Paraguay
• AgRural slices its Brazil safrinha corn crop estimate
• Argentine farmers wary of proposed shift in toll collection
• No limit on Ukraine's grain exports… for now
• Cattle weights slide
• Bearish technical close for lean hog futures last week
Policy Focus:
• USDA responds to class-cation lawsuit against debt relief program • 
China Update:
• China to auction 130,000 MT of imported corn and buy 20,000 MT of pork for its reserves
• China launches pilot program to insure pigs
Trade Policy:
• U.S. agricultural export, imports were nearly tied in May
Energy & Climate Change:
• DC Circuit Court rules against waiver given for year-round E15
• Keystone XL Pipeline developer seeks $15 billion in damages from U.S. gov't
Livestock, Food & Beverage Industry Update:
• Chipotle offering burrito deals to vaccinated customers
Coronavirus Update:
• Major funder of Wuhan lab refuses House request for docs as Dems fail to subpoena
• England prepares to lift most pandemic restrictions
Politics & Elections:
• Trump's White House doctor calls for Biden to undergo cognitive test
• Next round of ranked-choice preferences in NYC mayoral primary
Other Items of Note:
• White House reaching out to victims of wide-ranging ransomware outbreak  
 
---
MARKET FOCUS
---
Equities today: Global stock markets were mixed to flat overnight. The U.S. stock indexes are pointed toward weaker openings. Traders are looking ahead to Wednesday afternoon's release of the minutes of the June FOMC meeting. Australia's central bank left its monetary policy unchanged at its meeting Tuesday and indicated it won't raise interest rates before 2024. Japan's Nikkei 225 edged up 0.2% by the close of trading, while in Hong Kong, the Hang Seng Index ticked 0.3% lower. In mainland China, the Shanghai Composite Index weakened 0.1%.
     U.S. equities Friday: The Dow gained 152.82 points, 0.44%, at 34,786.35. The Nasdaq was up 116.95 points, 0.81%, at 14,639.33. The S&P 500 rose 32.40 points, 0.75%, at 4,352.34.
On tap today:
     • IHS Markit's U.S. services index for June is expected to rise to 65.2 from a preliminary reading of 64.8. (9:45 a.m. ET)
     • Institute for Supply Management's services index for June is expected to fall to 63.3 from 64.0 a month earlier. (10 a.m. ET)
     • USDA Export inspections, 11 a.m. ET.
     • USDA Crop Progress, 4 p.m. ET.
     • President Biden will deliver remarks on Covid-19 and vaccinations in the South Court Auditorium. 2:45 p.m. ET.
FAO/OECD do not expect a commodity price supercycle. Prices for most ag commodities should fall slightly in real terms in the decade ahead as production improves to meet rising demand from a growing population, the U.N. Food and Agriculture Organization (FAO) and the Organization for Economic Cooperation and Development (OECD) said in a joint report on their outlook for 2021-2030. During a related presentation, Maximo Torero, FAO's chief economist, said "the fundamentals don't say to us that we will be moving to a supercycle of commodity prices." The report notes China will likely remain a major demand driver for global ag markets, especially for meat, fish and feed grains. But the country's growth in population and demand is expected to be at a lower pace than in the past decade.
Market perspectives:
     • Outside markets: The U.S. dollar index is firmer ahead of U.S. trading as the euro and yen are weaker against the U.S. currency. The yield on the 10-year U.S. Treasury note was lower, trading under 1.43% ahead of U.S. trading with a mixed tone in global government bond yields. Treasury yields have been falling recently. Gold and silver futures are seeing strong gains ahead of U.S. trading, with gold above $1,810 per troy ounce and silver above $26.80 per troy ounce.

     • U.S. oil prices rose to six-year highs as an OPEC deadlock raised the prospect of a summer in which crude production fails to keep up with rebounding demand from the crush of drivers hitting the roads. The jump extended U.S. crude's advance this year to almost 60%, a surge powered by a revival in consumption of fossil fuels as vaccines roll out and major economies unlock. The latest climb in crude markets came after a Saudi Arabia-backed deal to boost output and tame the price rally failed to garner agreement.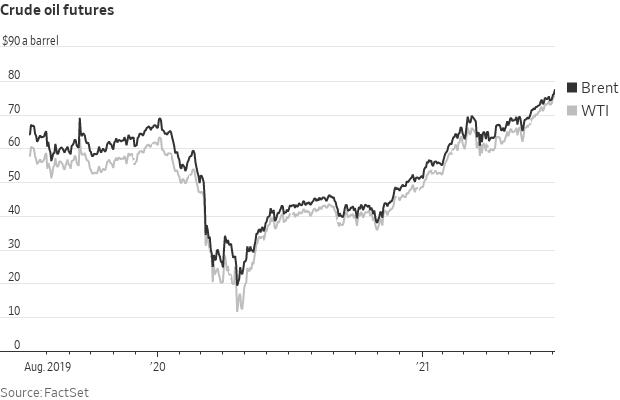 • Crude oil futures have turned mixed after earlier advances on OPEC+ news. U.S. crude was trading higher around $75.95 per barrel while Brent futures were lower around $76.95 per barrel. Futures gained in Asian action, with U.S. crude up $1.56 at 76.72 per barrel and Brent up 40 cents at $77.56 per barrel.
     • Ag demand: Egypt's state grain buyer bought 180,000 MT of wheat from Romania in an international tender, as well as 60,000 MT of wheat from Russia. A group of importers in Thailand issued an international tender to buy up to 230,700 MT of animal feed wheat. Three companies are participating in Jordan's tender to buy 120,000 MT of wheat. Japan is seeking to buy a total of 108,175 MT of food-quality wheat from the U.S., Canada and Australia in a regular tender. Iran's state-owned animal feed importer bought an unknown volume of animal feed corn, feed barley and soymeal in an international tender seeking 60,000 MT each of these feed ingredients. South Korea bought 15,660 MT of GMO-free soybeans. The country's Feed Leaders Committee purchased around 65,000 MT of corn to be sourced from the Black Sea region via a private deal. Turkey tendered to buy 440,000 MT of feed barley.
     • CFTC Commitments of Traders report (Source: Barron's):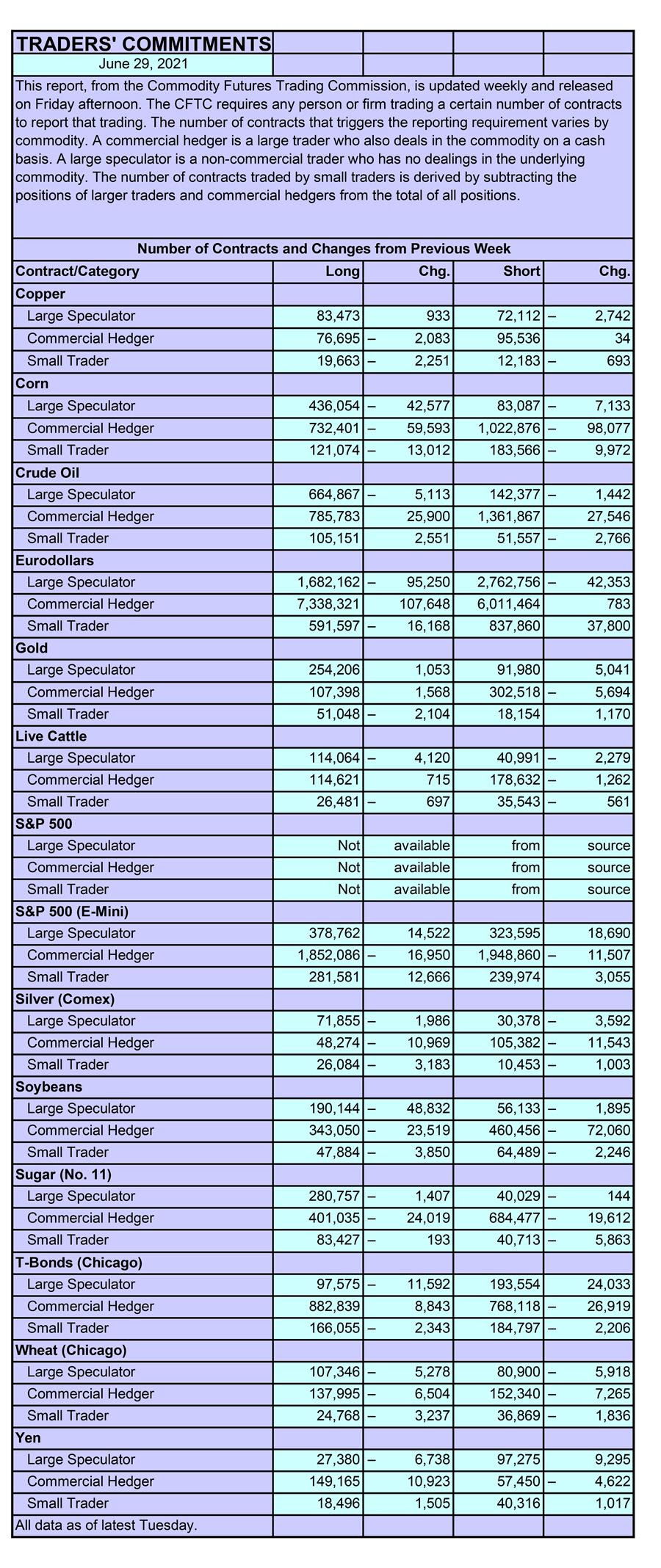 • Prices to ship containers from Asia to the U.S. and Europe are rising at a historic pace as cargo owners bid up rates in a search for ocean transportation capacity, the Wall Street Journal reports (link). The average price world-wide to ship a 40-foot container has more than quadrupled from a year ago, to $8,399 as of July 1, according to a global pricing index by London-based Drewry Shipping Consultants. The measure has surged 53.5% since the first week of May. Listed prices to ship from China to major ports in Europe and the U.S. West Coast are closer to $12,000 a container, by Drewry's measure. Shipping experts say the rising ocean rates are the result of disruptions across supply chains that triggered delays at ports and inland distribution networks as Western retailers and manufacturers rush to restock inventories that were depleted during the Covid-19 pandemic.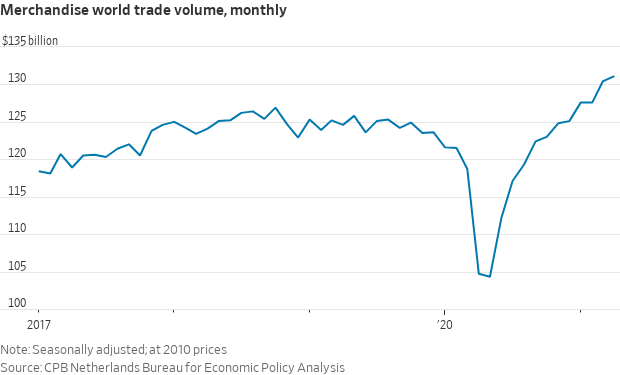 • China port backlog gone. The backlog of vessels waiting to reach berths at the Port of Yantian, the largest container port in China, is gone since terminals returned to full operations on Thursday following a COVID-19 outbreak among dockworkers that significantly curtailed operations, according to an official at shipping giant A.P. Møller – Maersk. But shippers shouldn't expect supply chains to be immediately repaired. While Yantian officials believe they can eliminate the accumulation of stacked containers within a couple of weeks, the backlog of shipments piled up in factories and warehouses elsewhere in the Shenzhen region will take at least a month to clear, Akhil Nair, vice president of global carrier management and ocean strategy for SEKO Logistics, said during a press briefing last week. "The backlog is physically impacting production at factories because they simply don't have warehousing space to store finished goods that can't ship out on time. Pretty much every forwarder or logistics provider that has a facility at any major seaport is being utilized for temporary storage," he said. In an effort to move cargo dwelling on the docks first, port officials are placing a seven-day window on new cargo entering the gate based on a booked vessel's estimated time of arrival. "There's no backlog of vessels now, no waiting at anchor anymore. Berth availability is at 100%," Maersk spokesman Thomas Boyd said in an email. (Source: American Shipper)
     • NWS weather outlook: Tropical Storm force winds, dangerous storm surge, and heavy rainfall likely across Florida as Elsa moves through the region on Tuesday, with tropical storm conditions extending into the Southeast on Wednesday... ...Excessive heat to continue across the Northwest with a much cooler airmass expected for the Northern Plains and Upper Great Lakes... ...Severe weather and locally heavy to excessive rain possible for parts of the Upper Midwest and into the Northeast... ...Heavy rainfall also possible across parts of South Texas Tuesday and Wednesday.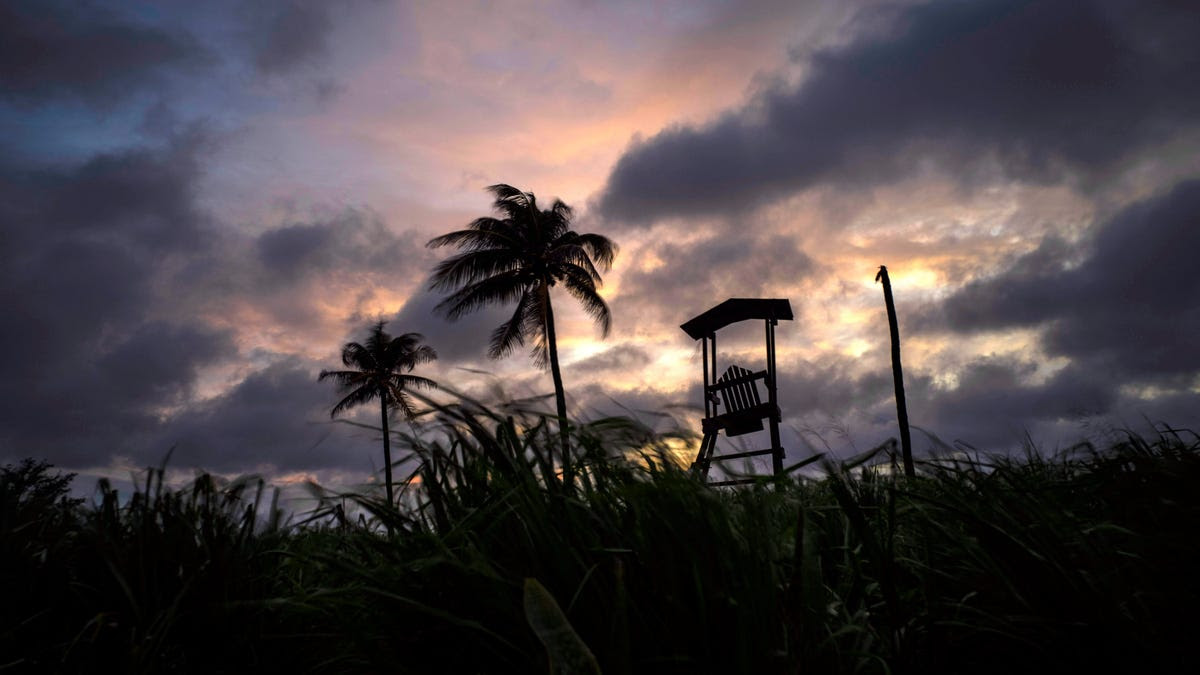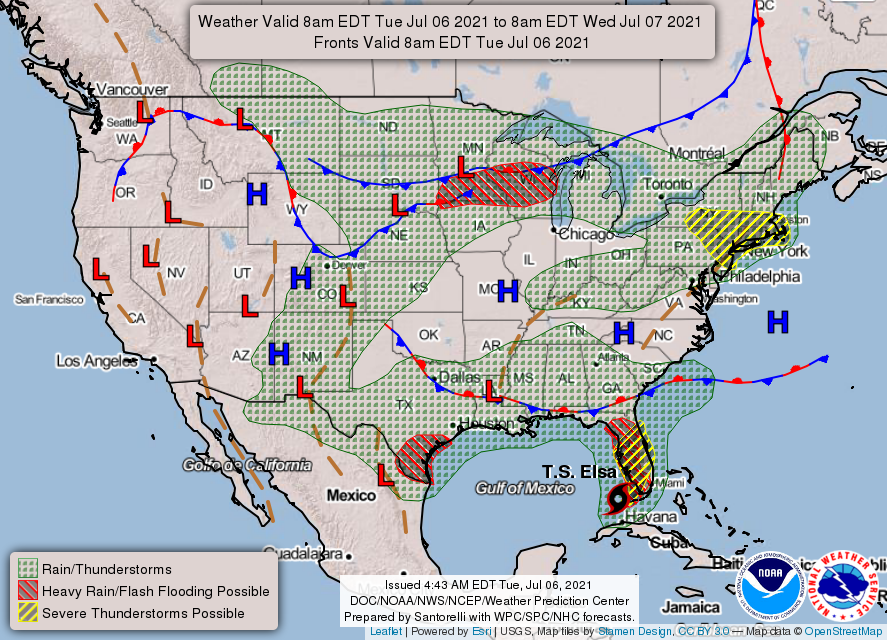 Items in Pro Farmer's First Thing Today include:
     • Rain ahead for Northern Plains, Canadian Prairies and U.S. Midwest
     • Consultant lowers U.S. corn and soybean yields on stressful weather
     • Cordonnier cuts corn crop pegs for Brazil and Paraguay
     • AgRural slices its Brazil safrinha corn crop estimate
     • Argentine farmers wary of proposed shift in toll collection
     • No limit on Ukraine's grain exports… for now
     • Cattle weights slide
     • Bearish technical close for lean hog futures last week
---
POLICY FOCUS
---
— Class-cation lawsuit against the at least $4 trillion debt relief program for selected minority farmers gets a USDA response. USDA responded in court Friday to U.S. District Judge Reed O'Connor's July 1 order by saying that while it had not been making any payments (other than test payouts), it had been sending offer letters "to enable prompt payments if later permitted," and it was continuing to do so. O'Connor ordered the plaintiffs in the case, including Texas Ag Commissioner Sid Miller, to respond by Monday, July 5, to the government's notice, "indicating whether [they] are injured in the government's continued use of race and ethnicity in preparatory steps." Although the July 1 order "requires the government to act … without consideration of race or ethnicity for any applicants to the debt-relief program, it did not directly address the government's use of race and ethnicity in identifying and noticing loan-holders who may be eligible for debt relief but have yet to apply," O'Connor noted.
     O'Connor granted the injunction and the certification of two classes of white farmers and ranchers who will have standing to continue their legal challenge against the debt forgiveness program included in a March economic recovery law.
     The program was already on hold under temporary restraining issued by federal judges in Florida and Wisconsin.
     O'Connor serves in the U.S. District Court for the Northern District of Texas, Fort Worth Division. O'Connor was nominated in 2007 by President George W. Bush. He referred to the Florida and Wisconsin cases in approving the preliminary injunction, which applies to all farmers and ranchers covered by the two classes he approved. "As other courts to consider this issue already have, the Court concludes that Plaintiffs are likely to succeed on the merits of their claim that the Government's use of race- and ethnicity based preferences in the administration of the loan-forgiveness program violates equal protection under the Constitution," O'Connor wrote.
     Background: USDA previously announced it would provide 120% debt relief on outstanding Farm Service Agency (FSA) direct and guaranteed loans held on Jan. 1, 2021, by socially disadvantaged farmers as defined under the 1990 Farm Bill. That definition applies to agricultural producers "subjected to racial or ethnic prejudices because of their identity as a member of a group without regard to their individual qualities." African Americans, American Indians or Alaskan natives, Hispanics, and Asian Americans or Pacific Islanders are covered by the term. The Biden administration views the debt relief as part of its equity agenda. But the administration has faced legal challenges not only to the loan program but also to its efforts to aid small minority businesses.
     Facts and figures. According to the farmers suing USDA, there are 21,000 Farm Service Agency loans held by non-minority farmers in Texas that could be eligible for debt relief, 239,351 white farmers in Texas, and 1.7 million such farmers nationwide. Class one includes all farmers and ranchers "in the United States who are encountering, or who will encounter, racial discrimination from the United States Department of Agriculture on account of section 1005 of the American Rescue Plan Act," the decision said, referring to the name of the March law.  
     The decision also approved a class two, which includes all farmers and ranchers "in the United States who are currently excluded from the definition of 'socially disadvantaged farmer or rancher,' as defined in 7 U.S.C. § 2279(a)(5)–(6) and as interpreted by the Department of Agriculture."
    More about the Texas challenge. Sid Miller, Texas agriculture commissioner, filed the case in April in his capacity as a farmer and rancher with legal support from former Trump aide Stephen Miller's America First Legal. Miller was joined by several white Texas farmers and ranchers and they petitioned the court in June for class certification. They argued that they hold FSA loans that would qualify for debt forgiveness if they were not white and that they are being discriminated against.

 
---
CHINA UPDATE
---
— China to auction another 130,000 MT of imported corn and buy 20,000 MT of pork for its reserves. China's state stockpiler Sinograin announced it will auction 123,954 MT of corn imported from the US. As well as 6,3460 MT of corn imported from Ukraine on July 9. Sales at its latest auction were light, but before that the country had sold virtually all of the corn put up for grabs at these auctions. China also announced it will buy 20,000 MT of frozen pork for its state reserves on July 7.
 
— China launches pilot program to insure pigs. China is launching a pilot program working to insure all pigs at different growing stages and all pig farms in some counties over the next three years, according to a government notice released today. The country also plans to establish a comprehensive system to treat livestock animals that die from diseases in the pilot counties. This program comes in the aftermath of African swine fever that devastated the country's hog sector and is meant to protect against pig farming risks and to foster stable pig production.
---
TRADE POLICY
---
— U.S. agricultural export, imports were nearly tied in May. U.S. agricultural exports edged up to $14.66 billion in May after being at $14.54 billion in April, while U.S. agricultural imports were at $14.56 billion compared with $14.35 billion in April. That left a trade surplus of $95.9 million for the month, about half of the $189 million surplus reported in April. That brings fiscal year (FY) 2021 U.S. agricultural exports to $121.61 billion against imports of $105.79 billion for a cumulative surplus of $15.82 billion.
     USDA has forecast FY 2021 U.S. agricultural exports at $164 billion and imports at $141.8 billion which would leave a surplus of $22.2 billion. To reach the forecast marks, U.S. agricultural exports would need to be at $10.6 billion the next four months with imports at just $9 billion. Both marks would seem to be low based on trade data thus far in FY 2021, especially on imports with an improving U.S. economy that tends to build demand for imported goods.
 
---
ENERGY & CLIMATE CHANGE
---

— DC Circuit Court rules against waiver given for year-round E15. Biofuel proponents were deal still another blow when the DC Circuit Court of Appeals vacated the 2019 rule from EPA that allowed for year-round sales of E15 fuel via extending the Reid Vapor Pressure (RVP) waiver for E15 during the summer months. (The Supreme Court recently reversed the Tenth Circuit Court of Appeals ruling that invalidated three small refinery exemptions (SREs) issued for the 2016 compliance year — the Supreme Court on June 25 issued a 6-3 decision reversing a 10th Circuit ruling that the EPA exceeded its statutory authority by granting extensions of exemptions to small refineries that had not held them for some time.)
     Background: On May 30, 2019, the EPA finalized the regulation to fuel up to E15 to take advantage of the 1-psi RVP waiver that previously applied to E10 during the summer months. The action allowed year-round sales of E15 without additional RVP control rather than allowing for the fuel to be sold only eight months out of the year — outside the summer driving season. The EPA action allowed for sales of E15 fuel to take place from May 1 to September 15. The court ruled in a 3-0 decision that EPA had overstepped its authority when it said E15 qualified for an emissions waiver for fuel blends "containing" 10% ethanol. The court said that statutory language was clearly intended for E10 fuel. "By its plain terms, then, [the exemption] applies to E10, leaving no room for EPA to exempt E15," the decision said. Further, the court said EPA's argument that because E15 contains E10, it should qualify for the RVP waiver. They stated that there was nothing in legislation on this topic indicating that Congress intended the RVP waiver to apply to E15 fuels.
     Wine or whining? The court likened the situation to the label on a bottle of wine in stating the law was clear that the RVP waiver was meant to apply to E10 and not E15. "Consider a label that a bottle of wine 'contains 10% alcohol by volume.' No one would understand that number to be other than a literal statement of the actual amount of alcohol in a serving," the ruling stated.
     Now what? The ruling allows refiners to ask for an immediate injunction that could take place as soon as 10 days from July 2. If the ruling takes effect on a normal schedule, it would apply in 45 days. That would mean just past mid-August with less than a month to September 15, the end of the summer driving season. The case also could be appealed, as Iowa Renewable Fuels Association President Monte Shaw said, "Every legal, regulatory and legislative option will be pursued to reverse this decision. We are confident that as this issue continues to work its way through the legal and regulatory process, E15 sales during this summer's driving season will not be impacted. The key will be to find a solution by June 2022 to ensure the rug is not pulled out from under fuel retailers across the country who have added E15 to their stations, banking on the certainty EPA provided to offer the fuel all year. Ethanol producers will not abandon these retailers as we continue to find a path for E15 to be sold all year long."
     Even if an injunction is granted, E15 fuels still could be sold as legal steps would be needed before the court's opinion is enforced. All of this suggests there could be limited impact to the summer 2021 driving season.
     Reaction: The Renewable Fuels Association, the National Corn Growers Association and the ethanol trade group Growth Energy issued a joint statement criticizing the ruling. "We disagree with the court's decision to reject EPA's move to expand the RVP waiver to include E15, a decision that could deprive American drivers of lower carbon options at the pump and would result in more carbon in the atmosphere," the groups said. "We are working to ensure the continuity of E15 sales through the 2021 summer season and beyond." They indicated it would not affect the 2021 summer driving season and their attention is focused on the 2022 driving season. The groups said that if the court ruling stands, it could reduce summer E15 sales by 90%.
     American Fuel & Petrochemical Manufacturers President and CEO Chet Thompson welcomed the decision, saying that it is consistent with how the EPA interpreted its authority for 30 years prior. "There is no ambiguity in the statute and the previous administration's reinterpretation overstepped the will of Congress," Thompson said.
     Comments: This again shows the wisdom of codifying in legislation what policy a group wants to unfold. Ethanol supporters in Congress had pushed for legislation to allow the year-round sale of the fuel, but EPA moved on its own in 2019 to approve a waiver for E15. The American Fuel & Petrochemical Manufacturers mounted a legal challenge to the rule, and the court agreed with that challenge when it found Friday that the agency had exceeded its authority.
— Keystone XL Pipeline developer seeks $15 billion in damages from U.S. government. Energy company TC Energy has said it is seeking $15 billion in damages from the United States government over President Joe Biden's decision to cancel the Keystone XL pipeline project. In a statement on Friday, the Canada-based company said it had filed a notice of intent with the State Department to begin a legacy North American Free Trade Agreement (NAFTA) claim under the United States-Mexico-Canada agreement. The company said it aims to "recover economic damages resulting from the revocation of the Keystone XL Project's Presidential Permit," adding that it suffered a loss of more than $15 billion " as a result of the U.S. Government's breach of its NAFTA obligations." Link for details.
---
LIVESTOCK, FOOD & BEVERAGE INDUSTRY
---
— Chipotle offering burrito deals to vaccinated customers. Chipotle Mexican Grill is the latest restaurant to provide customers an incentive to get vaccinated, with the eatery offering buy-one-get-one free burritos, starting today. The company's promotion is part of the National Month of Action for vaccinations, an effort by President Joe Biden's administration to get at least 70% of adults vaccinated by the Fourth of July. Although the White House conceded last month that it would fall short the goal, Biden continued to push for Americans to get vaccinated. "My fellow Americans, it's the most patriotic thing you can do." he said during a Fourth of July party Sunday. "So please, if you haven't gotten vaccinated, do it now. For yourselves, for your loved ones, for your community."
 
---
CORONAVIRUS UPDATE
---
— Summary: Global cases of Covid-19 are at 184,185,105 with 3,985,483 deaths, according to data compiled by the Center for Systems Science and Engineering at Johns Hopkins University. The U.S. case count is at 33,723,157 with 605,567 deaths. The Johns Hopkins University Coronavirus Resource Center said that there have been 330,604,253 doses administered, 157,323,738 have been fully vaccinated, or 47.9% of the U.S. population.
— Major funder of Wuhan lab refuses House request for docs as Dems fail to subpoena. A major conduit of federal research funding to the Chinese coronavirus lab at the center of ongoing speculation over the origins of the SARS-Cov-2 virus is not complying with a months-old request from House Republicans for documentation related to his work with that lab, while Democrats in the House have failed to issue a subpoena to compel that evidence. Peter Daszak, the president of the U.S. nonprofit EcoHealth Alliance, has been the subject of growing scrutiny regarding his role in the funding of the Wuhan Institute of Virology. For several years leading up to the pandemic, EcoHealth Alliance funneled hundreds of thousands of dollars in federal research grants to the WIV for the study of potential pandemic coronaviruses at the Wuhan lab. Link for details.
— U.K. Prime Minister Boris Johnson said England was on track to lift almost all Covid-19 restrictions as planned on July 19, even as the highly transmissible Delta variant of coronavirus drives a new surge in infections. The move puts the U.K. in focus as betting that vaccines will provide a durable route back to normalcy, despite the circulation of dangerous new variant.
 
---
POLITICS & ELECTIONS
---
— Trump's White House doctor calls for Biden to undergo cognitive test. Republican Texas Rep. Ronny Jackson, who is also a former White House physician, called for President Joe Biden to undergo a cognitive test Saturday. "The far left and the mainstream media were demanding that be the new standard for anybody who's going to lead our country and be our commander-in-chief and our head of state," Jackson said. "I'm just saying I agree with them at this point — we need to get it done," Trump's former White House physician added.
— Next round of ranked-choice preferences in NYC mayoral primary. The latest round of ranked-choice preferences in New York City's Democratic mayoral primary is expected to be conducted today. In the most recent count released on June 30, Eric Adams garnered 51.1% of the votes tallied and Kathryn Garcia was second, with 48.9%. Those results were available one day after 135,000 "test" ballots were mistakenly added, then removed. Moreover, that round of results did not include absentee ballots, leaving room for a significant swing. No Democratic candidate won an outright majority in the election on June 22, so the ranked choice preferences of voters are redistributed, as the candidates with the fewest number of first choice votes are eliminated in a series of rounds.
 
---
OTHER ITEMS OF NOTE     
---
— White House said it was reaching out to victims of a wide-ranging ransomware outbreak that is centered on a Florida-based information technology company and has had an impact on hundreds of businesses worldwide. President Biden warned Russian President Vladimir Putin that the U.S. "will respond" if Russia was behind Friday's mass cyberattack that hit at least 200 companies at the start of the Independence Day weekend. "We're not sure who it is," Biden told reporters. "The initial thinking was it was not the Russian government," Biden said. But others note that using criminal groups to achieve Russia's objectives is standard Russian cyber intelligence tradecraft. On Monday, Putin spokesman Dmitry Peskov was asked if Russia was aware of the attack or had looked into it. He said no but suggested it could be discussed during U.S.-Russian consultations on cybersecurity issues. No date has been set for such consultations, and few analysts expect the Kremlin to crack down on a crime wave that benefits Putin's strategic objectives of destabilizing the West.
     The criminals essentially used a tool that helps protect against malware to spread it globally. In a statement Sunday, deputy U.S. national security advisor Anne Neuberger urged all victims to alert the FBI. A day earlier, the FBI said in an alert that the attack's scale "may make it so that we are unable to respond to each victim individually."
---