First Thing Today Audio | August 31, 2021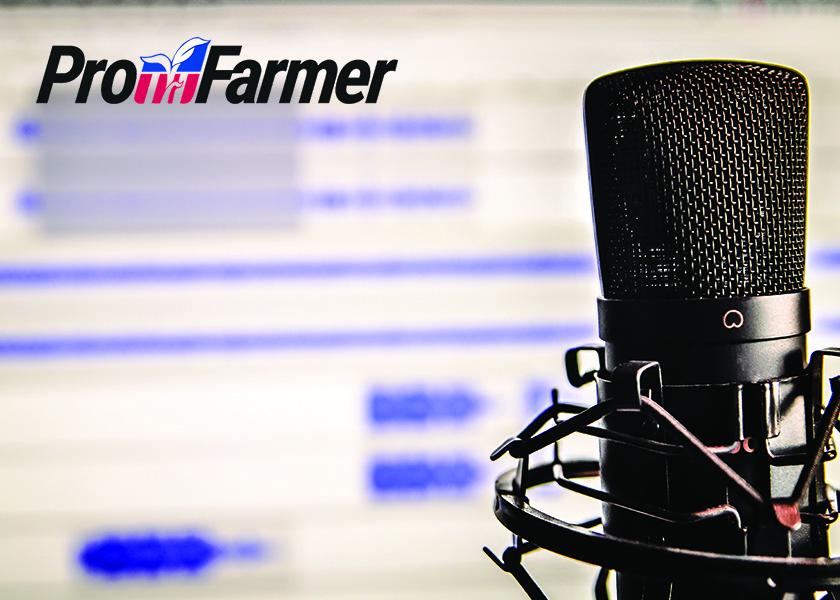 Corn futures have traded narrowly on either side of yesterday's close and the market is currently a penny higher. Soybean futures favored the upside overnight and futures are up 8 cents in the September contract and 1 to 3 cents higher in deferreds. Nearby SRW wheat futures are fractionally to 6 cents lower, while HRW wheat is generally 2 cents higher. Spring wheat futures are posting losses of 10 cents in the September contract and 1 to 2 cents in deferreds. The U.S. dollar index is under pressure. Crude oil futures are also lower, though the short-term trend of the market remains to the upside.
Following are highlights from USDA's crop progress and condition update for the week ended Aug. 29.
Corn: 91% in dough, 59% dented, 9% mature, 60% "good" to "excellent" (G/E)

Soybeans: 93% setting pods, 9% dropping leaves, 56% G/E

Spring wheat: 88% harvested

Cotton: 86% setting bolls, 21% bolls open, 70% G/E
Crop Consultant Dr. Michael Cordonnier maintained his U.S. corn yield projection of 175.5 bu. per acre and his bias is neutral going forward. He also maintained his 50 bu. per acre soybean yield projection and again his bias is neutral going forward.
The shipper CHS Global Grain & Processing Inc. is working to divert export shipments scheduled through the next month to its terminal in Kalama, Washington after Hurricane Ida knocked out a transmission line that powers its Myrtle Grove facility south of New Orleans.
China's official non-manufacturing purchasing managers index, which tracks activity in the construction and services sectors, plummeted to 47.5 in August from 53.3 the prior month, according to the National Bureau of Statistics. Largely responsible for the drop in the nonmanufacturing measure was a significant fall in the services subindex, which slid as the highly infectious Delta variant dampened demand for activities requiring close person-to-person contact, the statistics bureau said.
The last C-17 left the Kabul airport and cleared Afghanistan's airspace, ending the U.S.'s 20-year conflict in the country, U.S. Central Command head Marine Corps General Frank McKenzie said at the Pentagon. Evacuation flights ended a day ahead of schedule, and the military then packed equipment and personnel onto transport planes.
Oil and gas drillers would see leasing and other fees on federal lands and waters increase, while the government would invest billions more in climate resilience, drought relief, and conservation programs under a draft reconciliation bill the House Natural Resources Committee released last night.
An Arizona Federal judge struck down the Trump administration's Navigable Waters Protection Rule who said allowing it risks "serious environmental harm," particularly in the arid Southwest.
Boxed beef prices extended their reversal off their year-plus highs to start the week. Cash cattle traded at an average price of $125.74 last week, up 27 cents from the week prior.
The pork cutout value dropped $6.87 to start the week and movement was lackluster. October lean hogs still hold an overly wide $13-plus discount to the CME lean hog index.
---