First Thing Today | June 7, 2021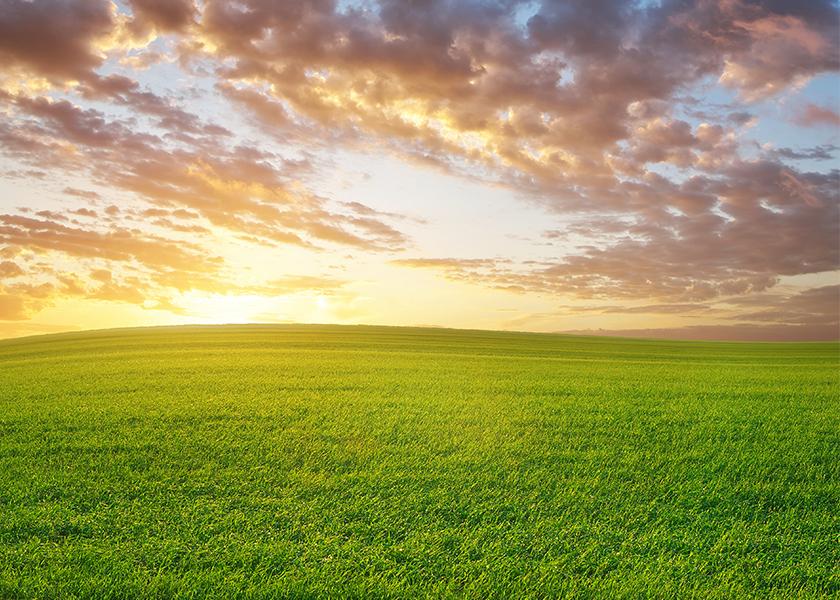 Grain, soy futures up sharply to start the week… Grain and soybean futures gapped higher overnight on U.S. weather concerns, especially across western and northern production areas. As of 6:30 a.m. CT, corn futures are trading 16 to 23 cents higher and soybeans are 25 to 33 cents higher, with new-crop contracts leading gains in both markets. Wheat futures are 11 to 16 cents higher, with HRS contracts pacing gains. The U.S. dollar index is holding near unchanged this morning.
Rains possible this week, but dryness concerns persist… The U.S. Northern Plains and areas of the Midwest were excessively hot during the weekend. Some needed rain will fall on the Northern Plains and upper Midwest this week as the high-pressure ridge shifts, according to World Weather Inc. It says heavier and more widespread rains are expected across the eastern and southern Midwest, along with the Delta and Southeast. The Canadian Prairies received some good rains over the weekend and are poised to get multiple waves of rain during the next week to 10 days.
The week ahead in Washington… Talks will continue on an infrastructure package after President Joe Biden rejected Sen. Shelley Moore Capito's (R-W.Va.) counterproposal to add about $50 billion, to $978 billion, in spending to the GOP's infrastructure package. The two will meet again today. Biden indicated "he would continue to engage a number of senators in both parties in the hopes of achieving a more substantial package," White House press secretary Jen Psaki said. Sen. Joe Manchin (D-W.Va.) on Sunday said he is "very confident" that Republicans and the White House will reach an agreement on an infrastructure bill. House Speaker Nancy Pelosi (D-Calif.) has said she wants the House to vote on an infrastructure bill by July 4. The big number to watch this week in economic data is the Consumer Price Index (CPI) that will be released on Thursday. The CPI report will be a crucial data set for the Fed in front of next week's monetary policy meeting. Economists forecast CPI will be up 4.7% for May compared to last year after rising 4.2% in April. The major focus for agriculture will be Thursday's Supply & Demand and Crop Production Reports from USDA. The agency will update its old- and new-crop balance sheets, adjust global production forecasts and release a new estimate of the U.S. winter wheat crop.
Chinese soybean imports rise in May… China imported 9.61 MMT of soybeans in May, up 29% from April and 2.4% more than last year. Through the first five months of this year, China imported 38.2 MMT of soybeans, up 12.8% from the same period last year.
China's imports hit more than a 10-year high in May… Chinese imports surged 51.1% versus the previous year in May to $218.4 billion, the fastest growth since January 2011. Its exports rose 27.9% last month to $263.9 billion, though that was down from 32.3% growth in April. That left China with a trade surplus of $45.5 billion, up from $42.9 billion in April. China's trade surplus with the U.S. rose to $31.8 billion from $28.1 billion in April.
Argentine grain customs workers plan short strike… Customs officials who process grains exports from Argentina plan to hold a seven-hour strike on Tuesday amid a lack of progress on getting union workers priority access to Covid vaccinations. The union representing the grain inspectors says the strike "may intensify after Tuesday" if there is no progress in negotiations with the government. Such a short work stoppage will not have a major impact on grain shipments from Argentina.
Russia assessing additional food price actions... Russia is warning it is prepared to continue with its export curbs on key food products after recent price rises prompted the Kremlin to cap the domestic cost of staple goods such as sugar and flour, the country's economy minister said. Maxim Reshetnikov, minister of economic development, told the Financial Times the country was considering how to best support its food exports while protecting domestic consumers from rising prices. Reshetnikov said Russia might expand the export measures to include a floating tariff of "flexible export duties" on additional goods, if prices continue to rise. As for domestic consumption, Russia was ending most of the price caps but would continue to subsidize certain staples, such as bread and flour.
Firm raises Russian wheat crop estimate… IKAR raised its Russian wheat crop forecast by 500,000 MT from its previous projection to 80 MMT due to improved spring wheat seeding conditions in central and southern production areas. Other Russian crop estimates are around 81 MMT. In 2020, Russia produced 85.9 MMT of wheat.
Yellen: Don't let inflation stop spending plans… Treasury Secretary Janet Yellen said Biden should push forward with his $4 trillion spending plans even if they trigger inflation that persists into next year and higher interest rates. "If we ended up with a slightly higher interest rate environment it would actually be a plus for society's point of view and the Fed's point of view," Yellen said Sunday in an interview with Bloomberg News during her return from the Group of Seven finance ministers' meeting in London. Biden's packages would add up to roughly $400 billion in spending per year, Yellen said, contending that's not enough to cause an inflation over-run.
U.S., other G7 nations agreed to support a minimum global corporate tax rate of at least 15%... The deal faces several hurdles regarding implementation, and next month, the Group of 7 countries must sell the concept to finance ministers from the broader Group of 20 nations that are meeting in Italy. If that is successful, officials hope that a final deal can be signed by Group of 20 leaders when they reconvene in October. Full implementation could take years with a need for more countries to sign up and it's still iffy as to whether or not this will succeed. The Wall Street Journal notes that while the G7 agreement focuses on the headline rate for the new minimum tax, the OECD plan "comes with reams of harmonized fine print on matters such as credits or exemptions for capital investment and research and development. Suppressing tax competition is the main reason the Biden Administration broke with Washington's long, bipartisan tradition of opposing a global minimum tax. Biden hopes to fund his domestic spending blowout by milking American companies for more revenue, and he's figured out his tax increases will undermine American competitiveness unless other governments go along… American companies will be at a significant disadvantage until . . . other governments agree to hamstring their own firms."
Chinese meat imports drop in May… China imported 790,000 MT of meat during May, down 14.4% from April and 3.3% less than May 2020. The preliminary import data doesn't break down the individual category of meat imports. Through the first five months of the year, China brought in 4.34 MMT of meat, up 12.6% from the same period last year.
Watching wholesale beef prices… Boxed beef prices fell $1.57 in Choice cuts and $1.43 for Select on Friday, while packers moved only 97 loads of product on the day. Given the extended runup in wholesale beef prices, traders will be watching for signs the rally has run out of steam. But with strong demand from retailers, restaurants and the overseas markets, it's going to take a lot more than a day or two of price pressure to convince traders a top is in place.
Cash fundamentals remain supportive for hogs… The national direct cash hog price firmed 95 cents last Friday, while the pork cutout was $1.77 higher. Until cash fundamentals signal the rally has exhausted, the downside in futures will be limited to mild corrective selling and upside potential will remain open. But given the extended price rally, traders are on watch for a seasonal top.
Weekend demand news… Algeria tendered to buy at least 50,000 MT of milling wheat from Europe, South America or Australia.
Today's reports