First Thing Today | June 14, 2021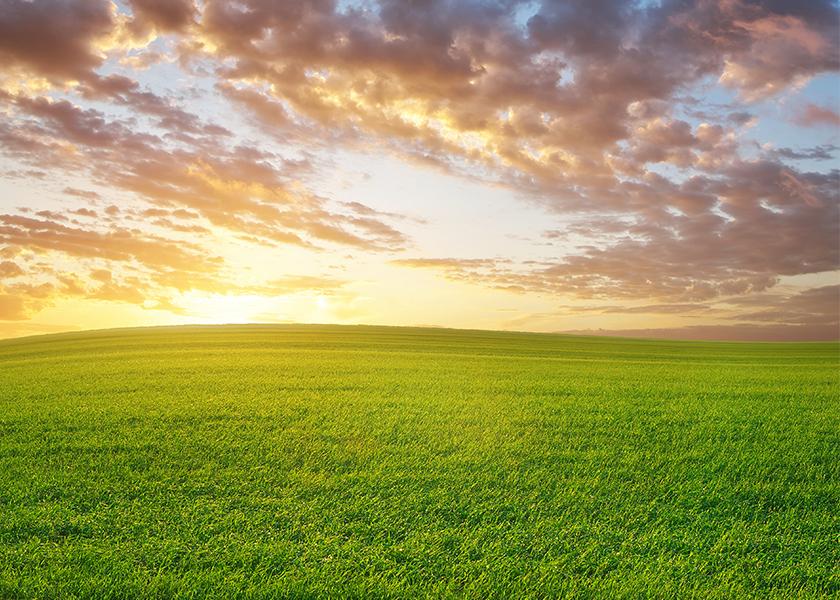 Pressure to start the week… Corn futures faced heavy pressure overnight, with most contracts currently down 20 to 28 cents. The December contract filled last Monday's chart gap, triggering followthrough selling. Soybean futures have tumbled 29 to 38 cents, with November futures leading losses. Soymeal and soyoil are also facing heavy pressure. Winter wheat futures are 18 to 20 cents lower, while spring wheat is down 19 to 23 cents. The U.S. dollar index is marginally lower. Crude oil futures are posting modest gains. Chinese and Australian markets are closed for holidays.
Just erratic rains expected for the Northern Plains and Midwest the next two weeks… Over the weekend, the best rains fell in eastern Nebraska into northeast Kansas and northeast Missouri, with some very light accumulation recorded in far western Iowa, western Minnesota and neighboring areas of the Dakotas. Northeast North Dakota also saw up to 0.8 inch of rain. There were also some spotty rains in the eastern Corn Belt. World Weather Inc. offers this perspective on rains for the Corn Belt: "only 15-20% of the region received enough rain to change soil moisture and most of the changes were expected to be brief." Rain is expected to be sporadic this week and the next, with temperatures expected to be warmest in the Plains and western Corn Belt Tuesday through Thursday. Temperatures in the 80s and 90s are likely, with some extremes topping 100 degrees F, according to World Weather. Another watchpoint is the possibility of a tropical storm impacting the upper Texas or Louisiana coasts over the weekend. World Weather believes the greatest rain is likely for Louisiana, southern Mississippi and Alabama, though it cautions, "it is a little soon to be specific."
Drought Monitor: Extreme conditions in the West are more widespread than at any point in at least 20 years... California is now in its dry season and is unlikely to see significant rainfall again until October. "There's a 100% chance that it gets worse before it gets better," Dr. Daniel Swain, a climate scientist at the University of California, Los Angeles, told the New York Times. "We have the whole long, dry summer to get through." Parts of Northern and Central California are turning to water restrictions as the drought rapidly alters the landscape. More than 40 of California's 58 counties are now under a drought state of emergency. Many farmers in the Central Valley have declared the outlook for the year to be grim. So far, Southern California's water supply has not been hit as hard by the drought.
Monsoon already covers 66% of India… India's monsoon rains already cover two-thirds of the country, which is nearly two weeks ahead of the normal pace, an official with the India Meteorological Department reported. Monsoon rains arrived June 3 vs. the usual June 1 and the rains have since spread rapidly, bringing 25% more rainfall than usual. The quick spread of the monsoon and abundant rains should benefit producers of paddy rice, cotton, soybeans and pulses.
The week ahead… President Joe Biden continues his European travels after the G7 confab. On his agenda: meeting with European officials and on June 16 in Geneva with Russian President Vladimir Putin. U.S. Trade Representative Katherine Tai will join Biden in Brussels for meetings with EU counterparts and then for Tuesday's U.S./EU summit. Back at home, Congress continues its hearings on the fiscal year (FY) 2022 budget, with USDA Secretary Tom Vilsack appearing on Tuesday before the Senate Ag Appropriations Subcommittee. That is likely why USDA on Friday finally released long-delayed details on second-half 2019-crop WHIP+ payments and on the Quality Loss Adjustment (QLA) program. Talks continue on infrastructure reform. On Wednesday, focus will be on the Federal Open Market Committee statement and whether there is any change in its "transitory" views of U.S. inflation.
G7 summit ends with a critique of the Chinese and Russian governments… Biden and other Western leaders concluded the G7 summit with a joint declaration criticizing the Chinese and Russian governments. Biden is attending his first NATO summit as president today. The communique outlined plans to counter Chinese influence in the developing world through its Belt and Road Initiative but stopped short of naming China in a section on forced labor. The leaders also vowed to donate a billion doses of Covid-19 vaccines to poorer countries over the next year and to end government subsidies for foreign coal projects. They also expressed support for a 15% minimum tax on large multinationals.
A rebound in U.S. domestic shipping picks up steam… The Cass Freight Index jumps 7.7% from April to May and moves ahead of pre-pandemic levels for the first time. The 1.269 reading from Cass Information Systems was a record 35.3% up on the pandemic-hit level the year before. The gain signals the recovery "is progressing much faster than the recovery from the Great Recession," Cass says, boosting by retailers restocking depleted inventories. Freight expenditures soared 49.9% against a year-ago level that marked "the easiest comparison of the pandemic quarantine period," but the spending index was off 2.6% from April to May.
New law bumps Nevada ahead of Iowa, New Hampshire in presidential contest line for 2024… Nevada Democratic Governor Steve Sisolak on Friday signed a law that would make Nevada the first state to vote in the 2024 presidential primary contests, bumping Iowa and New Hampshire from their leadoff spots. It is expected to set off maneuvering by other states, especially Iowa and New Hampshire, to move up their contests. The national political parties would need to agree to changes in the calendar, or state parties could risk losing their delegates at presidential nominating conventions. The Democratic National Committee has not yet signaled whether it would support the calendar shake-up and isn't expected to start writing rules for its 2024 nominating process until next year. Republicans in four early presidential nominating states jointly opposed the move last week, saying they're committed to preserving the historical schedule.
Texas GOP Governor Abbott: Will build wall with Mexico... Governor Greg Abbott (R-Texas) said the state would build a border wall with Mexico. It is murky as to whether the state has the authority to build a wall in an attempt to deter immigrants. Abbott said he expected to announce more details about the wall this week. Abbott explained that he would start by setting up barriers to identify people trying to cross the border and by deploying additional law enforcement agents to assist the Border Patrol. He has blamed the increase in migrant crossings on Biden's unwinding of former President Donald Trump's restrictive border rules. "It is out of control and a change is needed," he said. "Some of these border barriers will be built immediately."
Vaccinations slow… The pace of U.S. vaccinations has slowed, and a substantial share of Americans — close to one third — remains hesitant about getting a shot.
JBS CEO gets a congressional letter re: paying ransom… House Oversight Committee Chairwoman Rep. Carolyn Maloney (D- NY) sent a letter late Thursday to Andre Nogueira, CEO of meat processor JBS USA, seeking documents and communications related to the May 30 ransomware attack against the company, as well as the $11 million payment that JBS ultimately made to the attackers a few days later. That includes communications with the cybercriminals. Maloney writes that paying them could risk similar attacks in the future, and Congress needs more information to consider legislation. A JBS spokesman says the company will comply with the request.
Strong finish for cattle complex Friday… Live and feeder cattle futures rallied to close out the week and registered technically bullish weekly high closes, which should set the stage for followthrough buying early this week, especially if there are any indications cash markets may strengthen. Choice and Select boxed beef values fell 69 cents and $5.19, respectively, on Friday, and movement slowed to just 78 loads. Cattle slaughter last week was up 23.6% from last week's tally, with JBS plants back online. Average steer weights dropped 4 lbs. from the week prior, with weights now 11 lbs. under year-ago.
Pork and cash hog prices fell at week's end… The pork cutout value ended Friday $1.51 lower, down dramatically from a $6.73 midday surge. All cuts except loins softened, and the cutout ended the week down a little over $2. Movement slowed to 273.32 loads at week's end. Cash hog bids fell 46 cents on Friday, but seasonal trends signal prices should be supported for much of the month given supply tightness. Pork production last week rebounded to 523.4 million lbs., up 23.3% from last week's cyberattack-interrupted tally but 1.5% under year-ago.
Weekend demand news… Ethiopia canceled an international tender to buy around 400,000 MT of milling wheat.
Today's reports