First Thing Today | July 21, 2021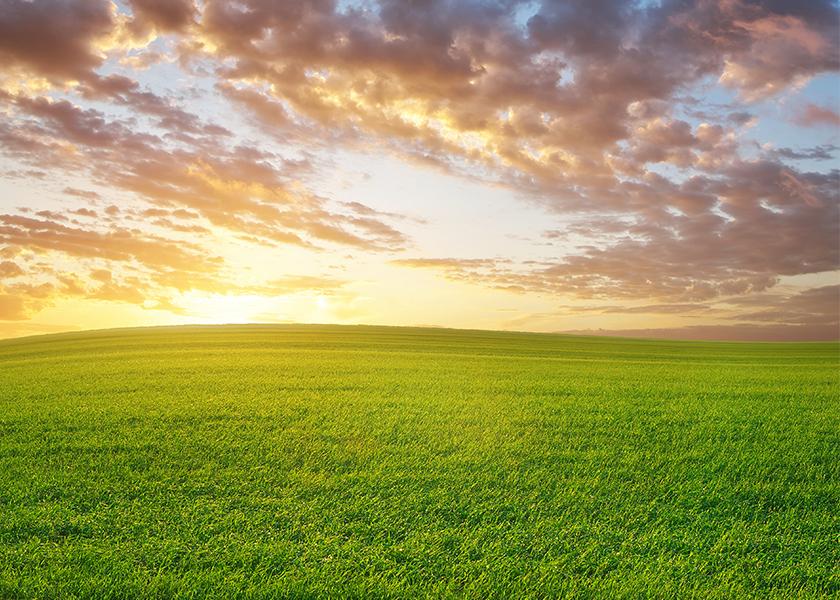 Mix of followthrough buying and profit-taking overnight… Corn futures have pared early gains to trade narrowly mixed. Soybean futures opened the overnight session with gains but quickly reversed lower, with most contracts currently down 4 to 6 cents. HRW wheat futures are up 5 cents, SRW wheat is 2 to 3 cents higher and spring wheat futures are down 2 to 7 cents. The U.S. dollar index is slightly higher. Crude oil futures are posting solid gains, but the market has yet to retrace half of Monday's dive.
High pressure ridge could lead to more drying in western Corn Belt and Northern Plains… The forecast remains concerning for the next 10 days to two weeks for Montana, much of the Dakotas, and the northwestern part of the Corn Belt, reports World Weather Inc., with favorable conditions elsewhere in the Midwest. World Weather says a high pressure ridge could build into the central U.S. July 24 through July 29/30 before slowly shifting to the west. That will likely lead to net drying for at least part of the western Corn Belt and much of the Northern Plains. Some showers along the northern part of the ridge should provide some partial relief to eastern areas of the Northern Plains, the weather watcher adds.
USDA isn't the only one missing the mark on Canada's wheat crop… Agriculture and Agri-Food Canada (AAFC) in its WASDE-equivalent report raised its all-wheat yield forecast yesterday, with the 2021-22 crop now estimated at 31.428 MMT, which would be a 10.7% retreat from the 2020-21 season. "Downward pressure on yields is possible as drought persists in most of the Prairies," AAFC wrote. USDA earlier this month trimmed its Canadian wheat crop forecast by 500,000 MT to 31.50 MMT, drawing criticism from analysts who say Canada's wheat crop has been just as battered (if not more so) by drought and heat. AAFC is calling for a canola crop of 19.885 MMT, up 6.2% from last season. Analysts we spoke with say dry weather has taken a toll on the country's oilseed crop, too. The country's planted canola acreage climbed 8.2% this season amid a jump in oilseed demand.
ANEC boosts July export forecasts for Brazilian corn and soybeans… Brazil will likely export 9.437 MMT of soybeans during July, forecasts the association of grain exporters known as ANEC. That's a 482,000-MT jump from its forecast last week. The association expects the country to ship 3.195 MMT of corn this month, which is up a solid 160,000 MT from its previous outlook.
Argentine soybean sales still running a bit ahead of year-ago on a percentage basis… So far this marketing year, Argentine producers have sold 25.1 MMT of soybeans, which represented a 660,400-MT advance for the week ending July 14, the ag ministry said today. That represents 57.7% of this year's 43.5 MMT crop, as measured by the Buenos Aires Grains Exchange. Last year at this time, producers had sold 27.2 MMT, or 55.5%, of the 49-MMT crop. The ag ministry reports 33.6 MMT of the country's 48 MMT corn crop had been sold a of mid-month, which is about 2.7 MMT more advanced than last year at this point. Harvest is nearing two-thirds complete for corn.
Russia exported 49 MMT of grain in 2020-21, hopes to push shipments 4% higher in 2021-22… Russia exported around 49 MMT of grain in the marketing year ending June 30, Deputy Agriculture Minister Oksana Lut told reporters. That includes 37.6 MMT of wheat, according to Lut, who says that will allow Russia to maintain its position as the world's biggest wheat exporter. She says the country could export around 51 MMT of grain during the 2021-22 season.
Putin says Russian government considering other ways to tame food inflation… During a televised session with the Russian people last week, President Vladimir Putin said the government was considering other measures to curb rising food costs when pressed about increases. Rising food costs are unnerving some voters, particularly older Russians on small pensions who fear a return of soaring inflation and food shortages in the 1990s, Reuters reports. But Putin is also doing a balancing act of sorts as the country's ag sector is already unhappy with export taxes and price caps that they say are discouraging long-term investments in the sector, cutting into profits and making it difficult to compete on the export front. The country's ag sector has grown remarkably in recent years.
China to auction more of its corn reserves on Friday… China will auction another 23,488 MT of corn imported from Ukraine on July 23, the country's grain stockpiler Sinograin said today. These auctions that started June 11 were initially met with strong demand, but the sales percentages have dived this month, with next to no grain selling at its latest July 16 auction.
Republicans poised to thwart infrastructure vote… Senators plan to cast their first votes on whether to consider the bipartisan infrastructure package. If the vote to move forward on the Senate floor fails to get the 60 votes needed, as expected, talks among a bipartisan group of 22 senators could continue.
Very low odds for proposed legislation to end corn-ethanol mandate… Senators Pat Toomey (R-Pa.), Dianne Feinstein (D-Calif.), Susan Collins (R-Maine) and Bob Menendez (D-N.J.) have introduced the Corn Ethanol Mandate Elimination Act which would end the 15-billion-gallon conventional (primarily corn-based) ethanol requirement under the Renewable Fuel Standard. The measure frames the effort in a bid to reduce carbon emissions from transportation fuels by only removing the corn-based ethanol component and leaving the volume obligations in place for advanced and cellulosic biofuels and biodiesel. The lawmakers pointed to issues that have been debunked by the ethanol industry, including that corn-based ethanol raises food costs. They also are framing the bill under lowering carbon emissions even as new studies have updated the carbon impact of ethanol production. Bottom line: This measure as single-digit odds, if that, of passing.
Federal Maritime Commission orders audit of world's largest ocean carriers… The Federal Maritime Commission has ordered the world's nine largest ocean carriers to undergo an audit aimed at looking into detention and demurrage practices. President Joe Biden wants to clamp down on the rise in shipping costs, which have shot up during the pandemic.
Limited cash cattle action so far… So far, there have just been some light sales in Iowa at $122, which compares to $125 action last week for the state. The Nebraska dressed market saw some light action from $198 to $200 yesterday, which was in line with last week's trade. The Nebraska live market also saw some sales earlier this week at $125, in line with the upper end of trade ranging from $123 to $125 for the state last week. Today's online Central Stockyards auction could provide some additional cash market insight. Boxed beef values dropped 91 cents (Select) to $1.61 (Choice) on Tuesday, with movement picking up to 152 loads.
Futures remain at a discount to the CME lean hog index… August lean hog futures strengthened Tuesday, but the CME lean hog index also continues to climb. Consequently, the front month still holds a $7-plus discount to the CME lean hog index. The October contract is more than $21 under the index, reminding of the likely seasonal decline in cash hog prices as supplies build heading into fall. On Tuesday, cash hog bids jumped a national average of $3.60 and the pork cutout value slipped $1.51. Movement picked up to 340.36 loads. Packer profit margins have strengthened notably over the past week, with HedgersEdge.com pegging them at $16.10 a head as of Tuesday.
Overnight demand news… Thailand is believed to have rejected all offers and made no purchase in its international tender to up to 138,000 MT of animal feed wheat, citing high prices.
Today's reports