Ahead of the Open | September 14, 2021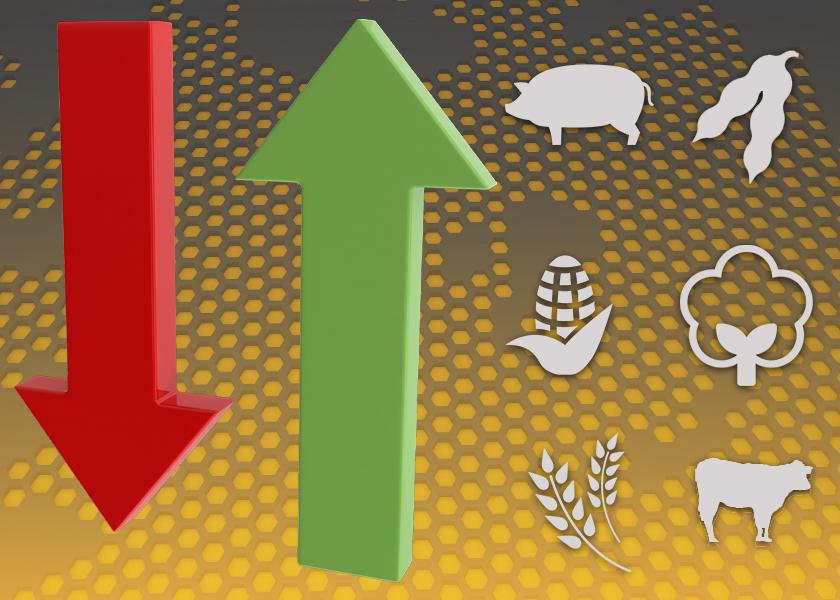 GRAIN CALLS
Corn: Steady to 5 cents higher.
Soybeans: 7 to 9 cents higher.
Wheat: 2 to 12 cents lower.
GENERAL COMMENTS: Wheat futures rose overnight on concerns over tightening global supplies, while corn and soybean futures also rose. Malaysian palm oil futures rose about 0.5%, while Nymex crude oil futures rose above 0.5%, near five-week highs. The U.S. dollar index was slightly weaker.
Crop consultant Michael Cordonnier raised his estimate for corn harvested acreage estimate to 85.0 million acres, just below USDA's recently increased harvested acreage estimate, 85.1 million acres. Cordonnier also raised his corn yield projection 0.5-bu. to 176 bu. per acre, 0.3 bu. under USDA's latest projection. In a weekly report, the consultant noted warmer and drier conditions the first half of September are accelerating crop maturity, which may hinder final stages of development for corn or soybeans.
Cordonnier also echoed USDA's harvested acreage estimate of 86.43 million acres and raised his soybean average yield estimate to 50.3 bu. per acre from 50.0 bu. per acre.
France's agriculture ministry lowered its soft wheat crop estimate by 630,000 metric tons (MT) to 36.06 MMT, citing heavy summer rains. This year's crop would still be up 24% from last year's poor showing and up 8.1% from the five-year average.
U.S. grain exports slumped to their lowest level in years last week as shippers struggled to restart loading operations along the Louisiana Gulf Coast after Hurricane Ida flooded and damaged grain terminals and knocked out power across, Reuters reported. USDA grain inspections data showed the volume of corn weighed and certified for export last week was the lowest in 8 1/2 years as no grain was inspected along the Louisiana Gulf Coast, the busiest outlet for U.S. crops.
Canada's cattle and swine herds are likely to contract beginning in 2022, and the 2021 drought is likely to reduce Canada's calf crop next year, USDA attaché said. The attaché expects imports of cattle from the U.S. to remain stable in 2021, "as there is a continued need to supplement the declining Canadian herd numbers," the post says, adding "lower carcass weights will see a reduction in beef production, but strong global demand will support sustained export volumes."
CORN: USDA yesterday reported 58% of the U.S. corn crop in "good" or "excellent" condition at the start of this week, down from 59% the previous week. When USDA's weekly condition ratings are plugged into the weighted Pro Farmer Crop Condition Index (CCI; 0 to 500-point scale, with 500 representing perfect), the corn crop slipped 1.5 points to 353.8 points, about 11 points below the five-year averages. The crop was 37% mature, about 6 percentage points above the five-year average.
SOYBEANS: USDA rated 57% of the soybean crop in good-to-excellent condition, unchanged from the previous week. When USDA's weekly condition ratings are plugged into the weighted Pro Farmer CCI, the soybean crop improved a point to 346.5 points, still almost 11 points below the five-year average. About 38% of the crop was dropping leaves, compared to the five-year average of 29%.
WHEAT: USDA reported 12% of the winter wheat crop was planted as of September 12, higher than the five-year average of 8%.
LIVESTOCK CALLS
CATTLE: Steady-weak
HOGS: Steady-mixed.
CATTLE: Futures may face followthrough pressure after sinking yesterday to the lowest closing price since early May, though indications the market is oversold could lead to a technical bounce. A slumping wholesale beef market continues to weigh on futures. Choice cutout values fell $1.29 yesterday to an average of $325.93, the eleventh consecutive daily decline and the lowest price since Aug. 13. Slaughter-ready steers in five top feedlot areas last week averaged $124.79, down from $125.61 the previous week but up from $101.21 for the same week a year earlier. A JBS beef plant in Grand Island, Nebraska, that was partially idled by a fire over the weekend is expected to resume processing today
Market bears have a firm near-term technical advantage after October cattle broke below key moving averages during a three-week slide. For market bears, downside objectives include closing October below support at the June low of $119.92. Other chart levels to watch include yesterday's low at $120.85.
HOGS: Futures may be under followthrough pressure from yesterday's tumble to six-month lows. Pork carcass cutout values fell $4.53 yesterday to an average of $100.57, the lowest since $98.30 on March 12. On national direct markets, cash hogs fell $1.38 to $84.48. The latest CME lean hog index fell 23 cents to $97.73, the lowest since $97.38 March 26 but still over $16 above the October futures contract. Indications the market is oversold could lead to a technical bounce, and seasonal patterns suggest cash hog and wholesale pork may turn higher this week.