Ahead of the Open | October 14, 2021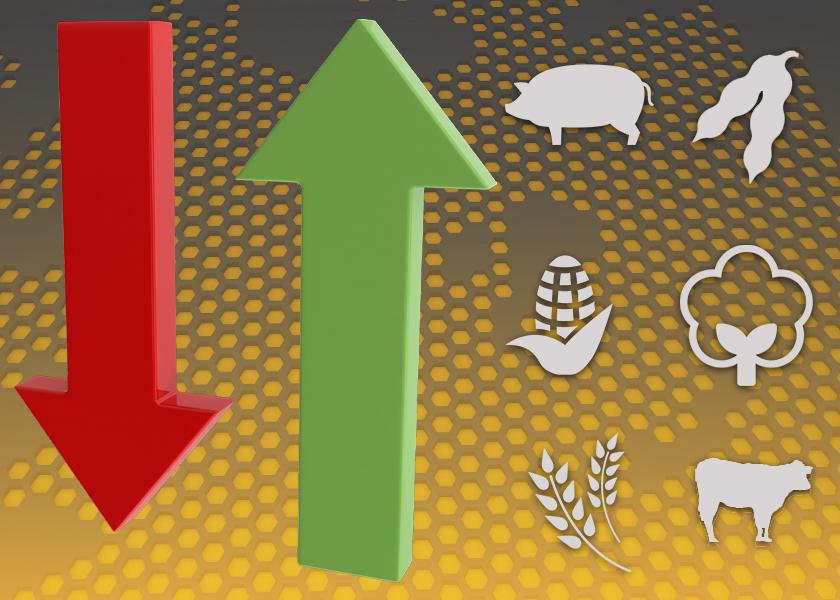 GRAIN CALLS
Corn: 2 to 3 cents higher.
Soybeans: 3 to 5 cents higher.
Wheat: 4 to 6 cents higher.
GENERAL COMMENTS: Corn futures rose overnight in a corrective bounce from yesterday's drop to five-week lows, while soybeans and wheat also posted modest gains. Malaysian palm oil futures fell nearly 3.0% after reaching record highs earlier this week. Nymex crude oil futures rose over 1.0%, near seven-year highs. The U.S. dollar index is weaker this morning.
USDA reported a daily sale of 132,000 metric tons (MT) of soybeans for delivery to "unknown destinations" during the 2021-22 marketing year.
USDA's weekly export sales report will be released Friday at 7:30 a.m. CT, delayed a day due to the Oct. 11 government holiday.
U.S. soybean crushings likely fell to a three-month low in September, according to analysts polled ahead of a monthly National Oilseed Processors Association (NOPA) report tomorrow. NOPA members were estimated to have crushed 155.072 million bushels last month, based on a Reuters survey.
Argentina's 2021-22 soybean plantings are expected to fall 500,000 hectares (1.2 million acres) to 17.0 million hectares (42.0 million acres), the USDA attaché in the country estimated. The attaché estimated production at 49.7 MMT, 1.3 MMT under USDA's official estimate.
Australian producers are expected to bring in a record canola crop topping 5 MMT. Aussie canola exports are expected to surge 29%, to over 4 MMT.
China raised the minimum purchase price for wheat in 2022 to 2,300 yuan ($357) per metric ton, a 1.8% increase from 2021's minimum of 2,260 yuan ($351) per metric ton and the first increase since 2014.
CORN: December corn rose as high as $5.16 1/2 overnight amid corrective buying. Commodity funds have stepped up selling this week as the technical and fundamental picture turned increasingly bearish, in large part because of USDA's unexpected increase in its production estimate earlier this week. Chart levels to watch include yesterday's low at $5.06 3/4 and the 200-day moving average around $5.18 3/4.
SOYBEANS: November soybeans rose as high as $12.02 1/4 overnight, after sinking yesterday to $11.95 1/4, the lowest closing price since $11.86 1/4 on March 30 and the lowest settlement for a nearby contract since December 2020. Chart levels to watch include yesterday's low at $11.84 1/2 and the 5-day moving average at $12.13 1/4.
WHEAT: December SRW futures rose as high as $7.25 overnight, after tumbling 15 1/4 cents yesterday to $7.18 3/4 per bu., the contract's lowest closing price so far this month. While the global supply outlook continues to tighten, wheat futures would be vulnerable if corn and soybeans weaken further.
LIVESTOCK CALLS
CATTLE: Steady-firm
HOGS: Steady-weak
CATTLE: Slumping wholesale beef prices continue to hang over the futures market, but may be offset by a steady to firmer cash tone this week. Cash cattle trade picked up at $124 across the Midwest and Plains at midweek, steady with the upper end of last week's trade. Boxed beef remained under pressure, with Choice cutout values down $1.05 yesterday to $280.02, the lowest daily price since $278.46 on July 30. Cutout values have been eroding since late August, due to slack retail demand. Cattle slaughter so far this week totaled 361,000 head, down 2,000 head from the same period last week and even with the same period in 2020, USDA reported. December live cattle yesterday fell to $129.00, the third consecutive decline.
HOGS: Futures may extend yesterday's slide to near three-week lows as cash fundamentals remain soft, even with wholesale pork rebounding. Pork carcass cutout values rose $2.47 yesterday to an average of $104.85, on movement of about 418 loads, USDA reported. The CME lean hog index dropped to $89.73, the lowest since mid-March. Hog slaughter so far this week totaled 1.432 million head, up 1.0% from the same period last week but down 1.8% from the same period in 2020. December lean hogs yesterday fell as low as $77.60, slightly under the 200-day moving average around $78.00. The top of the Sept. 27 chart gap is at $77.20.