Ahead of the Open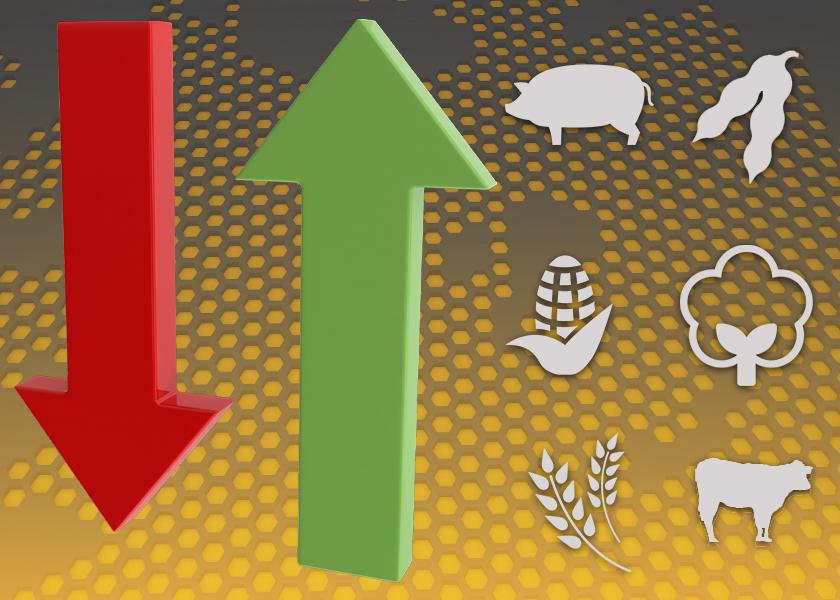 GRAIN CALLS
Corn: 24 to 24 cents lower.
Soybeans: 42 to 53 cents lower.
Wheat: 22 to 32 cents lower.
GENERAL COMMENTS:
Grain futures fell sharply overnight after overnight weather models indicated a shift to cooler and wetter conditions in coming weeks, according to World Weather Inc.
Today's Midwest weather outlook is wetter for late this week through the end of next week, bringing some temporary relief from dryness, though some areas may be very warm. "Sufficient rain will fall in the central and eastern Midwest to maintain a very good outlook for corn and soybean development," World Weather said.
U.S. weather this week will be warmest in the Plains and western Corn Belt Tuesday through Thursday when highs in the 80s and 90s and a few extremes over 100 are expected, World Weather said. Cooling is expected late this week and into the coming weekend which may slow drying rates. Rain is expected sporadically this week and next week keeping a level of concern over long-term soil moisture across the northern and western Midwest.
India's monsoon rains already cover two-thirds of the country, which is nearly two weeks ahead of the normal pace, an official with the India Meteorological Department reported. Monsoon rains arrived June 3 vs. the usual June 1 and the rains have since spread rapidly, bringing 25% more rainfall than usual. The quick spread of the monsoon and abundant rains should benefit producers of paddy rice, cotton, soybeans and pulses.
CORN:
The overnight sell-off weakened the technical posture of corn futures and other grain markets. December futures sank as low as $5.70 1/2 overnight, filling last Monday's chart gap and marking the contract's lowest price since $5.68 on June 4 and slightly above the 40-day moving average. July futures fell as low as $6.53, below the 40-day moving average around $6.66.
SOYBEANS:
November soybeans fell as low as $13.83 3/4 overnight, the contract's lowest price since $13.81 on June 1 and slightly above the 40-day moving average around $13.81 1/2. July dropped to $13.83 3/4, the lowest intraday price since $14.53 on April 21.
WHEAT:
Spring wheat continues to lead the markets as recent rains in the Northern Plains temporarily recharged soil moisture, though the dryness threat has not been eliminated. Only erratic rains are expected for the Northern Plains and Midwest the next two weeks. Over the weekend, the best rains fell in eastern Nebraska into northeast Kansas and northeast Missouri, with some very light accumulation recorded in far western Iowa, western Minnesota and neighboring areas of the Dakotas. Northeast North Dakota also saw up to 0.8 inch of rain.
CATTLE: Steady-firm
HOGS: Steady-weak
Cattle futures finished strong Friday, and the sell-off in corn prices should lift feeder futures. Technically bullish weekly high closes may set the stage for follow-through buying in live cattle, especially if there are any indications cash markets may strengthen. Choice boxed beef cutout values ended last week at $337.56, down from $338.98 from the previous week but still up 61% this year. Live steers averaged $120.02 per hundredweight Friday, up from $119.92 a week earlier.
HOGS:
Pork and cash hog prices fell at the end of last week. The pork cutout value ended Friday $1.51 lower, down dramatically from a $6.73 midday surge. All cuts except loins softened, and the cutout ended the week down a little over $2. Movement slowed to 273.32 loads at week's end. Cash hog bids fell 46 cents on Friday, but seasonal trends signal prices should be supported for much of the month given supply tightness. Pork production last week rebounded to 523.4 million lbs., up 23.3% from the previous week's cyberattack-interrupted tally but 1.5% under year-ago.