USDA report preview: Bigger corn, soybean crop estimates expected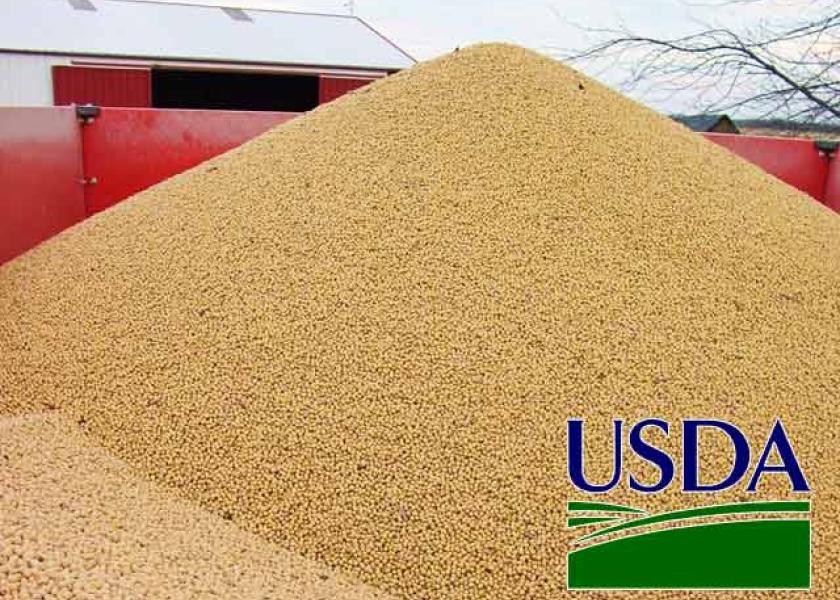 USDA's September Crop Production Report will feature the first objective yield surveys for corn and soybeans. Based on the average pre-report estimates from a Reuters survey, traders expect USDA's crop pegs to increase from last month. USDA will also update its cotton crop estimate, which traders expect to increase as well.
The final 2021 wheat crop estimate will come at the end of the month via the Small Grains Summary.
The following expectations are generated by survey work by Reuters (Bloomberg for cotton).
Expectations for 2021
U.S. Production

                Corn     

 

Production
(bil. bu.)

Yield
(bu. per acre)

Average est.

14.942

175.8

Range

14.710-15.120

173.6-178.1

USDA Aug. est.

14.750

174.6

 

Soybeans

 

Production
(bil. bu.)

Yield
(bu. per acre)

Average est.

4.377

50.4

Range

4.310-4.440

49.5-51.2

USDA Aug. est.

4.339

50.0

 

Cotton

 

Production
(mil. bales)

Yield
(lbs. per acre)

Average est.

17.69

NA

Range

17.00-18.45

NA

USDA Aug. est.

17.26

800

 
Changes to the corn, soybean and cotton crop estimates will impact the new-crop balance sheets, with traders expecting bigger ending stocks projections for all three markets in 2021-22. The wheat carryover projection is expected to decline from last month.
Globally, USDA's major cuts to key production forecasts that led to a sharp reduction in 2021-22 wheat ending stocks were the headliner in August. This month, traders expect just modest fine tuning to the global wheat production and ending stocks forecasts. Expectations for bigger U.S. corn, soybean and cotton ending stocks are expected to push global carryovers up for all three from last month.
Expectations for
U.S. Carryover

Corn – billion bushels

 

2020-21

2021-22

Average est.

1.169

1.382

Range

1.100-1.277

1.018-1.612

USDA August

1.117

1.242

 

Soybeans – million bushels

 

2020-21

2021-22

Average est.

166

190

Range

110-190

132-260

USDA August

160

155

 

Wheat – million bushels

 

2020-21

2021-22

Average est.

NA

616

Range

NA

579-652

USDA August

844*

627

*Marketing year ended June 30

Cotton – million bales

 

2020-21

2021-22

USDA

NA

3.43

Average est.

NA

2.82-4.40

USDA August

3.20

3.00
Expectations for
Global Carryover

Corn – MMT

 

2020-21

2021-22

Average est.

NA

286.01

Range

NA

281.50-290.50

USDA August

280.75

284.63

 

Soybeans – MMT

 

2020-21

2021-22

Average est.

NA

96.89

Range

NA

91.20-98.70

USDA August

92.82

96.15

 

Wheat – MMT

 

2020-21

2021-22

Average est.

NA

279.03

Range

NA

276.00-288.00

USDA August

288.83

279.06

 

Cotton – million bales

 

2020-21

2021-22

Average est.

NA

87.67

Range

NA

86.44-89.00

USDA August

91.78

87.23