From The Rows | Aug. 18, 2021 — Brian Grete (East)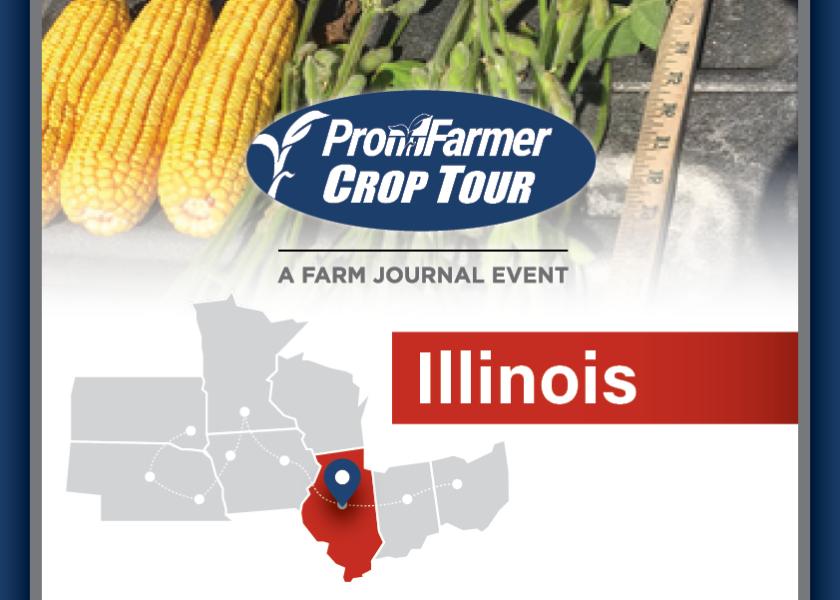 Eastern Tour – Day 3
My route took me west out of Bloomington and then north through crop districts 4 and 1 in central and west-central Illinois. Corn yields along my route averaged 202.1 bu. per acre on seven samples, with a range of 164.7 to 247. Ear counts in two 30 foot rows were strong, ranging from 103 to 119. Grain length was less than normal through this area from our samples, ranging from an average of 5.33 inches to 7.58 inches.  
Pod counts in a 3'x3' square averaged 1280.4 along my route, with a range from 386.7 to 1646.9. Aside from the low sample, the rest were all above 1024 and aside from that one, they were all 1276.8 or higher. Soybeans were more consistent than corn along my route.  
Conditions got drier the farther west and north we traveled along my route. But we didn't see any real damage from the dryness at this stage. We did not get into or see any of the wind-damaged corn some other groups experienced.
As we crossed the river into eastern Iowa, soils got notably drier. Corn yields and soybean pod counts declined, but both crops appear to be holding on relatively well given the dryness. Corn maturity was further advanced, however, signaling the dryness is pushing the crop faster than would be ideal. Rains will likely be needed soon to keep yield potential from declining.
Final Day 3 observations
Illinois' corn and soybean crops are going to be very good this year. The question is whether they live up to the record yields of 214 bu. per acre for corn and 50 bu. for soybeans USDA estimated as of Aug. 1. For corn in particular, a number of weather factors have negatively impacted the crop since USDA completed its August crop survey. Soybeans appear to have weathered the storm better than corn.
Our corn yield in Illinois was 196.3 bu. per acre, up 3.6% versus what we found on Crop Tour last year. USDA's Aug. 1 corn yield estimate would be up 11.5% from last year. Our average miss on the Illinois corn crop since 2001 has been 2.4 bu. too low. But if you look at the past five years, we've been 10.7 bu. too low, including misses of 20.3 bu. in 2017 and 17.4 bu. in 2018 – the two biggest yielding years in Illinois. The southern part of the state carried a heavier load in both of those years. The state has a big corn crop, but I think there's a little too much variability due to late-season weather impacts to reach USDA's August estimate.
Soybean pod counts in a 3'x 3' square in Illinois averaged 1279.8, up 2.6% from last year's Tour results. USDA's Aug. 1 estimate pegged the yield up 8.5%. If you take the five-year average of how many pods it takes to make a bushel of soybeans in Illinois, it would project a yield of 61.7 bu. per acre. With that said, the yield factory is there for soybeans to hit USDA's estimate if weather is favorable from the end of Crop Tour until harvest. In my opinion, soybeans have a better chance of reaching USDA's estimate than corn.