Marked downshift in the Ag Economy Barometer
Purdue University and CME Group report the Ag Economy Barometer dropped 20 points during May to a reading of 158 points, the lowest since September 2020. The index of current conditions and the index of future expectations both declined in May. The index for current conditions dropped 17 points from April to a reading of 178. The index for future expectations fell 20 points from April to a reading of 149. The farm financial performance index dropped from a record high of 138 in April to 126; that was still the second highest reading since this question was added in spring 2018.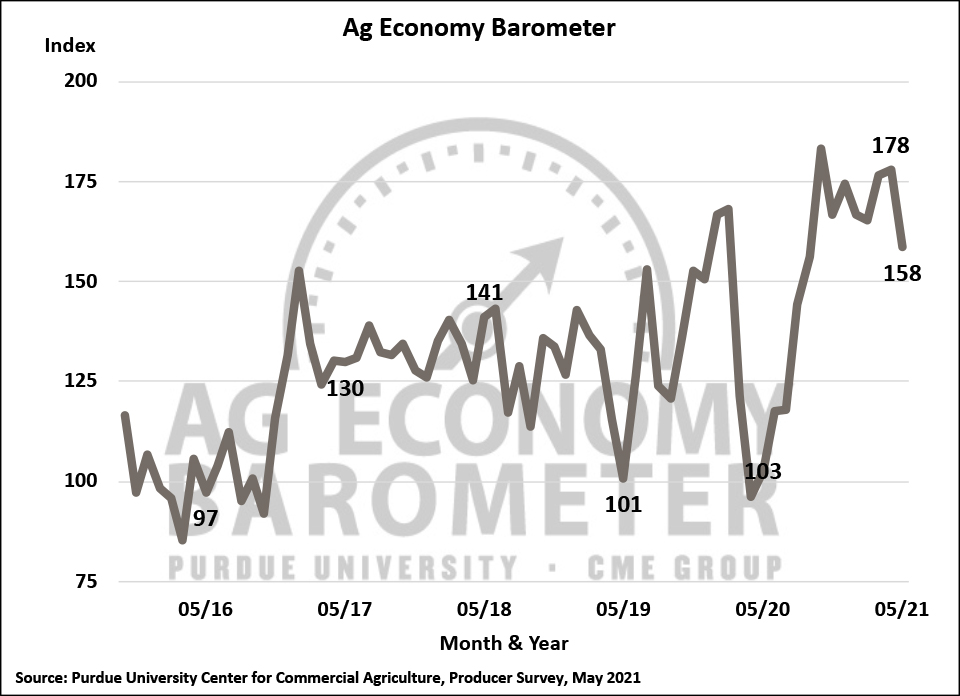 Today's report says, "Producers' expectations for good vs. bad times in U.S. agriculture have undergone a marked shift." In May, just 27% 27 percent of respondents said they expect good times in U.S. agriculture during the next five years, the lowest reading in the survey's history and down 12 points from a month earlier. "A driver of this shift appears to be a large divergence in expectations for the crop vs. the livestock sectors in the upcoming five years," the report says. This divergence may help explain why producers seem bullish about farmland values and cash rental rates while at the same time being less optimistic about current and future ag economic conditions.
Another possible reason for the shift is worries about changes in U.S. tax policy. That includes worries about the possibility of higher capital gains taxes, a loss of the step-up in cost basis for inherited estates and the possible reduction in the estate tax exemption for inherited estates.
Also of note, rising materials costs are weighing on respondents' construction plans. "Fifty-nine percent of respondents said their construction plans for the upcoming year are lower compared to a year ago and just 28% of producers said their construction plans were about the same as a year ago. Both of these response categories were more negative for construction than for farm machinery purchases suggesting that construction plans are an important driver in the Capital Investment Index's recent weakness," today's update noted.
Regarding plans for farm machinery purchases, farmers shifted from saying they expect to keep machinery purchases in the year ahead "about the same" to "lower." The percentage of producers planning to increase purchases was unchanged from April.