After the Bell | September 9, 2021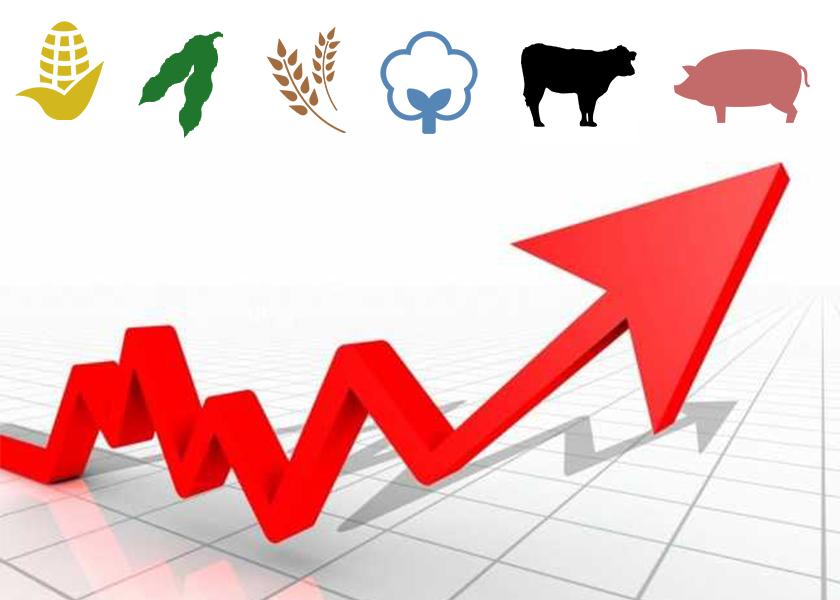 Corn: December corn fell 1/4 cent to $5.10 a bushel, the contract's lowest settlement since $5.04 1/4 on April 13. Corn futures extended their price slide overnight, but some corrective buying surfaced during daytime trade. Still, buyer interest was limited as traders prepared for tomorrow's USDA crop report. USDA is expected to raise its estimate for the U.S. corn crop by about 1.3% from the agency's previous forecast, to 14.94 billion bu., based on a Reuters survey of analysts. The average national corn yield estimate is expected to be raised to 175.8 bu. an acre from 174.6 bu. per acre. Prices have fallen sharply since USDA's August report and a bigger crop estimate appears to be factored into the market. If there isn't a huge bearish yield or acreage surprise, some corrective buying could surface even if the report is bearish on the surface, though it would likely take a bullish surprise to trigger a strong price upside.
Soybeans: November soybeans fell 9 cents to $12.70 1/2 a bushel, hitting a 2 1/2-month low. December soybean meal rose 10 cents to $337.90 per ton, near a nine-month low. December soyoil fell 130 points to 56.19 cents, hitting a 2 1/2-month low. USDA is expected to raise its forecast for the U.S. soybean crop by around 0.9%, to 4.377 billion bu., and raise the average national yield to 50.4 bu. an acre, from 50.0 bu. per acre in its last estimate. Another USDA export announcement today failed to generate much buying interest. USDA reported a daily U.S. soybean sale of 132,000 metric tons (MT) to China for the 2021-22 marketing year. Since the beginning of August, USDA has reported over 3.6 million MT of U.S. soybean sales to China or "unknown" destinations.
Wheat: December SRW futures fell 17 1/4 cents to $6.92 1/4 per bushel, the contract's lowest closing price since $6.84 1/4 on July 27. December HRW futures plunged 22 cents to $6.82 3/4, also the lowest close since late July. December spring wheat futures sank 22 cents to end at $8.72 1/2. Futures tumbled to the lowest settlements in over six weeks as chart breakdowns fueled technical selling and weakness in corn and soybeans spilled over into wheat. U.S. wheat exports have been lackluster to start the new marketing year, overshadowing expectations USDA will trim its projections for U.S. and global ending wheat stockpiles in tomorrow's Supply and Demand report. U.S. wheat supplies at the end of 2021-22 are expected to total about 616 million bu., down about 1.8% from USDA's current figure, based on analyst estimates.
Cotton: December cotton futures fell 86 points to 93.22 cents a pound, the contract's lowest settlement since 92.30 cents on Sept. 1. Futures fell as trade readied for tomorrow's USDA Supply and Demand report, which may show an increase in U.S. cotton supplies in light of what's expected to be a strong U.S. harvest. Traders also await USDA's weekly export sales and Crop Production reports. Analysts polled by Bloomberg expect USDA to raise its production estimate 430,000 bales from August to 17.69 million bales. Yesterday, USDA's Farm Service Agency released certified acreage figures two days earlier than scheduled, after the data was "inadvertently posted" online. Based on averages of the past five years, we estimate 2021-22 cotton plantings will decline to 11.35 million acres, compared to USDA's current estimate of 11.72 million acres.
Cattle: October live cattle rose 65 cents to $123.75 per hundredweight, the first gain in five days. October feeder cattle fell 2.5 cents to $159.25. Concerns about the strength of consumer demand amidst the spread of the Delta Covid variant are weighing on the cattle market. Choice cutout values fell $2.28 today to $332.58, extending a decline to three-week lows. Cash market reports reflected relatively active midweek trading averaging around $124.28 per hundredweight, down about $1.50 from last week. Bulls can take some consolation from the hugely elevated price of beef and the relative cheapness of fed cattle in comparison. That disparity will likely be mitigated at some point in the not-too-distant future, but the shift may require some trigger before occurring.
Hogs: October lean hogs fell $1.90 to $85.475 per hundredweight, the lowest closing price since $83.875 on Aug. 10. Expectations for a seasonal rise in market-ready pigs and a slowdown in consumer demand continue to weigh on futures. Market bulls' recent notions of a near-term price bottom were dashed amid further cash weakness. Average carcass cutout values fell $1.70 to $108.70 as hams dropped over $10, USDA reported late today. Movement was about 344 loads. Carcass base prices on national direct markets fell $3.29 to an average of $86.42. The latest CME Lean Hog index fell 56 cents to $98.74, the lowest since late March but still over $13 above October futures. Slaughter so far this holiday-shortened week totaled an estimated 1.427 million head, down from 1.907 million head for the same period last week, USDA reported.