After the Bell | September 13, 2021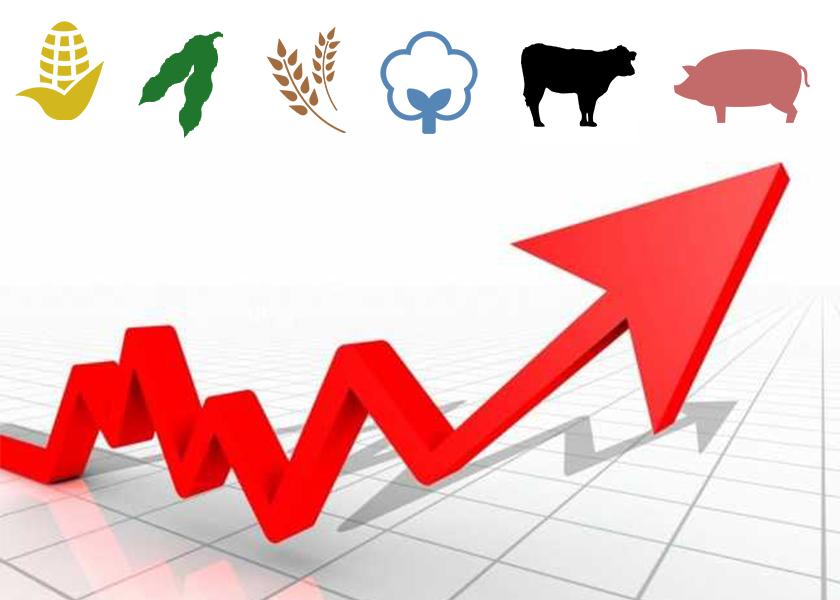 Corn: December corn finished 4 1/4 cents lower at $5.13 1/4 a bushel. Corn futures failed to find followthrough buying after Friday's corrective gains, which refocused traders on USDA's higher-than-expected yield and crop estimates, prompting funds to trim more long positions. When USDA raises its corn yield in September, there are roughly three-quarter odds the final yield will end up even higher. With harvest activity starting in the Corn Belt, seasonal pressure will limit buyer interest without a bullish catalyst. Given the shipping delays at the Gulf, it's unlikely export demand will give traders a reason to be buyers. Weekly corn export inspections totaled just 5.4 million bu., which was the lowest figure for the first full week of September. While the lower Mississippi River has mostly been reopened, it's going to take time for many of the export terminals to actively load corn again.
Soybeans: November soybeans fell 1 3/4 cents to $12.84 3/4 a bushel. December soybean meal rose $2.70 to $345.20 per tone. December soybean oil closed unchanged at 55.99 cents a pound. The soybean market bulls were disappointed there was no follow-through buying interest after Friday's gains that produced a bullish weekly high close, and news of a fresh export sale failed to generate much buying interest. Earlier today, USDA announced a daily sale of 132,000 metric tons (MT) of U.S. soybeans to "unknown" destinations for the 2021-22 marketing year. Since the beginning of August, USDA has reported nearly 3.9 million MT of U.S. soybean sales to China or unknown destinations. USDA also reported 105,638 MT of U.S. soybeans inspected for export during the week ended Sept. 9, as transportation and logistics problems in Louisiana continue after Hurricane Ida.
Wheat: December SRW futures fell 1 1/2 cents to $6.87 a bushel, while December HRW futures rose 3 3/4 cents to $6.86 1/4. December spring wheat fell 2 3/4 cents to $8.76. SRW futures fell amid sluggish U.S. exports and easing concern over supplies after USDA last week boosted its forecast for global ending stockpiles. HRW futures posted modest gains amid spreading activity against the SRW market and recent export strength. Earlier today, USDA reported a larger-than-expected 547,943 MT of wheat inspected for export during the week ended Sept. 9, up from 412,649 MT the previous week. Expectations ranged from 200,000 to 500,000 MT. HRW wheat inspected for export 272,837 MT, up 44% from 189,622 MT the previous week and up 88% from the 144,737 MT average for the previous four weeks.
Cotton: December futures fell 69 points to 92.81 cents a pound, the contract's lowest close since Sept. 1. Cotton futures fell near a two-week closing low on U.S. dollar strength and an expanding supply outlook conveyed in USDA's Crop Production report Friday. USDA increased its U.S. cotton production estimate by a larger-than-expected 7.2% from an August forecast to 18.51 million bales and hiked its yield forecast by 12% to an average of 895 pounds per acre. The cotton trade is also watching Tropical Storm Nicholas, which is expected to bring heavy rain and flooding from the southern Delta into Alabama and northern Georgia tonight through Friday. Some cotton acres "should be strung out and/or discolored by the rain, while most other crops that are not damaged by flooding should see little negative impact from the storm," World Weather Inc. said in a report today.
Cattle: October live cattle fell $1.15 to $122.275 per hundredweight, the lowest settlement since early May. Cattle futures extended last week's plunge pressure as funds dumped long positions and a fire over the weekend forced a partial shutdown at a JBS beef plant in Grand Island, Nebraska. The plant has capacity to slaughter about 6,000 head of cattle a day. Last week' cash cattle trade averaged $124.79, down 82 cents from the previous week. With boxed beef prices continuing to slide, traders expect cash prices to soften again, though active trade isn't likely until later in the week. Choice cutout values fell 98 cents early today to $326.24, the lowest in a month.
Hogs: October lean hogs fell $1.675 to $80.775 per hundredweight, the lowest closing price since $80.725 on March 4. Falling wholesale pork and cash hog prices, bearish charts and a plunging cattle futures market all weighed on hog futures. About the only thing working in favor of the hog market bulls early this week is that futures prices are now well oversold on a short-term basis and due for a corrective bounce soon. Pork carcass cutout values fell $2.87 early today to an average of $102.23, with loins and ribs leading declines. Cutout values have fallen to the lowest levels since mid-March. Cash hog prices on a national direct basis today were down $2.25 at $86.20, based on the five-day rolling average. The latest CME lean hog index price is down 23 cents at $97.73, the lowest since last March but still around $16 above the October futures contract.