After the Bell | October 22, 2021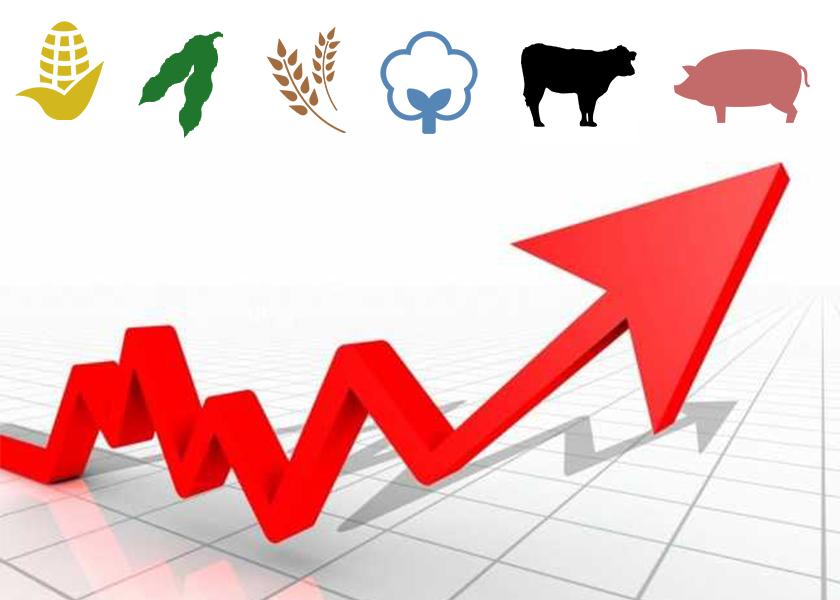 Corn: December corn futures rose 5 3/4 cents to $5.38 a bushel, up 12 1/4 cents, or 2.3%, for the week. Prices closed near this week's high, a bullish technical signal suggesting follow-through buying may arise Monday. Strong gains in wheat futures also supported corn. The corn market may look to wheat futures markets for direction early next week. Strong export news helped lift corn prices this week, with USDA reporting net weekly U.S. sales at nearly 1.3 MMT, up 67% from the four-week average. In coming weeks, commercial hedge pressure will abate as the corn harvest winds down. These are indications corn futures established an autumn low and prices may trend sideways-to-higher the next few weeks. USDA's weekly crop progress report Monday should show further harvest advancement. The crop was 52% harvested as of Oct. 17, up from the 41% average for the previous five years for that date.
Soybeans: November soybeans fell 3 1/2 cents to $12.20 3/4 a bushel, up 0.2% for the week. January soybeans fell 2 3/4 cents to $12.30 3/4. December soybean meal rose $3.40 to $327.40 per ton, while December soybean oil fell 49 points to 62.09 cents per pound. Soybean futures fell amid late-week profit-taking after prices earlier this week reached the highest levels in over a week amid growing confidence the market has established a harvest low. Weakness in Malaysian palm oil futures weighed on the soy complex today and may influence the market next week. The U.S. harvest is winding down, which may ease pressure on futures. USDA's weekly crop progress report Monday will likely show further harvest advancement. The harvest was 60% complete as of Oct. 17, up from 49% a week earlier, USDA reported earlier this week.
Wheat: December SRW futures climbed 14 3/4 cents to $7.56 per bushel, a gain of 3.0% for the week. December HRW futures surged 26 1/4 cents to $7.74, up 4.0% cents for the week and the highest settlement for a nearby contract since 2014. December spring wheat rose 27 3/4 cents to $10.13, the highest close for a nearby contract since 2012. Concerns about winter wheat prospects amid tight global conditions boosted wheat futures. Wheat traders will likely be keeping an eye on the weather to see if short-term forecasts indicate any relief to growing dryness in the Southern and Central Plains. And while emergence and development of the newly planted winter wheat crops lags normal, the situation could improve if fall-winter weather brings more moisture into play. Monday's weekly USDA Crop Progress report will bring fresh insights about early crop development. The winter wheat crop was 70% planted as of Oct. 17, near the five-year average of 71% for that date.
Cotton: December futures rose 212 points to $1.0826 per pound, and up 81 points on the week. Cotton futures rebounded strongly from yesterday's losses with assistance from crude oil strength. Surprisingly strong numbers in USDA's weekly export sales report indicates underlying demand for U.S. cotton remains robust, which will be key to short-term price prospects. Traders will focus upon Monday's weekly Crop Progress report, looking for any surprises, but futures are unlikely to react significantly due to general anticipation of large domestic supplies this year. The industry will again be looking to the next export sales report Oct. 28 for an updated sense of overseas demand.
Cattle: December live cattle futures fell $1.225 to $128.325 per hundredweight, down 2.0% for the week and the lowest closing price since $138.225 on Oct. 6. November feeder cattle fell $2.175 to $156.90, the lowest close since Oct. 5. Live and feeder cattle futures posted technically bearish weekly low closes, which may portend further chart-based selling early next week. But an unexpected decline in feedlot placements in USDA's Cattle on Feed report may generate fresh buying activity. Feedlot operators placed 2.163 million head of cattle on feed during September, down 2.9% from the same month a year earlier, USDA reported. Analysts on average projected an increase of about 1.4%, based on a Reuters survey. An estimated 11.55 million head of cattle were on feed as of Oct. 1, down 1.4% from a year earlier and larger than the 0.6% decline analysts expected. The number underscore the industry's herd contraction in recent years and indicates beef supplies in the pipeline for 2022 will remain limited.
Next week's price direction will also be influenced by the wholesale beef market, which shows signs of rebounding from a two-month slide. Choice cutout values rose $1.16 today to an average of $281.82, up 0.6% from Oct. 15 and the first weekly gain in eight weeks. Live steers in five top feedlot areas averaged $124.32 today, up 0.4% for the week and the third consecutive weekly gain. 
Hogs: December lean hog futures rose 12.5 cents to $73.325 per hundredweight, down 6.3% from $78.275 at the end of last week. The contract earlier fell to $72.875, the lowest intraday price since $72.50 on Sept. 22. Weak cash fundamentals weighed on hog futures this week, as did a severe technical breakdown on the daily charts. Futures are nearing oversold territory, which means the market may generate a corrective bounce early next week. Stabilization in the slumping wholesale pork market could also lend support to futures. Pork cutout values fell 1 cent today to an average of $98.27, near a 7 1/2-month low at $96.87 reached Oct. 20. The latest CME lean hog index fell to $84.83, the lowest since March 4 and over $11.00 above the December contract.