After the Bell | October 13, 2021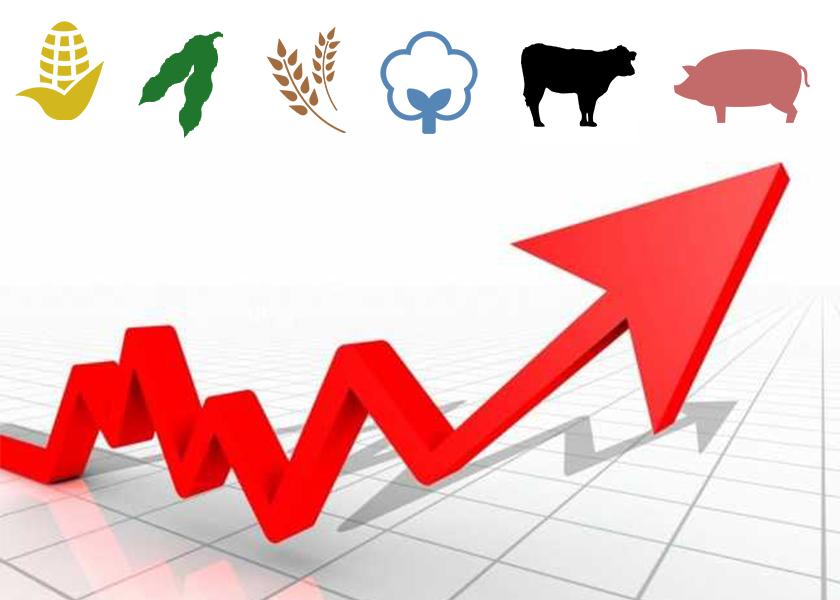 Corn: December corn futures dropped 10 1/4 cents to $5.12 1/4 a bushel, the lowest closing price since Sept. 9. Funds accelerated liquidation of long positions on after yesterday's USDA Crop Production report-driven declines. USDA boosted its estimate for U.S. corn production by 0.2% to 15.019 billion bu., which would be the second largest crop on record, and clashed with widespread expectations for a small cut. Big crops get bigger, and an old trader mantra goes, and many believe crop and ending stocks projections could increase in the months ahead, giving funds even more incentive to shed long positions. Also today, USDA announced a daily corn sale of 161,544 MT to "unknown destinations," though it's likely going to take a sustain series of foreign purchases to generate sustained buying in futures. USDA yesterday reported 41% of the U.S. corn crop was harvested as of Oct. 10, up from 29% a week earlier and above the average for the previous five years of 31%.
Soybeans: November soybean futures fell 3 cents to $11.95 1/4 per bushel, the lowest closing price since $11.86 1/4 on March 30 and the lowest settlement for a nearby contract since December 2020. December soymeal lost $1.30 to $311.70 per ton, while December soyoil rose 74 points to 59.59 cents per pound. Yesterday's USDA Crop Production and Supply and Demand reports reinforced the bearish expanding stockpiles outlook, adding fuel to pressure on the soy complex. The ongoing harvest and strong yield results being reported across the Midwest added to pressure. USDA yesterday reported farmers harvested 49% of the soybean crop as of Oct. 10, up from 34% a week earlier and above the five-year average of 40%. Strength in soybean oil futures may have limited losses suffered by soybeans and meal.
Wheat: December SRW futures fell 15 1/4 cents to $7.18 3/4 per bu., the contract's lowest closing price since $7.10 1/4 on Sept. 29. December HRW fell 18 cents to $7.21 3/4, the lowest closing price since $7.11 3/4 on Sept. 29. December spring wheat fell 6 1/4 cents $9.48 3/4, down from a contract high of $9.60 yesterday. Wheat futures sank to two-week lows as spillover from sharp declines in corn and soybeans sparked profit-taking in HRW and SRW markets. Expectations that rain in the U.S. Plains will ease dry condition and boost the newly seeded winter wheat crop also contributed to weakness in wheat. Tightening domestic and global supplies have underpinned wheat futures, but price upside may be limited if corn and soybean markets extend declines in the wake of USDA's larger than expected crop estimates. Also, USDA yesterday reported 60% of the winter wheat crop was planted as of Oct. 10, up from 47% a week earlier and matching the five-year average.
Cotton: December cotton futures fell 252 points to $1.0386 cents per pound, the lowest closing price since $1.0194 on Sept. 29. Cotton futures fell for a fourth consecutive day and settled at a two-week low as the market extended a steep selloff from 10-year highs reached earlier this month. Weakness stemmed in part from concern high prices will crimp overseas demand, after USDA yesterday cut its forecast for Chinese consumption by 1 million bales. USDA, in its monthly Supply and Demand report, also hiked estimated 2021-22 global cotton production by 0.6% to 120.3 million bales and raised projected 2021-22 ending stocks by 0.5% to 87.13 million bales. U.S. cotton growers are poised to harvest a strong crop. USDA late yesterday said it rated 64% of the crop in "good" or "excellent" condition at the start of this week, up from 62% a week earlier. USDA said 20% of the cotton crop was harvested as of Oct. 10, up from 13% the previous week but under the five-year average of 26%.
Cattle: December live cattle fell 25 cents to $129.00 per hundredweight, the lowest closing price since $128.225 on Oct. 6. November feeder cattle fell 82.5 cents to $160.975. The wholesale beef market remained under pressure, with Choice grade cutout values down $1.05 today to $280.02, the lowest daily price since $278.46 on July 30, while Select grade fell $2.65, USDA reported. Movement totaled 171 loads. Cutout values have been eroding since late August, due to slack retail consumer demand amid higher beef prices. Initial cash cattle trade this week was around $124.00 in northern and southern markets, which points to firmer prices compared with last week's $122.96 average cash trade. Cattle slaughter so far this week totaled 361,000 head, down 2,000 from the same period last week and even with the same period in 2020, USDA reported.
Hogs: December hog futures fell 2.5 cents to $78.15 per hundredweight, the lowest closing price since $76.80 on Sept. 24. Futures extended yesterday's slide to two-week lows on eroding chart patterns and soft cash market fundamentals, though a longer-term outlook for tighter animal supplies may limit declines. Pork carcass cutout values rose $2.47 today to an average of $104.85, on movement of about 418 loads, USDA reported. Hog slaughter so far this week totaled 1.432 million head, up 1.0% from the same period last week but down 1.8% from the same period in 2020. Hog slaughter is near the highest levels of the year, but history suggests weekly slaughter rates will be flat to lower until just before Thanksgiving, when packers like will accelerate operations. For now, futures remain under pressure from seasonally large kills and weak autumn demand for most cuts, aside from hams. The preliminary CME lean hog index is expected to drop to $89.73, the lowest since mid-March.