After the Bell: Grains Weaker, Soy Mixed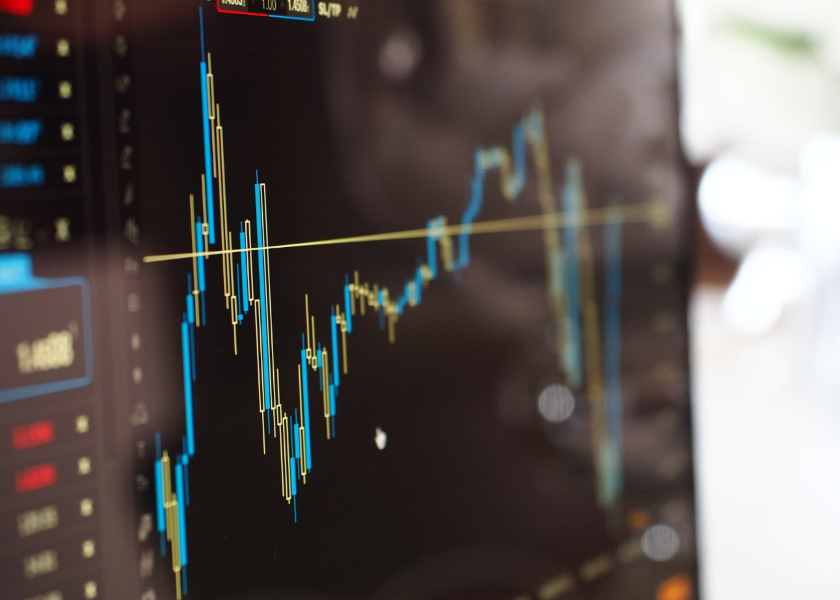 Corn: Corn futures ended lower and led by deferred futures, with July down 2 1/4 cents to $6.57 1/4 a bushel and December down 6 1/4 to $5.40 1/4.  Corn futures gapped lower overnight and were under pressure most of the day amid a generally crop-friendly U.S. Midwest weather outlook. U.S. weather will be "favorably mixed" over the next two weeks, with nearly all grain and oilseed areas getting rain at one time or another, with sufficient amounts to support long term development, World Weather Inc. said today. Before the reopening this morning, USDA did not announce any new sales to China for a second straight session after a string of 10 days of new daily sales announcement that included new sales to China nine days and totaling more than 10.6 MMT since May 7. The lack of new sales may have weighed on futures.  
Soybeans: Soybean futures faced pressure overnight, but pared losses during the day session. The market ended split with old-crop down 1 1/4 to 3 1/2 cents and new-crop 1 3/4 cents to 4 cents higher. Soymeal futures reversed early losses and settled 50 cents to $1.30 higher. Soyoil finished mixed but high-range, with nearby contracts down 23 to 36 points and deferred months 10 to 57 points higher.  Much of the Midwest received welcome rain over the past week, including some dry producing regions like the northwest Corn Belt and the forecast for the next two weeks is favorable, with a mix of sunshine and rain expected. That should help producers to finish planting in a timely fashion and get the crop off to a good start. This afternoon, analysts surveyed by Reuters expect USDA to report around 80% of the crop had been seeded as of Sunday. A lack of weather threat initially weighed on the soybean market, but recognition that old-crop stocks remain tight and that the bulk of the U.S. growing season lies ahead helped the market to pare early losses.  
Wheat: HRS futures led losses in the wheat complex today, falling 10 3/4 to 15 3/4 cents through the December contract. Winter wheat markets were led by 10- to 12-cent losses in SRW contracts, while HRW futures dropped 7 to 8-plus cents after leading lower last week.  Spring wheat futures were pressured by weekend precip across areas of the U.S. Northern Plains and Canadian Prairies. Additional rains in North American spring wheat areas will be seen this week. The moisture should give the spring wheat crop a boost after what traders expect will be a low initial condition rating Monday afternoon. Funds were net sellers again today and are likely now net short SRW futures, while they continue to trim their net longs in both HRW and HRS futures.  
Cotton: It was a quiet trade with choppy, narrow price changes. July cotton futures settled unchanged at 82.82 cents per pound and December rose 7 points to 83.29 cents.  Cotton prices are trying to build a base of support but lack conviction after recent spotty rain in West Texas. The Southwest has received limited beneficial rains, but nothing widespread. Rain forecasts remain for the region but are currently forecast to remain spotty.  Yet only another couple of weeks remain to get better rains and avoid abandonment plans. The market is also watching developing dryness in the Southeast. Cotton continues to follow trends in grains and U.S. equity markets. Weaker grain prices today were offset by stronger stocks. A firmer tone in the oil market and weaker U.S. dollar also provided light support.   
Hogs: Lean hog futures ended mixed to lower, with nearby contracts leading losses. July futures fell $1.225 to $115.325 and October futures rose a dime to $92.375. Lean hog futures opened weaker amid a softer tone in cash markets and apparent profit-taking after July reached a contract high last Friday. Cash markets early today were slower than expected and prices were lower, with about 2,650 sales reported, compared with 4,812 a week ago, and a weighted average price of $102.55, down $3.25, USDA data showed. Strength in pork prices continues to provide underlying support in the wake of three-week rally in pork cutout values. Hogs are likely heading for a seasonal peak this week, but it will require signs of slower domestic and export demand.  Today's U.S. hog slaughter was an estimated 482,000, up from 478,000 a week ago, the USDA reported.
Cattle:  Fed cattle ended lower but off the day's worst levels. August futures fell 82.5 cents to $120.10 and October was down 87.5 cents to $124.275. August feeders rose 42.5 cents to $154.125. The market came under pressure on worries the beef market won't sustain gains and support a stronger cash market this week. However, Choice beef continued to move higher, rising $1.53 on Monday to $326.70. Select slipped 71 cents. Look for firm beef to remain supportive as most of the beef production into July is probably already sold. Direct cash cattle trade activity is quiet to start the week no established trends in bids or asking prices. Last week's kill totaled 669,000 head, better than expected, and the largest total yet this year. If the industry can pull off even 660,000-plus in three of these next four weeks, that would go a long way to reducing any carryover of market-ready animals into the third quarter and getting the cash markets into a firming trend.