After the Bell | Aug. 20, 2021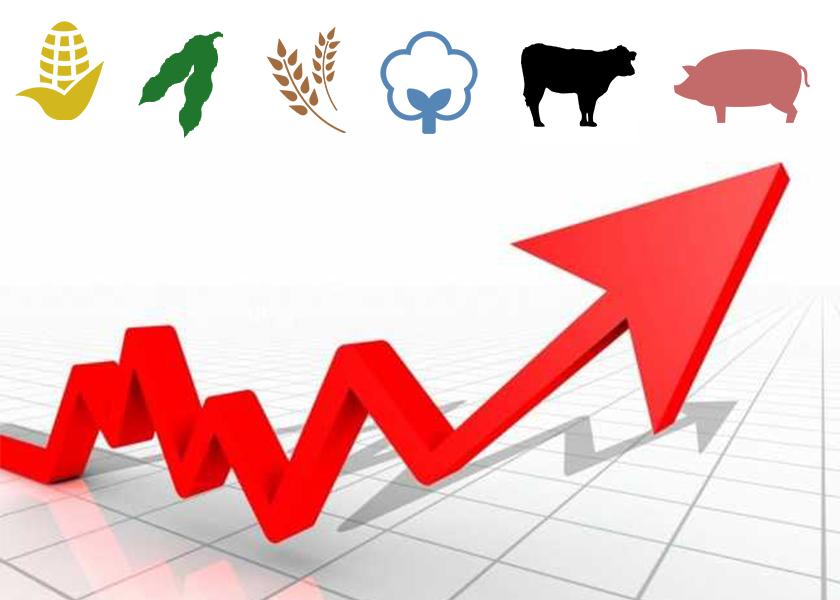 Corn: December corn futures finished a dismal week Friday with losses of 13 3/4 cents, hitting a three-week low and closing at $5.37. For the week the December contract lost 36 cents. Prices closed at a technically bearish weekly low close today, to suggest some follow-through technical selling pressure come Monday morning. Some beneficial late-season rain fall this week and more in the forecast for the next few days, especially in the northwest Corn Belt, helped to push corn prices south late this week. The grains were hammered in part this week by keener risk aversion that in turn prompted the key outside markets to turn bearish--a big rally in the U.S. dollar index, which hit a 10.5-month high today, and eroding Nymex crude oil futures prices to a 2.5-month low. Results from the annual Pro Farmer Crop Tour this week also leaned slightly bearish. We estimate the corn crop at 15.116 billion bu. on a national average yield of 177 bu. per acre. That's up from USDA's 14.750 billion-bu. August estimate.
Soybeans: November soybean futures closed down 29 1/4 cents today at $12.90 3/4 and hit a seven-week low. On the week the November contract fell 74 1/4 cents. No longer are "beans in the teens" and bears still have downside momentum after today's technically negative weekly low close. Rains fell across the northwestern Corn Belt the past 48 hours and more rain is expected for the region today and this weekend, likely benefitting heretofore dry soybean crops in the region. Friday ended a long stretch of daily USDA U.S. soybean sales announcements, and that's also psychologically bearish for the soy complex. Pro Farmer estimates the U.S. soybean crop at 4.436 billion bu. on a national average yield of 51.2 bu. per acre. That tops USDA's August estimate.
Wheat: December SRW wheat futures closed the day Friday down 14 1/2 cents at $7.28 1/4, while December HRW wheat ended down 12 1/2 cents at $7.15 3/4. Both markets hit two-week lows and closed at a technically bearish weekly low closes on a Friday. For the week, December SRW lost 46 cents and December HRW lost 39 1/4 cents. That sets the table for follow-through selling pressure on Monday. But look for wheat traders to seek price direction from the soybean and corn markets, as they led wheat most of this week. Wheat market bulls may get some traction next week by this week's rains in the northern U.S. Plains, with some heavy rains forecast, which may delay the spring wheat harvest and/or cause quality problems. The rains will improve planting prospects for the winter wheat crop in the northern Plains. Potentially bullish news that Russia is raising its taxes on wheat exports failed to impress the U.S. wheat market bulls today. Russia set its wheat export taxes at $31.70 per metric ton for Aug. 25-31--up $1.30 from this week.
Cotton: Cotton futures resisted the general downward trend in the crop and energy markets early Friday but backed away from midsession gains in the afternoon. Most-active December futures rose 34 points to 93.06 cents/pound at the weekly close. Thursday's big breakdown was probably overdone, since the data on the weekly USDA Export Sales report appeared to reflect persistently solid demand from overseas. The industry is still anticipating a large U.S. harvest, but that has done little to deter bullish interests relying upon strong buying to support the market at elevated levels. There is some background concern that millers taking advantage of the profitable situation are building yarn inventories to burdensome levels, which may eventually undercut the cotton market rather badly. But, bulls still hold the technical advantage, especially after the December contract rebounded strongly from a test of support at its 20-day moving average (around 91.84 cents/pound).  
Cattle: Live cattle futures were mostly higher Friday, with nearby contracts rising in response to strong cash news, while concerns about a seasonal wholesale market top appeared to depress some deferred contracts. Most-active October gained $0.90 to $129.05. Meanwhile, September feeder futures led the yearling market higher as the grain markets followed through to the downside, leaping $2.60 to $165.50. The latest five-area cash market report indicated a sizeable drop from the previous figure, to $125.48, likely due to the start of Southern Plains trading at lower levels. Still, it's rather clear that this week's cash trading is occurring at levels well above those seen this summer. Bulls hope this marks the start of a much larger move, whereas bears are almost surely banking on a short-term top. However, their ideas got no confirmation from the wholesale market this morning, since the midday quote for Choice beef cutout surged another $3.14 to a fresh 2021 high at $344.77.
Hogs: After yo-yoing through the first four days of the week, hog futures roared higher on Friday. The nearby October contract jumped $1.70 to $89.625. The surge came despite another dip in the preliminary quote for the CME index (down 51 cents to $107.57 per hundredweight). The fact that the drop was about half as large as the drop posted by the Wednesday quote, along with improvements in daily direct market reports, apparently sparked today's strong bounce. Having midday pork cutout jump $7.80 to $129.20 almost surely encouraged bulls as well, despite the probable setback coming in afternoon trading. As expected, the weekly kill posted another surge, with the preliminary total reaching 2.452 million head. That marked a 45,000 head weekly rise, but, as expected, it fell well short of the comparable 2020 figure at 2.625 million.