What You Need to Know About Debt Limit Debate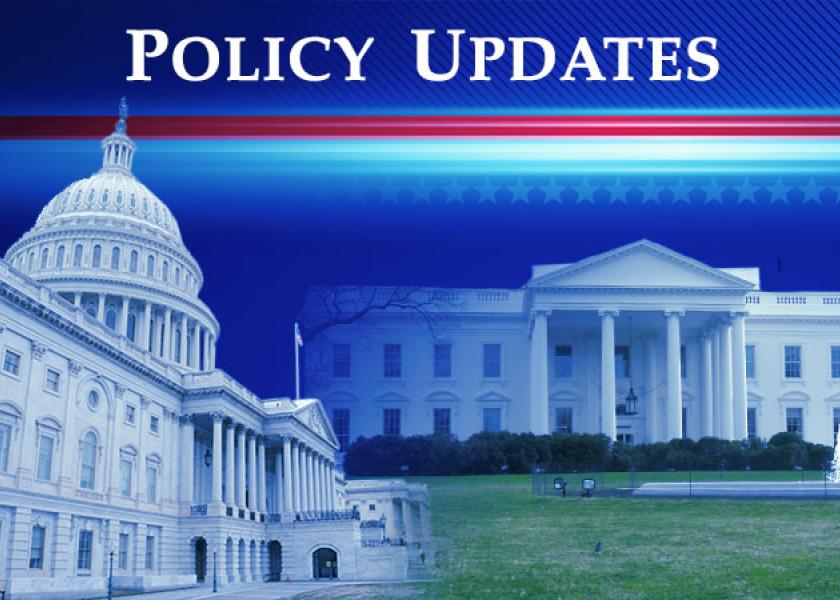 Biden slashes social/climate change spending bill by more than $1 trillion
---
In Today's Digital Newspaper
---
Market Focus:
• Warnings of stock market downturn continue to surface amid fears of inflation
• U.S. Treasury 30-year yields climbed to highest level since June
• U.S. trade deficit rises to record high in August
• U.S. agricultural imports continued above $14 billion in August 
• Supply chain disruptions continue to plague Europe
• U.S. GDP downgrades
• IMF trims 2021 world GDP forecast
• Biden confident in Fed Chair Powell amid Warren attacks
• Reserve Bank of New Zealand lifted its benchmark rate to 0.5%
• India's September gold imports in September rose 658% from September of 2020
• Silver prices saw worst four-month stretch since November 2014
• SEC Chair Gensler: U.S. will not ban cryptocurrencies like China
• EC considers 'toolbox' for member states to respond to energy price spikes
• Corrective buying lifts grain and soy futures overnight
• Attaché expects China to bring in 30 MMT of corn in 2020-21 and 20 MMT in 2021-22
• Ukraine's ag ministry raises wheat export outlook, despite cut to production
• Surge in Indian wheat exports
• Bayer wins first jury verdict regarding cancer allegations
• Some early cash cattle trade at steady prices
• Big intraday price swing for the pork market driven by hams 
Policy Focus:
• What you need to know about debt ceiling debate (and potential impacts)
• Biden slashes his social/climate change spending bill by more than $1 trillion 
Afghanistan:
• Afghanistan's fragile economy collapsing further
• Afghanistan hearing today 
Biden Administration Personnel:
• Biden banking nominee asked to turn over Marxism thesis from Moscow State
• Antitrust chief nominee hearing today
China Update:
• National security adviser Jake Sullivan meets China's Yang Jiechi
• U.S. trade deficit with China widened to $31.7 billion in August
•  Attaché expects China to bring in 30 MMT of corn in 2020-21 and 20 MMT in 2021-22 
Trade Policy:
• USTR to seek public comments on restart of tariff exemptions for Chinese goods 
Energy & Climate Change:
• Panel to mull bills on offshore oil drilling oversight
• Evidence suggests anchor pulled pipeline in California spill
• Russia: Frozen to unfrozen

Livestock, Food & Beverage Industry Update:
• Kellogg workers stage a walkout
• USDA may enlist farmers to reduce salmonella in poultry
Coronavirus Update:
• PCR sales soared in Wuhan before first official Covid-19 cases publicized: report
• U.S. public health officials press briefing this afternoon on Covid-19 response
• Australia and New Zealand inch closer to reopening economies
Politics & Elections:
• Democrats mapped into same seat in Texas
• McMullin to challenge Sen. Lee
• Donald Trump worth an estimated $2.5 billion, but just shy of updated Forbes list 
Congress:
• Ransomware bill would offer two days to report payments
• Chamber urges Congress to avoid antitrust legislation

Other Items of Note:
• CIA acknowledged losing dozens of informants
---
MARKET FOCUS
---
Equities today: Global stock markets were mostly lower in overnight trading. The U.S. Dow opened 250 points lower. Asian equities finished lower despite the rally in US markets Tuesday. The Shanghai Composite remained closed for a holiday. The Nikkei fell 293.25 points, 1.05%, at 27,528.87. The Hang Seng Index was down 137.66 points, 0.57%, at 23,966.49. European equites are seeing sizable losses in early action, with the Stoxx 600 down 1.7% and other markets down 1.6% to more than 2%.
     U.S. equities yesterday: The Dow gained 311.75 points, 0.92%, at 34,314.67. The Nasdaq was up 178.35 points, 1.25%, at 14,433.83. The S&P 500 rose 45.26 points, 1.05%, at 4,345.72.
     Warnings of a stock market downturn continue to surface amid fears of inflation, slowing growth and rising interest rates. According to a new survey by Allianz Life, 54% of American investors are worried that a big market crash is on the horizon. More than two-thirds of the 1,005 respondents also said they were protecting their money from losses by keeping some of it out of the market as strategists sound the alarm over the current investing environment.
     U.S. Treasury 30-year yields climbed to the highest level since June as rising energy prices stoke concern inflation will accelerate. The benchmark yield jumped to 2.12% in Asian trading, extending its advance from last month's low of 1.81%.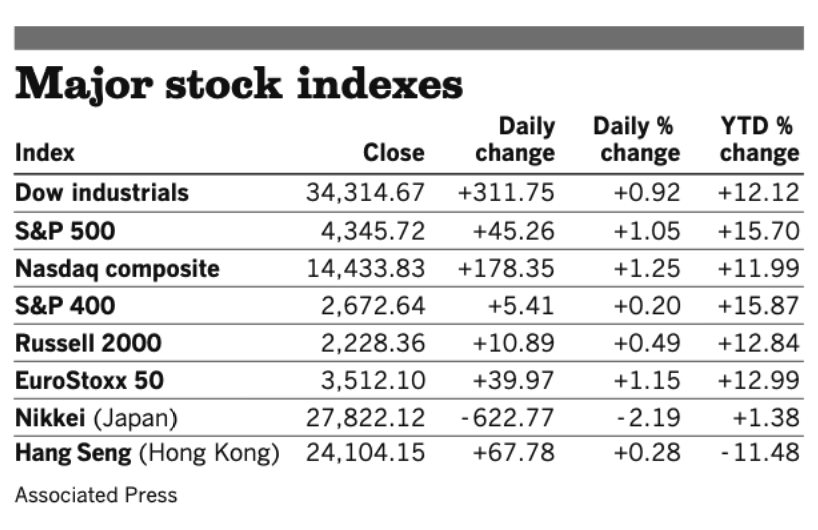 On tap today (see detailed list of events and reports below):
     • ADP employment report is expected to show that the U.S. private sector added 425,000 jobs in September. (8:15 a.m. ET)
     • Atlanta Fed President Raphael Bostic speaks on rural economics at 9 a.m. ET, and on public leadership at 11:30 a.m. ET.
     • President Biden has invited the leaders of some of the nation's biggest banks to the White House for a meeting today. According to the Washington Post, the meeting aims to discuss what administration officials say would be the negative impact of failing to lift the debt ceiling.
U.S. trade deficit rises to record high in August. The Commerce Department reported the U.S. trade deficit in goods and services rose $3 billion to come in at $73.3 billion in August, a record high. Economists had expected the deficit to come in at $70.7 billion. Imports rose 1.4% to $287 billion, while exports were up 0.5% to $213.7 billion. American consumers continued to show a strong appetite for imported goods such as pharmaceutical products, toys and clothing. The Commerce Department said the trade gap in goods and services expanded in August even as the Delta variant of Covid-19 and supply constraints weighed on global trade. Imports a record high, reflecting rising shipments of consumer goods and industrial supplies. Economists say the pace of the increase in imports is likely to slow in the coming months as U.S. consumer demand cools down.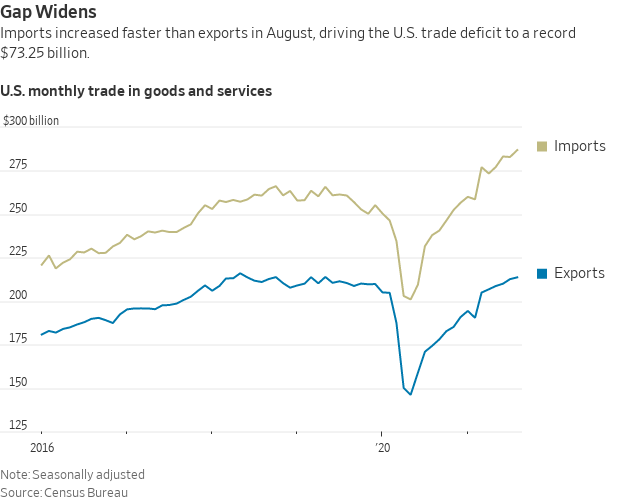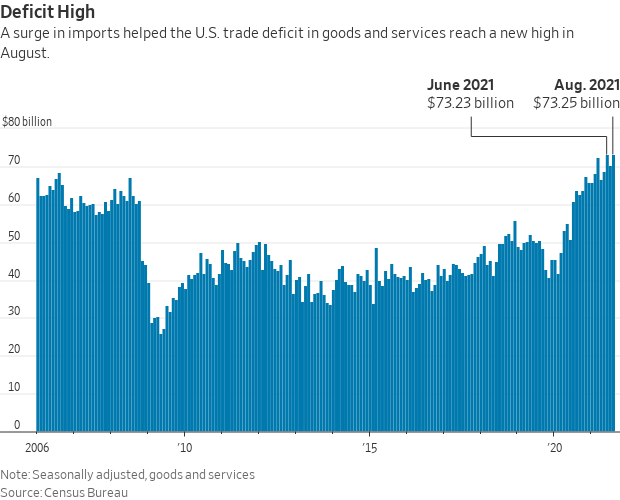 U.S. agricultural imports continued above $14 billion in August.
     U.S. imports of agricultural products in August fell slightly to $14.1 billion, but still marked a sixth straight month of imports of $14 billion or more. U.S. agricultural imports first moved over $14 billion in March and have remained above that level, including the record of $14.97 billion in June.
     U.S. agricultural exports also eased for August to $12.65 billion, down from $12.96 billion in July and the smallest total for Fiscal Year (FY) 2021.
     The result was a monthly trade deficit of $1.45 billion, the third straight monthly showing of red trade ink. But in FY 2020, the U.S. registered seven monthly trade deficits.
     USDA raised its forecast for FY 2021 US agricultural exports in August to $173.5 billion, based on the new definition of agricultural exports. That has factored into the lofty import levels that have been seen so far in FY 2021 and will continue to impact U.S. trade data and forecasts ahead. 
     The U.S. will still register a trade surplus for FY 2021, a reversal of the prior two years which saw a negative trade balance. But USDA's forecast for FY 2021 is most likely light on the import side by potentially several billion dollars. To meet USDA's $157.5 billion forecast for agricultural imports, September's total would only have to be $8.18 billion — the value of U.S. agricultural imports has not been below $9 billion since February 2014 when it was $8.5 billion. On the export side, USDA's forecast of $173.5 billion could be too high as exports would need to be $13.32 billion in September to meet that mark.
Supply chain disruptions continue to plague Europe. Economists have begun to predict a "bottleneck recession" in Germany, while Boris Johnson, the British prime minister, said that businesses needed to do more to end the shortages that have afflicted the country. Link to details via the New York Times.
U.S. GDP downgrades. IHS Markit's tracking estimate for U.S. third-quarter gross domestic product fell to 1.5% from 2.2% last week. The Atlanta Fed's GDPNow model is now down to 1.3%. Over the summer, the Wall Street Journal's Economic Forecasting Survey projected a seasonally adjusted annual pace of growth around 7% for the third quarter. A series of setbacks — including the emergence of the Delta variant of Covid-19, tangled supply chains and labor shortages — have conspired to knock down estimates. But while many economists have lowered growth forecasts for the third-quarter, they have raised forecasts for next year, indicating that some spending and production have been delayed rather than lost. Link to details via the WSJ.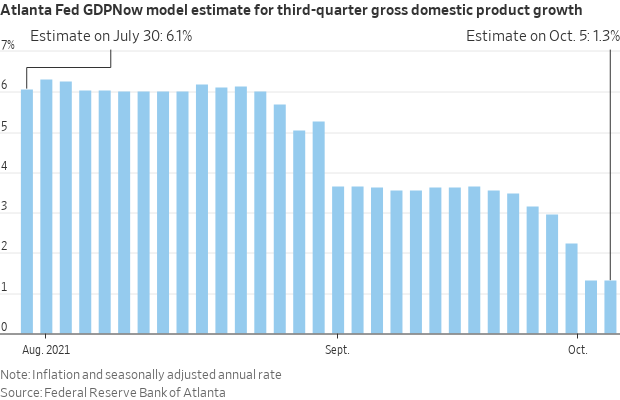 IMF trims 2021 world GDP forecast. The International Monetary Fund expects global economic growth in 2021 to fall slightly below its July forecast of 6%, IMF chief Kristalina Georgieva said on Tuesday, citing risks associated with debt, inflation and divergent economic trends in the wake of the COVID-19 pandemic. Georgieva said the global economy was bouncing back but the pandemic continued to limit the recovery, with the main obstacle posed by the "Great Vaccination Divide" that has left too many countries with too little access to Covid-19 vaccines. Link for more via Reuters.
Biden confident in Fed Chair Powell amid Warren attacks. President Joe Biden yesterday said that he has confidence in Federal Reserve Chair Jerome Powell, hours after fellow Democrat Sen. Elizabeth Warren (D-Mass.) assailed the central bank and its leader on the floor of the Senate and in television interviews. "Well, thus far yes, but I'm just catching up to some of these assertions," Biden said on a visit to Michigan when asked by a reporter about confidence in the Fed's integrity and in Powell. Warren said in a Senate floor speech yesterday morning that Powell had "failed as a leader" following revelations that top Fed officials have been actively trading securities during the pandemic crisis. The transactions raise "legitimate questions about conflicts of interest and insider trading," the progressive Democrat said. Warren said in an interview with Bloomberg Television that Powell had been lax in his conduct of financial oversight, with stress-tests performed on banks that were "worse" than open-book exams.
     Meanwhile, Senate Banking Committee ranking member Pat Toomey (R-Pa.) said he didn't see anything in the trading that he would characterize as Powell's fault but called for a reassessment of guidelines.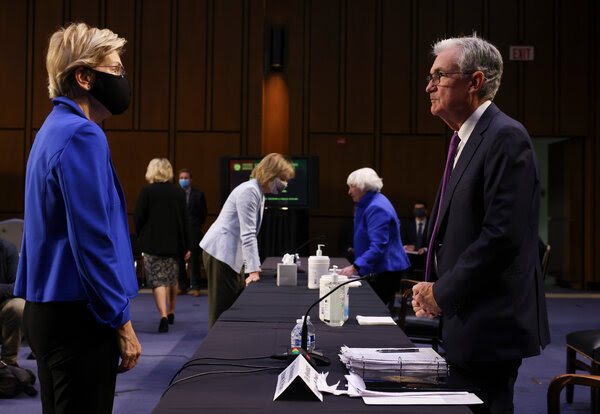 Kevin Dietsch/Getty Images
Reserve Bank of New Zealand lifted its benchmark rate to 0.5% from a record-low 0.25% and signaled more increases over the next year, as it seeks to tame inflation stoked by higher oil prices, rising transport costs and supply-chain disruptions. It said the increase would also drive up mortgage rates and so help cool house prices, up about 30% over the past year.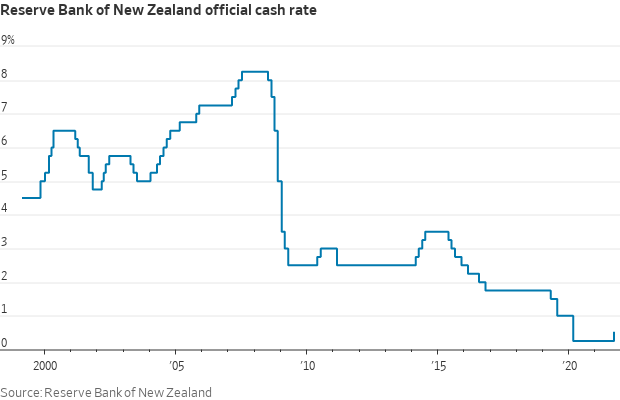 Market perspectives:
     • Outside markets: The U.S. dollar index was firmer ahead of U.S. private jobs data, with the euro, yen and British pound all weaker versus the U.S. currency. The yield on the 10-year U.S. Treasury note has risen, trading around 1.54% with a firmer tone in global government bond yields. Gold and silver futures were lower ahead of U.S. trading, with gold around $1,756 per troy ounce and silver around $22.38 per troy ounce.
     • India's September gold imports in September rose 658% from September of 2020. India imported 91 metric tons of gold in September compared to 12 metric tons in September of 2020. Jewelry makers stocked up as the Indian currency, the rupee, appreciated and gold prices fell.
     • Silver prices saw their worst four-month stretch since November 2014. Silver is both a precious metal and an industrial commodity, used in products as diverse as jewelry, solar panels and semiconductors. Now, the impending rollback of pandemic monetary-stimulus measures is hurting precious-metals prices at the same time that global production bottlenecks, energy shortages and manufacturing slowdowns reduce industrial demand.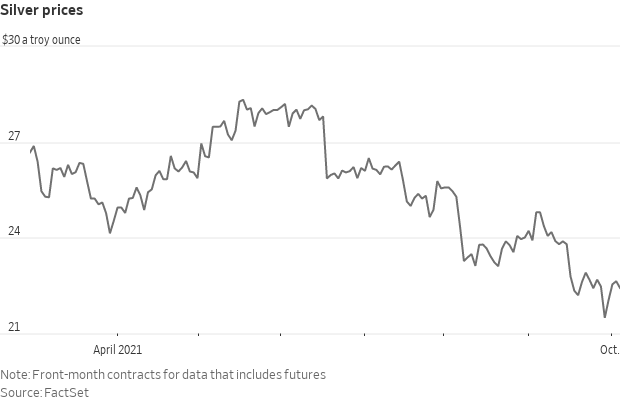 • U.S. will not ban cryptocurrencies like China, SEC Chairman Gary Gensler said at a House hearing on Tuesday, though the agency will focus on ensuring that the industry is fairly regulated. "Our approach is really quite different," he declared, adding that any ban would probably have to be legislated by Congress. The stance is a boon for the crypto world, after Gensler last month said the industry was "rife with fraud, scams, and abuse." Fed Chair Jerome Powell seems to agree with Gensler as the Fed head recently said he has no intention of banning cryptos, but stablecoins need more regulatory oversight. In contrast, China recently declared crypto transactions illegal, but it also seeks to launch its own central bank digital currency dubbed the digital yuan. In September, Beijing issued a sweeping ultimatum against crypto trading, stating all transactions were illegal and aggressively moved to root out token mining.
     • Crude oil futures are seeing losses ahead of U.S. gov't inventory data due later this morning. U.S. crude was trading around $77.85 per barrel and Brent around $81.55 per barrel. Futures were weaker in Asian action, with U.S. crude down 12 cents at $78.81 per barrel and Brent down eight cents at $82.48 per barrel.
     • European Commission considers 'toolbox' for member states to respond to energy price spikes. The European Commission (EC) will publish a "toolbox" next week outlining member states' options for responding to surging energy costs, the top EC energy official told Reuters. Policy options detailed in the measure will reportedly include consumer subsidies and energy tax relief measures like those some EU member states have already adopted. The toolbox will also "consider steps that can be taken at the EU level to make us better prepared for similar situations in the future," European Energy Commissioner Kadri Simson told the outlet. Simson also discussed concerns that Russia is limiting the supply of natural gas to the EU as leverage to secure regulatory approval for the Nord Stream 2 pipeline. "We are looking into this claim, together with Executive Vice President Vestager, who is responsible for competition rules, because it is of course a very serious matter," she said, and noted, "our initial assessment suggests that Russia is fulfilling its long-term contracts." Meanwhile, Simson reiterated her view that an accelerated transition to renewable energy will help insulate the EU from future energy price volatility. "Ultimately, the solution is the same, whether it's about prices, security of supply or climate: scaling up local, affordable, renewable energy is the way forward," she said.
     • Ag demand: Egypt tendered to buy an unspecified amount of wheat from global suppliers. Pakistan issued an international tender to buy 90,000 MT of wheat. Tunisia tendered to buy 100,000 MT of durum wheat from optional origins. Jordan tendered to buy 120,000 MT of wheat. Japan is seeking 80,000 MT of feed wheat and 100,000 MT of feed barley via a simultaneous buy and sell auction.
     • NWS weather: There is a moderate risk of excessive rainfall over parts of the Central Gulf Coast and the Southern Appalachian/Tennessee Valley through Thursday morning... ...Air Quality Alerts over the San Joaquin Valley through today... ...Temperatures will be 10 to 30 degrees above average over parts of the Northern/Central High Plains into the Upper Mississippi Valley through Friday... ...There is a critical risk of fire weather over the Northern High Plains through today.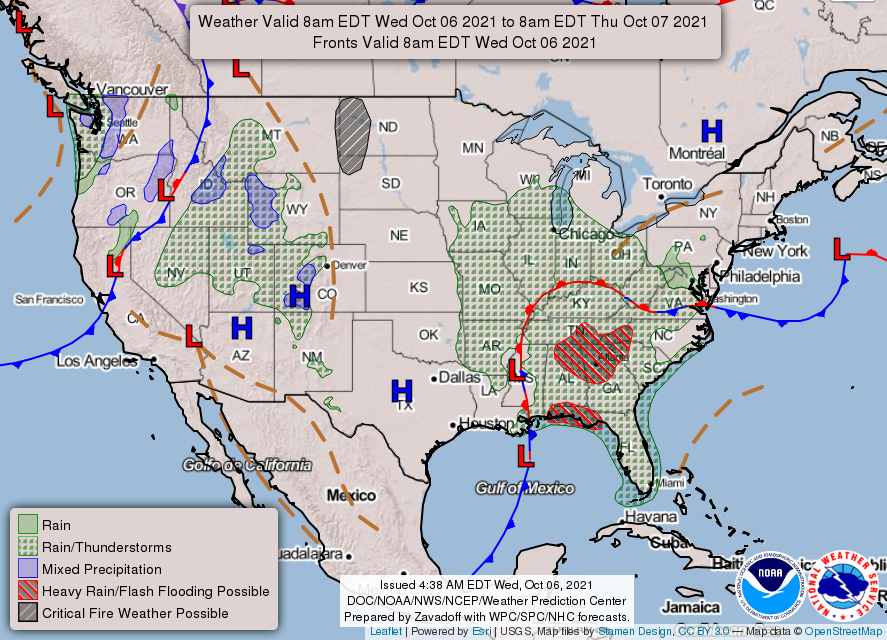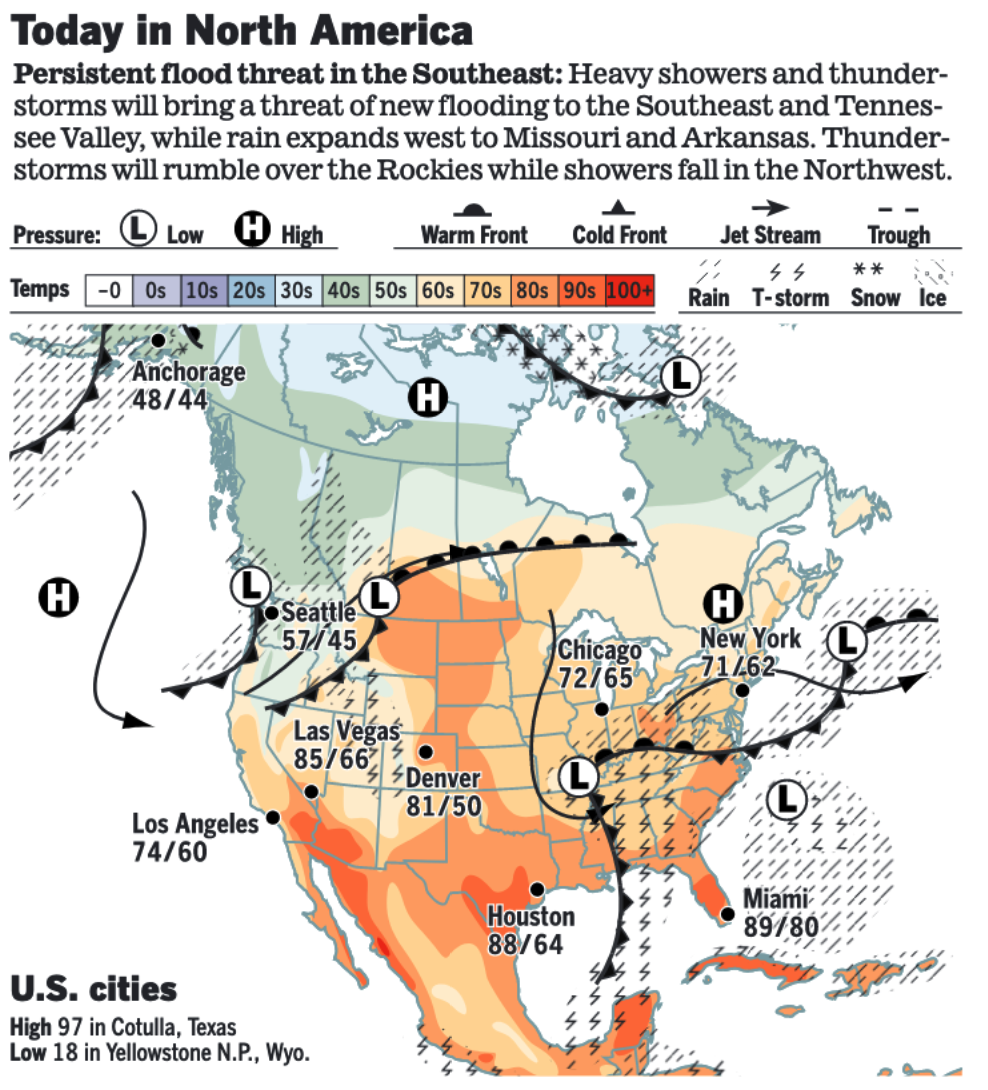 Items in Pro Farmer's First Thing Today include:
     • Corrective buying lifts grain and soy futures overnight
     • Attaché expects China to bring in 30 MMT of corn in 2020-21 and 20 MMT in 2021-22
     • Ukraine's ag ministry raises wheat export outlook, despite cut to production
     • Surge in Indian wheat exports
     • Bayer wins first jury verdict regarding cancer allegations
     • Some early cash cattle trade at steady prices
     • Big intraday price swing for the pork market driven by hams
---
POLICY FOCUS
---
— Biden: 'Real possibility' Democrats could revise Senate rules to counter filibuster. President Joe Biden said it is a "real possibility" that Senate Democrats could seek to revise the chamber's filibuster rules to overcome a Republican blockade on raising the debt ceiling. The president made his comments late Tuesday night amid a partisan standoff in Congress over raising the government's debt ceiling, which threatens the federal government's credit rating and the global economy. When asked about Democrats utilizing the "nuclear option" to prevent Republicans from filibustering to raise the debt limit, Biden said, "Oh, I think that's a real possibility." The focus is now on centrist Sen. Joe Manchin (D-W.Va.), who has opposed ending the filibuster "under no circumstances." Manchin told reporters to "forget the filibuster" Monday because there are other ways to lift the debt limit. Sen. Kyrsten Sinema (D-Ariz.) is also against blowing up the filibuster.
     Biden's comments come as Republicans today plan to block a third attempt to raise the government's borrowing limit — the Senate will consider a House-passed measure to suspend the debt ceiling in 2022, but that procedural move requires 60 votes, which Democrats do not have without GOP support. Senate GOP leader Mitch McConnell (R-Ky.) reiterated on Tuesday his belief that Democrats instead should use a process known as reconciliation to address the debt ceiling. The move would allow the Democrats to raise the borrowing cap using a majority, rather than the typical 60 votes required in the Senate, preserving the ability of Republicans to withhold their support.
     Meanwhile, Treasury Secretary Janet Yellen said she opposes a $1 trillion coin to cope with the debt ceiling, saying it's a "gimmick." The concept of the U.S. minting a trillion-dollar platinum coin to avoid a default on federal debt has gripped some quarters of markets and Washington amid political brinkmanship over the debt limit. The concept of a trillion-dollar coin dates back to 1992, when populist presidential candidate Bo Gritz suggested the idea during his second White House run. The idea resurfaced during the debt ceiling crisis of 2013 and the Obama administration even explored the possibility before the impasse came to an end with a continuing resolution. The method results in the U.S. minting more money to pay for its obligations, rather than borrowing through Treasuries (or the collection of taxes).
     The Treasury has identified Oct. 18 as a critical date, while acknowledging that it might have enough cash to meet its obligations for at least a few days thereafter. The timeline should come into clearer focus at the end of this week. The Treasury is now providing weekly updates on the remaining balance of unused "extraordinary measures."
     Biden has invited the leaders of some of the nation's biggest banks to the White House for a meeting today, the Washington Post reports, citing three people familiar with the plans. The meeting aims to discuss what administration officials say would be the negative impact of failing to lift the debt ceiling. Bank of America CEO Brian Moynihan and JPMorgan Chase CEO Jamie Dimon are among those expected to attend, according to the WaPo.
     Yellen has warned that a default would "likely precipitate a historic financial crisis that would compound the damage of the continuing public health emergency, as well as triggering a spike in interest rates, a steep drop in stock prices and other financial turmoil." White House economists published a report today about the "economic maelstrom" that would result if the government can't pay its bills. "A default would send shock waves through global financial markets and would likely cause credit markets worldwide to freeze up and stock markets to plunge," officials at the White House Council of Economic Advisers warned (link). "Employers around the world would likely have to begin laying off workers." The potential for an ensuing global recession, they wrote, could be worse than the 2008 financial crisis, because it would come as countries continue to struggle to escape the coronavirus pandemic. Adding to the burden, Congress and President Biden would be unable to spend money to prop up the economy until the debt limit, which caps the amount that America can borrow, is raised. "The federal government could only stand back," they wrote, "helpless to address the economic maelstrom." Link to White House explainer on the debt ceiling.
     Background. In 2011, Congress acted on the debt ceiling just two days before the Treasury said it would be unable to pay its bills. That was close enough to a default that Standard & Poor's, one of the three major credit-ratings firms, downgraded the U.S. federal government's creditworthiness to AA+, from AAA, in the aftermath. In 2013, Fitch put U.S. government debt on a negative watch, ultimately keeping its rating at AAA.
     Comments: The only thing clear about this topic at this juncture is that the failure to deal with it means the Senate will not be on recess next week as currently scheduled. Some sources signal that if Democrats move toward lifting the debt limit using the reconciliation process, Republicans would allow Democrats to lift the debt limit for a few weeks. Some of the reasons why Democrats and the White House do not like the reconciliation approach to the debt limit situation: Senate Democrats will have to move a budget resolution, face a vote-a-rama, wait for the House to pass a reconciliation package, face another vote-a-rama, and then pass the legislation — that would give Republicans the opportunity to force votes on amendments that would politically embarrass the Democrats. Also, using reconciliation would likely require Democrats to raise the debt ceiling to a specific new amount, rather than simply tabling the debt ceiling until a specific date, as they would prefer to do. What now? Contacts say to listen closely today what Republican leaders say following the expected cloture vote. One Republican, Senate Minority Whip John Thune (R-S.D.), has already commented: "I think if they get past this vote… and they commit to using [the reconciliation] process, our members are not interested in making it overly cumbersome. And honestly, it can't be. It's a very short amendment [process]. There are very few germane amendments. I don't think we'd have a lot of interest in non-germane amendments. The debate time, I think a lot of that could be yielded back." As for Democrats, reports note they may try to get rid of the debt limit in reconciliation, having talked to the parliamentarian about how a narrow, debt-limit-only reconciliation process would work.
— Biden slashes his social/climate change spending bill by more than $1 trillion. The White House and Democratic leaders said that they would propose spending $2.3 trillion or less on social programs over a decade. That's substantially less than their original $3.5 trillion plan, which could mean jettisoning some initiatives entirely. Reports note Democratic leaders will probably need to narrow their plans for free community college, child tax credits and universal prekindergarten so they are offered only to lower- and middle-income Americans, according to party members involved in the negotiations. The White House is also debating whether to try to keep as many programs as possible, by cutting their duration or reach, or to jettison some initiatives entirely to keep others largely intact, according to people familiar with the discussions.
     In private meetings, Biden has floated $2 trillion as a figure, including in a call late Monday with progressive House lawmakers. Even as talk of the shrinkage increased, Sen. Bernie Sanders (I-Vt.), a leader of the progressives, said Tuesday, "There's a lot of discussion going on, but I'm confident at the end of the day it's going to be a good agreement."
     Is the White House giving some spending hints? A White House fact sheet issued before the Michigan speech included a list of statistics on the number of state residents who would be helped by Mr. Biden's plans to subsidize childcare, provide universal prekindergarten, build affordable housing, invest in child nutrition and more. But it notably did not mention a paid leave program for workers that was a cornerstone of Biden's initial economic plans, and Mr. Biden did not mention paid leave in his speech.
     Pelosi lays down some markers. In a letter to her Democratic colleagues in the House this week, Speaker Nancy Pelosi (D-Calif.) outlined three categories a final package should address to support children and jobs: health care, including both expanding Medicaid and improving Medicare benefits, family care and the climate. She wrote that it remained important to "to highlight and communicate to the country the transformative nature of the initiatives in the legislation."
     Revenue impacts. Administration officials say the reduced cost of spending and tax cuts in the bill means Democrats will have an easier time settling on the revenue increases — including tax hikes on high earners and corporations — to cover the price tag.
---
AFGHANISTAN
---
— Afghanistan's fragile economy collapsing further. Just weeks after the last U.S. troops left Afghanistan, a cash crisis has crippled its already feeble economy. The tight supply of money, as well as border restrictions and mounting global isolation, is leaving workers unpaid, forcing local firms to close and banks to limit withdrawals. It also threatens to cut off Afghanistan from the outside world, as wireless carriers struggle to pay suppliers. More worryingly, the situation is worsening shortages of food and driving the cost of essential goods higher.
— Afghanistan hearing today. The House Foreign Affairs Committee will hold a hearing at 1 p.m. ET on misuse of assistance funds during the U.S. war in Afghanistan, featuring testimony from John Sopko, the Special Inspector General for Afghanistan Reconstruction.
---
BIDEN ADMINISTRATION PERSONNEL
---
— Top Republican calls on Biden banking nominee to turn over Marxism thesis from Moscow State. Sen. Pat Toomey (R-Pa.), ranking Republican on the Banking Committee, requested President Biden's pick for comptroller of the currency, Saule Omarova, to hand over a copy of the thesis she wrote while attending Moscow State University titled: Karl Marx's Economic Analysis and the Theory of Revolution in The Capital. Omarova was born in Soviet-controlled Kazakhstan and attended college on the Lenin Personal Academic Scholarship. She graduated in 1989 before the fall of the USSR and is now a law professor at Cornell University. Her nomination has caused some controversy given her academic background, including advocacy for ending banking "as we know it." Omarova, a favorite of progressives, is facing opposition from trade groups representing both the biggest banks and the smallest community lenders, which could influence moderate Democratic support for her nomination.
— Antitrust chief nominee hearing today. Jonathan Kanter, President Biden's choice to be the Justice Department's antitrust chief, will have his nomination hearing before the Senate Judiciary Committee today. It comes during a push by progressives to remake antitrust law, which coincides with record deal volumes. If approved for the post, some say that Kanter could be the toughest antitrust enforcer since Joel Klein — who took on Microsoft. In private practice Kanter once represented… Microsoft. His nomination has bipartisan support. Sen. Elizabeth Warren (D-Mass.), whom Kanter advised on her run for the Democratic presidential nomination last year, has offered her endorsement. Two of nine former heads of the Justice Department who wrote in support of Kanter's nomination worked in Republican administrations. Business groups are concerned about the direction of antitrust enforcement. "The government already has the power it needs to review and challenge the comparatively few mergers and acquisitions that raise competitive concerns," a coalition of industry groups wrote in a letter to the Senate subcommittee in advance of Kanter's hearing.
---
CHINA UPDATE
---
— U.S. national security adviser Jake Sullivan meets Yang Jiechi, China's top foreign policy official, today in Switzerland.
— U.S. trade deficit with China widened to $31.7 billion in August — the largest gap since July 2019. Exports declined while imports continued to grow, highlighting one source of friction in troubled relations.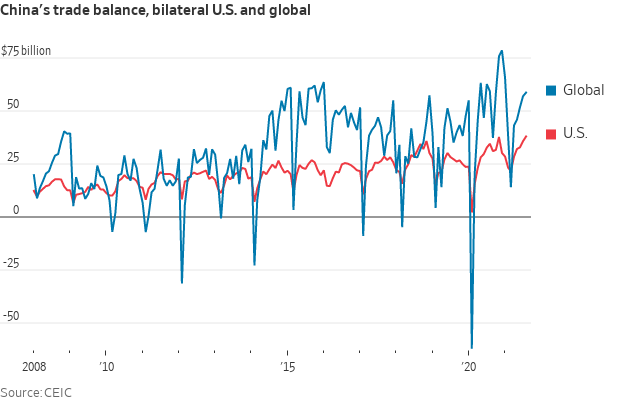 — Attaché expects China to bring in 30 MMT of corn in 2020-21 and 20 MMT in 2021-22. A U.S. ag attaché in China raised its estimate for China's 2020-21 corn imports to 30 MMT, but it expects the country's corn buying to slow by a third to 20 MMT in 2021-22. "As the feed sector sources cheaper feed grain alternatives and growth in feed demand increases at a slower rate, demand for imported corn is expected to moderate," the post explains, adding that current U.S. corn prices could turn China to Ukraine for its 2021-22 needs. The post's forecast for 2021-22 is 6 MMT below USDA's official forecast. The post's 2020-21 corn import forecast is 4 MMT higher than USDA's official forecast, and the report notes some in the industry place China's total corn imports as high as 32 MMT. Also of note, the post expects China to import 8 MMT of wheat in 2021-22, which is 2 MMT lighter than USDA's official forecast. The post doesn't expect wheat imports to top its low tariff rate quota of 9.636 MMT for calendar year 2022 given high global prices and shipping rates.
---
TRADE POLICY
---
— USTR to seek public comments on restart of tariff exemptions for Chinese goods. The Office of the U.S. Trade Representative (USTR) announced it will start accepting public comments on Oct. 12 on whether to reinstate product exclusions relative to tariffs imposed on billions of dollars of Chinese goods. USTR said in a notice on their website (link) it will accept comments through Dec. 1. Under the exclusion process that expired Dec. 31, 2020, March 25 and April 18, 2021, USTR had granted 549 exclusions to the tariffs (link). USTR said it was "separately" addressing the issue of tariff exemptions linked to Covid.
     As for the China tariffs, USTR said it wants comments on the appropriate length of any reinstated extensions, saying it would evaluate those "on a case-by-case basis," focusing on whether the particular product remains only available from China. They are seeking comments on whether the products or comparable products are available from the U.S. or other countries, and on any changes to global supply chains that have taken place since September 2018. "USTR will consider whether or not reinstating the exclusion will impact or result in severe economic harm to the commenter or other U.S. interests, including the impact on small businesses, employment, manufacturing output, and critical supply chains in the United States, as well as the overall impact of the exclusions on the goal of obtaining the elimination of China's acts, policies, and practices covered in the Section 301 investigation," the agency said.
     The notice has not yet been published or put on public inspection at the Federal Register. USTR said that any tariff exclusions granted would be retroactive to Oct. 12.
---
ENERGY & CLIMATE CHANGE
---
— Panel to mull bills on offshore oil drilling oversight. The House Natural Resources Committee will weigh bills and hold an oversight hearing next week on offshore oil drilling after Saturday's oil spill off the California coast, the panel announced today. Lawmakers will mark up the Offshore Pipeline Safety Act (HR 2643) and Offshore Accountability Act (HR 570) on Oct. 13. The committee's Energy and Mineral Resource Subcommittee will hold an oversight hearing Oct. 14 on abandoned offshore fossil fuel infrastructure.
— Evidence suggests anchor pulled pipeline in California spill. Evidence emerged Tuesday that a ship's anchor snagged and dragged an underwater pipeline that ruptured and spilled tens of thousands of gallons of crude oil off Southern California, an accident the Coast Guard acknowledged it did not investigate for nearly 10 hours after the first call came in about a possible leak.
— Russia: Frozen to unfrozen. Thawing earth once thought to be permanently frozen is springing to life and threatening a crucial chunk of Russia's economy. The melting of the thick layer of the earth known as permafrost is a result of climate change, according to scientists and Russia government research. Two-thirds of the country sits on such soil, including much of its oil and gas infrastructure. Mines and plants are experiencing increasing corrosion leaks and cracks, stemming in large part from defrosting ground. In the pipeline industry, braces and other mechanisms, previously anchored into permafrost, often corrode, twist and bend when the earth below changes. Companies are pouring millions of dollars into reinforcing buildings, monitoring soil temperatures and installing high-tech cooling systems. Russian economic officials and scientists estimate that thawing permafrost could affect more than a fifth of Russian infrastructure. A government minister in May said the economy stands to lose more than $68 billion by 2050. Link to WSJ article for more.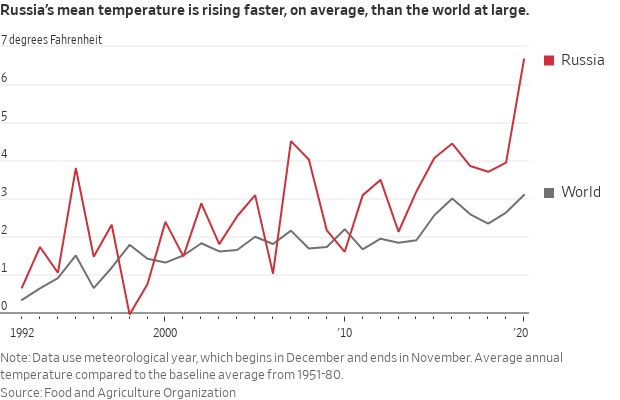 ---
LIVESTOCK, FOOD & BEVERAGE INDUSTRY
---
— Kellogg workers stage a walkout. About 1,400 employees went on strike at cereal factories in Michigan, Nebraska, Pennsylvania and Tennessee. The action, by the same union that led a recent walkout at Nabisco, comes as unions tap into the frustrations of workers during the pandemic.
— USDA may enlist farmers to reduce salmonella in poultry. USDA's food safety agency is considering new approaches to reduce salmonella bacteria in poultry that could include "pre-harvest interventions" on the farm, said USDA Deputy Undersecretary Saundra Eskin on Tuesday. "We know that most salmonella contamination enters the facility with the birds and the more we can do to reduce contamination at the point of slaughter, the less contamination and cross-contamination we have in an establishment."
---
CORONAVIRUS UPDATE
---
— Summary: Global cases of Covid-19 are at 235,908,859 with 4,818,982 deaths, according to data compiled by the Center for Systems Science and Engineering at Johns Hopkins University. The U.S. case count is at 43,950,084 with 705,284 deaths. The Johns Hopkins University Coronavirus Resource Center said that there have been 397,718,055 doses administered, 186,060,146 have been fully vaccinated, or 56.7% of the U.S. population.
— PCR sales soared in Wuhan before first official Covid-19 cases publicized: report. Spending on tests to detect the novel coronavirus soared in Wuhan, China, several months before the first official reporting of Covid-19 cases, suggesting the virus was already circulating in communities during the northern summer in 2019 before it was made public by Beijing, according to research by Australian cybersecurity firm Internet 2.0. The firm tracked the sales of polymerase chain reaction (PCR) tests over several years, revealing an almost 50 percent increase between 2018 to 2019 — the year before the Covid-19 outbreak spread across the world. Sales of PCR tests, used to detect specific viruses, totaled 19.1 million yuan (AU$4 million) in 2016, before rising to 29.1 million yuan (AU$6 million) in 2017, 36.7 million yuan in 2018, and 67.4 million yuan (AU$14 million) in 2019. "These findings challenge existing assumptions around when the pandemic began and support further investigation. The study concludes that a significant increase in spending in PCR equipment correlates to the spread of Covid-19," according to the report, Procuring for a Pandemic: An Assessment of Hubei Province (China) PCR Procurement Assessments. "We assess with medium confidence the significant increase from 2018 to 2019 in Hubei province (67.4 million yuan of total PCR equipment in 2019) is due to an event like the emergence of Covid-19," it continues. "Finally, we assess with high confidence that the pandemic began much earlier than China informed the WHO about Covid-19." The study was carried out via an analysis of 1,716 procurement contracts from 2007 to the end of 2019.
— U.S. public health officials will hold a press briefing at 3 p.m. ET on the Covid-19 response. CDC Director Rochelle Walensky, Surgeon General Vivek Murthy, White House chief medical advisor Anthony Fauci, and White House Covid-19 response coordinator Jeff Zients will participate.
— Australia and New Zealand inched closer to reopening their economies by announcing steps to allow vaccinated people to move more freely. Australia said foreign visitors would not be able to visit until 2022 at the earliest.
---
POLITICS & ELECTIONS
---
— Democrats mapped into same seat in Texas. Rep. Sheila Jackson Lee (D) was drawn out of her own district by the Texas Senate's redistricting committee. Though there's still time for lines to change, the version ready for floor consideration would put Jackson Lee into the same Houston-region seat as Rep. Al Green, another Democrat. "This surgery seems totally without purpose," Jackson Lee told the committee. Green said only the districts of Black incumbents are being merged as the state figures out how to add two seats.
— McMullin to challenge Sen. Lee. The Salt Lake (Utah) Tribune reports (link) Evan McMullin, the independent presidential candidate who "got just over 21% of the statewide vote in Utah when he ran for president in 2016," on Tuesday announced he is running against Sen. Mike Lee (R-Utah) as an independent candidate. The Deseret News reports (link) that along with Mullen joining the race, "so far, two Republicans — former Utah lawmaker Becky Edwards and longtime communications, public policy and political strategist Ally Isom — are challenging Lee," while "Democrats Nick Mitchell, Austin Searle and Allen Glines have also started campaigns." In an analysis item, the Washington Post (link) says "the question for McMullin and his new Senate campaign is how much his relatively good showing [in the presidential race] was due to his own appeal to Utah voters rather than him merely being a capable alternative to a candidate that Mormon Republicans really didn't like."
— Donald Trump is worth an estimated $2.5 billion, leaving him $400 million short of the cutoff to make this year's Forbes 400 list of America's richest people. Link for details. Says Forbes: "The real estate mogul is just as wealthy as he was a year ago, when he stood at No. 339 on the ranking, but he is down $600 million since the start of the pandemic. Technology stocks, cryptocurrencies and other assets have thrived in the Covid era. But big-city properties — which make up the bulk of Trump's fortune — have languished, knocking the former president out of the nation's most exclusive club."
---
CONGRESS  
---
— Ransomware bill would offer two days to report payments. Victims of ransomware attacks would be required to report payments to their hackers within 48 hours under a proposal from Sen. Warren and Rep. Deborah Ross (D-N.C.). The Ransom Disclosure Act would give the Homeland Security Department data on ransomware payments, including the amount of money demanded and paid, and the type of currency used. The duo said this is essential to bolster the U.S. government's understanding of how hackers operate.
— Chamber urges Congress to avoid antitrust legislation. The U.S. Chamber of Commerce and other trade groups urged Congress to refrain from passing new legislation that would change the government's reviews of mergers and acquisitions. The letter comes as lawmakers and federal agencies that regulate competition— the Justice Department's antitrust division and the Federal Trade Commission— are signaling moves to heighten oversight of deals that Democrats say are driving up market concentration across industries.
---
OTHER ITEMS OF NOTE     
---
— CIA acknowledged losing dozens of informants who have been hunted down by Russia, China, Iran and Pakistan. In some cases, the informants have been turned into double agents.
---
EVENTS AND REPORTS
---
Wednesday, Oct. 6
· Federal Reserve. Atlanta Fed President Raphael Bostic to speak.
· Western US drought. House Natural Resources Water and Power Subcommittee hearing to examine the status and management of drought in the western United States.
· Afghanistan situation. House Foreign Affairs Committee hearing on "Development Assistance During Conflict: Lessons from Afghanistan."
· Hurricane Ida response. Senate Environment and Public Works Committee hearing on "The U.S. Army Corps of Engineers Emergency Response to Hurricane Ida."
· International energy outlook. Center for Strategic and International Studies virtual discussion on "The U.S. Energy Information Administration's (EIA) International Energy Outlook 2021."
· China report to Congress. U.S./China Economic and Security Review Commission holds a meeting to review and edit drafts of the 2021 Annual Report to Congress.
· COP26. Woodrow Wilson Center's Brazil Institute virtual discussion on "The Final Stretch to COP26: Which Future Will We Harvest?" State Department Deputy Special Envoy for Climate Change Jonathan Pershing delivers remarks on "The U.S. Goals for COP26."
· USDA/CDC meeting on toxins. The U.S. Centers for Disease Control and Prevention joint meeting by teleconference with USDA's Animal and Plant Health Inspection Service (APHIS)'s Division of Agricultural Select Agents and Toxins for individuals to obtain guidance on completing the APHIS/CDC Forms 2-4 and reporting requirements related to select agent and toxin regulations.
· Antibiotic resistance. Health and Human Services Department teleconference of the Presidential Advisory Council on Combating Antibiotic-Resistant Bacteria to deliberation and vote on a letter with recommendations from the Immediate Action Subcommittee of the Advisory Council.
· Climate change and national security. U.S. Chamber of Commerce virtual discussion on the national security implications of climate change and its impact on the security of the United States in the National Security Strategy and the National Defense Strategy.
· SBA programs. House Small Business Committee hearing on "SBA's Entrepreneurial Development Programs."
· Data security. Senate Commerce, Science and Transportation Committee hearing on "Enhancing Data Security."
· Covid economic challenges. Woodrow Wilson Center's Asia Program virtual discussion on "The International Monetary Fund (IMF), World Bank, and the Economic Security Challenge," focusing on economic challenges caused by Covid-19.
· Cybersecurity risks. Aspen Institute virtual 2021 Aspen Digital Cyber Summit with the theme "Systemic Cyber Risk: Exploring Collective Defense in a Digital World."
· Water contamination. House Transportation and Infrastructure Water Resources and Environment Subcommittee hearing on "Emerging Contaminants, Forever Chemicals, and More: Challenges to Water Quality, Public Health, and Communities."
· Iran drone program. U.S. Representative Office of the National Council of Resistance of Iran news conference "to unveil previously undisclosed aspects of the Iranian regime's massive drone program."
· US communications networks. House Energy and Commerce Communications and Technology Subcommittee hearing on "Strengthening Our Communications Networks to Meet the Needs of Consumers."
· Covid vaccines. Washington Post Live virtual discussion with Office of Personnel Management Director Kiran Ahuja on "the rollout of the federal Covid-19 vaccine policy."
· Rural childcare issues. Bipartisan Policy Center virtual discussion on "Child Care in Rural America — What Have We Learned?"
· Voting rights. Senate Judiciary Committee hearing on "Protecting a Precious, Almost Sacred Right: The John R. Lewis Voting Rights Advancement Act."
· Renewable energy. Punchbowl News virtual discussion on "the role private capital is playing to spur investment in renewable energy and infrastructure industries."
· Economic report. ADP Employment Report
· Energy reports. EIA Petroleum Status Report | Weekly Ethanol Production
· USDA reports. ERS: Livestock and Meat International Trade Data | US Agricultural Trade Data Update NASS: Broiler Hatchery
---