Some Union Leaders Push Back Against Tyson Foods Covid-19 Vaccine Mandate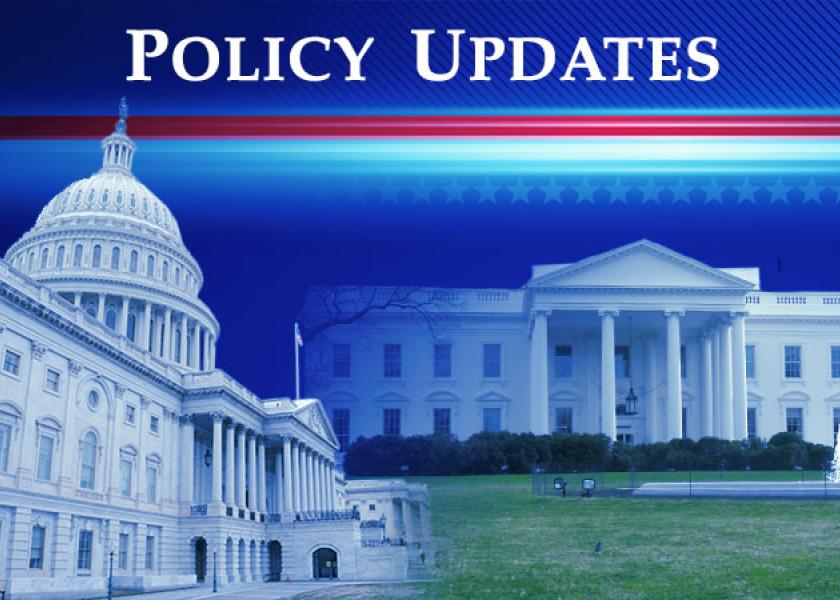 Biden announces two-month moratorium on renter evictions
---
In Today's Digital Newspaper
---
Market Focus:
• Natural gas prices surge
• Gary Gensler questions the "Wild West" nature of the cryptocurrency industry.
• U.S. household debt increased by $313 billion in second quarter of year
• SEC will regulate cryptocurrency markets to maximum extent possible
• Natural-gas futures have gained 37% since April
• StoneX's U.S. corn and soybean crop forecasts
• Are the highs in for corn and soybeans?
• Ag demand update
• Light short-covering after yesterday's selloff
• Diminished rain chances for the Corn Belt over the weekend, but rain possible mid-month
• ANEC expects Brazil's corn exports to pick up as soybean shipments slow
• French farm ministry trims soft wheat crop estimate
• Mexico bans pork imports from the Dominican Republic
• Early cash cattle action at steady prices
• Hog processing margins climbing
Policy Focus:
• Biden administration issues new two month eviction moratorium
• More detail on WOTUS information gathering effort
• NMPF chief details dairy policy 'cliffhangers' still pending action
China Update:
• China to probe fertilizer firms
• China suspends meat imports from a BRF plant
Trade Policy:
• Push continues on TPA
Livestock, Food & Beverage Industry Update:
• Tyson Foods to require Covid-19 vaccinations for its entire U.S. workforce
• Some union leaders pushed back against a Tyson Foods Covid-19 vaccine mandate
Coronavirus Update:
• New York City will require people to show proof of vaccination for indoor activities 
• Health officials in Wuhan ordered mass testing
Politics & Elections:
• Andrew Cuomo faces impeachment threat after harassment report
• Trump-backed candidate wins Ohio GOP primary
• Establishment-backed Brown wins Democratic OH11 primary
Other Items of Note:
• Regulators to bar thousands of farmers in Calif. from using surface water
• Colorado mulls water measuring for agriculture
 
---
MARKET FOCUS
---
Equities today: U.S. stock futures signal lower openings ahead of more earnings reports and data on the services sector. In Asia, most major benchmarks rose by the close of trading. The Shanghai Composite Index and Hong Kong's Hang Seng Index both rose 0.9%. China's Caixin purchasing managers' survey gauge of the services industry for July rose from the previous month.
     U.S. equities yesterday: The Dow rose 278.24 points, 0.80%, at 35,116.40. The Nasdaq gained 80.23 points, 0.55%, at 14,761.29. The S&P 500 was up 35.99 points, 0.82%, at 4,423.15.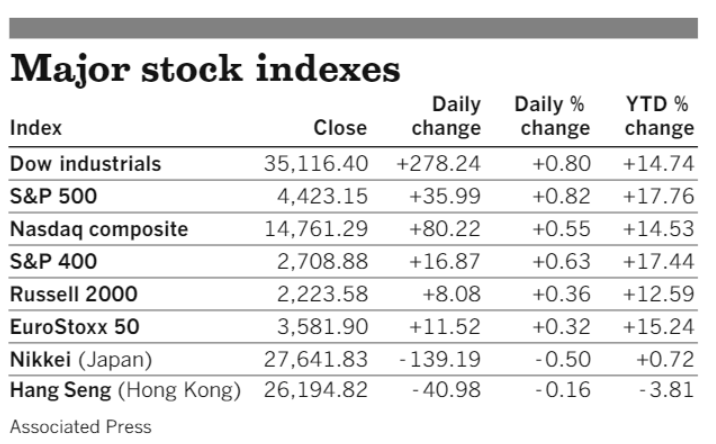 U.S. stocks weren't the only ones reaching records in North America on Tuesday. Canada's benchmark S&P/TSX Composite Index also hit a new record close, having added 78.05 points, 0.4%, to reach 20,365.85.
On tap today:
     • ADP's jobs report is expected to show U.S. private-sector employment increased by 653,000 in July. (8:15 a.m. ET)
     • IHS Markit's U.S. services index for July is expected to hold at 59.8, unchanged from a preliminary reading. (9:45 a.m. ET)
     • Institute for Supply Management's services index is expected to tick up to 60.5 in July from 60.1 a month earlier. (10 a.m. ET)
     • Federal Reserve Vice Chairman Richard Clarida speaks on monetary policy at a Peterson Institute for International Economics webcast at 10 a.m. ET.
U.S. household debt increased by $313 billion in the second quarter of the year, the biggest jump since 2007. Mortgage, credit card and auto loan balances all rose, the Federal Reserve Bank of New York said in a quarterly report.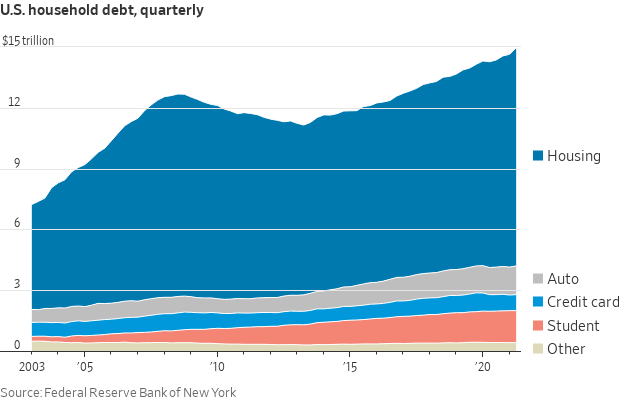 Market perspectives:
     • Outside markets: The U.S. dollar index is slightly higher as the euro is slightly weaker against the greenback ahead of U.S. economic data. The yield on the 10-year U.S. Treasury note is weaker, trading around 1.16% with global government bond yields broadly lower. Gold and silver futures are higher ahead of US trading activity, with gold trading around $1,818 per troy ounce and silver around $25.80 per troy ounce.

     • Crude oil prices are under pressure ahead of U.S. government inventory data due later this morning. US crude is trading under $69.85 per barrel and Brent under $71.90 per barrel. Futures were weaker in Asian action, with U.S. crude down 19 cents at $70.37 per barrel and Brent down five cents at $72.36 per barrel.
     • The Securities and Exchange Commission will regulate cryptocurrency markets to the maximum extent possible using its existing authority, Chairman Gary Gensler said Tuesday, while also calling on Congress to grant the agency more scope and resources to oversee the sector. Calling the asset class rife with "fraud, scams and abuse," Gensler signaled the SEC is likely to become more active in policing crypto trading and lending platforms, as well as so-called stablecoins. "We just don't have enough investor protection in crypto. Frankly, at this time, it's more like the Wild West," Gensler said.
     • Natural-gas futures have gained 37% since April and are more than twice the price of a year ago. The power-generation fuel has been in high demand to run air conditioners and make up for parched hydropower markets, and forecasters expect booming exports and more steamy weather to keep supplies down and prices up. The prices have pushed past $4 per million British thermal units, with foreign demand lifting the upper bounds of domestic prices. Pipeline exports to Mexico are surging. Overseas sales of liquefied natural gas have also notched new highs despite rising prices in both Europe and Asia. Analysts say U.S. prices would need to surpass $7 before shipping shale gas across the Atlantic becomes unprofitable.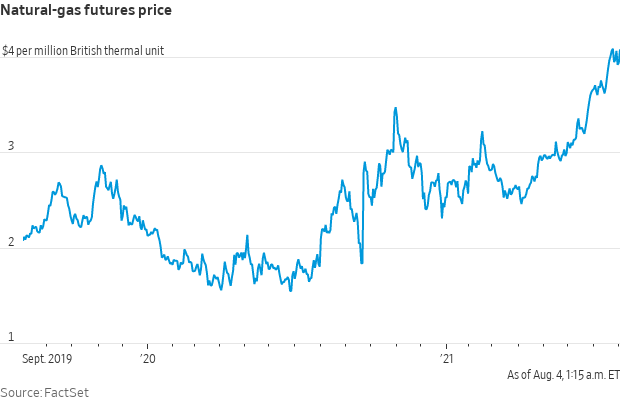 • StoneX's U.S. corn and soybean crop forecasts. The commodity brokerage StoneX estimates the U.S. corn crop will yield an average of 176.9 bu. per acre for a 14.945 billion bu. crop, based on customer surveys and the firm's analysis. StoneX expects the U.S. soybean crop to total 4.332 billion bu. on an average yield of 50 bu. per acre. USDA's first survey-based crop estimates will come Aug. 12.
     • Are the highs in for corn and soybeans? Says one industry: They probably are unless USDA's Aug. 12 crop report shows an average corn yield under 175 bu. And soybeans under 48 bu. per acre.
     • Ag demand: Pakistan tendered to buy 400,000 MT of wheat from optional origins. Turkey canceled its tender to buy around 515,000 MT of animal feed barley. But the country has bought an initial 150,000 MT of the 395,000 MT it was seeking. Algeria's state grains agency reportedly bought around 150,000 MT to 200,000 MT of optional origin milling wheat in an international tender; it's unclear whether more will be purchased. Japan's ag ministry is seeking 80,000 MT of feed wheat and 100,000 MT of feed barley via a simultaneous buy and sell auction. Egypt's state grain buyer cancelled its international tender to buy 30,000 MT of soyoil and 10,000 MT of sunflower oil after limited participation. Jordan has not yet made any purchases in its tender for 120,000 MT of wheat.
     • NWS weather: Early heavy rain near the North Carolina coast should edge slowly out to sea today... ...Heat returns to the Desert Southwest and Interior Pacific Northwest today while the central Plains to the East Coast see below normal temperatures.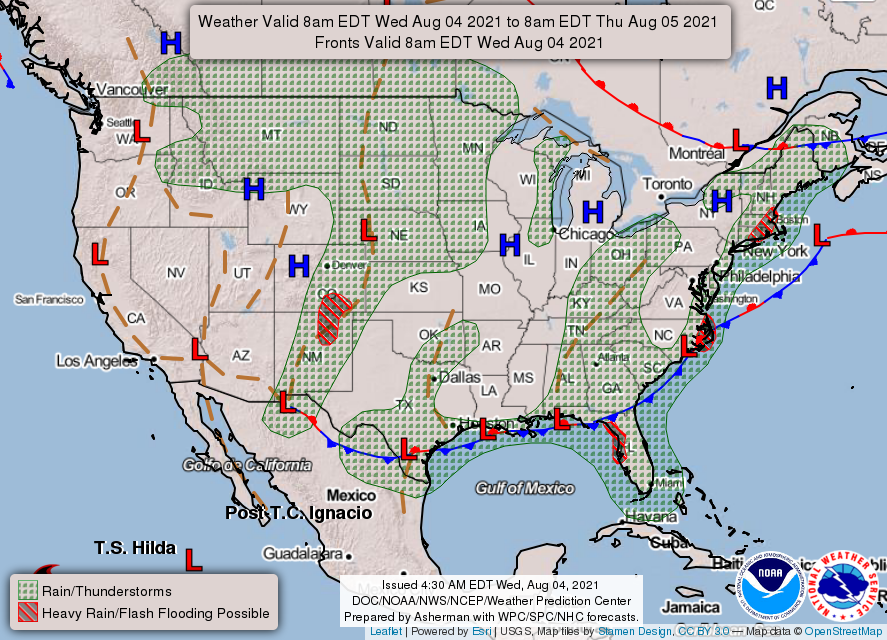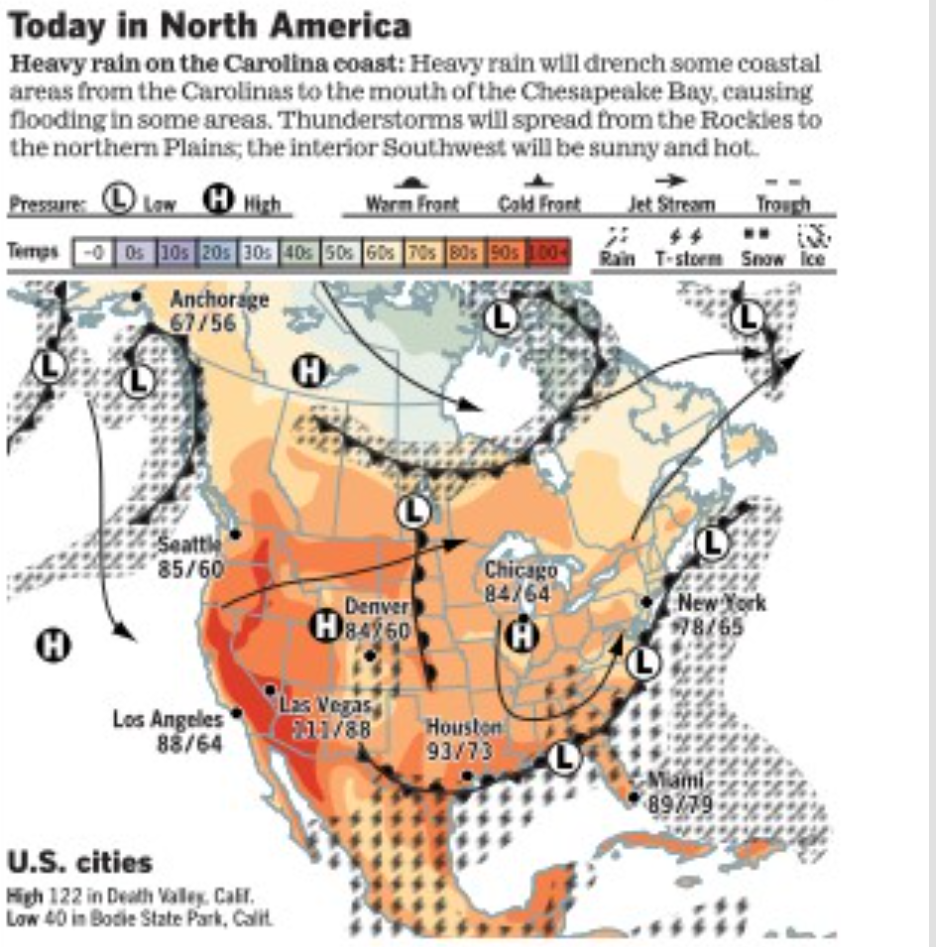 Items in Pro Farmer's First Thing Today include:
     • Light short-covering after yesterday's selloff
     • Diminished rain chances for Corn Belt over weekend, but rain possible mid-month
     • ANEC expects Brazil's corn exports to pick up as soybean shipments slow|
     • French farm ministry trims soft wheat crop estimate
     • Mexico bans pork imports from the Dominican Republic
     • Early cash cattle action at steady prices
     • Hog processing margins climbing
 
---
POLICY FOCUS
---
— Biden announces new two-month eviction moratorium. The Biden administration on Tuesday announced a new two-month federal moratorium on evictions to replace the broader one that expired over the weekend. The new moratorium would take effect in areas where Covid-19 has been on the rise and last through Oct. 3, the Centers for Disease Control and Prevention said. The moratorium applies to counties facing high or substantial levels of coronavirus cases and is estimated to cover about 90% of the U.S. population. President Biden previously said he did not have legal authority to renew the moratorium, and asked Congress to act. He said Monday that he remained unsure if a new ban would pass constitutional muster, and constitutional scholars said it might not. But the president said that it would at least help Americans temporarily.
     The extended moratorium gives states more time to distribute the $46.5 billion that Congress provided in the Emergency Rental Assistance program in January and March. The Treasury Department estimates that just $3 billion, or 7% of available funds, had been distributed by the end of June. Many states did not begin processing applications until June.
— Dairy policy 'cliffhangers.' National Milk Producers Federation (NMPF) President and CEO Jim Mulhern detailed several policy "cliffhangers" the dairy sector is still waiting for action on by Congress and the Biden administration, including final approval of a dairy donation program and detail on Covid-19 producer aid.
     "Cliffhangers are great in movies, but they're frustrating in public policy," Mulhern wrote in his August 3 CEO's Corner newsletter. "Congress is entering its traditional August recess with a big not-yet-done list on topics ranging from infrastructure to immigration. For the sake of dairy farmers, we'd like to see faster movement."
     Mulhern detailed four policy issues of elevated importance to the dairy sector that are still pending action: USDA's Dairy Donation Program and Covid-19 aid payments to producers, new climate smart ag legislative measures, and ag labor reform.
     On the donation program, Mulhern notes that the $400 million effort was enacted under the December 2020 omnibus spending/Covid-19 relief package and is "largely ready to go, thanks to USDA's diligence." The program will reimburse dairy producers for the donation of surplus milk supplies to food banks and other anti-hunger organizations, including retroactive reimbursement for any donations made after Dec. 27, 2020 — when the omnibus package was signed into law.
     Regulations implementing the program were submitted for review to the White House Office of Management and Budget (OMB) on June 9 and are still listed as pending. "Final details are expected to be worked out soon, encouraging dairy community efforts to aid needy families through food banks and other distributors," Mulhern wrote.
     Separately, dairy producers are still awaiting initial details from USDA on its plans for direct Covid-19 relief payments to producers. The department aims to reimburse producers for uncompensated losses related to market impacts from the pandemic and deliver a supplemental Dairy Margin Coverage (DMC) program payment. The DMC effort would allow smaller producers who had annual production of less than five million pounds of milk in 2014, but which subsequently grew, to receive payments. "This not only aids small producers; it increases the amount of money available to dairy in the next farm bill," Mulhern said of the supplemental DMC effort.
     Another aid-related issue on NMPF's radar pertains to the issue of payment caps and USDA's Coronavirus Food Assistance Program (CFAP). The group has pressed to have the limits adjusted, saying they were set too low to allow some producers adequate compensation for their losses. "NMPF has spearheaded efforts to remedy this imbalance with USDA," Mulhern said, referring to pressure from the group over the issue.
     On the legislative front, Mulhern said dairy sector plans to achieve net-zero greenhouse gas (GHG) emissions by 2050 would receive a much-needed boost from several policies making their way through Congress. First, the group is awaiting House action on the Senate-passed Growing Climate Solutions Act (GCSA) — which would provide technical assistance and USDA certification of third-party verifiers for carbon credit-related on farm efforts. A House companion bill was introduced by House Ag Committee members Abigail Spanberger (D-Va.) and Don Bacon (R-Neb.) in April but has yet to move forward in the chamber.
     Besides action on the GCSA, NMPF is also watching an investment tax-credit bill for GHG-reducing technologies. The tax measure "is making headway on Capitol Hill," Mulhern said, while lawmakers are also "considering enhancing conservation policy to encourage climate-friendly agricultural practices and markets that compensate farmers for being stewardship leaders."
     Conservation programs. In a June 19 NMPF podcast, NMPF Senior Vice President for Government Relations Paul Bleiberg explained that NMPF is supportive of efforts by Senate Ag Committee Chair Debbie Stabenow (D-Mich.) to "plus up different conservation programs and opportunities as well that may reward essentially climate smart ag practices." He noted that feed management and manure management "are a couple of areas that the programs today don't quite emphasize," which NMPF hopes might be included in climate smart ag-oriented program expansions.
     Finally, Mulhern said NMPF is hoping for action on the twice House-passed Farm Workforce Modernization Act (FWMA). The bill died last year in the Senate — while Republicans still controlled the chamber — but the House approved it again this year. The measure was discussed during a recent Senate Judiciary Committee hearing, where views appeared to be divided along party lines. "Senate discussions remain behind-the-scenes, but we have positioned dairy prominently in this debate via the many opportunities we've had to spotlight dairy's labor needs," Mulhern wrote, pointing to NMPF's participation in the Senate Judiciary hearing.
     In a related development, Mulhern welcomed House appropriations bill language that would expand the current H-2A ag guestworker visa program to include year-round labor needs — such as positions in the dairy industry. "These are the types of smaller actions that lead to larger ones, and we will continue this drumbeat to prod Congress to get the job done," Mulhern concluded.
 
---
CHINA UPDATE
---

— China to probe fertilizer firms. China's State Administration for Market Regulation announced it will launch an investigation into fertilizer producers and distributors suspected of driving up prices. The regulator detailed it would continue to pay close attention to fertilizer prices, increase supervision and punish illegal acts like hoarding, hiking prices or colluding on prices.
— China suspends meat imports from a BRF plant. China has banned meat imports from the food processor BRF SA's Lucas Rio Verde plant located in central Brazil, the company said in a statement yesterday. The plant processes pork and chicken. The company said it would take steps to reverse the ban, working in conjunction with Chinese and Brazilian authorities, but it did not disclose what the holdup was. BRF did say that it was not officially notified of the ban and only learned of the suspension when it appeared on China's customs website.  
---
TRADE POLICY
---
— Push continues on TPA. Republicans on the House Ways and Means Committee are calling on President Joe Biden to work with Congress to renew Trade Promotion Authority (TPA) that expired July 1. In a letter to Biden, the lawmakers said TPA is needed so "America can once again lead the world by negotiating strong trade agreements that create US jobs and open new markets for American goods and services while raising standards throughout the world." The lack of TPA, the lawmakers said, "leaves a void on the international stage that malign actors, like China, seek to exploit, and that our allies may fill with policies that reflect priorities other than our own." The labeled it an "essential component" for the US to maintain leadership on trade and "deepen relationships with our allies to counter China through trade policy." They called for action to start now on building a coalition for TPA, stating, "We know from our past experience that TPA renewal is never easy — it will take time to build a consensus and get it right."
     But so far the Biden administration has not indicated they are pushing to renew TPA at this stage. Politico reported that U.S. Trade Representative spokesman Adam Hodge would not indicate what the administration's strategy was. "We are pursuing inclusive, worker-centered trade policies that strengthen the United States' resiliency, recovery, sustainability, and competitiveness," Hodge said. "There are strong views on both sides of the Trade Promotion Authority issue and we will continue working with Congress to develop trade policy with broad bipartisan support." USTR Katherine Tai has also not signaled a push for TPA at this point.
 
---
LIVESTOCK, FOOD & BEVERAGE INDUSTRY
---
— Tyson Foods said it would require Covid-19 vaccinations for its entire U.S. workforce. The company said it would offer a $200 bonus to its front-line workers as an incentive, though some union leaders pushed back, saying U.S. regulators hadn't yet fully approved the vaccines (see next item for details).
— Union pushing back on Tyson Foods mandate for workers to be vaccinated. Tyson Foods announced Tuesday it will require its workforce to be vaccinated for Covid but is getting pushback from the United Food and Commercial Workers International (UFCWI) union. "We did not take this decision lightly," Tyson Chief Executive Donnie King said. "We have spent months encouraging our team members to get vaccinated — today, under half of our team members are." Tyson said it was negotiating with unions on the action. While UFCWI President Marc Perrone said the union has encouraged members to get vaccinated, they are concerned Tyson is implementing the mandate "before the FDA has fully approved the vaccine." The union is calling on food companies to negotiate directly with front-line workers on any vaccination order and they want companies to provide "paid vaccine leave." Tyson said that union workers make up about one-third of their hourly workforce.
— Microsoft announced all its workers, vendors and guests will be required to show proof of a vaccination before entering their U.S. buildings. While not mandating vaccines, General Motors, Ford, and Stellantis and the United Auto Workers (UAW) union will reinstate requirements to wear masks at all US plants, offices and warehouses.
 
---
CORONAVIRUS UPDATE
---
— Summary: Global cases of Covid-19 are at 199,628,827 with 4,247,333 deaths, according to data compiled by the Center for Systems Science and Engineering at Johns Hopkins University. The U.S. case count is at 35,238,173 with 614,295 deaths. The Johns Hopkins University Coronavirus Resource Center said that there have been 347,377,149 doses administered, 165,091,416 have been fully vaccinated, or 50.3% of the U.S. population.
— New York City will require people to show proof of vaccination for indoor activities, such as dining, gyms and events, Mayor Bill de Blasio said Tuesday. The new policy will be phased in the coming weeks.
— Health officials in Wuhan, the Chinese city where Covid-19 was first detected, ordered mass testing in an effort to contain several outbreaks of the more infectious Delta variant.
 
---
POLITICS & ELECTIONS
---

— Andrew Cuomo faces impeachment threat after harassment report. After a monthslong investigation, the New York attorney general said the state's governor created a "climate of fear" in his administration during his decadelong tenure. In a pre-recorded statement, Cuomo said the report was biased and denied the allegations. The 165-page report, which Cuomo requested in March and was compiled by outside investigators, detailed allegations from 11 different women, the majority of whom were current or former state employees. President Biden and other senior Democrats have called on the governor to resign. It's not known whether Cuomo will face criminal charges. The harassment allegations, as well as a probe into Cuomo's alleged covering up of Covid-19 deaths in nursing homes, have hit the governor's favorability rating as he eyes a potential reelection campaign next year. He now has a 45% favorable rating, down from 71% in March last year.
— Trump-backed candidate wins Ohio GOP primary. Former coal lobbyist Mike Carey on Tuesday won the Republican primary for a vacant House seat south of Columbus, vaulting to the top of a crowded special election field with support from former President Donald Trump. According to Politico, "Carey's win affirms Trump's ability to influence Republican primaries with endorsements even while out of office during the Biden administration." Carey will take on Democratic state Rep. Allison Russo, a health policy consultant who won the Democratic nomination, in the GOP-leaning Columbus-area district. Reuters reports the race had been "closely watched as a measure of Trump's clout in the Republican Party, coming just a week after a Trump-backed candidate for the U.S. Congress suffered a surprise loss to a fellow Republican in north Texas."
— Establishment-backed Brown wins Democratic OH11 primary. The Democratic establishment dealt a blow to the progressive/far left movement Tuesday, with Shontel Brown, the preferred candidate of party stalwarts, triumphing over Nina Turner, a face of the insurgent left, in a special congressional primary election. Brown will face Republican Laverne Gore in the Nov. 2 general election, though she is almost certain to succeed in that contest as the district is heavily gerrymandered to favor Democrats. CNN reports on its website that the defeat of Turner, a "close ally of Vermont Sen. Bernie Sanders, is a flexing of the Democratic establishment's muscle, after South Carolina Rep. Jim Clyburn and the Congressional Black Caucus stepped in to campaign for Brown."
 
---
OTHER ITEMS OF NOTE     
---

— State regulators to bar thousands of farmers in California from using surface water supplies. Attempting to deal with intensifying drought, California state water regulators voted Tuesday to enact a drastic emergency order that will bar thousands of Californians — primarily farmers — from using stream and river water. The scope of Tuesday's order — which will apply to thousands of senior water rights across a wide swath of the state — is unprecedented, officials said. California Department of Food and Agriculture Secretary Karen Ross called the decision "a necessary step," saying the fact that senior water rights holders were included "speaks to the severity of the hydrology and what climate change has presented this year… It is a painful moment. We know the impacts are real," Ross said during a meeting Tuesday.
     The State Water Resources Control Board voted unanimously to pass the "emergency curtailment" order for the Sacramento-San Joaquin Delta watershed. The regulation will go into effect about two weeks from now, subject to approval by the state Office of Administrative Law, with the issuing of formal curtailment orders to follow.
     Impacts. About 5,700 Northern California and Central Valley water rights holders — who collectively hold about 12,500 water rights — will be subject to the forthcoming curtailments, according to Erik Ekdahl, deputy director of the state water board's Division of Water Rights. The order will largely affect rights holders using water for agricultural irrigation purposes, though some municipal, industrial and commercial entities will also be affected. The regulation carves out an exemption for health and human safety purposes.
— Colorado mulls water measuring for agriculture. Colorado is proposing to ramp up requirements that agricultural water users, ranging from big companies to small mom-and-pop farms, measure the amount of water they divert from streams, rivers and waterways. The state engineer says a statewide rule is necessary to prepare Colorado for a water-scarce future. Some water users, however, accuse the state of taking a heavy-handed and overly expensive approach that will force landowners to install devices in areas that don't need them.
---