Nine-Hour House Ag Panel Budget Reconciliation Markup Continues Monday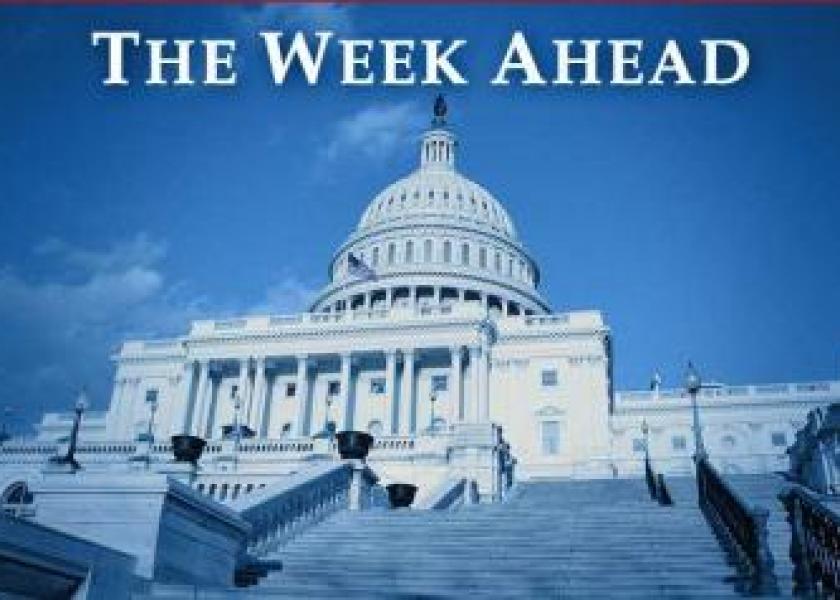 Focus Tuesday on House Ways and Means' tax policy instructions
---
Washington Focus
---
A self-imposed Democratic leadership deadline of Sept. 15 is at hand regarding finishing budget reconciliation measures by a host of congressional committees. Think the deadline will be met?
     A nine-hour reconciliation marathon by the House Ag panel took place Friday. And it's still not complete, with panel members going at it again Monday — votes on the measure and 30 amendments were postponed until Monday morning. The ag package totals $94 billion — of that, $89.1 billion is expected to be deficit spending. Some $28 billion in conservation spending was omitted from the committee's measure, supposedly because the cost estimates were not final. But the omission nonetheless raised some questions as to possible surprises ahead once full details are known. This could include another effort to provide loan/credit relief for designated U.S. farmers and ranchers.
     Key reconciliation markup is Tuesday's House Ways and Means session. That panel will finally have to detail tax increases to help offset some, but certainly not all, of the $3.5 trillion "social" infrastructure measure. Meanwhile, most believe the final price tag will come down, perhaps significantly. If so, that means fewer draconian tax increases. The ag sector is closely watching to see what if anything is included regarding stepped-up basis, land transfer taxes and Section 1031, among other concerns. During Friday's Ag Committee session, Chairman David Scott (D-Ga.) again raised concerns about President Biden's proposal regarding stepped-up basis, etc., saying they would be "devastating" to farmers. Even the National Farmers Union on Friday released a letter urging congressional leaders to preserve the benefit of stepped-up basis, saying the new tax labilities "may lead to the premature sale of family farms and ranches and contribute to a worrying trend toward greater farmland consolidation and corporate control of our food system." That followed a letter signed by over 300 ag groups to the chairman of the Ways and Means panel, urging existing tax rules be preserved for inherited assets. Details will also include some credits for renewable energy.  
Looking ahead to the week of Sept. 20, House Democrats will move a continuing resolution (CR) to keep the gov't funded into December so lawmakers can complete work on the 12 fiscal 2022 spending bills — you know, work they've had a long time to complete but as usual did not. The measure will likely include some language on the debt limit.
---
Hearings and Events This Week
---
Check the daily Policy Updates for details on hearings and events. On the ag front this week, the House Ag Committee on Monday will finish what turned out to be on Friday a spirited nine-hour session regarding the panel's budget reconciliation instructions. There was not much reconciliation. The effort continues Monday. And as noted above, other panels will work on their reconciliation instructions with the key focus Tuesday on the tax-writing House Ways and Means panel. Wednesday brings a Senate Ag Committee hearing on milk pricing.
---
Economic Reports for the Week
---
Key report comes Wednesday with the consumer report index and its update on inflation trends in August. The economic calendar also includes updates on manufacturing, jobless claims, consumer sentiment and a high-profile retail sales report. Meanwhile, the Federal Reserve is in its quiet period leading up to its Sept. 21-22 policy-setting committee meeting.
Monday, Sept. 13
Department of the Treasury releases the U.S. budget statement for August. For fiscal 2021, which ends in September, the Congressional Budget Office estimates that the deficit will reach $3 trillion, just shy of last year's record $3.1 trillion — or 14.9% of gross domestic product. This comes amid Congress' discussions over a stopgap funding bill for the rest of the year and raising the debt-ceiling limit.   
Tuesday, Sept. 14
National Federation of Independent Business releases its Small Business Optimism Index for August. Consensus estimate is for a 99 reading, slightly lower than July's 99.7.

Bureau of Labor Statistics reports the consumer price index. The CPI increased at a 5.4% annual rate in both June and July, the quickest pace of growth since 2008. Economists forecast a similar, 5.3% year-over-over gain for August, as well as a 4.3% rise in the core CPI, which excludes volatile food and energy prices. The 4.3% estimate would match July's rate of growth. 
Wednesday, Sept. 15
MBA Mortgage Applications

Bureau of Labor Statistics reports export and import prices for August. Export prices are expected to rise 0.4%, month over month, after a 1.3% jump in July. Import prices are seen increasing 0.3%, which would match the previous rate of growth.
Thursday, Sept. 16
Jobless Claims

Census Bureau reports on retail sales for August. Consensus estimate is for a 1% monthly decline, to $612 billion, from July's level, after decreasing at a similar rate in July from June's Excluding autos, expectations are for a 0.2% month-over-month dip, after a 0.4% drop previously.

Fed Balance Sheet

Money Supply  
Friday, Sept. 17
University of Michigan releases its Consumer Sentiment index for September. Economists forecast a 71.3 reading, one point higher than August's. The August figure was the lowest since December 2011.
---
Key USDA & international Ag & Energy Reports and Events 
---
Now that USDA's key September supply estimates and demand forecasts are out, focus will turn to U.S. harvest weather and the ag sector abroad.
Monday, Sept. 13
     Ag reports and events:
Export Inspections

Crop Progress

Season Average Price Forecasts

Wheat Data
Energy reports and events:
EIA monthly Drilling Productivity Report

OPEC Monthly Oil Market Report
Tuesday, Sept. 14
     Ag reports and events:
Cotton and Wool Outlook

Meat Price Spreads

Oil Crops Outlook: September 2021

Dairy Monthly Tables

Feed Outlook

Rice Outlook

Wheat Outlook

EU weekly grain, oilseed import and export data

France agricultural ministry crop production estimate

Abares' agricultural commodities — September quarter 2021
     Energy reports and events:
API weekly U.S. oil inventory report

IEA monthly Oil Market Report
Wednesday, Sept. 15
     Ag reports and events:
Broiler Hatchery

Feed Grains: Yearbook Tables

Feedgrains Database

Livestock Historical Track Records

Turkey Hatchery

FranceAgriMer monthly grains report

Malaysia Sept. 1-15 palm oil exports

Brazil's Unica releases cane crush and sugar output data (tentative)
     Energy reports and events:
EIA weekly U.S. oil inventory report

U.S. weekly ethanol inventories

Genscape weekly crude inventory report for Europe's ARA region

China output data, including crude oil, refining (August)
Thursday, Sept. 16
     Ag reports and events:
Weekly Export Sales

Livestock, Dairy, and Poultry Outlook

Sugar and Sweeteners Outlook

Hop Stocks

Port of Rouen data on French grain exports

Holiday: Malaysia
     Energy reports and events:
EIA natural gas storage change

Russian weekly refinery outage data from ministry

Insights Global weekly oil product inventories in Europe's ARA region
Friday, Sept. 17
     Ag reports and events:
CFTC Commitments of Traders report

Peanut Prices

Fruit and Tree Nut Data

Vegetables and Pulses Data

Stone Fruit: World Markets and Trade

FranceAgriMer weekly update on crop conditions
     Energy reports and events:
Baker Hughes weekly U.S. oil/gas rig counts

ICE weekly Commitments of Traders report for Brent, gasoil
---