Likely Enough Votes in Senate Next Week to Clear Physical Infrastructure Measure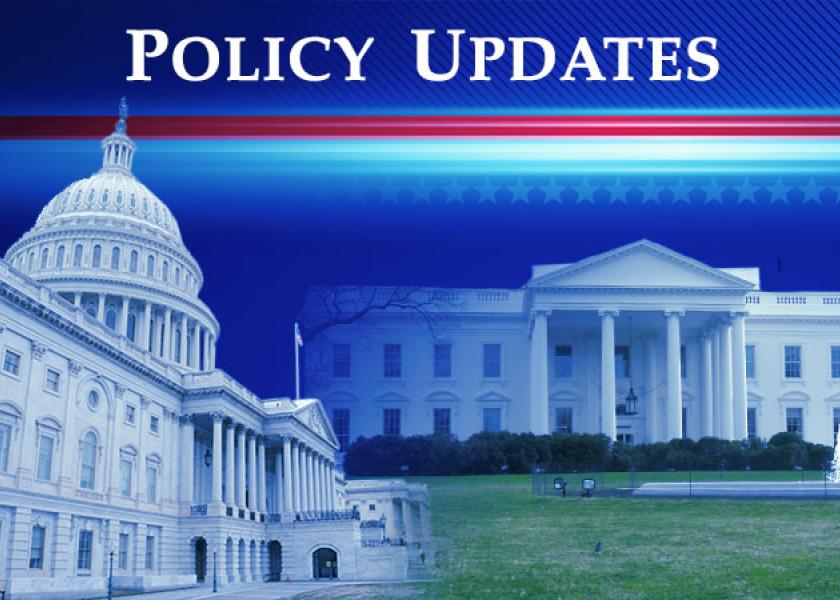 More WHIP+ aid focus next week | GOP has concerns about CRP sweetener
---
In Today's Digital Newspaper
---
Market Focus:
• USDA daily export sale: 100,000 metric tons of soybeans to Mexico, 2021-2022
• Taper talk at the Fed
• Median U.S. home price has never been higher
• ECB is looking to keep rates low for longer  
• Europe surveys signal strongest business increase for more than two decades
• U.S. companies are raising prices
• Spending on airlines briefly exceeded 2019 levels first time since pandemic began
• Number receiving jobless payments fell this month to lowest level since early pandemic
• Lumber prices rising again
• America's freight railroads struggling to bring back workers,
• Intel says global semiconductor shortage could stretch into 2023
• Insurers paid out $81 billion for damages related to natural catastrophes in 2020, up 50%
• U.S. West drought longer than the Dust Bowl
• Light follow-through selling in corn and beans
• Evening weather update calls for less Midwest rain
• Temps cool on Canada's Prairies; lack of major moisture means crops still declining
• Update on Argentina's wheat crop
• French wheat crop ratings dip again, with heavy rains eroding crop prospects
• Drop in Russia's weekly wheat export duty
• Germany still expects to bring in a bigger barley crop, despite flooding
• Slow movement of chemicals, fertilizer via labor shortages, supply chain
• Firmer beef prices could hint product market working on a low
• Cash hog and pork prices slip
Policy Focus:
• Biden admin. to expand aid for borrowers who fell behind on mortgages during pandemic
• WHIP+ bill covering 2020 and 2021 ag disasters on tap for House Ag vote next week
• GOP challenges CRP rental rate sweetener
• Odds grow for Senate next week clearing first of two infrastructure measures
Biden Administration Personnel:
• Senate Agriculture panel hearing next Thursday to consider two key USDA nominees
• 'Skunk fight' re: BLM nominee
China Update:
• Hints of a Biden/Xi summit could come this weekend
• Is China reneging on a portion of the Phase 1 agreement?  
• Chinese soybean imports could slow 2H of 2021
• Tepid demand for auctions of imported corn continues for China 
Trade Policy:
• U.S. informs Mexico it's committed to rules of origin on autos
Energy & Climate Change:
• Electric-vehicle sales growth outpaces broader auto industry

Livestock, Food & Beverage Industry Update:
• Bronaugh will lead U.S. delegation to UN Food Systems Pre-Summit next week
• Big Covid-related increases in SNAP and farm spending.
Coronavirus Update:
• Vaccine panel signals support for booster shots
Politics & Elections:
• Biden installed more federal judges in first six months than any president since Nixon
• Ted Cruz is maintaining hold on State Department nominees
• Former Rep. Finkenauer seeking Grassley's Iowa Senate seat
• Ron Johnson says he 'may not be the best candidate' for re-election in 2022
Congress:
• GOP may line up against any effort to raise government's borrowing limit this year
Other Items of Note:
• Cotton AWP rises again
• Biden hits Cuba with more sanctions
• Mississippi asks Supreme Court to end abortion rights
 
---
MARKET FOCUS
---
Equities today: Global stock markets were mixed overnight. U.S. Dow opened up over 100 points. In Asia, Japan's stock market was closed due to a national holiday. China's Shanghai Composite fell 0.7% by the end of trading, while Hong Kong's Hang Seng Index dropped 1.5%. European equities are seeing gains. The Stoxx 600 is up 1.0% with regional markets seeing gains of 0.9% to 1.1%.
     U.S. equities yesterday: The Dow closed up 25.35 points, 0.07%, at 34,823.35. The Nasdaq rose 52.64 points, 0.36%, at 14,684.60. The S&P 500 gained 8.79 points, 0.20%, at 4,367.48.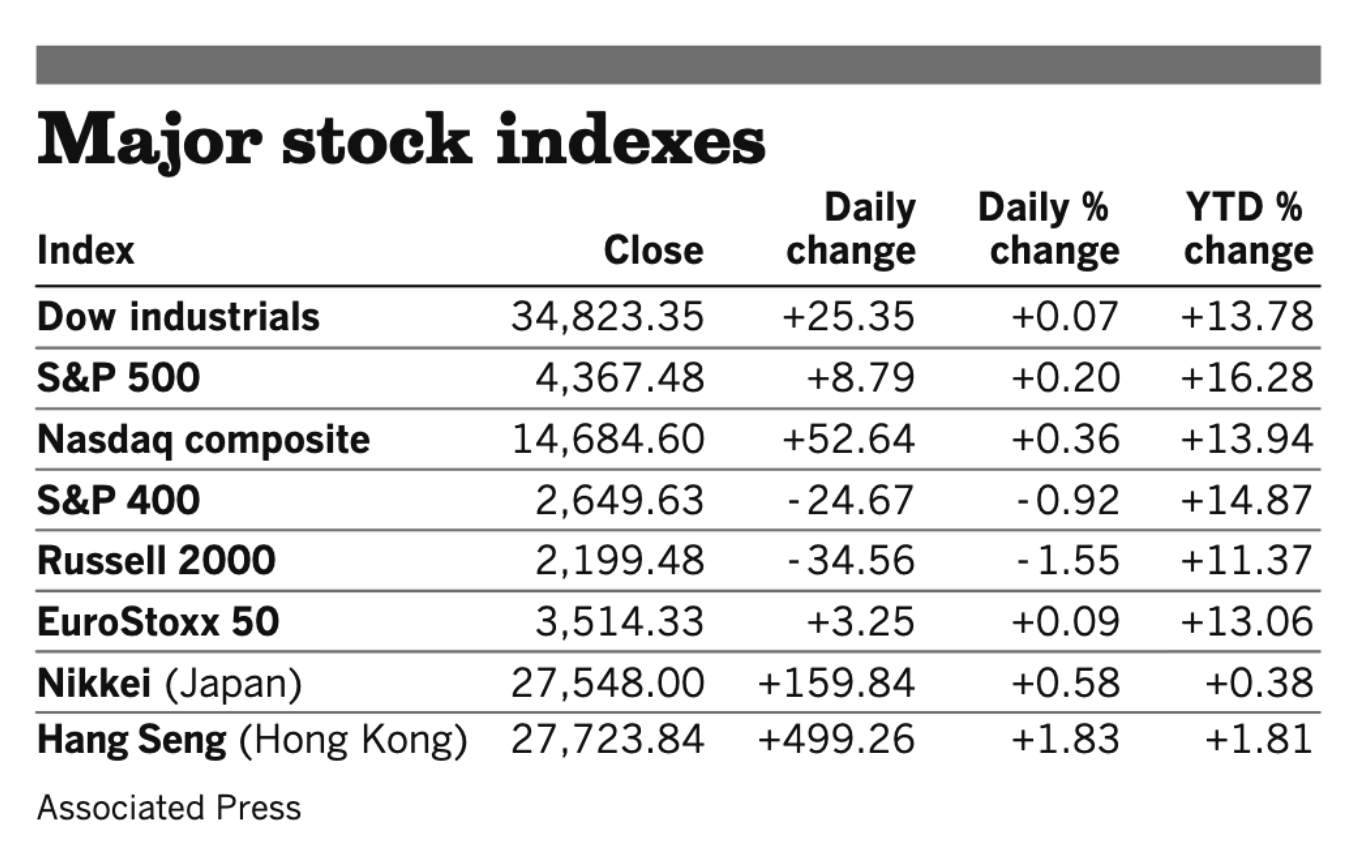 On tap today:
     • IHS Markit's U.S. manufacturing index, due at 9:45 a.m. ET, is expected to fall to 61.8 in the opening weeks of July from 62.1 in June. The services index is forecast to tick down to 64.2 from 64.6.
     • Baker Hughes rig count is out at 1 p.m. ET.
     • CFTC Commitments of Traders report, 3:30 p.m. ET.
ECB is looking to keep rates low for longer. The European Central Bank (ECB) signaled that it would keep supporting the eurozone economy as a surge in Covid-19 cases driven by the Delta variant weighs on the region's tourism industry. ECB President Christine Lagarde said the pandemic continued to cast a shadow over Europe's economic recovery, even if strong growth is expected over the coming months. The ECB's move signals a likely divergence with the Fed.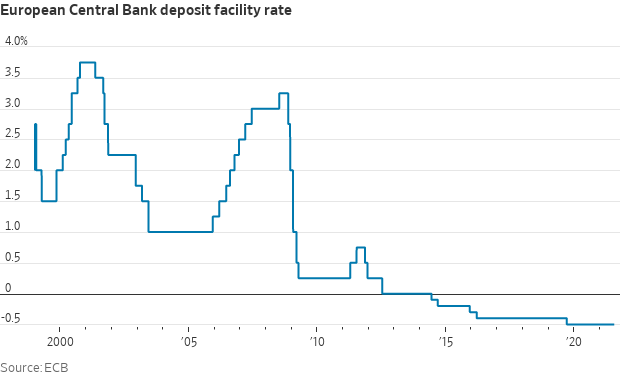 Surveys of businesses from across Europe recorded the strongest increase in activity for more than two decades. That suggests the continent is set for the kind of growth already being experienced by the U.S. But setbacks in Australia, India and other parts of Asia serving as a reminder that the pace of global economic recovery still depends on the course of the pandemic.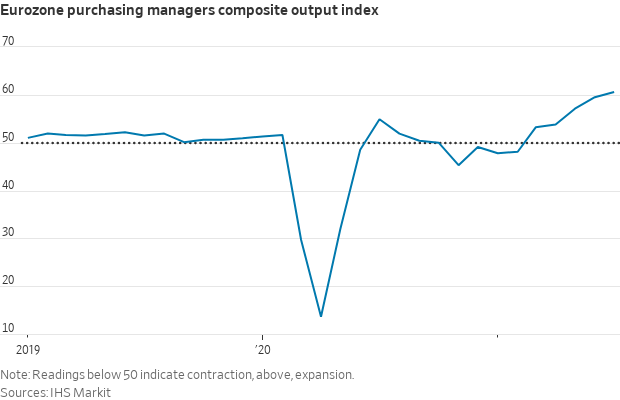 Taper talk at the Fed. Federal Reserve officials are set to accelerate deliberations at their meeting next week over how to scale back their easy-money policies amid a stronger U.S. economic recovery than they anticipated six months ago. Fed Chairman Jerome Powell has said their discussions are focusing on two important questions: When to start paring their monthly purchases of $80 billion in Treasury securities and $40 billion in mortgage securities, and how quickly to reduce, or taper, them. The answers matter greatly to financial markets because Fed officials have said they aren't likely to consider raising interest rates from near zero until they are done tapering the asset purchases.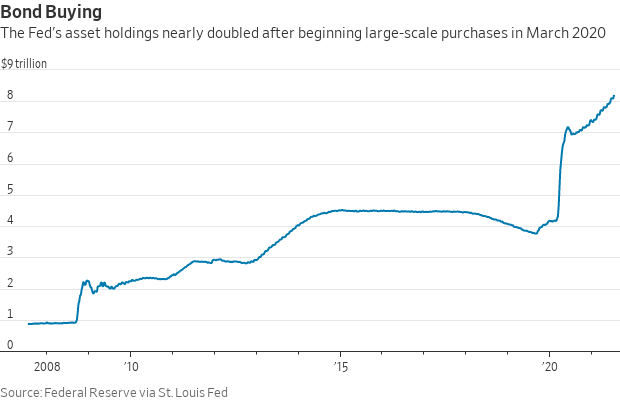 Median U.S. home price has never been higher. In June, the most recent data available, the median existing-home price rose to $363,300, up 23.4% from a year earlier, a record high that reflects continued strong demand. While the housing-market boom is easing slightly, 5.86 million existing homes were sold in June, up 23% from the year prior. The rising prices are prompting homeowners to list their homes with many selling above their asking price, and quickly. The typical home sold in June was on the market for 17 days, holding at a record low.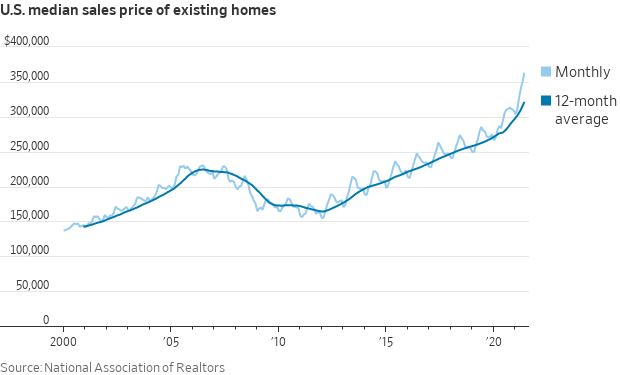 Companies are raising prices. Costs for materials, transportation and employees are all rising, and companies are struggling to continue to absorb the costs. That has meant rising prices for everything from metal fasteners to Oreo cookies, helping fuel inflation like the U.S. hasn't seen in more than a decade. A poll of more than 600 U.S. businesses found that 33% were planning on raising prices, while 4% were planning to cut them. Customers so far have accepted the price increases. Link to more via WSJ. "I don't think anyone knows what the word transitory is really going to turn out to mean," said Julien Mininberg, CEO of consumer-products company Helen of Troy.
Spending on airlines briefly exceeded 2019 levels for the first time since the pandemic began. Ticket prices are up, too, helping airlines report mostly upbeat earnings this week, with domestic leisure travel at or above prepandemic levels but business and international travel still lagging behind.
Number of Americans receiving jobless payments fell this month to the lowest level since early in the coronavirus pandemic. Continuing payments made through all unemployment benefit programs fell by 1.3 million in the week ended July 3, to 12.6 million, the Labor Department said. That was the lowest level since late March 2020, when new programs responding to the pandemic first came online. In recent weeks about half of states have acted to end enhanced and extended unemployment benefits. The end of pandemic programs in Texas drove the latest decrease.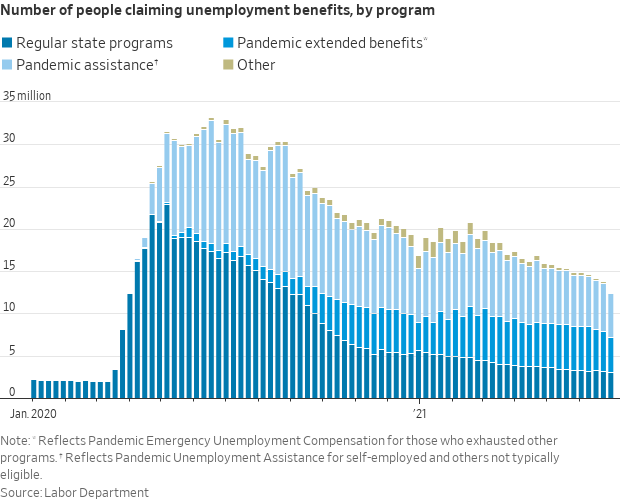 Market perspectives:
     • Outside markets: The U.S. dollar index is higher amid weakness in the euro and pound sterling. The yield on the 10-year U.S. Treasury note has edged higher to trade around 1.29% while global government bond yields were mixed. Gold and silver futures are seeing declines. Gold was trading under $1,797 per troy ounce and silver under $25.25 per troy ounce.

     • Crude oil is lower in action ahead of the U.S. market day, with U.S. crude trading around $71.70 per barrel while Brent crude is trading around $73.55 per barrel. Futures were modestly lower in Asian trading after gains Thursday in U.S. action. Overnight U.S. crude was down 16 cents at $71.75 per barrel while Brent was down 22 cents at $73.57 per barrel.

     • Lumber prices are rising again on worries over the impact of wildfires in the Pacific Northwest.
     • USDA daily export sale: 100,000 metric tons of soybeans to Mexico, 2021-2022. 
     • America's freight railroads are struggling to bring back workers, contributing to a slowdown in the movement of chemicals, fertilizer and other products that threatens to disrupt factory operations and hinder a rebound from the pandemic, according to shippers and trade groups cited by the Wall Street Journal (link). The challenges largely stem from two issues buffeting the U.S. economy: labor shortages and widespread supply-chain bottlenecks as manufacturing ramps up and the economy snaps back. The American Chemistry Council says some of its members have suspended factory production as delays have mounted. "The supply chain is only as good as the weakest link in the chain, and there are a lot of weak links in the chain," said Citi transportation analyst Christian Wetherbee.
     • Intel says the global semiconductor shortage could stretch into 2023. "We have a long way to go yet," Intel's CEO, Pat Gelsinger, told the Wall Street Journal (link). General Motors said yesterday it planned to slow production of pickup trucks because of the chip shortage. Meanwhile, Hyundai Motor warned the chip shortage will hurt its sales in the third quarter after the auto maker posted the best quarterly results in seven years.
     • $81 billion is the amount that insurers across the globe paid out for damages related to natural catastrophes in 2020, up 50% from the year prior and comfortably topping the $74 billion 10-year average for such losses. The prospect of more frequent extreme weather events such as Germany's recent flooding has insurers updating their risk-assessment models and recalculating the price of insurance.
    • U.S. West drought longer than the Dust Bowl. The U.S. West is seeing "a more prolonged drought" — nearly two decades — than the drought of the 1930s that created the Dust Bowl in the central and southern Plains, said climatologist David Simeral. Link for details.
     • NWS weather: Moderate Risk of excessive rainfall over parts of the Southwest through Saturday morning... ...Slight Risk of severe thunderstorms over parts of the Upper Midwest through Saturday morning... ...Elevated Risk of conditions capable of producing wildfires over parts of the Northern High Plains/Northern Rockies and parts of the Great Basin through Saturday morning.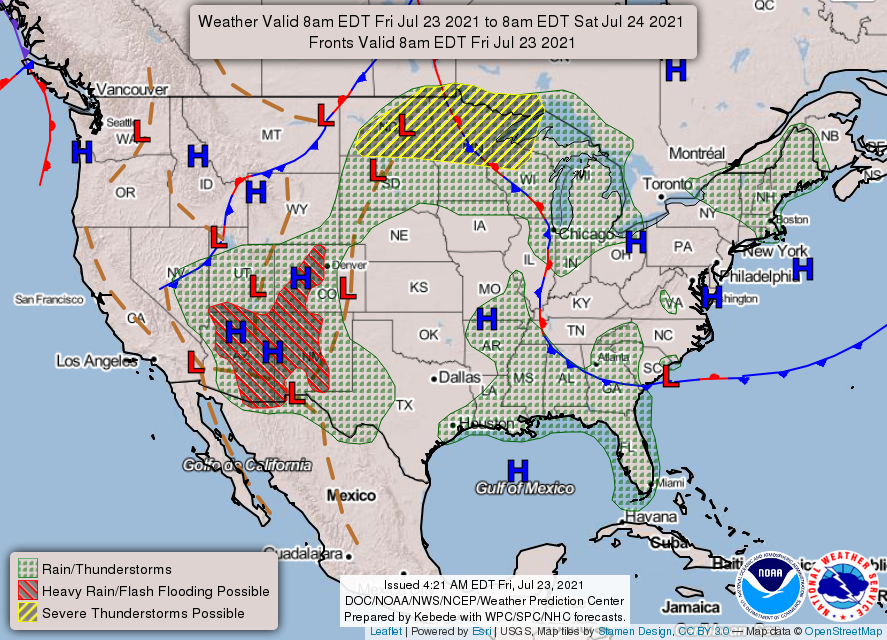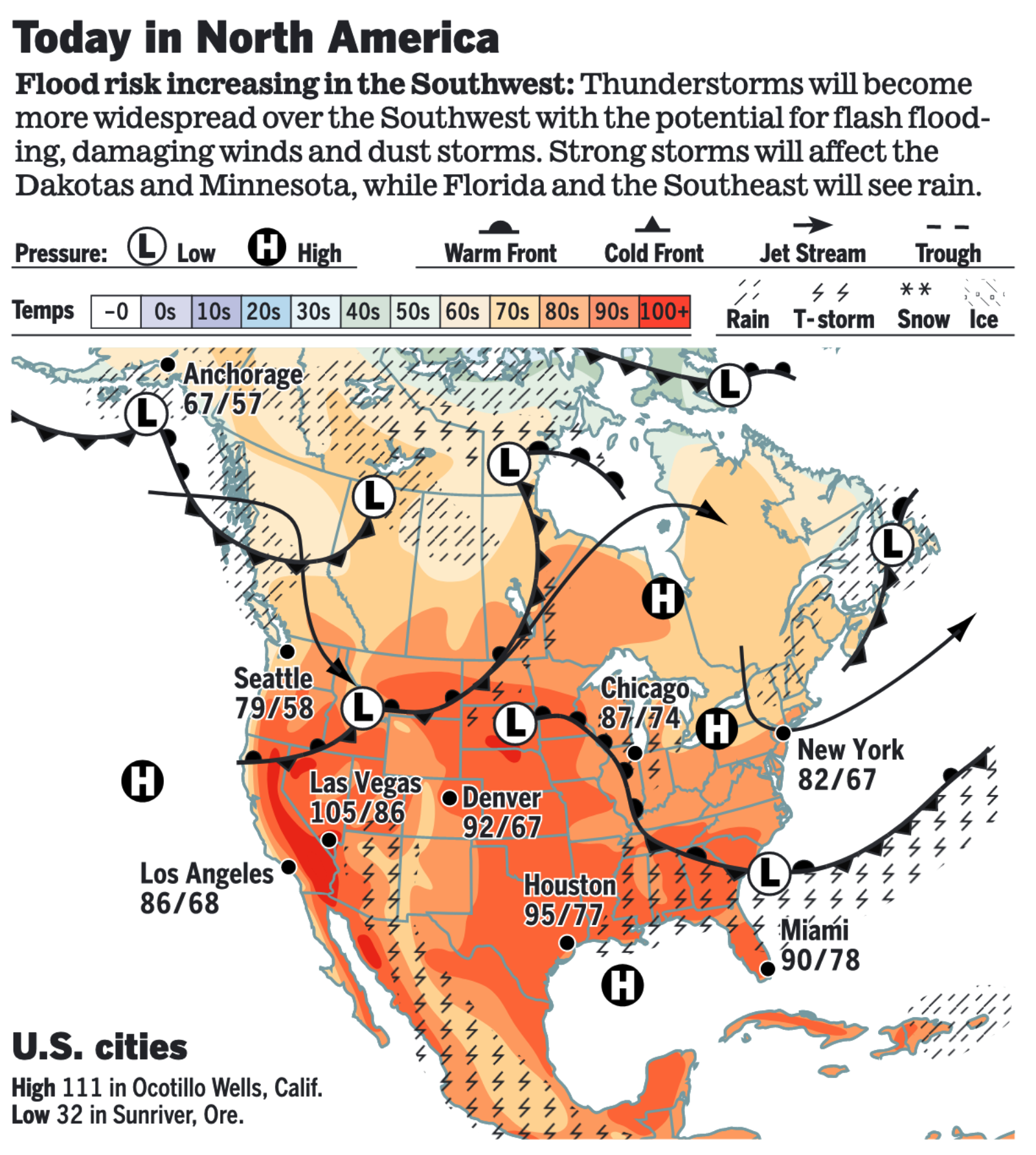 Items in Pro Farmer's First Thing Today include:
     • Light follow-through selling in corn and beans
     • Evening weather update calls for less Midwest rain
     • Temps cool on Canada's Prairies; lack of major moisture means crops still declining
     • Update on Argentina's wheat crop
     • French wheat crop ratings dip again, with heavy rains eroding crop prospects
     • Drop in Russia's weekly wheat export duty
     • Germany still expects to bring in a bigger barley crop, despite flooding
     • Slow movement of chemicals, fertilizer via labor shortages, supply chain
     • Firmer beef prices could hint product market working on a low
     • Cash hog and pork prices slip
---
POLICY FOCUS
---
— Biden administration today plans to expand assistance programs for borrowers who fell behind on their mortgages during the Covid-19 pandemic, a bid to prevent a sharp rise in foreclosures over the coming months. Many tenants are at risk of being thrown out of their homes when an eviction moratorium expires on July 31 as state and local governments struggle to distribute $47 billion in federal aid.
— WHIP+ bill covering 2020 and 2021 ag disasters on tap for House Ag vote next week. Of note will be how the program changes to make it more flexible and less complex. Another key: How much funding and whether or not the language will say "such sums as necessary."
     The effort is a bipartisan push. "Whether it's fire or flood, heat, whatever it might be, too little water, too much water, we are working in a bipartisan manner," said the committee's top Republican, Glenn "GT" Thompson of Pennsylvania.
— GOP challenges CRP rental rate sweetener. The latest general signup for the Conservation Reserve Program (CRP) ends today. Sen John Boozman (R-Ark.), ranking member on the Senate Ag Committee, is questioning whether the resulting contracts will be valid. In a letter (link), Boozman says the boost in payment rates USDA announced April 21 violate provisions of the 2018 Farm Bill. But defenders of the move note that while the farm bill cut rental rates, language allows discretionary incentives that "encourage owners and operators of eligible land to participate in the program." Boozman suggests USDA hit pause on signups until these concerns can be resolved.
— Let's get physical as odds grow for Senate next week clearing first of two infrastructure measures. At least 11 Republicans say they will vote for the $579 billion (new funding) physical infrastructure deal ($1.2 trillion total) after agreeing to pay for it in part by delaying a costly Trump-era Medicare regulation, but they don't expect to announce details until at least Monday. Any deal could still face resistance from Democrats on both sides of the Capitol, making the prospects uncertain as a bipartisan group of 22 senators works out the final sticking points. Lawmakers are also still debating how to pay for the spending increases, and pay-fors have been one of the key topics for the bipartisan talks involving senators and the White House.
---
BIDEN ADMINISTRATION PERSONNEL
---
— Senate Agriculture Committee to hold hearing next Thursday to consider two key USDA nominees: Xochitl Torres Small to be undersecretary for rural development and Robert Bonnie to be undersecretary for farm production and conservation.
— 'Skunk fight' re: BLM nominee. President Biden's choice to run the Bureau of Land Management (BLM) will face a confirmation vote in the Senate without the committee endorsement given to nearly all nominees. After a feisty debate that one senator called "a skunk fight," the Senate Energy and Natural Resources Committee split, 10-10, along party lines on whether to recommend Senate approval of Tracy Stone-Manning as director of the Interior Department agency.

 
---
CHINA UPDATE
---
— Hints of a Biden/Xi summit could come this weekend when the State Department's No. 2 official, Wendy Sherman, travels to China for the first face-to-face meeting of senior officials in more than three months. Sherman's two-day visit is in part an attempt to manage the difficult relationship and may pave the way for higher level interactions, including a possible Biden/Xi summit during the meeting of the Group of 20 leading economies in October.
— Is China reneging on a portion of the Phase 1 agreement? Republicans on the House Foreign Affairs Committee said they are concerned China may be putting pressure on U.S. companies to transfer technology in violation of the "Phase 1" deal negotiated by the Trump administration.

— Chinese soybean imports could slow 2H of 2021. China imported record volumes of soybeans the first half of the year, but its purchases are expected to slow the second half of the year given a collapse in hog sector profitability and a big jump in wheat and rice use in feed, according to some analysts and Chinese industry sources cited by Reuters. Crushing margins are in the red, which will also clip demand. Some speculate the country's total imports could fall short of 100 MMT, which compares to USDA's 102 MMT forecast. One manager at a major crusher with plants across China comments that some top feed producers who bought soymeal earlier are now reselling contracts.
— Tepid demand for auctions of imported corn continues for China. At its latest auction, China's state stockpiler sold just 8,207 MT of imported GMO corn, representing 4% of the total offered. The state stockpiler did not clear any of the 23,488 MT of imported non-GMO corn put up for auction the same day. China launched these auctions in June to ease food inflation, but after a slow start demand has petered out, adding to the slowing feed demand narrative.  
---
TRADE POLICY
---
— U.S. informs Mexico it's committed to rules of origin on autos. The U.S. "remains committed to the full implementation" of the U.S.-Mexico-Canada Agreement (USMCA), including the "strong auto rules of origin, and Mexico's important labor reforms," U.S. Trade Representative Katherine Tai said in statement. Tai met Mexican Economy Secretary Tatiana Clouthier in Washington yesterday.
     Clouthier also met with Farm Bureau President Zippy Duvall this week to talk about agricultural issues between both countries including product trade and labeling. Duvall told reporters on Thursday he got clarity on the Mexican government's plan to ban the widely used herbicide glyphosate by 2024: It only applies to crops grown for human consumption and not those grown for animal feed, he said.
 
---
ENERGY & CLIMATE CHANGE
---
— Electric-vehicle sales growth outpaces broader auto industry. Sales of plug-in vehicles more than doubled in the first half of 2021 compared with last year. While still a sliver of the overall market, that far outpaced the rise for total vehicle sales.
---
LIVESTOCK, FOOD & BEVERAGE INDUSTRY
---
— Deputy Agriculture Secretary Jewel Bronaugh will lead the U.S. delegation to the UN Food Systems Pre-Summit next week. "U.S. involvement in #UNFSS2021 cuts across the U.S. govt & w/USDA at the helm is ready to tackle some of today's most urgent global food-related issues," the department said.
— Big Covid-related increases in SNAP and farm spending. The food stamp program will cost $145 billion this year, more than double its pre-pandemic total, due to expansion to combat the pandemic, according to updates estimates from the Congressional Budget Office (CBO).  Mandatory agricultural spending was forecast at $48 billion this year, an increase of $17 billion from 2020. "That increase is largely the result of continued spending on the Coronavirus Food Assistance Program, which provides assistance to farmers, ranchers, and consumers affected by the pandemic," said the CBO. Link to CBO report.
     Some 42 million people were enrolled in SNAP, with average benefits of $227 per person, per month. Before the pandemic, enrollment averaged 37 million, with monthly benefits of $121 per person. Congress approved emergency assistance to the program's poorest participants and temporarily increased benefits by 15%. SNAP cost $63 billion in 2019 and $86 billion in 2020 and was forecast at $105 billion in 2022.
     Outlook: CBO expects mandatory agricultural supports to cost around $17 billion a year over the next decade. SNAP would average about $81 billion.
---
CORONAVIRUS UPDATE
---
— Summary: Global cases of Covid-19 are at 192,623,328 with 4,136,823 deaths, according to data compiled by the Center for Systems Science and Engineering at Johns Hopkins University. The U.S. case count is at 34,281,865 with 610,177 deaths. The Johns Hopkins University Coronavirus Resource Center said that there have been 338,738,139 doses administered, 162,174,165 have been fully vaccinated, or 49.4% of the U.S. population.
— Vaccine panel signals support for booster shots. A U.S. advisory panel expressed preliminary support for giving Covid-19 boosters to the immunocompromised and endorsed continued use of the J&J vaccine despite a recent health-risk warning.
---
POLITICS & ELECTIONS
---

— President Biden has installed more federal judges in his first six months than any president since Nixon, according to Axios (link).
— Ted Cruz is maintaining his hold on State Department nominees to protest the Biden administration's stance on the Russia-to-Germany Nord Stream 2 gas pipeline.
— Former Rep. Finkenauer seeking Grassley's Iowa Senate seat. She announced Thursday that she'll run in 2022 for the U.S. Senate in Iowa, a seat currently held by seven-term incumbent Sen. Chuck Grassley (R)." According to Axios (link), Finkenauer is "the first major Democrat to announce a Senate run in Iowa." Axios notes that Grassley, who "has not yet said whether he will run for re-election," has "won more than 60% of the vote in each of his last six Senate races." The Associated Press (link) says Finkenauer, "despite losing her House seat in 2020 after one term, remains a youthful prospect in the Iowa Democratic Party, which has struggled to produce a new generation for statewide office." The AP adds, "Touting the union family profile that put her in Congress in 2018, Finkenauer...chastised Grassley for not being among the bipartisan group of senators working on a nearly $1 trillion infrastructure deal brokered with Biden. ...Such a package 'means jobs, and that's what I know matters to people in Iowa and across the country,' Finkenauer said." According to the Des Moines Register (link), Finkenauer is focusing on "many of the themes that motivated her two campaigns for Congress, including a focus on working Iowans and support for the middle class. But she also brought a harder edge to her criticism of Republican leaders after supporters of former President Donald Trump stormed the U.S. Capitol Jan. 6 to disrupt the transfer of power to Democrat Joe Biden." The New York Times reports (link) that, speaking on the incident, Finkenauer said, "It's politicians like Senator Grassley and Mitch McConnell who should know better but are so obsessed with power that they oppose anything that moves us forward. ... Since the Capitol was attacked, they've turned their backs on democracy and on us."
— Ron Johnson says he 'may not be the best candidate' for re-election in 2022. Republican Sen. Ron Johnson of Wisconsin is not sure he's the "best candidate" to campaign for reelection in 2022, he told conservative commentator Lisa Boothe on Wednesday. "I want to make sure that this U.S. Senate seat is retained in Republican hands," he said on The Truth with Lisa Boothe. "You see what the media's doing to me. I may not be the best candidate. I wouldn't run if I don't think I could win, if I don't think I was the best person to be able to win." Johnson, who has already been endorsed by former President Donald Trump, has become one of the more controversial senators in Congress. He has questioned the safety of Covid-19 vaccines and cast doubts on the results of the 2020 presidential election. President Joe Biden won Wisconsin in 2020 by about 20,000 votes and Johnson's seat is a prime target for Democrats to flip. Link for more.
 
---
CONGRESS  
---
— Top Senate Republicans said the GOP may line up against any effort to raise the government's borrowing limit this year, adding to the uncertainty surrounding how Congress will address the issue. Congress suspended the debt ceiling for two years in July 2019 as part of a broader agreement on overall government spending levels. That suspension is set to expire July 31, after which the limit will be reinstated at roughly $28.5 trillion, and the government will no longer be able to tap bond markets to raise new cash to keep paying its bills.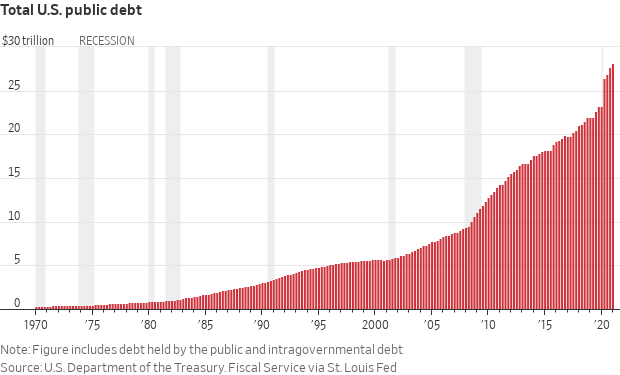 ---
OTHER ITEMS OF NOTE     
---
— Cotton AWP rises again. The Adjusted World Price (AWP) for Upland Cotton rose to 76.58 cents per pound, effective today (July 23), up from 75.96 cents per pound the prior week and the highest since the week of Aug. 10 when it was 79.67 cents per pound. Meanwhile, USDA announced that Special Import Quota #14 will be established July 29 for 53,310 bales of Upland Cotton that is purchased not later than October 26 and entered into the U.S. not later than Jan. 24.
— Biden hits Cuba with more sanctions. The Biden administration on Thursday announced a new round of sanctions against the besieged Cuban government for its violent crackdown on demonstrators, blacklisting the defense minister and a paramilitary police force. The sanctions targeted specific members of the island's authoritarian government who were deemed responsible for the repression of protesters demanding more freedom, food and healthcare. Hundreds have been beaten or arrested, human rights activists say. The measures come as President Biden faces mounting criticism from hard-liners in both political parties in Congress seeking stronger retaliation against Cuban President Miguel Díaz-Canel and his associates. In a statement, Biden warned that the move was  "just the beginning" and that the United States "will continue to sanction individuals responsible for oppression of the Cuban people." Cuban Foreign Minister Bruno Rodriguez called the sanctions "unfounded and slanderous" and urged the United States to reflect on its own "systematic repression and police brutality." Hundreds of Cubans involved in the protests now face charges of inciting unrest.
— Mississippi asks the Supreme Court to end abortion rights. Lawyers for Mississippi asked the Supreme Court on Thursday to overturn Roe vs. Wade and give state legislators the authority to outlaw all abortions. The justices in May agreed to hear the state's appeal of a lower court's invalidation of a Mississippi law that would forbid abortions after 15 weeks. In their brief filed with the court Thursday, the state's lawyers raised the stakes and argued that the right to abortion set in 1973 should be repealed entirely.
---