Key USDA Supply & Demand Reports Today; What Traders Will Highlight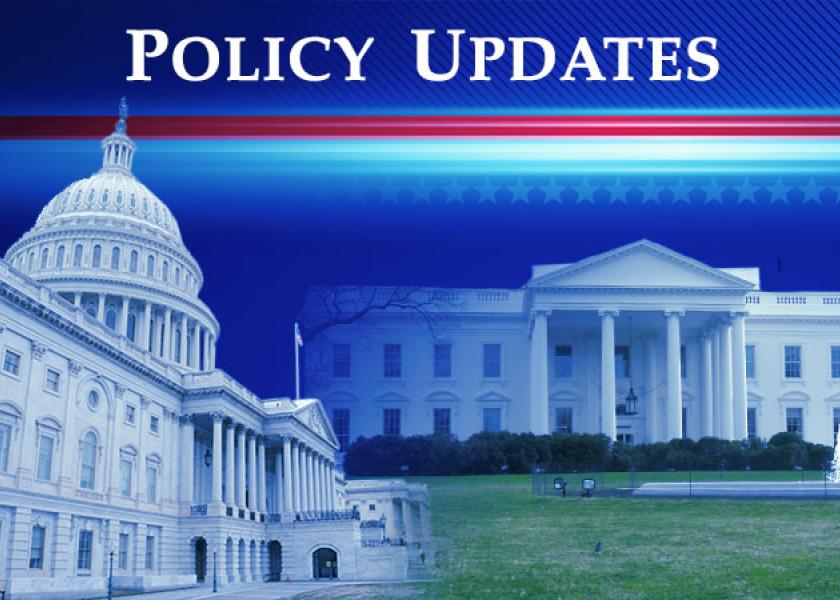 Steps ahead for infrastructure measures/reconciliation | CEO of WH Group steps down
 
---
In Today's Digital Newspaper
---
Market Focus:
• U.S. jobless claims total 375,000, matching estimate
• U.S. budget deficit narrowed to $2.5 trillion during first 10 months of fiscal year
• Economists surveyed by WSJ expect higher inflation to persist for a while
• Fed focus remains on timing of actions to temper bond buys, support for economy
• USDA daily export sales:
        — 132,000 MT soybeans to China during 2021/2022 marketing year
        — 198,000 MT soybeans to unknown destinations during 2021-2022
• For ag sector, bring on the robots
• U.S. oil demand dropped around 8% last week
• OPEC oil cartel: Delta Covid variant will likely dent global crude oil demand growth
• Key USDA estimates and forecasts to watch from today's reports
• Ag demand update
• USDA: several "late-reported" sales to several destinations for the week
• Holding pattern leading up to USDA reports
• USDA's WASDE and Crop Production Reports out at 11:00 a.m. CT
• China trims soybean import projection for 2020-21
• Strategie Grains cuts soft wheat crop forecast for the EU
• Russian ag ministry forecasts  81 MMT wheat crop, well above private sector forecasts
• Attaché a big more optimistic about Indian cotton exports than USDA
• Low water levels on Parana River could get worse before it gets better
• WH Group's profits for 1H of 2021 slip, company concerned about inflation
• JBS SA's Q2 profits up nearly a third from year-ago
• Cash cattle trade begins at steady prices
• Product market strength helped lean hog futures to stabilize midweek
Policy Focus:
• Next steps for infrastructure measures
China Update:
• Flurry of China activity in weekly export sales update
• China trims soybean import projection for 2020-21
• China unveils five-year plan to strengthen control of economy
• U.S., Canada condemn China over court ruling
• Treasury Secretary Janet Yellen is weighing a trip to China
Trade Policy:
• Will Biden examine Trump era tariffs?
Energy & Climate Change:
• Biden administration urging OPEC+ to boost output continues in focus
• Frackers, shippers eye natural-gas leaks as climate change concerns mount

Livestock, Food & Beverage Industry Update:
• Wan Long, CEO of WH Group, steps down
• Biden targets 'big ag'

Coronavirus Update:
• FDA set to amend emergency use authorizations granted for Pfizer/BioNTech & Moderna
Politics & Elections:
• Redistricting fight commences
• Texas Republicans eye changes to quorum rules to prevent future walkouts
• San Francisco salon owner who exposed Pelosi talks about losing her business
Other Items of Note:
• Vilsack to look at impact of drought in Minnesota and upper Midwest
• USDA awards $167 million for broadband access
 
---
MARKET FOCUS
---
Equities today: Global stock markets were mixed overnight, with European indexes firmer and at or near record highs and Asian shares a bit weaker. The U.S. Dow opened slightly lower, but then turned slightly higher before returning to lower values. Asian equities finished mostly lower as economic concerns weighed. The Nikkei fell 55.49 points, 0.20%, at 28,015.02. The Hang Seng Index was down 142.34 points, 0.53%, at 26,517.82. European equity markets are mostly higher in early trade action. The Stoxx 600 was up 0.1% while other markets were nearly stead to up 0.4%; the FTSE was down 0.2%.
     U.S. equities yesterday: The Dow closed up 220.30 points, 0.62%, at 35,484.97. The Nasdaq declined 22.95 points, 0.16%, at 14,765.14. The S&P 500 was up 10.95 points, 0.25%, at 4,447.70.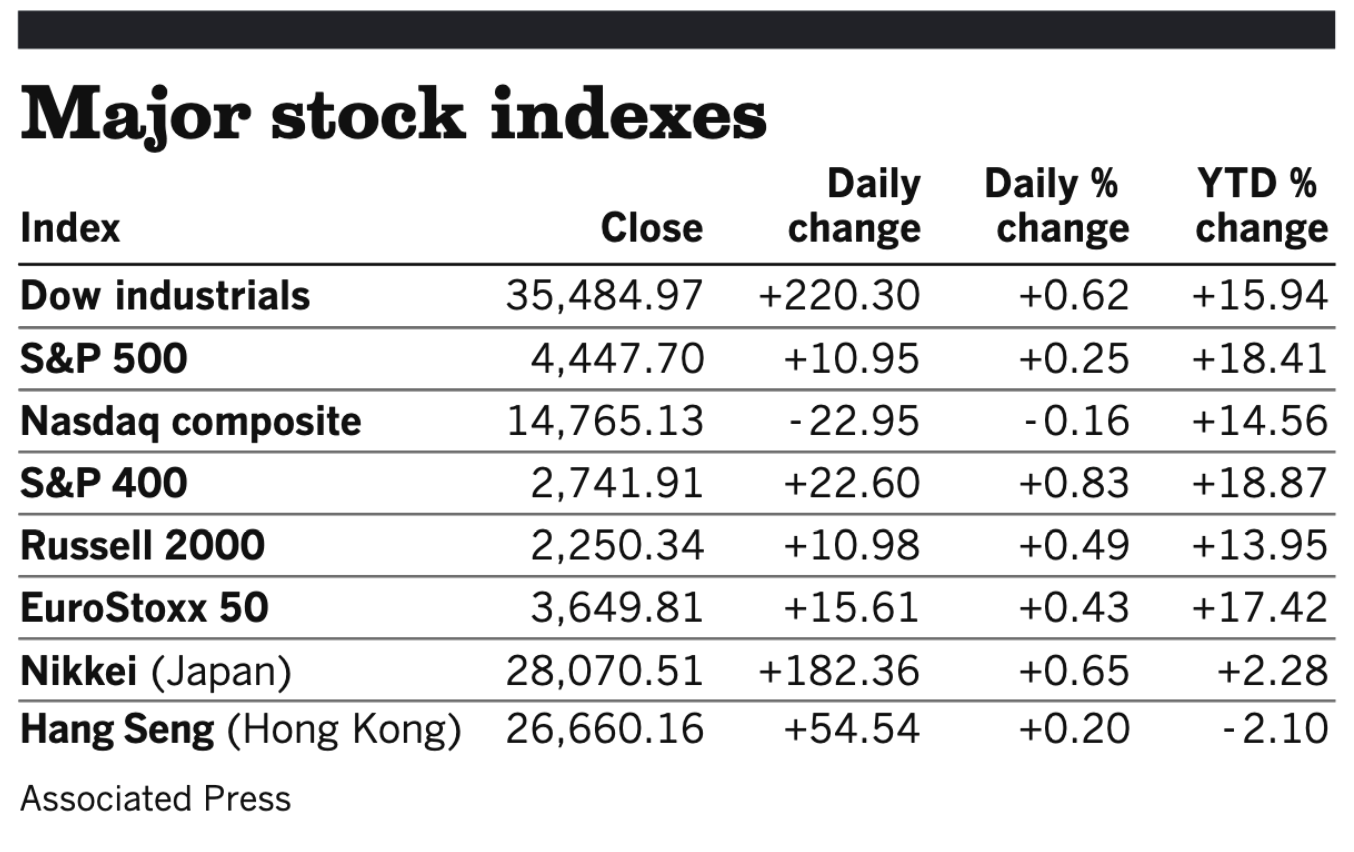 On tap today:
     • U.S. jobless claims are expected to fall to 375,000 in the week ended Aug. 7 from 385,000 a week earlier. Follow our coverage here. (8:30 a.m. ET) Update: First-time applications for benefits fell to a seasonally adjusted 375,000 in the week ended Aug. 7, the Labor Department said, from a revised 387,000 in the prior week. The four-week moving average, which smooths often volatile data, edged up to 396,250. The number of new claims filed has held relatively steady since the beginning of June in a range between 368,000 and 424,000… well below the roughly 6 million new claims filed in late March and early April 2020, but above the roughly 220,000 applications filed weekly in the months before the pandemic.
     • U.S. producer price index for July is expected to increase 0.6% from a month earlier. (8:30 a.m. ET) Update: Producer prices accelerated at the fastest annual pace on record in July as supply chain disruptions and materials shortages continued to put upward pressure on costs. The producer price index for final demand increased at a 7.8% pace for the 12 months ended July, according to the Labor Department. The July print was faster than the 7.3% pace recorded in June and ahead of the 7.3% rate that analysts surveyed by Refinitiv were expecting. The reading was the strongest since recordkeeping began in November 2010.  Producer prices rose 1% in July, matching the increase from June. Analysts were anticipating prices would grow at a 0.6% pace.
     • USDA Weekly Export Sales report, 8:30 a.m. ET.
     • First detailed results of the 2020 census are expected to show a nation that is aging, diversifying and continuing to grow faster in the South and Southwest. See related item below.
     • President Biden will deliver a "forceful" call for Congress to act to lower prescription drug prices, a White House official said.
U.S. budget deficit narrowed to $2.5 trillion during the first 10 months of the fiscal year from $2.8 trillion in the same period a year earlier, with the gap between spending and revenue shrinking as the recovery from the pandemic-induced slump boosted tax collection.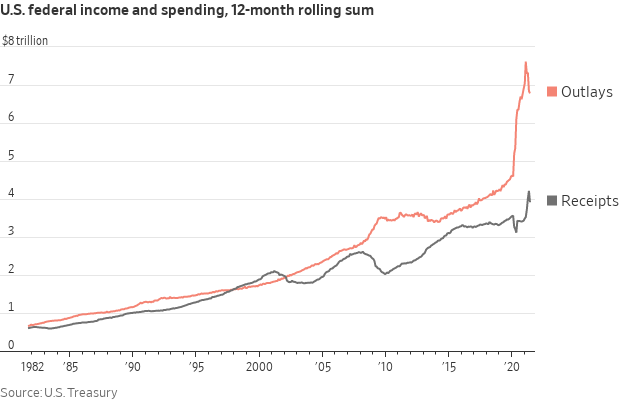 Economists surveyed by the Wall Street Journal expect higher inflation to persist for a while, but estimated on average that annual inflation, measured by the CPI, would gradually decline to 4.1% in December.
Fed focus remains on timing of actions to temper bond buys, support for economy. The issue of when the Fed will start to remove its accommodative monetary policy continues to be the focal point, with additional Fed officials largely indicating the time is getting closer.
     Two current voters on the Federal Open Market Committee (FOMC) addressed the topic in the past 24 hours. Richmond Fed President Thomas Barkin told Reuters in an interview when asked about when the Fed would start tapering its bond purchases, "We are closing in ... I don't know exactly when that will be. When we do close in on it I am very supportive of tapering and moving back toward a normal environment as quickly as the economy allows us." However, he would not indicate exactly when that tapering of bond purchases would happen except to say, "we will get there in the next few months." San Francisco Fed President Mary Daly told the Financial Times, "I remain very optimistic and positive about the [autumn] and ongoing improvements in the key variables we care about. That for me means it's appropriate to start discussing dialing back the level of accommodation that we're giving the economy on a regular basis, and the starting point for that is of course asset purchases." Her thinking on timing is "Talking about potentially tapering those later this year or early next year is where I'm at."
     But Dallas Fed President Robert Kaplan told CNBC he thinks the tapering needs to start soon. "It would be my view that that if the economy unfolds between now and our September meeting… if it unfolds the way I expect, I would be in favor of announcing a plan at the September meeting and beginning tapering in October." Kaplan, a voter in 2023, also said his stance is based on the view the bond buys have stimulated demand and "we don't have a demand problem in the economy."
     Comments by Fed officials continue to indicate there is not yet a specific unified view on the Fed, though some are pushing action sooner rather than later. Action is still expected to start tapering bond purchases ahead and recall the Fed has pledged there will be plenty of advance notice of the tapering action. The comments on the topic suggest the Fed is using its monetary policy tool of communication to realize that goal.
For ag sector, bring on the robots. There aren't enough farmworkers now and the situation will get worse in the years and decades ahead. Agriculture jobs are projected to grow just 1% from 2019 to 2029, slower than other occupations, according to the U.S. Bureau of Labor Statistics. Result: Many farmers are turning to technology to fill the skilled labor gap.
Market perspectives:
     • Outside markets: The U.S. dollar index was nearly unchanged ahead of U.S. economic updates, with a mixed tone to foreign currencies versus the greenback. The yield on the 10-year U.S. Treasury note has edged up to trade above 1.36% while there is a mixed tone in global government bond yields. Gold and silver futures were slightly lower ahead of U.S. economic updates, with gold around $1,752 per troy ounce and silver around $23.35 per troy ounce.

     • Crude oil markets are lower ahead of U.S. trading, with U.S. crude around $68.85 per barrel and Brent around $71.15 per barrel. Crude had edged slightly higher in Asian action, with U.S. crude up four cents at $69.29 per barrel and Brent up six cents at $71.50 per barrel.
     • U.S. oil demand dropped around 8% last week after steadily rising over the last month, the EIA said in its Weekly Petroleum Status report. Oil consumption fell to 19.5 million barrels per day from 21.2 million barrels p/d the week prior. Consumption of gasoline saw a 4% drop to 9.4 million barrels p/d, while jet fuel demand also fell from 1.6 million barrels p/d to 1.3 million barrels p/d. EIA also reported a crude oil inventory draw of 0.4 million barrels after a stock increase last week, forcing oil prices.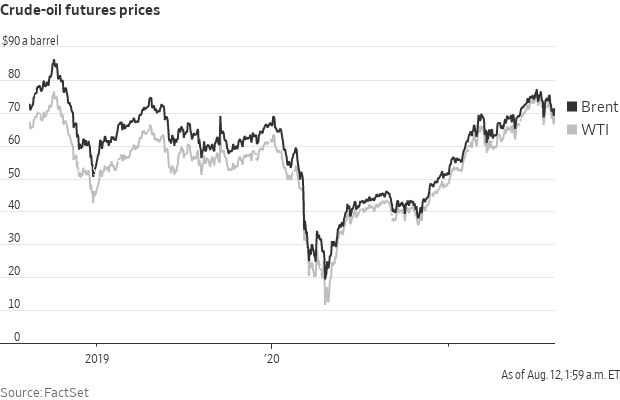 • OPEC oil cartel said the new Delta Covid variant will likely dent global crude oil demand growth in 2021 and 2022. The International Energy Agency today also cut world oil demand growth in 2021, by 100,000 barrels per day, to 5.3 million barrels per day.
     • USDA daily export sales:
        — 132,000 MT soybeans to China during 2021/2022 marketing year
        — 198,000 MT soybeans to unknown destinations during 2021-2022 marketing year
     • Key USDA estimates and forecasts to watch from today's reports, according to grain analyst and trader Richard Crow:
        Supply side variables:
        1) Corn and soybean yields
        2) Russia's wheat crop
        3) Brazil's corn crop size
        4) Canada's wheat and canola crop size
        5) U.S. spring wheat crop
        Demand side major variables:
        1) How much are U.S. corn exports increased by Brazil shortages in corn supply
        2) What does USDA do with China's corn imports
        3) If Russia's wheat crop is lower, where do they put Russia wheat exports
        4) How will they adjust world wheat feeding if the crops are lowered
        5) Canada's short crop must be made up somewhere
        6) Will USDA change the renewable biofuel demand
        7) Does USDA keep China's bean imports unchanged
     • Ag demand: Importers in the Philippines are believed to have rejected all offers in its tender to buy 120,000 MT of animal feed wheat and 120,000 MT of feed barley. Jordan is thought to have made no purchase in its tender for 120,000 MT of wheat; the same can be said about its tender to buy 120,000 MT of barley. But the country did issue a new tender to buy 120,000 MT of wheat. North Cyprus issued an international tender to buy 30,000 MT of animal feed barley and 5,000 MT of corn. South Korea bought around 22,222 MT of rice from the U.S. South Korea's Major Feedmill Group bought around 207,000 MT of corn in an international tender. Thailand is thought to have rejected all offers in its international tender to buy up to 139,500 MT of animal feed wheat due to high prices.
     • Atlantic storm: Heavy rainfall from Tropical Storm Fred hit the Dominican Republic on Wednesday morning and is expected to arrive in Florida and parts of the Southeast by Friday.
     • NWS weather: Stifling heat wave continues in the Northeast, Mid-South, and Pacific Northwest... ...Daily rounds of strong-to-severe storms from the Mississippi Valley and Great Lakes to the Northeast, monsoon showers and storms could lead to areas of flash flooding in the Southwest... ...Poor air quality due to wildfire smoke continues in the western and central U.S., Tropical Depression Fred to reach the Florida Straits by the start of the weekend.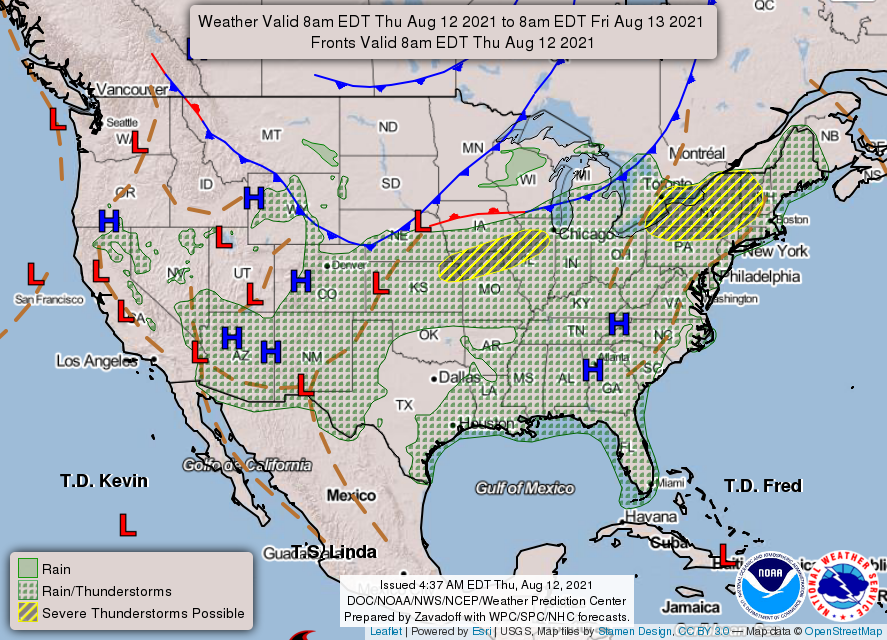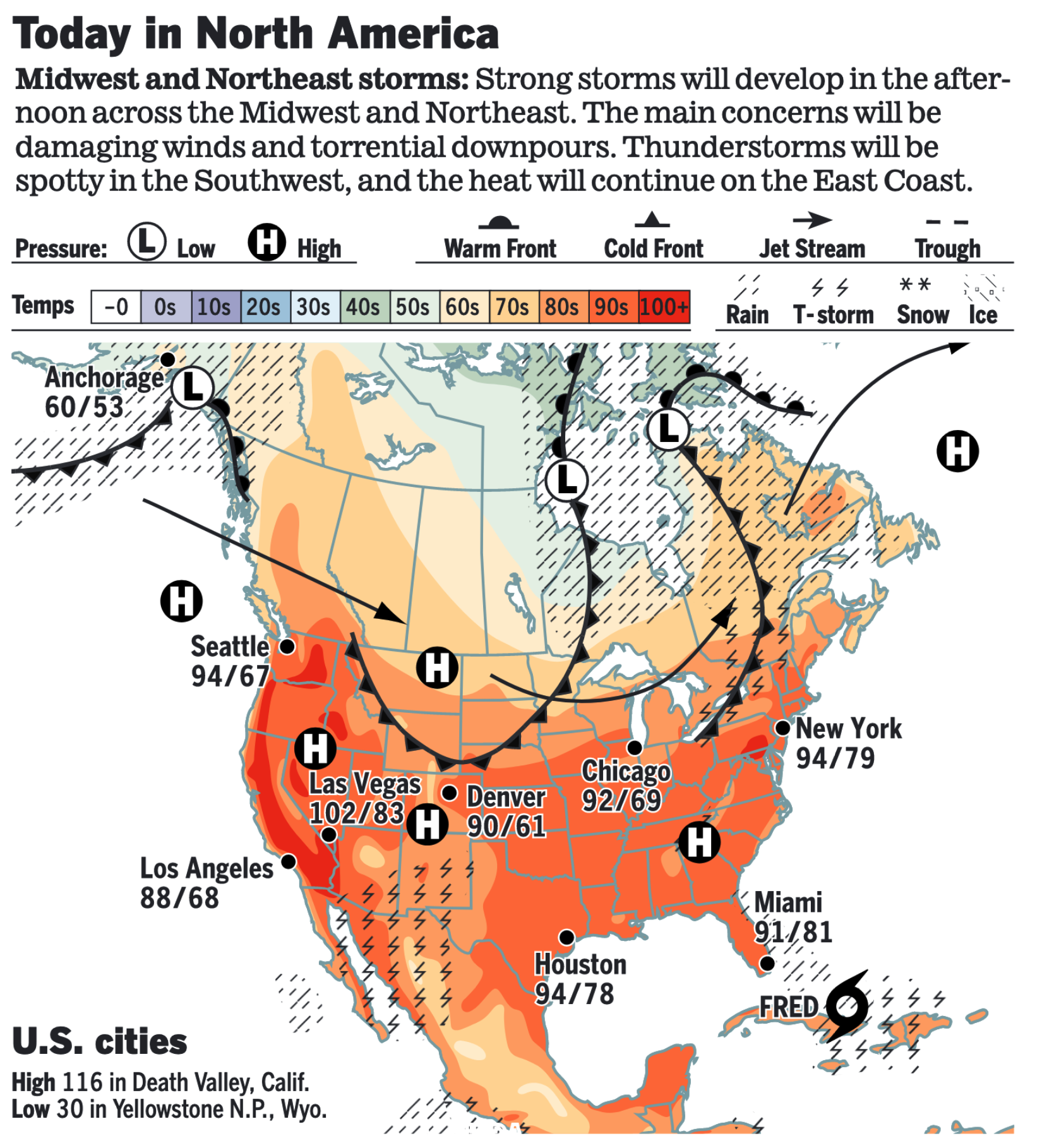 Items in Pro Farmer's First Thing Today include:
     • Holding pattern leading up to USDA reports
     • USDA's WASDE and Crop Production Reports out at 11:00 a.m. CT
     • China trims soybean import projection for 2020-21 (details, below)
     • Strategie Grains cuts soft wheat crop forecast for the EU
     • Russian ag ministry forecasts  81 MMT wheat crop, well above private sector forecasts
     • Attaché a big more optimistic about Indian cotton exports than USDA
     • Low water levels on Parana River could get worse before it gets better
     • WH Group's profits for 1H of 2021 slip, company concerned about inflation
     • JBS SA's Q2 profits up nearly a third from year-ago
     • Cash cattle trade begins at steady prices
     • Product market strength helped lean hog futures to stabilize midweek
---
POLICY FOCUS
---

— Next steps for infrastructure measures:
Aug. 23: House members return early from recess to consider the budget resolution framework just approved by the Senate. Then it will finish its recess.
Senate committees are working on the details of what will be included in the actual reconciliation bill, which could be considered as soon as mid-September. Senate Majority Leader Chuck Schumer (D-N.Y.) said members of the dozen or so relevant panels will continue to meet weekly over the next month to get the reconciliation bill ready by Sept. 15. House Speaker Nancy Pelosi (D-Calif.) told her caucus on a call that she intends for House committees to complete their policy work on the package by mid-September.
Senate must have all 50 Democrats vote for the $3.5 trillion human infrastructure/reconciliation measure because no Republican will do so. This includes the two independent senators who caucus with the Democrats.
Senate Democrats to watch include moderate Sen. Joe Manchin (D-W.Va.) who as previously reported said in a statement Wednesday that although he supports the framework, he is uncomfortable with the proposed $3.5-trillion price tag. "It is simply irresponsible to continue spending at levels more suited to respond to a Great Depression or Great Recession — not an economy that is on the verge of overheating," Manchin said in a statement. He urged colleagues "to seriously consider this reality as this budget process unfolds." Sen. Kyrsten Sinema (D-Ariz.) has also said she won't support such a large bill.
House action will also be a balancing act. It will not receive the $3.5 trillion bill until the fall, and Pelosi has indicated she will not take it up until the Senate also clears the human infrastructure measure. Without a separate party-line measure containing the rest of the party's priorities, Pelosi told Democrats, she wouldn't have the votes to pass either bill. "I'm not freelancing. This is the consensus of the caucus," Pelosi told her members on a caucus call. "The votes in the House and Senate depend on us having both bills." Moderate and more liberal House Democrats sent dueling letters Tuesday laying out vastly different demands for how to move ahead in the House, where Democrats hold just a four-seat majority. "Everyone is posturing to a certain extent," Rep. John Yarmuth (D-Ky.), the chairman of the House Budget Committee, told the Washington Post. "They're not going to vote against childcare, and senior care, and climate policy, and expanded health care, and things that are not only important parts of the Democratic agenda and the administration's agenda but also wildly popular," he said. "I think we can work through them."
 
---
CHINA UPDATE
---
— Flurry of China activity in weekly export sales update. USDA reported export sales activity to China for several commodities the week ended Aug. 5.
     For 2020-21, net sales of 11,319 tonnes of corn (after 68,000 tonnes were cancelled), 5,645 tonne of sorghum, 84,493 tonnes of soybeans and net reductions of 486 running bales of Upland cotton.
     For 2021-22, sales of 328,000 tonnes of soybeans and 123,839 running bales of Upland cotton were reported.
     Net sales for 2021 of 974 tonnes of beef and 613 tonnes of pork were reported.
     USDA also noted there were several "late-reported" sales to several destinations for the week. Late reporting happens, USDA said, "1) Whenever an exporter discovers an error or is advised by the Export Sales Reporting office of an error on a prior report, the error shall be corrected in the current weekly export sales report to reflect the proper outstanding export sales and exports; and 2)  When new exporters register, their first submission to the Export Sales Reporting and Maintenance System includes all export sales and exports in the current marketing year for the specific commodity."
— China trims soybean import projection for 2020-21. China lowered its soybean import projection for 2020-21 by 1.84 MMT to 98.6 MMT, noting sliding crush margins in recent months and delayed purchases of the oilseed, according to its monthly China Agriculture Supply and Demand Estimates (CASDE) report. A collapse in hog production margins have also curbed soymeal use, with the country also working to use more wheat in feed. China's soybean import forecast for 2021-22 held steady at 102 MMT. Also of note, the report calls for China to import 22 MMT of corn in 2020-21 and 20 MMT in 2021-22, amid a 4.3% jump in production. China's cotton imports are also expected to slide from 2.8 MMT in 2020-21 to 2.5 MMT in 2021-22, according to the CASDE report.
 
— China unveils five-year plan to strengthen control of economy. The plan wants to strengthen regulatory control over strategic sectors including technology and healthcare, in Beijing's latest push to assert Communist party supremacy over the world's second-largest economy. The party's Central Committee and the State Council, or cabinet, jointly released a policy document late on Wednesday that would expand government legislation and build a modern regulatory environment to "meet people's ever-growing demands for a good life."

— U.S., Canada condemn China over court ruling. China's decision this week to sentence a Canadian businessman to 11 years in prison has sparked a diplomatic outcry from top officials in Ottawa and Washington. Canadian Prime Minister Justin Trudeau called the court's decision "absolutely unacceptable and unjust" in a statement Wednesday, criticizing Beijing for conducting "a trial that did not satisfy even the minimum standards required by international law." Secretary of State Antony Blinken said: "The practice of arbitrarily detaining individuals to exercise leverage over foreign governments is completely unacceptable. People should never be used as bargaining chips."
     The Chinese embassy in Canada said Trudeau's comments were "absurd… Such accusations are extremely unreasonable, extremely absurd and extremely arrogant, over which we express our great indignation and strongest condemnation," it said.
— Treasury Secretary Janet Yellen is weighing a trip to China, Bloomberg reports (link).
 
---
TRADE POLICY
---
— Will Biden examine Trump era tariffs? White House press secretary Jen Psaki was asked Wednesday whether rising inflation would prompt the Biden administration to examine tariffs imposed in the Trump era. Her answer: "We've talked about how there's ongoing reviews of tariffs and a range of steps that were put in place by the prior administration," she said. "And, of course, we're going to continue to use every economic tool in our toolbox.
 
---
ENERGY & CLIMATE CHANGE
---
— Biden administration urging OPEC+ to boost output continues in focus. The statement released early Wednesday by the White House urging OPEC+ to boost oil output in a bid to push gasoline prices lower is drawing criticism from several sides. Republicans called out the administration for their efforts to cancel the Keystone XL pipeline and to pause oil and gas lease sales on federal lands and waters. "President Bident canceled an American pipeline on Day One. Seven months later, he is now begging OPEC to pump more oil," House Minority Leader Kevin McCarthy (R-Calif.) tweeted. "Calling for increased OPEC+ oil production demonstrates the fallacy of the White House Federal lands energy ban," said the U.S. Chamber of Commerce's Christopher Guith in a statement. "We need to let the U.S. produce oil under the world's strictest environmental standards and boost our economy instead of Russia's and the Middle East." The Huffpost raised the question of whether the action means Biden is "denying the reality of the global emissions crisis."
     At a White House briefing, Press Secretary Jen Psaki was asked about the OPEC+ request and how that squares with the climate change agenda. She first injected that "experts have consistently debunked the notion that efforts we're undertaking to transition to net zero by 2050 and a clean power sector by 2035 are related to domestic production at home." She admitted that it was not the question asked, "but I wanted to get that in there." But even her answer and a later response in the briefing about boosting U.S. production did not address the issue. She noted that the effort was part of a strategy to make sure supplies are available to address gas prices. Psaki also pointed to National Economic Council (NEC) Brian Deese asking the Federal Trade Commission (FTC) to monitor gasoline markets. That action, she said, was "about competition and about ensuring that pricing on the global market is something that is aligned with what is fair and what is competitive as well." She added there is "supply that's available, that can be accessed, and that's what we're really referring to here." Later Psaki noted, when pressed about any actions to boost domestic production: "We're not making a supply question here — or we're not posing a supply question domestically. Obviously, OPEC has its own unique role on the global marketplace." Psaki then said they were not viewing it through a "political lens."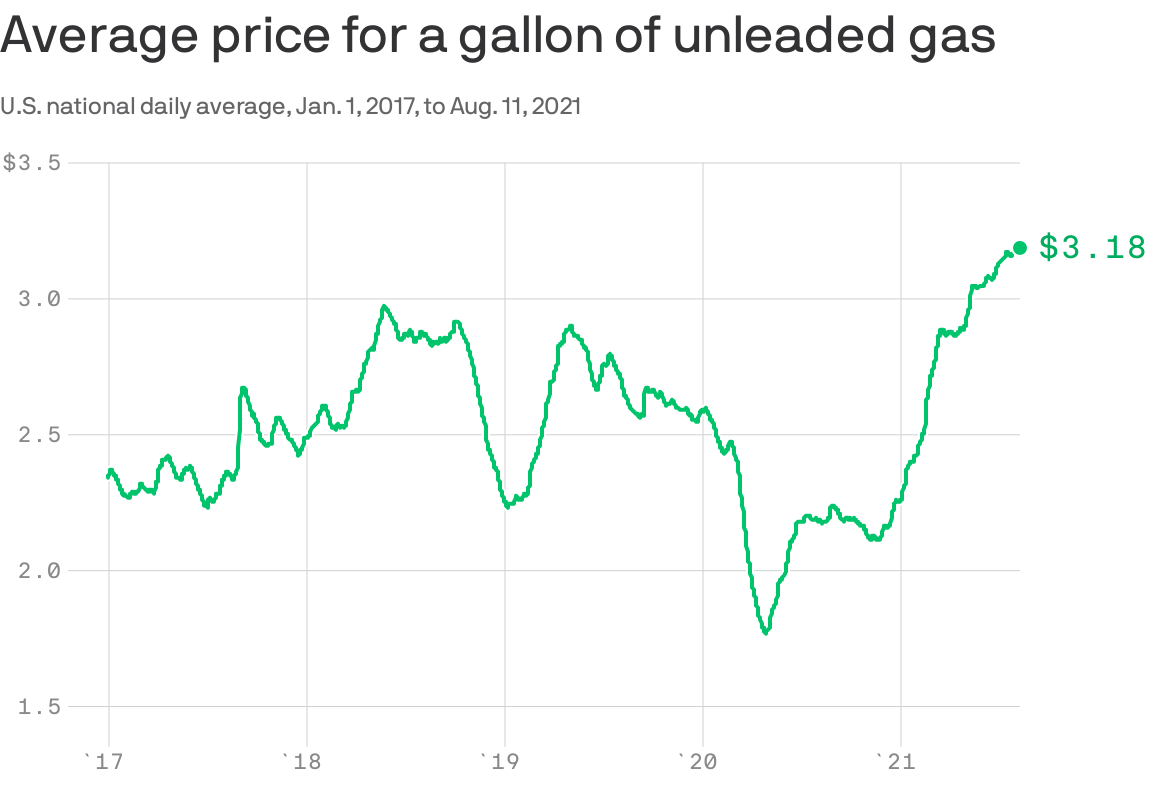 — Frackers, shippers eye natural-gas leaks as climate change concerns mount. Amid growing pressure to prove that natural gas has a lower-carbon provenance, the top U.S. gas producer, EQT, and the top exporter, Cheniere Energy, have teamed up to track the emissions from wells that feed major shipping terminals. The companies are trying to collect reliable data on releases of methane—a potent greenhouse gas increasingly attracting scrutiny for its contributions to climate change—and demonstrate they can reduce these emissions over time. Link to details via the WSJ.
 
---
LIVESTOCK, FOOD & BEVERAGE INDUSTRY
---
— Wan Long, CEO of WH Group, steps down. Wan Long, a veteran with more than 50 years' experience in the meat-processing industry, resigned as the group's chief executive and will remain its chairman and an executive director. He owns more than a fifth of WH's shares, according to its most recent annual report. WH Group named Guo Lijun, who had been its chief financial officer, as its new chief executive. "This team adjustment is normal. There will be new developments in all areas of our work after this," Wan said during an earnings call today. Wan's resignation comes about two months after his son, Wan Hongjian, was removed from his roles as executive director, deputy chairman and vice president of WH Group. In June, the company said the younger Wan was "unable to fulfill his duties of skill, care and diligence as a Director due to his recent misconduct of aggressive behaviors against the Company's properties."

— Biden targets 'big ag'. President Joe Biden told viewers that his recent executive order on antitrust and competition could result in lower prices at grocery stores. The speech, aired live on network TV, was aimed at promoting the bipartisan infrastructure bill and upcoming reconciliation package. "Take your groceries bill. When big agriculture operations consolidate, they put a squeeze on small and family farms, making them pay more for seed, paying less for what they produce, and raising prices on what your groceries — what you pay for your groceries at the grocery store," Biden said. "My executive order opens up competition in the agriculture business, [and] gives more farmers a chance to compete, which will give Americans more food choices at lower cost."
 
---
CORONAVIRUS UPDATE
---
— Summary: Global cases of Covid-19 are at 204,808,030 with 4,325,739 deaths, according to data compiled by the Center for Systems Science and Engineering at Johns Hopkins University. The US case count is at 36,190,390 with 618,479 deaths. The Johns Hopkins University Coronavirus Resource Center said that there have been 353,205,544 doses administered, 167,105,507 have been fully vaccinated, or 50.9% of the US population.
— Why a vaccine booster may be needed. Pfizer has said it believes its vaccines are losing around six percentage points of efficacy every two months. Research from Israel and the U.K. reached similar conclusions. Moderna has also said it believes boosters will be necessary. Meanwhile, regulators are set to authorize a coronavirus vaccine booster shot. The expected move by the FDA would expand the emergency use of the Pfizer-BioNTech and Moderna vaccines for people with weakened immune systems. It comes as a new study found that two-dose regimens of the vaccines were somewhat less effective against the Delta variant, which is responsible for a rise in so-called breakthrough infections.
 
---
POLITICS & ELECTIONS
---

— Redistricting fight commences. The Census Bureau will release long-awaited district-level results today, setting off what is expected to be a litigious and consequential redistricting battle, with control of Congress hanging in the balance. With Democrats clinging to a slim margin in the House of Representatives, control of the chamber in 2022 could be decided through congressional redistricting alone: Republican-leaning states like Texas and Florida are adding new seats through reapportionment, and GOP-dominated state legislatures will steer much more of the redistricting process, allowing them to draw more maps than Democrats.
     Strategists from both parties predict that some states will finalize maps as soon as September and that roughly half of the states will set their new lines by the end of the year. The rest will follow in the first few months of 2022.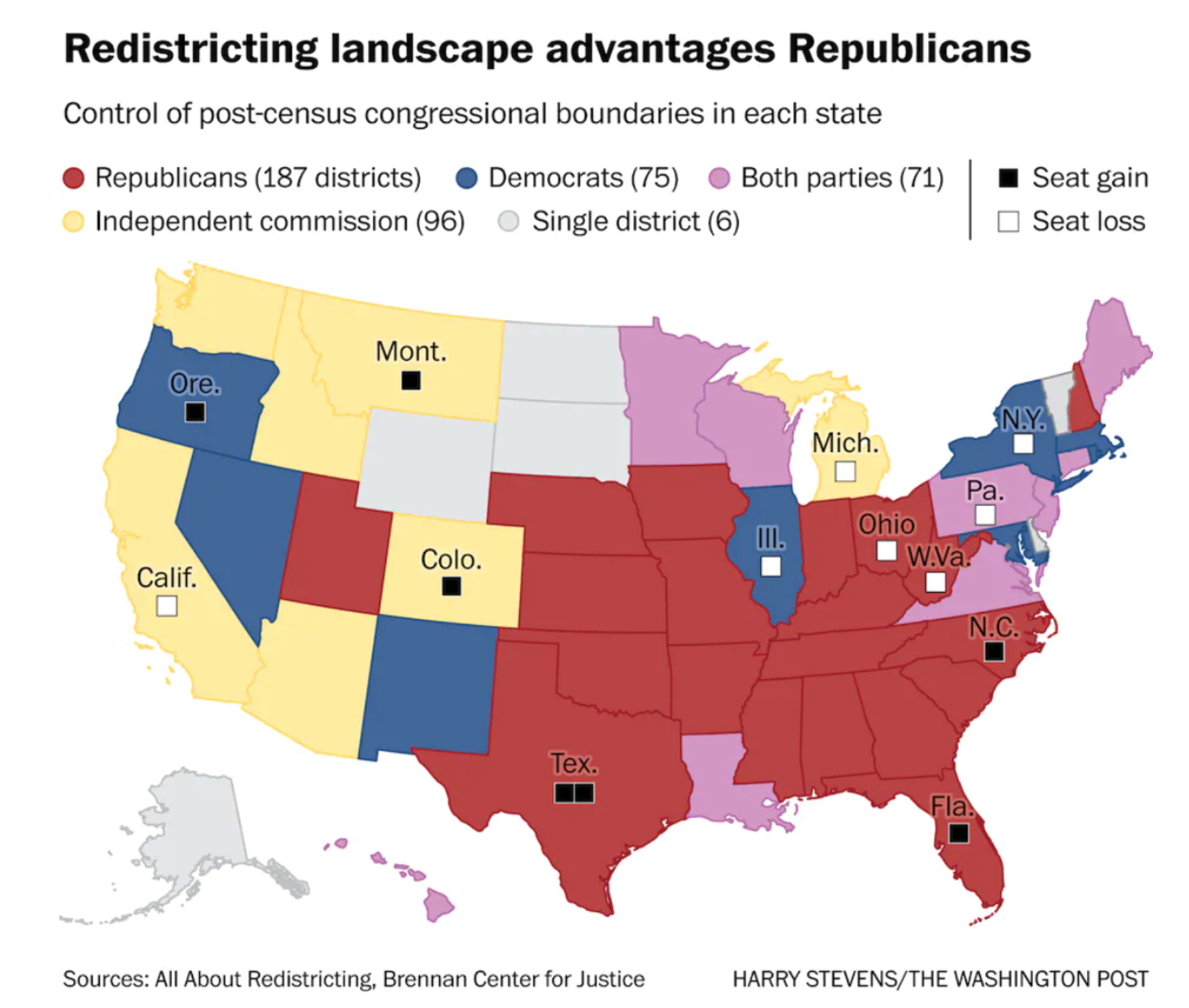 — Federal judge: Trump's accountants must turn over tax records to House panel. A federal judge has ruled that former President Donald Trump's accountants must turn over two years' worth of his tax and financial records to a House committee investigating whether Trump and his businesses profited from his service in the White House. U.S. District Court Judge Amit Mehta approved a House Oversight and Government Reform Committee subpoena for Trump's records covering 2017 and 2018 but turned down most of the panel's request for similar information dating back to 2011. The decision is likely to be appealed by Trump's lawyers and could also be challenged by the House panel.
— Texas Republicans eye changes to quorum rules to prevent future walkouts. Texas Republicans are moving to change the rules dictating how many members must be present to conduct business after Democrats successfully blocked a voting reform bill by fleeing the state and denying the Legislature a quorum. The state Supreme Court ruled Democrats could be detained and brought to the state Capitol to participate in the latest special legislative session. A judge in Austin issued an order on Sunday shielding the Texas Democrats from arrest if they returned to the Lone Star State after the Democrats filed a lawsuit to prevent the possibility. Texas's Constitution lays out the rules regarding quorum, which require at least two-thirds of the state House and Senate to be present to pass laws. A Texas Senate committee advanced a bill on Monday that would reduce the number of lawmakers needed to conduct business, which would dramatically reduce state Democrats' ability to use the same move in the future. The measure would present the question to voters on the November ballot, asking them to approve a constitutional amendment that waters down the quorum rules.
      The speaker of the Texas House of Representatives signed civil arrest warrants for 52 absent Democrats late Tuesday,
— San Francisco salon owner who exposed Pelosi talks about losing her business a year later. It's been nearly a year since former San Francisco salon owner Erica Kious shuttered her business after exposing House Speaker Nancy Pelosi (D-Calif.) for getting her hair washed and blown out despite coronavirus restrictions. "I thought if I ever lost my business, I would have lost it in an earthquake," Kious said Tuesday at Heritage Action's Save Our Paychecks Tour kick-off event in Fresno. "Never did I ever think that I would have lost everything I worked for by leftist politics. Gone." Fox News obtained surveillance video last summer of Pelosi visiting the salon for a hair wash and blowout, despite local ordinances keeping salons closed amid the coronavirus pandemic. Link for more.
 
---
OTHER ITEMS OF NOTE     
---
— Vilsack to look at impact of drought in Minnesota and the upper Midwest in trip Thursday and Friday. Speaking to reporters, USDA Secretary Tom Vilsack called the conditions there "quite severe." On Thursday morning, Vilsack, Sens. Amy Klobuchar and Tina Smith, both Minnesota Democrats, and Rep. Angie Craig (D-Minn.), will visit at the Callister Farm near Cannon Falls, Minn., to look at drought conditions. On Thursday afternoon, Vilsack, Klobuchar and Smith will make a rural health care announcement at River's Edge Hospital and Clinic in St. Peter, Minn. On Friday, Vilsack will hold events with Minnesota Gov. Tim Walz, a Democrat, and Rep. Dean Phillips (D-Minn.).
— USDA awards $167 million for broadband access. Projects in 12 states will receive a combined $167 million in USDA grants and loans to deploy broadband infrastructure in parts of rural America lacking sufficient access to high-speed internet service.
---