BBB May Not Raise Corporate Tax Rate or Capital Gains Tax Rate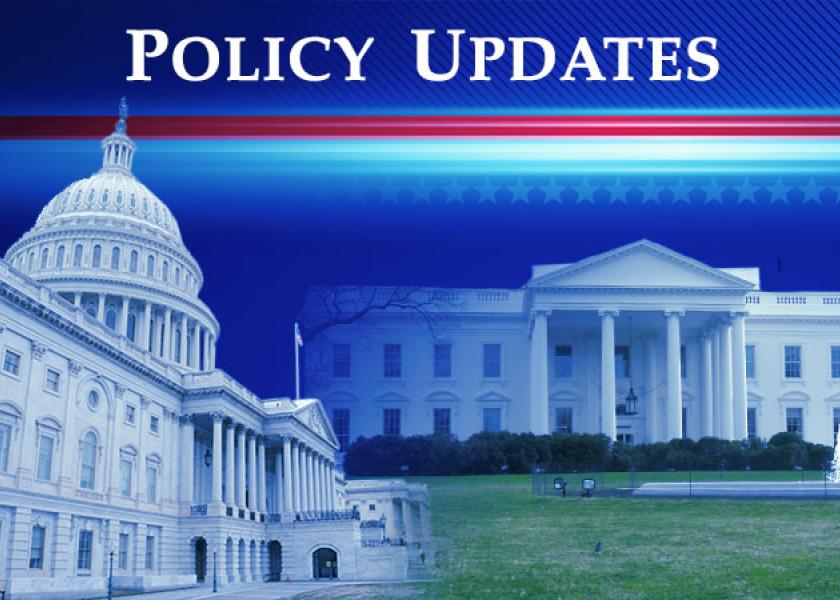 Vilsack: seed sector next on the competition front
---
In Today's Digital Newspaper
---
Market Focus:
• Jobless claims fall to pandemic low behind tight labor market
• Fed official: Lingering inflation could change interest-rate outlook
• Yellen sees U.S. on track for full employment in 2022
• Fed's Beige book: slowing economy plus rising prices
• Fed bank: larger livestock loans boost farm lending
• Where did all the workers go? One partial answer: They started their own business
• A twist in the Fed's trading scandal
• Bank of Canada set to taper QE purchases further
• Bitcoin hit a new high Wednesday
• Diesel prices continue to surge
• Ethanol output back to pre-Covid level in U.S. on demand rise
• Port of LA cargoes processed hit record highs
• Calif. Governor's executive order to address shortage of truck drivers, container storage
• USDA daily export sale: 130,000 MT corn to Mexico during 2021-2022 marketing year
• Ag demand update
• Grain and soy futures pull back overnight
• Mexico will keep importing GMO corn from the United States
• Strategie Grains raises EU wheat export forecast
• Sinopec signs long-term supply deals for U.S. LNG with Venture Global
• Slow trickle of cash cattle trade
• Hog traders maintain pessimistic attitude
Policy Focus:
• Senate Dems mull abandoning key tax elements of social policy and climate package
Afghanistan:
• Afghanistan's new Taliban rulers want to convene a U.N. donor conference
• Women who once served as judges in Afghanistan are in hiding 
Biden Administration Personnel:
• Senate Ag schedules hearing on Behnam nomination as CFTC chair
• Senate panel clears FMCSA deputy administrator
• Highway safety nominee
China Update:
• Big U.S. soybean sales to China in most recent week
• China reversing course on earlier ambitions to curb coal use
• Sinopec signs long-term supply deals for U.S. LNG with Venture Global
• Evergrande inches nearer to the precipice
Trade Policy:
• Homebuilders ask for lifted tariffs on imported materials
• Mexico's ag minister, Vilsack say Mexico will keep importing U.S. GMO corn  
• Britain and New Zealand reach free-trade deal
• U.S., others blast China trade policy as WTO conducts review
Energy & Climate Change:
• Putin will be a no-show at COP26 confab
• White House launches website to highlight National Climate Task Force's work

Livestock, Food & Beverage Industry Update:
• Immigration and hogs?
Coronavirus Update:
• Only 33.8% of expectant mothers between 18 and 49 U.S. are fully vaccinated
• FDA authorizes Covid-19 boosters from Moderna and J&J.
• Booster shot of BioNTech/Pfizer vaccine is 95.6% effective against Covid-19
• Russian President Putin ordered people to stay off work for at least a week
Politics & Elections:
• Latest poll shows tie in Virginia gubernatorial
• Trump will 'take on Big Tech' by launching social-media platform of his own
Congress:
• Senate GOP Blocks voting rights bill
• GOP Rep. Fortenberry gives up House committee assignments after indictment
• Contract library for cattle producers

Other Items of Note:
• U.S./Mexico border update
• Vilsack on appearing at a strike site new Des Moines re: John Deere
• Vilsack: seed sector next on the competition front
---
MARKET FOCUS
---
Equities today: Global stock markets were mostly lower in overnight trading. The U.S. stock indexes are pointed to slightly lower openings. Asian equities ended lower on concerns over the China Evergrande situation. The Nikkei lost 546.97 points, 1.87%, at 28,708.58. The Hang Seng Index was down 118.49 points, 0.45%, at 26,012.53. The Shanghai Composite, however, was up 7.78 points, 0.22%, at 3,594.78. European equities are under pressure in early trade action though most markets are off their initial opening lows. The Stoxx 600 was down 0.2% while regional markets were down 0.1% to 0.9%.
     CSX: The rail operator posted third-quarter results ahead of expectations, as a 24% surge in revenue just outpaced a 23% increase in expenses.
     U.S. equities yesterday: The Dow rose 152.03 points, 0.43%, at 35,609.34. The Nasdaq lost 7.41 points, 0.05%, at 15,121.68. The S&P 500 was up 16.56 points, 0.37%, at 4,536.19.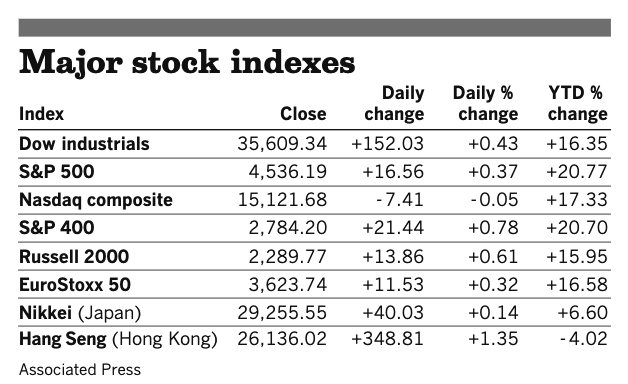 On tap today:
     • U.S. jobless claims are expected to rise to 300,000 in the week ended Oct. 16 from 293,000 one week earlier. (8:30 a.m. ET) UPDATE: Jobless claims fell slightly and notched a new pandemic low last week, a sign layoffs remain low as companies struggle to hire workers. Worker filings for initial unemployment benefits decreased to 290,000 last week from a revised 296,000 a week earlier, the Labor Department said. Last week's decline brings claims to the lowest level since the pandemic struck in March 2020. Claims, a proxy for layoffs, are holding well below a recent peak of 424,000 in mid-July but remain above 2019's weekly average of 218,000.
     • Philadelphia Fed's manufacturing survey is expected to fall to 24.5 in October from 30.7 one month earlier. (8:30 a.m. ET)
     • USDA Weekly Export Sales report, 8:30 a.m. ET.
     • U.S. existing-home sales are expected to rise to an annual pace of 6.1 million in September from 5.88 million one month earlier. (10 a.m. ET)
     • Conference Board's leading economic index for September is expected to increase 0.4% from the prior month. (10 a.m. ET)
     • Federal Reserve speakers: Richmond's Thomas Barkin to the Engage Summit 2021 at 8:30 a.m. ET, Governor Christopher Waller on the economy at 9 a.m. ET (webcast), and New York's John Williams at the China Finance 40 Forum at 9 p.m. ET.
     • President Biden will participate in a town hall on CNN, 8 p.m. ET, where he's likely to face questions on his spending plans.
 A look at inflation statistics: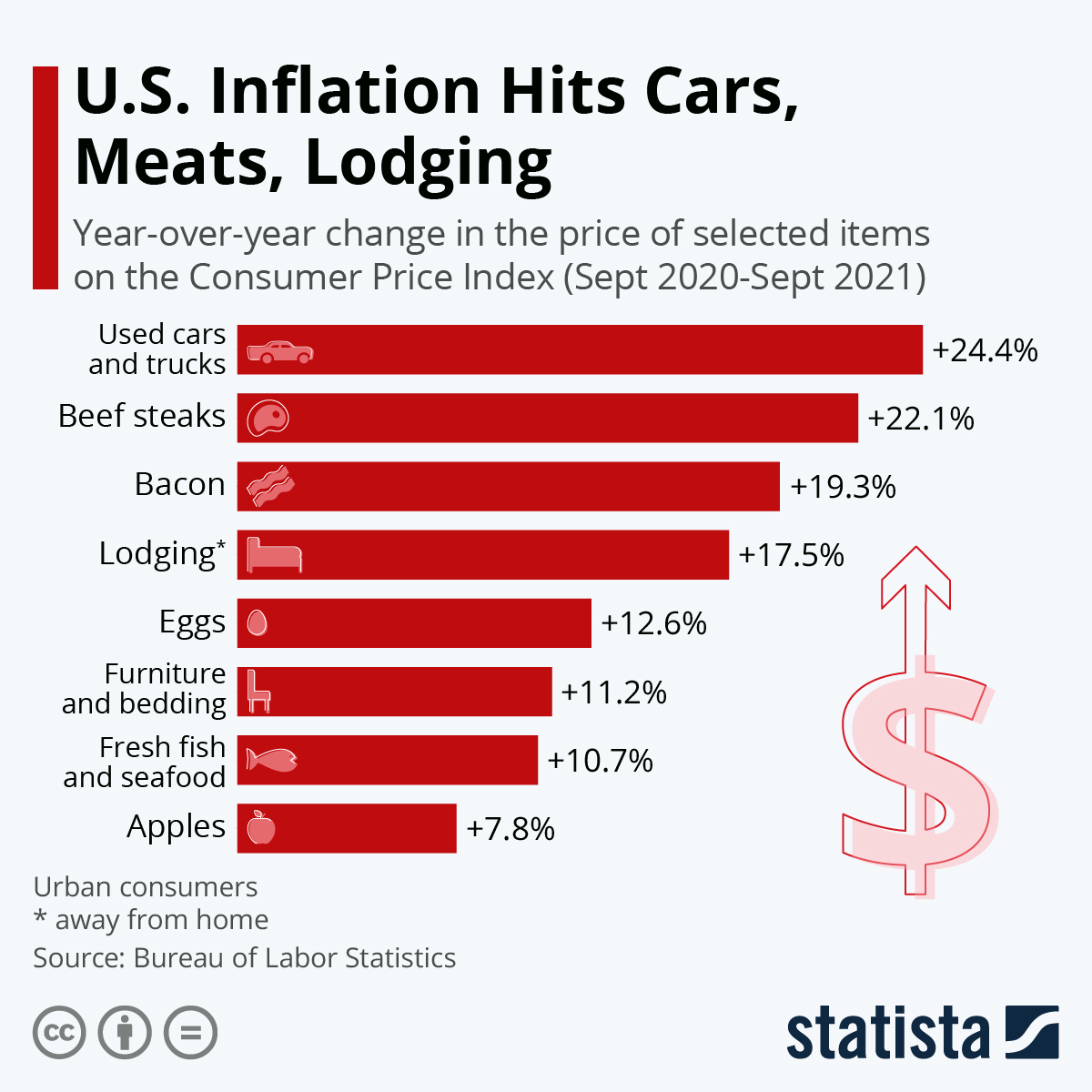 Fed official: Lingering inflation could change interest-rate outlook. Fed governor Randal Quarles warned that extended high inflation through next spring could force the central bank to consider raising interest rates sooner than anticipated. He still expects higher prices to ease next year as bottlenecks and supply-chain disruptions fade. If the Fed raised rates in response to recent price surges driven by the economic reopening, the central bank could constrict demand at the same moment that supply bottlenecks abate, Quarles said during a moderated discussion at a conference in Los Angeles. That could lead to undesirably low levels of inflation and employment. "The flipside of that dilemma…is that 'transitory' doesn't necessarily mean 'short lived,'" Quarles said. The danger for the Fed is that longer-lasting supply-chain bottlenecks risk leading consumers and businesses to expect higher inflation in the future, which could force the Fed to respond by raising rates. He cited a related risk from additional government stimulus by the Biden administration that could put pressure on prices by boosting demand. "We can tolerate, if you will, an extended period of 2.5% inflation…much longer than we could an extended period of 4% inflation," said Quarles. "If we are still seeing 4% inflation…next spring, then I think we might have to reassess the speed with which we would be thinking about raising interest rates."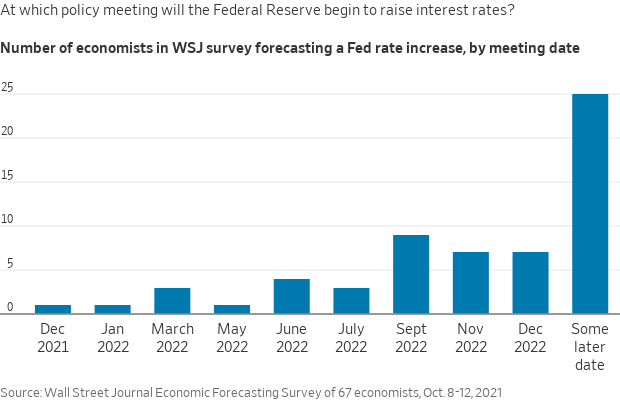 Yellen sees U.S. on track for full employment in 2022. Treasury Secretary Janet Yellen said she still expects the U.S. economy to return to full employment "next year," even after a slowdown in the pace of hiring. "The labor market, in many ways, is very tight," Yellen told MSNBC in an interview, saying that the market is still recovering from the pandemic, which she called a "very unusual shock." The U.S.' jobless rate has dropped to 4.8% compared to 3.5% pre-pandemic.
Fed's Beige book: slowing economy plus rising prices. Economic activity grew at a modest to moderate rate, according to most Federal Reserve districts. Several districts noted, however, that the pace of growth slowed this period, constrained by supply chain disruptions, labor shortages, and uncertainty around the Delta variant of Covid-19. Growth in non-manufacturing activity ranged from slight to moderate for most districts. Loan demand was generally reported as flat to modest this period. Most districts reported significantly elevated prices, fueled by rising demand for goods and raw materials. Reports of input cost increases were widespread across industry sectors, driven by product scarcity resulting from supply chain bottlenecks. Price pressures also arose from increased transportation and labor constraints as well as commodity shortages. Many businesses said they expected higher prices and supply shortages to last another year or so. The Beige book collects anecdotes from businesses in Fed districts around the country.
Fed bank: Larger livestock loans boost farm lending. Demand for livestock loans grew in the third quarter, boosting agricultural lending activity at commercial banks, according to Federal Reserve Bank of Kansas City. Demand for operating loans was more subdued however, and total non-real estate lending remained near its average of the past decade. The average size of loans for some livestock categories reached an all-time high and contributed to the increased lending. While the average size of operating loans also remained elevated, a smaller number of loans limited the overall financing of operating expenses. Link for details.
     The U.S. ag economy generally remained strong as elevated commodity prices continued to support farm incomes, the Fed bank noted. Prices of most major crops were at multi-year highs moving into fall harvest and supported farm revenue prospects. Weakness in the cattle industry persisted, however, as low cattle prices continued to limit profit margins for producers. In addition, concerns about drought and higher input costs continued to intensify and likely contributed to an increase in producers' financing needs in the livestock sector.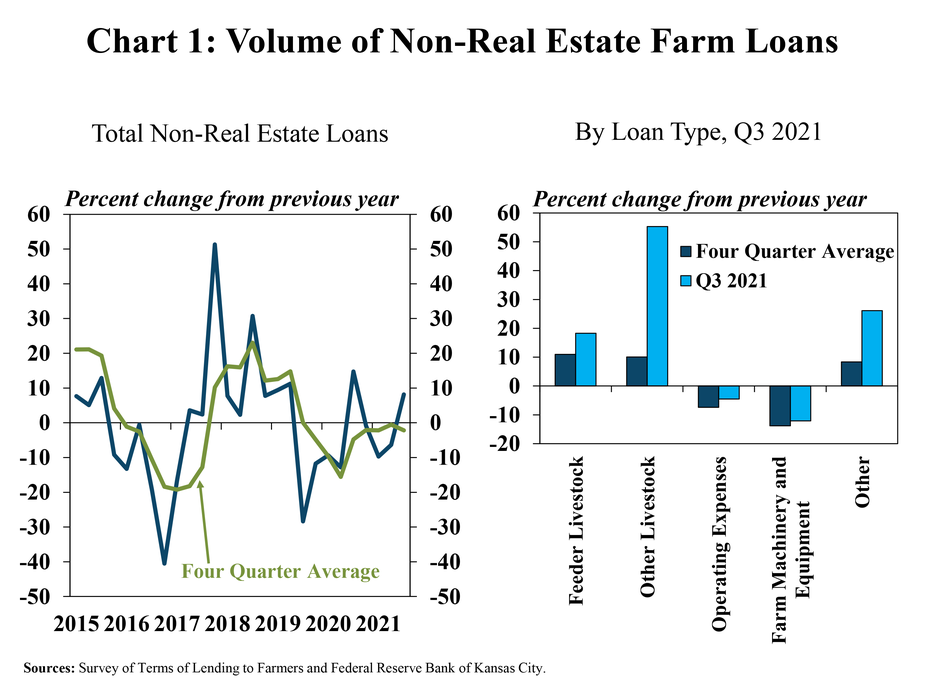 Where did all the workers go? One partial answer: They started their own business. Applications for the employer identification numbers that entrepreneurs need to start a business have topped 5 million over the past 12 months, the highest level in records reaching back to 2004, according to the Census Bureau. Filings among a subset of business owners who tend to employ other workers, called high-propensity applications, were also the highest on record. "The jump in intent to form new businesses likely reflects a necessity to adapt in response to job losses during the downturn as well as an opportunity to fill new economic needs amid changing consumer preferences, supply chain issues and novel circumstances brought on by the pandemic," the Economic Innovation Group's Daniel Newman writes in a blog post (link).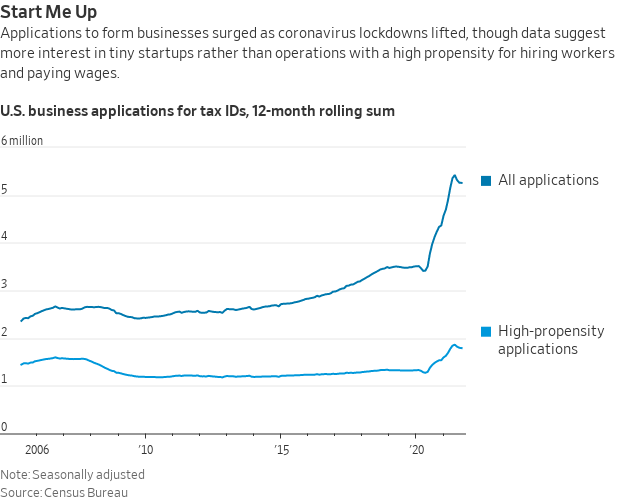 A twist in the Fed's trading scandal. The central bank's ethics office warned the Fed chair, Jay Powell, and regional bank presidents in March 2020 against trading in their personal accounts, though several later did, the New York Times reports (link). Regarding Fed Chairman Jerome Powell, the article notes: "Powell also has faced backlash, primarily from progressives who do not want him reappointed, for selling holdings in a popular and broad stock index last October. The Fed was not rolling out new rescue programs at that time, and a spokeswoman has said Mr. Powell sold the holdings to pay for family expenses. Mr. Powell's critics argue that he should not have made active financial transactions at all last year."
Bank of Canada is set to taper QE purchases further to C$1bn per week with the program likely concluded in December as the market increasingly prices in 2022 rate hikes, says ING Economics. "We expect a neutral impact on CAD, which seems to have most of the positives in the price and may experience corrections in the near term."

     Employment: Canadian jobs market has outperformed the US' with all jobs lost now recovered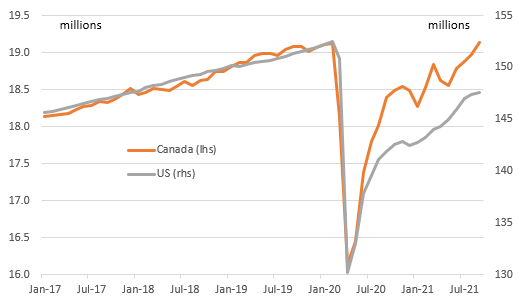 Market perspectives:
     • Outside markets: The U.S. dollar index is firmer ahead of U.S. economic updates with several foreign rival currencies weaker against the greenback. The yield on the 10-year U.S. Treasury note is essential steady, trading around 1.66% with a mixed tone in global government bond yields. Gold and silver futures are seeing mild pressure ahead of U.S. trading, with gold around $1,782 per troy ounce and silver around $24.20 per troy ounce.
     • Bitcoin hit a new high Wednesday, powered by a wave of buying after the first U.S. exchange-traded fund linked to the cryptocurrency started trading. Bitcoin traded as high as $66,974.77 on Wednesday, passing the previous high set in April, according to CoinDesk. It fell to as low as $29,608.60 in July before roaring back on a series of developments that signal the digital currency's move from the shadowy fringes of the investing world to the regulated main.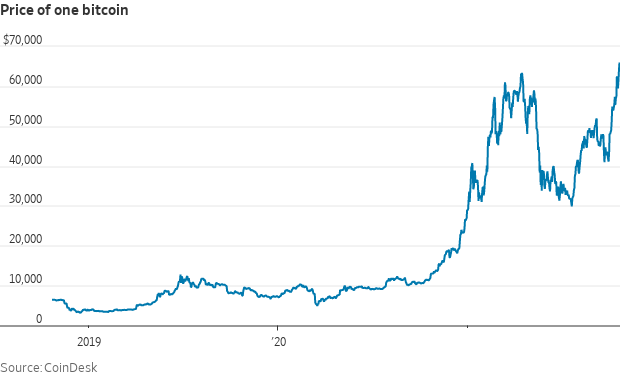 • Crude oil futures are under pressure as markets mulled U.S. gov't inventory data. U.S. crude was trading around $82.70 per barrel while Brent crude was around $84.80 per barrel. Futures were narrowly mixed in overnight Asian action.
     • Diesel prices continue to surge. The U.S.' national average for a gallon of on-highway diesel jumped 8.5 cents during the week ending Oct. 18, rising to $3.671 per gallon, according to the Department of Energy's weekly report. The most recent increase follows two weeks of significant increases, when prices jumped 7.1 cents and 10.9 cents the previous two weeks. Fuel prices are now up $1.031 since the beginning of 2021 and have increased $1.283 year-over-year.
     • Ethanol output back to pre-Covid level in U.S. on demand rise. Ample corn harvests and more Americans filling up gasoline tanks pushed U.S. ethanol production to the highest since pandemic lockdowns brought the industry pain. U.S. output of the corn-based biofuel last week surpassed analyst expectations and surged to the most since June 2019. Gasoline demand on a four-week rolling average hit the highest since 2007 for this time of year.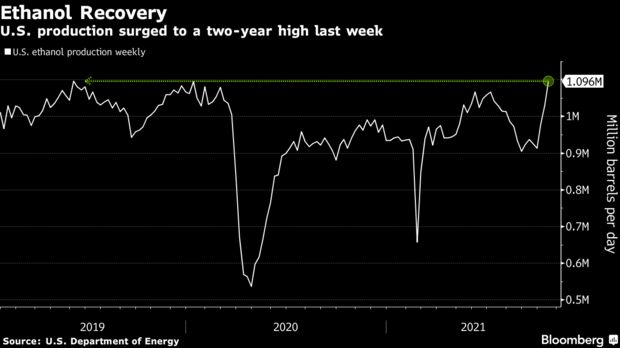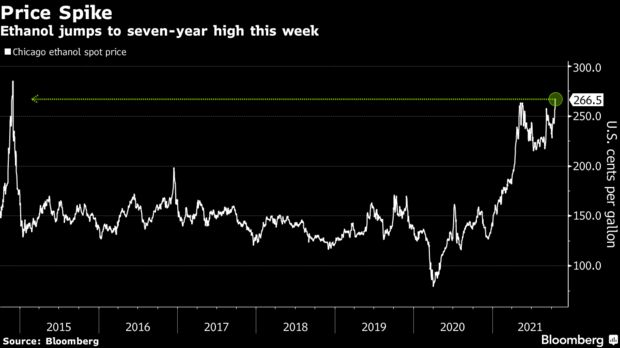 • Port of LA cargoes processed hit record highs. The Port of Los Angeles processed 903,865 Twenty-Foot Equivalent Units (TEUs) in September, the busiest September ever in the Port's 114-year history. Year to date, overall cargo volume stands at 8,176,917 TEUs, an increase of 26% compared to 2020. Gene Seroka, the port's CEO, also paid tribute to the railways: "Despite the global supply chain challenges, the Port of Los Angeles and its partners continue to deliver record amounts of cargo. This is made possible by the extraordinary effort of our longshore workers, truck drivers, terminal operators and so many others on the waterfront and in our region's warehouses. I'm grateful to all of them. Of particular note is the great work by BNSF and Union Pacific, which have reduced the rail backlog in half in the last month and by two-thirds over the last two months. We've got more work to do but we've made significant progress due to the collaborative efforts with our Class 1 railroads."
     • California's governor has issued an executive order to address the shortage of truck drivers and container storage to try to move critical cargo out of the state's ports and alleviate congestion. The order directs agencies to find state, federal and private land for short-term container storage while identifying freight routes for trucks so officials can temporarily exempt weight limits on the road. It also addresses educational programs and training for port workers and others in the supply chain.
     • USDA daily export sale: 130,000 MT corn to Mexico during 2021-2022 marketing year.
     • Ag demand: Japan purchased 81,318 MT of wheat from its weekly tender, including 28,878 MT of U.S. supplies; the remainder was Canadian origin. Turkey bought 225,000 MT of wheat, with more purchases from the tender for 300,000 MT likely to come. Tunisia tendered to purchase 100,000 MT of soft milling wheat and 100,000 MT of feed barley — both optional origin.
     • California recorded its driest year in nearly a century. Only in 1924 was there even less annual rain and snowfall. With the state facing devastating wildfires, extreme heat and extended droughts, water officials warned that "California's climate is transitioning to a warmer setting in which historical relationships among temperature, precipitation, and runoff are changing."
     • NWS weather: Powerful Pacific storm to deliver heavy rain and gusty winds to the Pacific Northwest, Slight Risks for Excessive Rainfall in Northern California and far southwestern Oregon today... ...Severe thunderstorms possible in some eastern regions due to a low pressure system tracking through the Great Lakes today; scattered thunderstorms also possible in portions of the Southern Plains today and Friday... ...Abnormally warm conditions in the Rockies and High Plains; warm day along the East Coast today gives way to cooler temps by week's end; cooler in the Midwest and along the West Coast.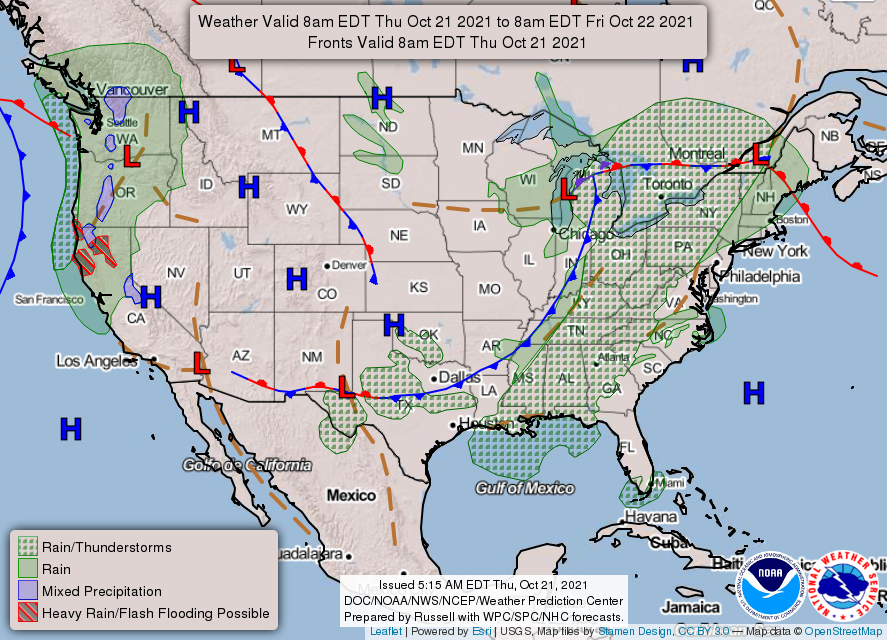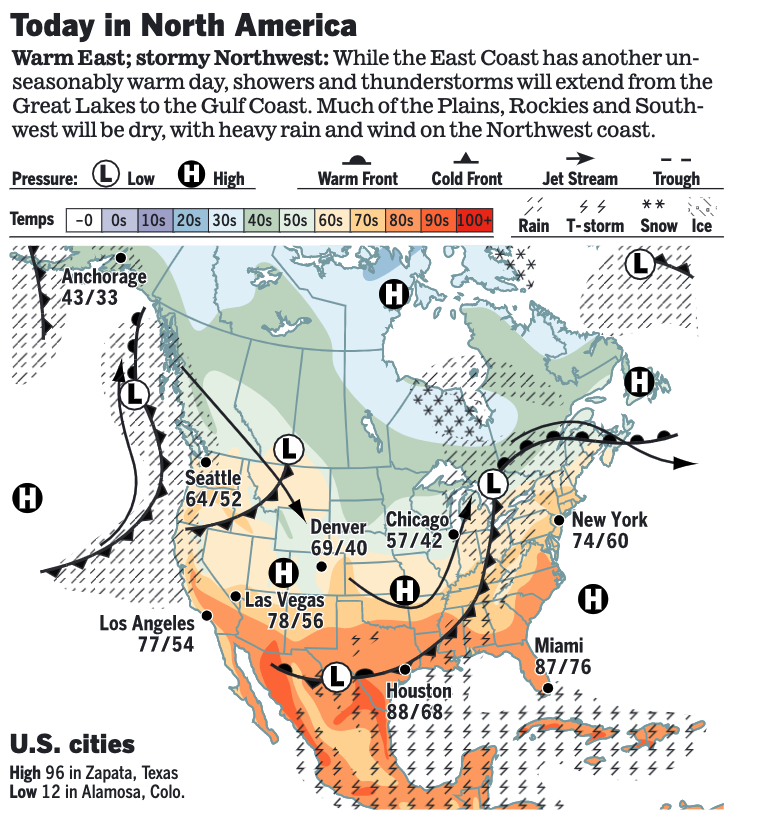 Items in Pro Farmer's First Thing Today include:
     • Grain and soy futures pull back overnight
     • Mexico will keep importing GMO corn from the United States
     • Strategie Grains raises EU wheat export forecast
     • Sinopec signs long-term supply deals for U.S. LNG with Venture Global
     • Slow trickle of cash cattle trade
     • Hog traders maintain pessimistic attitude
---
POLICY FOCUS
---
— Senate Democrats mull abandoning central tax elements of their social policy and climate package (Build Back Better/BBB), as Sen. Kyrsten Sinema (D-Ariz.) continues to oppose any increase in marginal rates for businesses, high-income individuals or capital gains, according to sources cited by the Wall Street Journal. Losing the rate increases would punch a significant hole in the Democrats' plans for funding the package, now expected to cost around $2 trillion over a decade. The House's corporate tax rate increase was projected to raise $540 billion over a decade, while the tax rate increases on ordinary income and capital gains would raise nearly $300 billion.
     Likely price tag of BBB. President Biden told Democrats that he believed they could secure a deal on a new tax-and-spending proposal between $1.75 trillion and $1.9 trillion, far less than the $3.5 trillion that some in the party initially sought
     White House officials meet with lawmakers. Brian Deese, the director of the National Economic Council, and Janet Yellen, the Treasury secretary, met with Sen. Ron Wyden (D-Ore.) and Rep. Richard Neal (D-Mass.), the top tax-writing lawmakers in Congress, to hash out possible alternatives on Wednesday. Tightening the net on U.S. companies' foreign earnings and enhancing tax enforcement by the Internal Revenue Service, are still under consideration. The White House is reviving the idea of a minimum corporate tax rate, similar to the 15% rate Biden had proposed earlier this year. That's even for companies that say they had no taxable income — a frequent target of Biden who complains that they pay "zero" in taxes. There could be a new billionaires' tax, modeled on legislation from Sen Wyden, who has proposed taxing stock gains of those with more than $1 billion in assets — fewer than 1,000 Americans. Reports note that Sen. Sinema seems open to taxing the rich with a "mark-to-market" scheme that would tax investments yearly at market rate instead of at the sale of the asset. This could net hundreds of billions of dollars in revenue.
     Background. The White House and party leaders in Congress have been planning an increase in the corporate tax rate to at least 25% from 21%, along with increases in individual income and capital gains tax rates for the richest households. In the House, Democrats have proposed raising the corporate tax rate to 26.5%, moving the top individual rate to 39.6% from 37% and increasing the top capital-gains rate to 28.8% from 23.8%. Their plan would also add a 3% surtax on income above $5 million.
     The House bill would limit deductions for business losses, lower the estate-tax exemption, restructure the tax rules for U.S. companies' foreign income and enhance efforts to collect more taxes owed but not paid.
     Democrats appear to have dropped only two programs from their original plan: an entitlement for community college, and a nationwide renewable fuel mandate known as the Clean Electricity Performance Program (CEPP) — essentially a carbon tax disguised as regulation.
     What's in the package: At least $500 billion to battle climate change, $350 billion for childcare subsidies and free pre-kindergarten, a new federal program for at least four weeks of paid family leave, a one-year extension of the $300 monthly child tax credit put in place during the Covid-19 crisis, and funding for health care provided through the Affordable Care Act and Medicare. Biden also wants to ensure funding for health care programs, including for home- and community-based health care services, supporting a move away from widespread nursing home care. And a new program to provide dental, vision and hearing aid benefits to people on Medicare proposed by Sanders, is likely to remain in some fashion. Biden has told lawmakers that after his top priorities there would be $300 billion remaining.
     SALT cap changes in play. The scaled-back spending package Democrats could still include a measure to expand or temporarily remove the cap on the federal deduction on state and local taxes. Rep. Neal said addressing the $10,000 limit imposed by Republicans in their 2017 overhaul is still on the table. "Yes, it has to be," Neal said when asked about it. Latest possibilities: (1) Cut the marriage penalty on the SALT deduction, allowing married couples to double their deduction. (2) Raise the cap by a few thousand dollars, rather than eliminate it entirely. (3) Raise the deduction cap over 10 years, but (since the cap is set to expire in late 2025) use savings over time to make it revenue-neutral.
---
AFGHANISTAN
---
— Afghanistan's new Taliban rulers want to convene a United Nations donor conference to help the country stave off economic collapse and a humanitarian catastrophe. At recent talks in Moscow, the leaders won backing for the idea from 10 regional powers, including Russia, China, Pakistan, India, Iran and five formerly Soviet Central Asian states. Now, the group is calling for the U.N. to organize such a conference as soon as possible.
— Women who once served as judges in Afghanistan are in hiding, fearing retaliation from the men they sentenced. Link to details via the New York Times.
---
BIDEN ADMINISTRATION PERSONNEL
---
— Senate Ag schedules hearing on Behnam nomination as CFTC chair. The Senate Agriculture Committee will hold a hearing Wednesday, Oct. 27, on President Biden's nomination of Rostin Behnam to be chairman of the Commodity Futures Trading Commission (CFTC). Behnam, a Democrat who previously worked for Sen. Debbie Stabenow (D-Mich.) on the Senate Agriculture Committee, has been the acting chairman of the commission since January 21.
— Senate panel clears FMCSA deputy administrator. Federal Motor Carrier Safety Administration (FMCSA) Deputy Administrator Meera Joshi was confirmed Wednesday morning by the Senate Committee on Commerce, Science and Transportation to be named Administrator of the agency, moving her one step closer to the agency's top role. She was approved by the Committee by a 22-6 vote in favor of her confirmation. Joshi will still need to be confirmed by the full Senate before officially being named FMCSA Administrator.
— Highway safety nominee. President Joe Biden announced he is nominating Steve Cliff to be Administrator of the National Highway Traffic Safety Administration. Cliff has served as deputy administrator of the agency since February. He joined the staff of the California Air Resources Board in 2008 and held various positions until 2014 when he was appointed to the California Department of Transportation as the inaugural Assistant Director for Sustainability. He returned to CARB in 2016 as senior advisor to CARB's board chair.
---
CHINA UPDATE
---
— Big U.S. soybean sales to China in most recent week. USDA Weekly Export Sales data for the week ended Oct. 14 showed big U.S. soybean sales activity to China. Sales of U.S. soybeans to China totaled 1,884,405 tonnes (included 562,000 shifted from unknown destinations) for 2021-22, driving total net sales for the week to all destinations of 2,787,400 tonnes. Other activity for China included net sales of 272,822 running bales of upland cotton, 6,792 tonnes of corn and 127,330 tonnes of U.S. sorghum. Sales of 50,000 running bales were also reported for 2022/-23. Net sales for 2021 of 1,609 tonnes of beef and 175 tonnes of U.S. pork were reported.
— China is reversing course on earlier ambitions to curb coal use and setting new policies to revive production and imports of the electricity-generating fuel, the WSJ reports (link). As winter looms, the nation's top economic planner this week said it would use "all necessary means" to roll back record-high coal prices. It has ordered all coal mines to operate at full capacity even during holidays, issued approvals for new mines and ordered major coal production bases in north and northwestern China to lower prices. China's rollback of restrictions on mining and imports of coal might help stem soaring global fuel prices that were driven up by factors including a post-pandemic economic recovery, transport bottlenecks and low stocks. Beijing's push to meet tougher environmental targets aggravated the shortage of coal.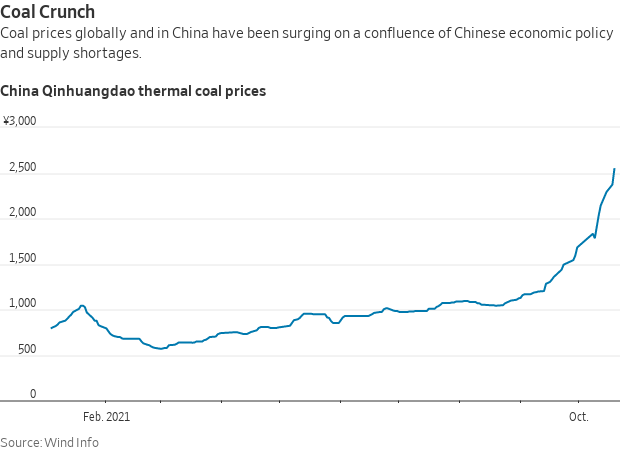 — Sinopec signs long-term supply deals for U.S. LNG with Venture Global. China will buy at least 4 million tonnes per year of liquefied natural gas (LNG) from Venture Global's proposed export project in Plaquemines Parish, Louisiana, under two long-term supply deals signed with Sinopec, according to the Financial Times, with the location expected to come on line in mid-2023. The first would involve 2.8 million tonnes per year of LNG and the second 1.2 million tonnes per year, both over 20 years. The paper also reported that Sinopec's trading arm Unipec signed an agreement with Venture Global that will involve shipments of 1 million tonnes per year from the firm's Calcasieu LNG plant which is to start initial exports later this year. The deals could mean eventual shipments of 5 million tonnes per year to China. According to documents filed with the Department of Energy, the deals were reached Sept. 1.
— Evergrande, a Chinese property giant teetering on an Everest of debt, inched nearer to the precipice, as its shares began trading again following a suspension. It said it had failed to sell a majority stake in a profitable, $2.6 billion subsidiary. Its share price had fallen by 80% this year; it lost more than 14% of its remaining value when the Hong Kong bourse opened today, despite a big creditor offering a three-month extension on a defaulted bond.
---
TRADE POLICY
---
— Homebuilders ask for lifted tariffs on imported materials. U.S. homebuilders want the Biden administration to temporarily lift tariffs on China and Canada to ease supply-chain bottlenecks that are hurting housing affordability. The Biden administration and Congress "should temporarily suspend duties on a wide array of imported building materials and goods, from Canadian softwood lumber to Chinese steel and aluminum," National Association of Home Builders head Chuck Fowke said.
— Mexico's Agriculture Minister Villalobos, USDA's Vilsack say Mexico will keep importing U.S. GMO corn. Mexico will continue to import U.S. GMO corn, according to statements made by Mexican Agriculture Minister Victor Villalobos and USDA Secretary Tom Vilsack after meeting Wednesday in Iowa. "We will continue requiring and demanding yellow corn from the United States," the Mexican official told reporters, noting the country depends on yellow corn for "agro industries." He also commented that Mexico is "not going to avoid or we are not going to limit the importation of offered GM (genetically modified) corn from the United States. We need that, and we depend very much."
     However, Mexico will not allow GMO corn to be grown in the country.
     Vilsack told reporters he "was certainly pleased to hear from the secretary an understanding that while there may be decisions made in Mexico not to cultivate (genetically engineered) corn, it doesn't limit the ability of Mexico to import GE corn," Vilsack said. "And what the secretary (Mexican ag minister) has assured me is that market continues to be open. That's what people here have to understand is that the corn they are raising is still being imported into Mexico even though its GMO." He also noted that Mexico "can't produce enough for their needs."
     Background. The import situation had been in flux since a presidential decree that sets the stage for a halt to GMO corn imports that was expected to apply to food uses for the corn. But there has been some confusion as some have suggested the coming ban could apply to feed corn as well, a situation that could create a major support issue for Mexico.
     Upshot: The comments from Vilsack and Villalobos suggest that the Mexican imports of U.S. corn for feed use in Mexico will continue. There were no comments from Vilsack or Villalobos at this stage on GMO crop approvals that have also been in flux. That will be the next important issue to be monitored.
— Britain and New Zealand struck a free-trade deal, removing tariffs on goods ranging from clothing to mechanical equipment, and broadening access for tech and services firms. Their cross-border trade stood at £2.3 billion ($3.2 billion) last year. Britain is chasing similar agreements far and wide, having left the EU in January last year. Japan has already signed one; Australia is close.
— U.S., others blast China trade policy as WTO conducts review of their joining the trade body. The WTO this week is conducting its eighth review of China's membership in the WTO some 20 years after the country joined the trade body. But the U.S. and other countries offered few laudatory assessments of China's actions over that time. "The United States' most fundamental concerns with China's trade regime involve China's industrial policies," U.S. WTO Charge d'Affaires David Bisbee said in remarks during the Wednesday (October 20) session. He argued China's development policies go beyond "guiding and supporting domestic industries" as is the case for many other WTO members and instead "skew the playing field against imported goods and services and foreign manufacturers and services suppliers through an array of supporting measures." While the U.S. has engaged with China on trade issues via the WTO and bilaterally, Bisbee declared that has resulted in "modest changes" when China has made good on its promises.
     Another issue, he noted, was that China has opted only to address specific practices, and not the underlying policies that have prompted the complaints. While noting the Phase 1 agreement with China resulted in "some progress," Bisbee stated that "our most fundamental concerns with China's trade regime remain unaddressed."
     Other countries levied criticism on China's actions, including Australia which cited trade aggression by China that has been deployed against the country in several areas. A lack of transparency was also cited by the U.K. while the European Union (EU) said China had not made the level of trade and economic reforms that were expected when China acceded to the WTO in 2001.
     The TPR continues through Friday, with China expected to offer a more-detailed rebuttal of the issues raised by WTO members. Its initial defense indicated they have opened their economy more since joining the WTO and insisted that the country has not prioritized its own development over the interests of other countries. 
---
ENERGY & CLIMATE CHANGE
---
— Putin will be a no-show at COP26 confab. Vladimir Putin, the Russian president, said he would not attend the U.N. climate summit in Glasgow Oct. 31-Nov. 12. The Kremlin announced Wednesday that Putin won't attend the G20 meeting on Oct. 30 or COP26, instead hoping to appear via video.
— White House launches a new website (link) to highlight the National Climate Task Force's work, allowing the public to track the administration's actions to combat climate change all in one place. With the odds shrinking rapidly that Congress passes major climate policies as part of its reconciliation bill in time for the U.N. climate summit Oct. 31-Nov. 12, the administration has been aggressively touting executive action on the issue.
---
LIVESTOCK, FOOD & BEVERAGE INDUSTRY
---
— Immigration and hogs? To ease a severe backlog of pigs awaiting slaughter, the U.K. is loosening immigration rules to allow visas for foreign butchers. It will also enable meat processors to store slaughtered pigs for up to six months so that they can be preserved and processed later. The move is aimed at supporting an industry struggling with a glut of hogs and a shortage of workers to process them.
---
CORONAVIRUS UPDATE
---
— Summary: Global cases of Covid-19 are at 242,132,659 with 4,924,031 deaths, according to data compiled by the Center for Systems Science and Engineering at Johns Hopkins University. The U.S. case count is at 45,219,067 with 721,265 deaths. The Johns Hopkins University Coronavirus Resource Center said that there have been 408,265,959 doses administered, 189,141,418 have been fully vaccinated, or 57.6% of the U.S. population.
— Of note: 33.8% is the percentage of expectant mothers between the ages of 18 and 49 in the U.S. that are fully vaccinated against Covid-19. That's about half the vaccination rate among all Americans over 12 years old.
— FDA authorizes Covid-19 boosters from Moderna and J&J. Now every Covid-19 vaccine authorized in the U.S. also has a booster. And people who took one company's shot to get vaccinated could choose to get a booster dose made by a different company. People at high risk and those over 65 who were jabbed with Moderna's shot are eligible; so is anyone over 18 who got the J&J vaccine. FDA approved a third, half-dose Moderna booster for seniors and others at high risk six months after their last shot. Recipients of J&J's single-shot vaccine can get a second dose after at least two months. Now the CDC will weigh in. If it signs off, new boosters could be available within days. A CDC advisory panel is set to meet today.
     A booster shot of the BioNTech/Pfizer vaccine is 95.6% effective against Covid-19 compared with those receiving two shots and a placebo, the companies said on Thursday, citing preliminary results from the first randomized, controlled trial on boosters.
— Russian President Vladimir Putin ordered people to stay off work for at least a week while Latvia has introduced a monthlong Covid-19 lockdown as deaths climb, driving renewed fears of another wave of infections as winter sets in. Other European countries, notably the U.K., have recently recorded a rise in coronavirus cases, triggering concern over a fourth wave of the virus taking hold as winter approaches.
---
POLITICS & ELECTIONS
---
— Latest poll shows tie in Virginia gubernatorial. The race between Democrat Terry McAuliffe and Republican Glenn Youngkin for governor of Virginia has narrowed to a tie just two weeks ahead of Election Day, according to a new poll. A Monmouth University poll showed both men with 46% support as Youngkin, a former Carlyle Group CEO, has cut into McAuliffe's lead by pulling in independents and women.
— Donald Trump said he will "take on Big Tech" by launching a social-media platform of his own. Twitter banned the tweeting then-president after the Capitol riot in January, and Facebook followed suit. His new company, to be called Truth Social, will be created from a merger between an existing Trump media outfit and a special-purpose acquisition company or SPAC. Trump said he was teaming up with Digital World Acquisition Group to form a publicly traded media group to rival the "liberal media consortium." Digital World is led by Patrick Orlando, a former Deutsche Bank executive. Truth Social plans to begin a beta launch for invited guests in November. A nationwide rollout is expected in Q1 2022.
---
CONGRESS  
---
— Senate Republicans block Democrats from taking up revised voting-rights legislation. The vote was 49-51, falling short of 60-vote threshold to proceed to the legislation. All Democrats voted to cut off debate and advance the "Freedom to Vote Act," but Republicans were united in opposition, leaving it short of the 60 required votes. Senate Majority Leader Chuck Schumer (D-N.Y.) then changed his vote to no, making the final tally 49 in favor and 51 opposed. Schumer's parliamentary maneuver would enable him to bring the bill up again at a later date, but the matter is considered moot in this Congress, unless Democrats change the Senate filibuster rule, something Sen. Joe Manchin (D-W.VA.) said he would not support.
— GOP Rep. Jeff Fortenberry (R-Neb.) is stepping down from his committee assignments one day after being indicted, according to a letter from Fortenberry's office to Speaker Nancy Pelosi (D-Calif.). Fortenberry is adhering to House GOP conference rules, which state that members facing felony indictment with charges that could result in two or more years in prison must resign from their committees and any chair or ranking member positions. If Fortenberry is acquitted, GOP Conference Chair Elise Stefanik (R-N.Y.) could take steps to reinstate Fortenberry at the same seniority, unless the GOP Conference decides otherwise within 10 legislative days. The same rules apply if his charges are dismissed or reduced.
— Contract library for cattle producers. Reps. Frank Lucas (R-Okla.), Dusty Johnson (R-S.D.) and Henry Cuellar (D-Texas) introduced a bill that would direct USDA to establish a contract library for cattle producers. The measure will be marked up by the House Agriculture Committee this morning. The proposed legislation would set up a contract library within the USDA Agricultural Marketing Service for cattle producers. The contract library was among recommendations in a report from Texas A&M University on cattle markets. The effort would be like one already maintained by USDA for hogs/pork, something that supporters of the concept say has provided more transparency for hog producers. It is an issue where there is broad support, including groups or organizations that often find themselves on opposite ends of issues. That and solid bipartisan support could up the odds for the measure being included relative to updates to the Livestock Mandatory Price reporting program.
---
OTHER ITEMS OF NOTE     
---
— U.S./Mexico border. U.S. border authorities arrested a record number of migrants along the border with Mexico during the recently ended 2021 fiscal year according to unpublished data seen by the Washington Post (link). The 1.66 million migrants arrested breaks the record set in 2000, when the U.S. Border Patrol made 1.64 million arrests. The increase appears to be driven by two factors: An overall rise in migration toward the United States in the months following President Biden's inauguration as well as an upsurge in repeat illegal crossings after migrants are initially expelled.
— Vilsack on appearing at a strike site new Des Moines re: John Deere: "The UAW is important to me," said USDA Secretary Tom Vilsack, noting they supported him in his bid for governor when he was behind in that race. "You don't forget the people who were with you." Vilsack appeared at a strike site near Des Moines. "I just wanted to stop by to let you know that I haven't forgotten 23 years ago," he said on the picket line. "I'm here today for you."
— Vilsack: seed sector next on the competition front. Some lobbyists in the U.S. seed industry keep saying (or hoping) that the Biden administration would not focus on their industry. But USDA Secretary Tom Vilsack did not put their concerns to rest. Vilsack told reporters in Iowa Wednesday that the Biden administration would next look at concentration in the U.S. seed industry as part of the executive order issued by President Joe Biden covering competitiveness in agriculture and other sectors. Vilsack said the exam of the seed industry would be to see why "it's structured the way it's structured." He also raised questions about the length of patents that are granted on seed traits, saying, "You wonder whether these long patents make sense."
---