Ahead of the Open | September 8, 2021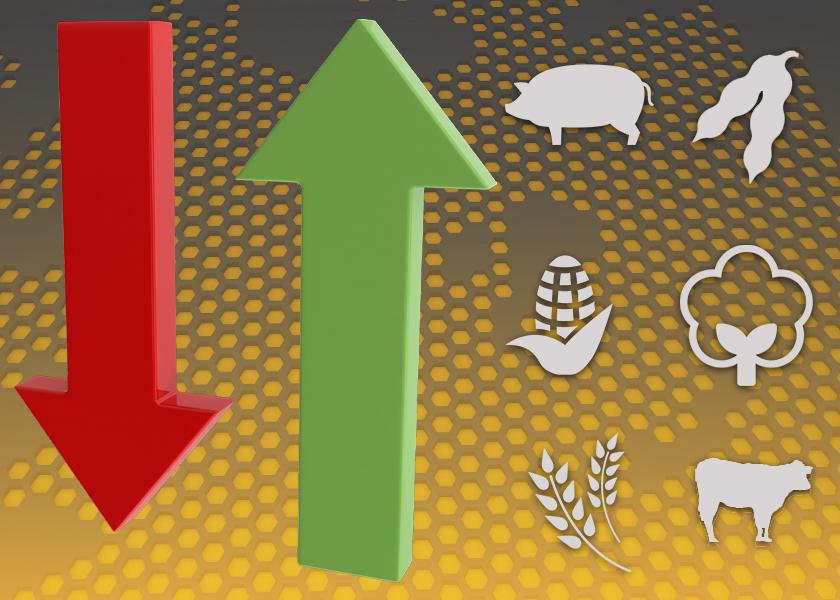 GRAIN CALLS
Corn: 2 to 6 cents higher.
Soybeans: 2 to 9 cents higher.
Wheat: SRW steady to 2 cents higher, HRW, spring mixed.
GENERAL COMMENTS: Corn futures were higher in overnight trading after USDA's weekly crop ratings unexpectedly declined. Soybean futures also firmed amid hopes for export demand. SRW wheat futures gained slightly while HRW and spring wheat were weaker. Nymex crude oil futures gained nearly $1. The U.S. dollar index rose to the highest level in a week.
USDA announced a daily sale of 106,000 MT of soybeans to China for the 2021-22 marketing year.
Grain exports from U.S. Gulf Coast terminals in southern Louisiana remained severely limited early this week, even after the U.S. Coast Guard reopened the lower Mississippi River to shipping traffic over the weekend, Reuters reported. A large terminal near Baton Rouge owned by Louis Dreyfus resumed loading export vessels. But ongoing power outages kept most of about a dozen other terminals in the area shuttered, more than a week after Hurricane Ida roared through the area. Export inspections last week of U.S. soybeans were the lowest in seven years.
Ukraine has exported 9.53 million metric tons (MMT) of grain since July 1, including 5.33 MMT of wheat, 2.88 MMT of barley and 1.28 MMT of corn. At this point last year, Ukraine had exported 8.86 MMT of grain. Ukraine's ag ministry expects the country to export 60.7 MMT of grain in 2021-22, including 23.8 MMT of wheat, 30.9 MMT of corn and 5.2 MMT of barley.
South Korea passed on an international tender to buy 69,000 MT of corn, 65,000 MT of feed wheat and 15,000 MT of feed barley. Japan is seeking to buy 80,000 MT of feed wheat and 100,000 MT of feed barley. Results of Jordan's tender to buy 120,000 MT of wheat are expected later today.
CORN: After the close yesterday, USDA reported 59% of the U.S. corn crop in "good" or "excellent" condition as of Sept. 5, down from 60% the previous week and one percentage point lower than analyst expected. About 74% of the crop was dented as of Sept. 5, USDA said last week, above the 69% average at this point the previous five years. When USDA's weekly condition ratings are plugged into the weighted Pro Farmer Crop Condition Index (CCI; 0 to 500-point scale, with 500 representing perfect), the corn crop slipped 0.3 point to 355.3 points, 9.7 points below the five-year average.
Technical patterns have turned substantially bearish, after December futures fell yesterday fell to $5.10 3/4, the new-crop contract's lowest settlement since $5.04 1/4 on April 13. A drop under the July intraday low of $5.07 may spur further selling; other key chart levels include the 200-day moving average around $5.04 and the May low at $5.00 1/4.
SOYBEANS: USDA reported 57% of the U.S. soybean crop in "good" to "excellent" condition as of Sept. 5, up from 56% the previous week but down from 65% a year ago. The latest rating met trade expectations. When USDA's weekly condition ratings are plugged into our weighted CCI, the soybean crop declined a half-point to 345.6 points, 12.5 points below the five-year average. Soybean traders await USDA's reports on Friday in which the agency is expected to boost its crop estimate.
WHEAT: The U.S. spring wheat harvest was 95% complete as of Sept. 5, up from 88% the previous week. December spring wheat fell as low as $9.05 overnight and has held within a range of between just under $8.90 and $9.27 since mid-August. In winter wheat, market bulls have a near-term technical advantage but are fading. Upside price objectives include closing December SRW futures above solid technical resistance at $7.50. Downside objectives including closing below solid technical support at $7.00
LIVESTOCK CALLS
CATTLE: Steady-mixed.
HOGS: Steady-mixed.
CATTLE: Cattle futures could face followthrough selling after October live cattle futures closed at a three-month low yesterday as beef prices extended a recent slump and a technical breakdown on daily charts fueled fund selling. Choice cutout values fell $1.23 yesterday to a three-week low of $335.19, on movement of 109 loads. Initial cash cattle bids and asking prices weren't established on Tuesday, signaling this week's cash trade may be slow to develop. Packers are thought to be well bought ahead on slaughter needs and given the sharp drop in cattle futures yesterday and sluggish retailer buying of beef recently, traders anticipate cash prices will be weaker this week. Live steers in top feedlot regions averaged $125.61 last week, down 13 cents from the previous week but up 22% from $103.12 for the same week a year earlier.
Market bulls have surrendered the technical advantage as a three-month-old uptrend on the daily bar chart has been negated. October live cattle yesterday fell as low as $123.675, the contract's lowest intraday price early June and near the 200-day moving average, just above $123.00.
HOGS: Hog futures could also face followthrough selling after October lean hog futures yesterday dropped $1.475 to post the contract's lowest settlement in almost two weeks. Sliding wholesale pork prices and expectations for higher supplies continue to burden the market. Average carcass cutout values fell $2.48 yesterday to an average of $105.67, the lowest daily price since March 22. The CME lean hog index will be quoted down 76 cents at $99.30 today, the lowest in over five months, and will likely continue dropping, as the average nation direct cash hog price dropped another $1.29 yesterday. Still, October futures' already-wide discount to the index widened further yesterday (to nearly $12), suggesting excess market pessimism. Chart levels to watch in October hogs include $86.05, the lowest price since mid-August, and $91.425, a three-week high reached Aug. 30.