Ahead of the Open | October 27, 2021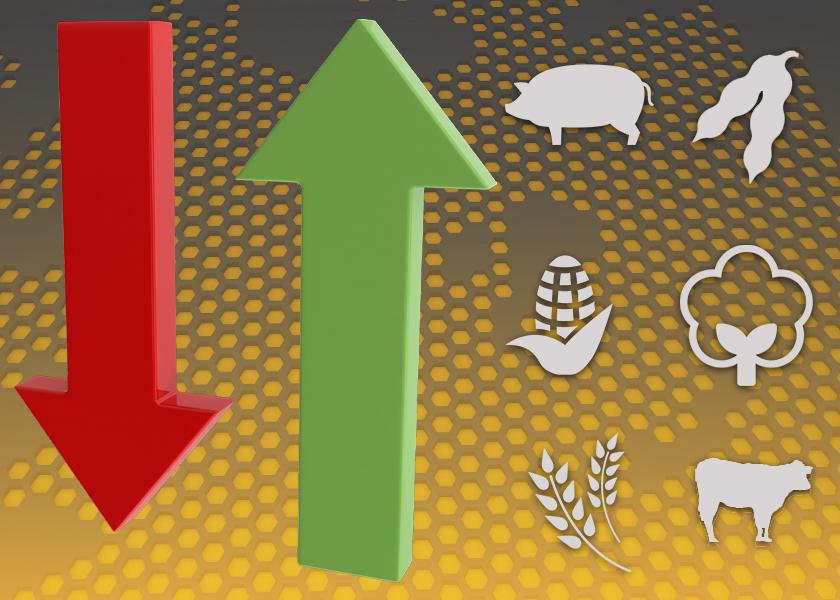 GRAIN CALLS
Corn: 2 to 4 cents lower.
Soybeans: 6 to 8 cents lower.
Wheat: 1 to 4 cents lower.
GENERAL COMMENTS: Grain and soy complex futures fell overnight under mild profit-taking pressure following gains earlier this week. Malaysian palm oil futures fell for the first time in three days, while front-month Nymex crude oil futures declined more than $1. The U.S. dollar index is down slightly this morning.
A large, strong upper-level low pressure area is expected to develop and strengthen tonight through tomorrow in the central U.S., leading to "significant" rainfall in much of the Corn Belt, Delta and the eastern half of the Northern Plains, World Weather Inc. said. "Harvesting delays will result," the forecaster said.
Bunge Ltd. reported stronger-than-expected third-quarter results and raised its full-year profit outlook for a third time this year amid improved demand for food and renewable fuel as pandemic restrictions have eased. Although volumes in Bunge's core agribusiness and its refined and specialty oils units were down, robust oilseed processing margins propelled improved earnings.
Russia's grain export taxes that were updated today will run through Nov. 9 due to a federal holiday from Oct. 30-Nov. 7. That means the export tax on wheat will be $67 per metric ton for the next two weeks. Typically, the sliding export duty is calculated on a weekly basis.
Since July 1, Ukraine has exported 18.2 MMT of grain, up 2.7 MMT (17.4%) from the same period last year. The grain exports included 11.7 MMT of wheat, 4.2 MMT of barley and 2 MMT of corn.
CORN: December futures overnight fell as low as $5.39 1/2, after posting an outside day higher on the daily chart on Tuesday. Downside may be limited on beliefs the market has established a harvest low. Addition rain forecast this week will bog down harvest efforts in some part of the Midwest, but progress overall is running ahead of the average pace. Traders await tomorrow's USDA export sales data. Upside chart objectives for market bulls include closing December futures above solid resistance at $5.50, with resistance also seen at yesterday's high of $5.47 1/4 and at $5.48 1/2.
SOYBEANS: November soybeans fell as low as $12.27 overnight after gaining 3/4 cent yesterday to $12.38, within the trading range of the past week. The market appeared to establish a near-term low two weeks ago, but likely needs fresh export business to drive sustained gains and break above resistance at last week's highs. Chart levels to watch include last week's high at $12.49 1/2 and the 40-day moving average around $12.56 1/4.
WHEAT: December SRW futures overnight fell as low as $7.45, a low for the week. December HRW fell as low as $7.71 1/2, after rising yesterday to $7.90, the highest intraday price for a nearby contract since May 2014. Recent rains brought some relief to parts of the U.S. Plains, but dry conditions remain a concern. Last night's GFS model run reduced expected precipitation for the HRW region and central Texas through the southern Corn Belt Nov. 3-7, World Weather Inc. said.
LIVESTOCK CALLS
CATTLE: Steady-firm
HOGS: Steady-weak
CATTLE: December live cattle posted a breakout rally to an eight-week high yesterday that should portend followthrough strength, assuming continued firmness in cash cattle and an apparent bottoming in wholesale beef. Choice cutout values rose $1.72 yesterday to $284.76, the highest since $285.30 on Oct. 7. Movement totaled about 136 loads. Cash cattle prices are expected steady to firmer this week as feedlot operators appear to be gaining leverage against packers. There are reports of $124 bids in the southern regions and $126 in the north. Dressed steer weights are also on the decline, which is a positive. December live cattle yesterday rose $1.925 to $131.45, the highest closing price since $132.20 on Sept. 2. Upside targets include closing December futures above resistance at $134.00. Other chart levels to watch include last week's low at $128.25 and the 100-day moving average around $131.20.
HOGS: Futures may see followthrough pressure from yesterday's tumble to six-week lows, though the market is nearing oversold territory, based on technical indicators. Cash fundamentals remain weak, with pork cutout values declining 26 cents yesterday to an average of $94.32, the lowest since $91.41 on March 3. Today's CME lean hog index dropped 32 cents to $82.66, the lowest since $82.63 on March 1. Carcasses on national direct markets averaged $63.81, up 15 cents. December lean hogs yesterday fell to $72.575, the lowest closing price since $72.25 on Sept. 15. Lean hog bears have a solid near-term technical advantage, with downside objectives including closing December futures below support at the September low of $71.275.