Ahead of the Open | June 3, 2021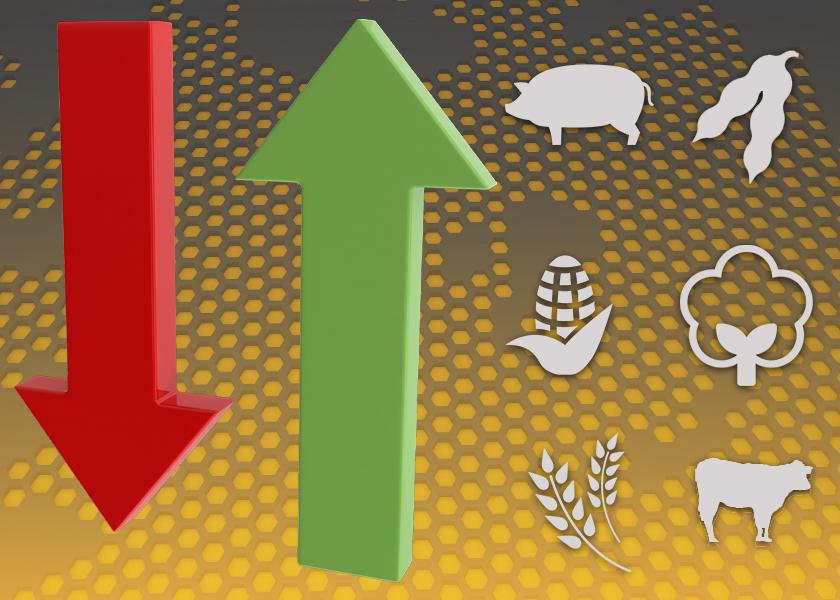 GRAIN CALLS
Corn: 6 to 9 cents higher.
Soybeans: 15 to 20 cents higher.
Wheat: Spring wheat 13 to 16 cents higher; Winter wheat 7 to 10 cents higher.
GENERAL COMMENTS: Concerns over U.S. weather's impact on crops remains in trade focus. North America Rainfall was increased in a part of the Northern Plains and upper Midwest in today's forecasts, according to World Weather. Depending on the model, a high-pressure ridge axis over North America may shift more over the western Plains and near the front Range of the Rocky Mountains over the next two weeks. This scenario would reduce rain in Canada's Prairies and the northern U.S. Plains, while allowing some showers in the eastern and southern Midwest into the southeastern states with temperatures very warm to hot in the Rocky Mountain region and high Plains region into a part of western Canada.
Before the reopening, USDA did not announce any new private exporter sales this morning. The lack of new daily sales may limit new buying in corn and soybeans this morning.
Brazil minister warns efforts to ensure hydroelectric power will disrupt movement on Parana River. Yesterday, Brazil's Infrastructure said efforts to save water and direct it to power generation will inevitably disrupt navigation on the Tiete-Parana waterway. The country is dealing with its worst water crisis in nearly a century. Freitas will reduce the draft of ships on the Parana river basin, which will disrupt cargo movement from farm states like Parana and Mato Grosso do Sul to ports.
Global food prices climbed 4.8% from April to May, with prices now up a dramatic 39.7% from year-ago, according to the food price index released by the Food and Agriculture Organization of the United Nations (FAO). The monthly gain was the largest since October 2010. The index has climbed for 12 straight months, with the index now at its highest level since February 2011.
Pork prices still climbing, and average hog weights in the Iowa/southern Minnesota market fell 0.4 lbs. for the week ending May 29, to 283.1 lbs., which is well under year-ago, when Covid-related processing closures/pullbacks were backing up supplies. Slaughter improved to 439,000 head on Wednesday, USDA estimates. While that's still 44,000 head shy of last week at this point, it is up notably from Tuesday's estimated kill of 390,000 head when JBS facilities were shuttered. Cash hog bids edged 27 cents lower on Wednesday. And the pork cutout value climbed $2.61, with 344.59 loads changing hands. Pork prices have climbed for at four consecutive days, with movement rising alongside prices.
Live and feeder cattle futures posted sharp gains at midweek as JBS facilities came back online after an early week ransomware attack. USDA estimates yesterday's kill at 105,000 head, which is still 15,000 head shy of last Wednesday, but an improvement from Tuesday's estimated 94,000-head kill. Moderate cash cattle trade picked yesterday up in Iowa from $119 to $121, in Kansas and Texas mostly around $120 and in Nebraska from $120 to $122 yesterday. Prices were generally in line with trade the week prior. Early this week, some feared the drop in processing would lower cash prices.
Walmart will debut private label beef, with the launch of McClaren Farms two years after the retailer announced plans to develop an end-to-end supply chain for Angus beef.
China's services sector expansion slowed in May, a private sector survey showed on Thursday, with weaker overseas demand and increased costs putting pressure on businesses. The Caixin/Markit services Purchasing Managers' Index (PMI) fell to 55.1 in May, down from 56.3 in April but still well in expansionary territory. The 50-mark separates growth from contraction on a monthly basis. Also, China hailed on Thursday the resumption of "normal discussions" with the United States on the trade and economic fronts, apparently keen to move beyond a trade war as it said both sides aimed to resolve issues pragmatically.
Britain's Heathrow Airport will use sustainable jet fuel for the first time as part of a test ahead of a Group of Seven (G7) rich nations summit in the country next week. The fuel, produced by Finland's Neste NEST.HE and supplied by oil trader Vitol VITOV.UL, is made entirely of renewable and sustainable waste such as cooking oil and animal fat, the airport and companies said in a joint statement on Thursday. It cuts greenhouse gas emissions by up to 80% compared with regular aviation fuel, they added.
CORN: Futures are higher amid dryness concerns in the Midwest and robust export demand, which has overshadowed strong crop ratings. The U.S. corn crop was rated 76% "good" or "excellent" as of the beginning of the week, the USDA reported Tuesday. That was at the high end of analysts' expectations. Temperatures are expected to reach 90 degrees F in parts of the Midwest over the weekend, raising worries of stress on the young crop.
SOYBEANS: Last week's sell-off appears to have marked a near-term market bottom, with soybean bulls regaining some technical momentum. November soybeans overnight reached a three-week high at $14.38 3/4 a bushel. Weather patterns and extended forecasts continue to support the soybean futures market at mid-week. A strong high-pressure ridge will progress slowly eastward over the next nine days, which will limit rainfall and cause extreme heat with highs ranging from the upper 80s to the upper 90s in much of the Corn Belt. The early weather runs showed a ridge of high pressure strengthens and expands in the central U.S. June 8 – 15, which led to the decreases of rain in the forecast from June 11 to 16.
WHEAT: Spring wheat continues to lead the markets higher amid forecasts for temperatures near 100 degrees Fahrenheit in parts of the Northern Plains this week and dry weather is forecast the next two weeks. Concern over hot and dry weather in the northern U.S. Plains and southern Canada's Prairies is the market focus, with only limited rain potential for next week. U.S. spring wheat was rated just 43% "good" and "excellent" with 80% of the crop emerged.
CATTLE: Firmed
HOGS: Mixed
CATTLE: Futures remain supported by ongoing strength in beef prices. Choice boxed beef averaged $340.16 per hundredweight Wednesday, up $5.60 from yesterday and the highest since a pandemic-driven spike about a year ago. Relief that a ransomware attack on JBS, one of the top U.S. beef and pork processors, did not lead to sustained market disruptions also supported prices. JBS said it resumed operations at most slaughter plants Wednesday after the cyberattack forced a temporary shutdown at several.
On cash cattle markets, trading was slow to start the week in the Southern Plains, with insufficient purchases to discern a market trend. Live steers averaged $119.64 at the end of last week, according to the USDA. Slaughter numbers were expected to bounce back after the JBS shutdown resulted in a sharp decline in kills.
But Wednesday's cattle slaughter was an estimated 105,000 head, down from 120,000 head a week ago,
HOGS: As lean hog futures climb to levels last seen in 2014, export demand for U.S. pork is critical to extending the rally. Traders will have to wait until Friday for this week's USDA weekly export sales tallies, due to the Memorial Day holiday on Monday. Hog prices in China continue to fall. Even farms using their own piglets are now losing money. That may trim new Chinese purchases of U.S. pork. The ransomware attack on JBS that interrupted hog processing early this week appears to be past the market now. Cash hog prices yesterday rose $3.21 on a national direct basis. The pork cutout value climbed another $2.67 at noon Wednesday on movement of 221.30 loads.