Ahead of the Open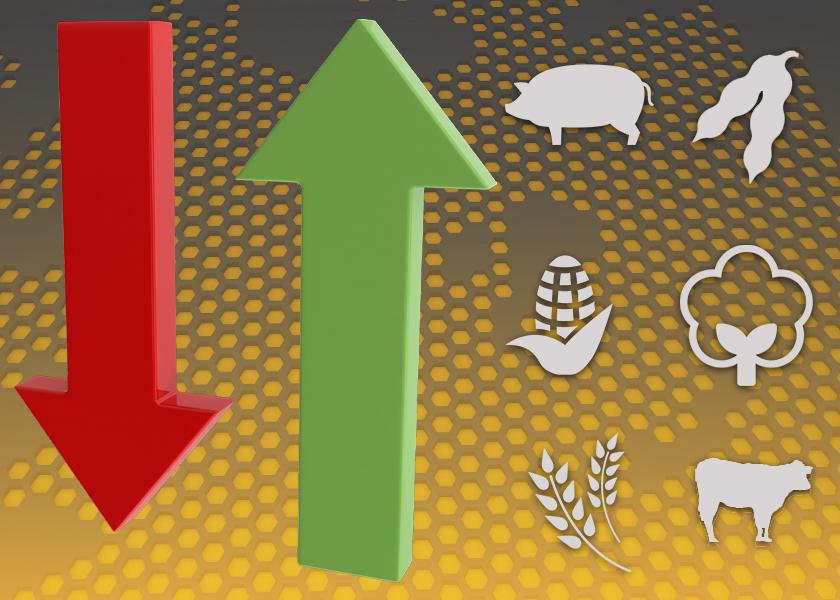 GRAIN CALLS
Corn: 9 to 12 cents lower.
Soybeans: 10 to 20 cents lower.
Wheat: 6 to 14 cents lower.
GENERAL COMMENTS:
Grain futures fell overnight amid profit-taking in the wake of steep gains earlier this week and expectations rainfall in the Northern Plains will aid the spring wheat crop. But hot temperatures and limited rainfall are expected in prime corn and soybean states over the coming week.
Temperatures are forecast to exceed 90 degrees F in Des Moines from Sunday through Friday, according to the Weather Channel, exacerbating drought or dry conditions gripping most of the top corn state. According to the U.S. Drought Monitor on Thursday, 89% of Iowa is currently impacted by abnormal dryness or drought, a 26.8-point surge from the week prior. Over half of Minnesota is also experiencing moderate to severe drought.
Rain fell on part of the Northern Plains and Canada's Prairies overnight and more is expected today mostly in Manitoba and eastern Saskatchewan, Canada, according to World Weather Inc. However, the heart of the U.S. Midwest "is not likely to see much rain during the next couple of weeks," although scattered showers of light intensity will occur, World Weather said today. Net drying is expected. A tropical cyclone in the Gulf of Mexico late next week may move into the U.S. Gulf coast at some point, but the storm will likely thwart Gulf moisture from getting into the Midwest. 
Oil prices are extending an eight-month rally as the global economy's ongoing recovery spurs demand. West Texas Intermediate crude oil futures overnight reached $70.80 a barrel, the highest for a nearby contract since October 2018. Crude futures have surged 46% since the end of 2020.
Faced with mounting pressure from labor unions and lawmakers from his home state, President Joe Biden is considering ways relieve U.S. oil refiners of their blending mandates under the Renewable Fuel Standard, according to an exclusive report from Reuters. In recent weeks, Democratic senators Chris Coons and Tom Carper of Delaware have held at least two discussions on the matter with Michael Regan, head of EPA, according to the three sources cited by Reuters.
Russia's ag ministry announced the duty on wheat exports will stand at $33.30 per metric ton for June 16-22. That's up $3.90 from the week prior but still under the set duty of 50 euros ($61) that was in place during the spring.
CORN:
December futures are poised to finish with a third consecutive weekly gain, even with the overnight losses. Weather-driven bullish sentiments were fueled by the USDA's latest Supply and Demand Report. USDA said that corn ending stocks in the 2020-21 marketing year that ends Aug. 31 will fall to an eight-year low of 1.107 billion bu., down from its May outlook for 1.257 billion bushels. For 2021-22, corn ending stocks were seen at 1.357 billion bu. compared with the May forecast for 1.507 billion bushels.
SOYBEANS:
As with the corn market, Midwest heat and dryness remains a prime focus. USDA raised its 2020-21 ending stocks figure for soybeans to a higher-than-expected 135 million bu., up from 120 million bu. last month but still a seven-year low. USDA also hiked projected ending soybean stocks for 2021-22 by 15 million bu. to 155 million bushels.
WHEAT:
Recent rains in the Northern Plains will boost the spring wheat crop, though the dryness threat has not been eliminated. Nearby spring wheat futures are poised for a lower close on the week. USDA's Supply and Demand figures for wheat carryout essentially matched expectations.
CATTLE: Steady-mixed
HOGS: Steady-mixed
Strong exports and high beef prices continue to underpin futures, but recent easing in boxed beef cutouts may portend a seasonal top. Choice beef cutout values fell 40 cents yesterday to $338.25. On cash markets, live steers averaged around $120 yesterday, slightly above last week's average of $119.92. USDA in its monthly Supply and Demand Report, boosted its estimate for U.S. beef exports this year to a record 3.34 billion lbs., up from 3.23 billion the previous month and up from 2020 exports of 2.96 billion pounds.
HOGS:
Prices remain in a strong uptrend, supported by robust demand and high pork prices. USDA in its monthly Supply and Demand Report hiked estimated U.S. pork exports for this year to a record 7.55 billion lbs., a 1.6% increase from the previous month and up 3.7% from 2020 exports. The CME lean hog index yesterday rose $1.20 to $119.91. On wholesale markets, pork carcass cutout values averaged $134.05, down 33 cents from the previous day but still up from $132.63 at the end of last week.