Ahead of the Open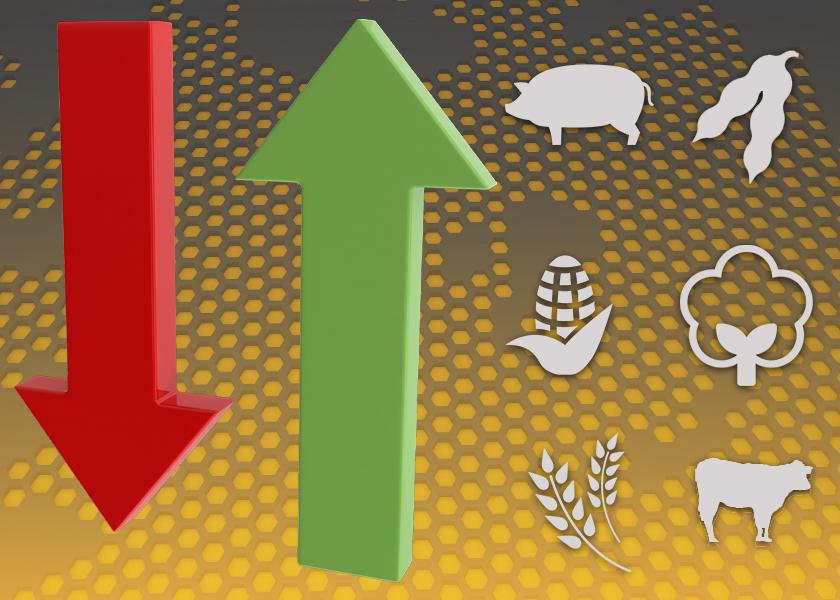 GRAIN CALLS
Corn: 5 to 12 cents lower.
Soybeans: 10 to 15 cents lower.
Wheat: 8 to 20 cents lower.
GENERAL COMMENTS:
Spring wheat futures led overnight price declines as rainfall brought relief to some dry areas of the Northern Plains, with potentially more rain ahead today through Friday. Rain also fell in the eastern Corn Belt over the past day, ranging from trace amounts in southern Illinois to over an inch in northeast Indiana, according to World Weather Inc.
Some weather models increased projected rainfall in southern Iowa and the central and northern Delta Friday into Sunday. Previously, those areas were in line for 0.05 to 0.5 inch but are now have potential for 0.5 to 1.5 inch, though the expected increase is "probably overdone," World Weather said.
Futures may also be under some pressure from profit-taking after sharp gains earlier this week as traders prepare for the USDA's next monthly Supply and Demand Report tomorrow.
Brazil is expected to export 11 MMT of soybeans during June, the association of grain exporters ANEC forecast. That compares to its forecast for the country to ship just shy of 15 MMT in May. ANEC also expects Brazil to export 1.96 MMT of soymeal this month.
Rising global prices have made Indian corn exports competitive, with the country shipping around 400,000 MT of corn to animal feed producers in Vietnam, Malaysia, Sri Lanka and Bangladesh in June and July, according to Reuters. Indian corn is being quoted at $295 to $300 per metric ton, including cost and freight (C&F), for sale to Southeast Asia as compared with $330 a MT, C&F, for South American corn, the two trading sources said.
China's producer price index (PPI) added 9% in May, data from the National Bureau of Statistics showed today, its biggest year-on-year increase since September 2008 and higher than economists' forecasts. Chinese PPI has been pushed higher by commodities and raw materials, which form a core part of the index.
The World Bank boosted its forecast for global economic growth, with Covid-19 vaccinations and massive government stimulus in rich countries expected to power the fastest worldwide expansion in nearly five decades. It now forecasts the world economy will grow 5.6% this year, up from the 4.1% it forecast in January. The global economy last year shrank 3.5%.
CORN:
December corn futures fell as low as $5.94, nearly closing a gap on the daily chart from the overnight rally Monday. The gap remains between the overnight low and last Friday's high of $5.92 3/4. Bulls still appear to hold near-term technical advantage, with additional support around the 10-day average at $5.58 3/4. Near-term resistance extends from yesterday's high at $6.06 to the contract high at $6.38. Choppy, volatile trade typical of a weather market is likely to continue.
SOYBEANS:
Traders await USDA's Supply & Demand Report. The U.S. crop is mostly planted, though weaker-than-expected crop rating stirred concern over the impact of recent Midwest heat. On the charts, bullish traders eye the November contract high of $14.80 reached June 7.
WHEAT:
Declining conditions in the spring wheat crop have been pushed aside for now as rains roll through the Northern Plains. Recent price action suggests short-term tops are in place and an extended price pullback is possible. September HRS futures closed yesterday below the five-day moving average and spiked the 10-day average overnight, with more critical support being the June 1 gap from $7.50 to $7.41 1/2. Near-term resistance starts at the five-day average near $7.90 and extends to Monday's contract high at $8.45 3/4.
CATTLE: Steady-weaker
HOGS: Steady-firmer
Choice boxed beef cutout values yesterday averaged $338.61 per hundredweight, down 1 cent from Monday. Cutout values are down from a 12-month high of $340.55 on June 3, but still up 61% from about $210 at the end of 2020. The recent downtick in beef prices may suggest restaurants and retailers have mostly satisfied their near-term needs. Downside may be limited by futures' discount to cash cattle. Live steers yesterday averaged $120 in major feedlot regions, compared to an average of $119.92 last week, USDA data showed. Feeder cattle should find some support from declines in corn.
HOGS:
Futures are expected to remain supported by firming cash fundamentals. The average national direct cash carcass price rose $1.93 yesterday to $112.34, while the pork cutout value rose 21 cents to $134.94. The cutout value is nearing the all-time high of $137.56 reached in July 2014. Despite the $4 to $7-plus premiums summer-month hog futures hold to the cash index, the downside will be limited to corrective selling until cash fundamentals show signs of a seasonal top in prices.