Ahead of the Open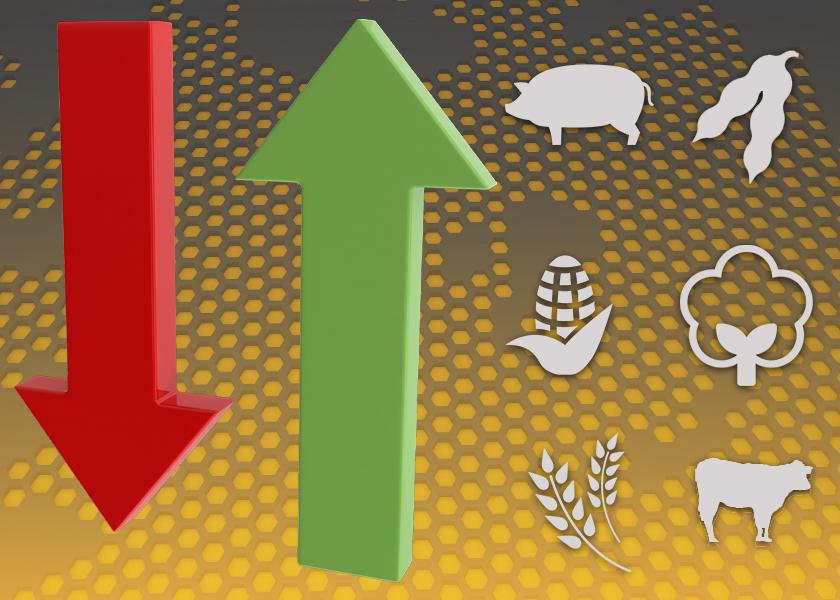 Pro Farmer's Ahead of the Open
GRAIN CALLS
Corn: 19 to 25 cents higher.
Soybeans: 27 to 35 cents higher.
Wheat: 12 to 15 cents higher.
GENERAL COMMENTS:
Grain and soybean futures soared overnight on concerns over extreme heat and dryness in the U.S. Midwest, particularly in western and northern areas. Temperatures topped 90 degrees F in parts of the Corn Belt over the weekend, and limited rainfall is expected in both the Northern Plains and the western U.S. Corn Belt this week, though the lower and eastern Midwest, Delta and Southeast are expected to get rain and milder than usual temperatures, according to World Weather Inc.
Trade will scrutinize the USDA's next weekly crop progress report, scheduled for release after today's close, for any signs of crop deterioration. USDA rated 76% of the corn crop in "good" or "excellent" condition at the start of last week. USDA will release its first national soybean crop ratings this afternoon.
China imported 9.61 MMT of soybeans in May, up 29% from April and 2.4% more than last year. Through the first five months of this year, China imported 38.2 MMT of soybeans, up 12.8% from the same period last year.
In Argentina, grain customs workers plan a short strike. Customs officials who process grains exports from Argentina plan to hold a seven-hour strike on Tuesday amid a lack of progress on getting union workers priority access to Covid vaccinations. The union representing the grain inspectors says the strike "may intensify after Tuesday" if there is no progress in negotiations with the government. Such a short work stoppage will not have a major impact on grain shipments from Argentina.
IKAR raised its Russian wheat crop forecast by 500,000 MT from its previous projection to 80 MMT due to improved spring wheat seeding conditions in central and southern production areas. Other Russian crop estimates are around 81 MMT. In 2020, Russia produced 85.9 MMT of wheat.
CORN: Futures are expected to extend a strong end to last week amid Midwest weather concerns. The overnight rally left a gap on daily price charts, with December corn gapping from Friday's high of $5.92 3/4 and the overnight low of $6.05 1/4. December futures reached $6.18 1/4, the highest price since May 10. Looking ahead, USDA's Supply & Demand Report Thursday should show an increase to old-crop corn-for-ethanol use and potentially an uptick in exports, which will pull ending stocks lower. Few changes aside from beginning stocks (old-crop carryover) are expected on the new-crop balance sheet.
SOYBEANS: November soybeans reached a contract high at $14.80 overnight and left a gap between Friday's high of $14.38 3/4 and the overnight low of $14.53. U.S. farmers are expected to finish soybean planting soon.
WHEAT: July SRW rose as high as $7.04 overnight, the highest price since $7.14 on May 13. Hot, dry weather in the northern U.S. Plains and southern Canada's Prairies remains supportive, though some rains may develop this week.  U.S. spring wheat was rated 43% "good" and "excellent" at the beginning of last week, with 80% of the crop emerged. Improving weather for U.S. hard red winter wheat harvesting is expected but it will be a slow process.
CATTLE: Steady-mixed
HOGS: Steady-firmer
CATTLE: Cattle futures ended last week on a soft note, with August live cattle dropping $0.45 to $118.075, down from $118.60 at the end of the previous week, but well-off last Tuesday's lows. August feeder cattle fell $3.025 to $149.925, down from $151.35 at the end of the previous week. Market-ready cattle supplies will remain heavy and may slow recoveries in futures and cash prices, though strong wholesale beef markets and robust exports may continue to limit the downside.
Boxed beef prices fell $1.57 in Choice cuts and $1.43 for Select on Friday, while packers moved only 97 loads of product on the day. Given the extended runup in wholesale beef prices, traders will be watching for signs the rally has run out of steam. But with strong demand from retailers, restaurants and the overseas markets, it's going to take a lot more than a day or two of price pressure to convince traders a top is in place.
HOGS: Futures ended last week on a strong note, with July futures rising $1.25 to $120.60 and August contract rising $1.35 to $117.575. Cash fundamentals remain supportive. The national direct cash hog price rose 95 cents last Friday, while the pork cutout was $1.77 higher. Until cash fundamentals signal the rally has exhausted, the downside in futures will be limited to mild corrective selling and upside potential will remain open. But given the extended price rally, traders are on watch for a seasonal top.