Ahead of the Open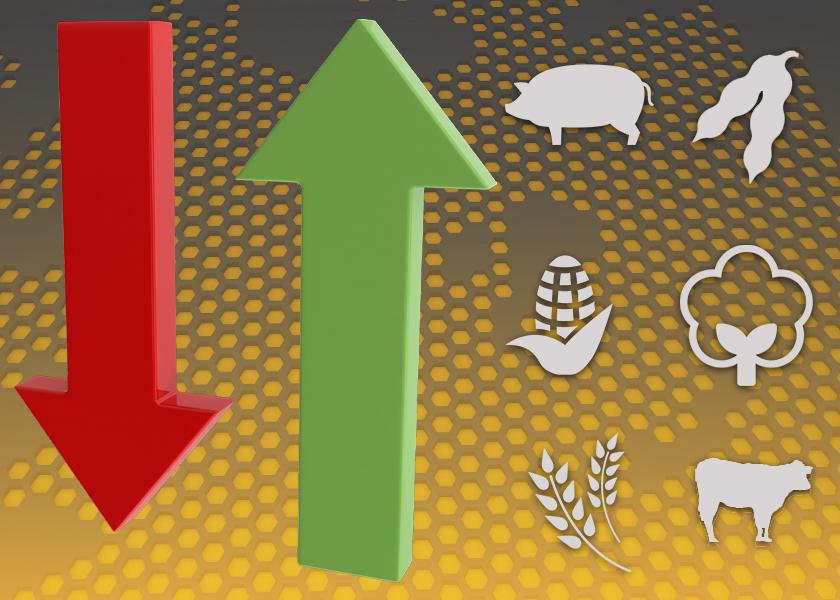 Pro Farmer's Ahead of the Open
GRAIN CALLS
Corn: 8 to 12 cents higher.
Soybeans: 14 to 19 cents higher.
Wheat: 4 to 7 cents higher.
GENERAL COMMENTS: Corn and soybean futures surged overnight amid ongoing concerns heat and dryness in the Midwest will stress young crops. Rains in the past 18 hours were limited to southern Indiana and Ohio, with totals mostly under one inch, according to World Weather Inc. Temperatures are expected to rise above 90 degrees F over the weekend in many areas, followed by a second shot of excessive heat early next week. The warmer weather in the Midwest will prevail at least through the middle part of next week with 80- and lower 90-degree heat expected most often. Scattered showers in the lower Midwest will keep temperatures a little more in check, but it will be humid.
Late next week, a low pressure center in the south-central U.S. may generate showers and thunderstorms from the central and western Gulf of Mexico coast northward into the lower Missouri and lower Mississippi River Valleys, with some scattered showers occurring northeast into the lower Ohio Valley and southeastern states into early  next week. The low pressure system will block moisture from flowing northward into the upper Midwest and northern Plains, where a weak low pressure center and frontal boundary may bring relief from the hottest and driest conditions. The frontal system will generate some limited rainfall, but without the Gulf of Mexico moisture the precipitation will be erratic and mostly too light to seriously dent dryness in the region.
Today's weekly USDA Export Sales Report held few surprises but leans slightly positive. Net old-crop corn sales were 531,100 MT, down 5% from last week but above the top end of trader estimates and included 158,500 MT sold to China including 63,800 switched from unknown destinations. Japan was the top buyer. New-crop corn sales were 439,500 MT, primarily to unknown destinations (227,000 MT). Sales were at the low end of trader estimates.
Net old-crop soybean sales were just 17,800 MT but not a reduction as some expected. New-crop sales were 180,300 MT. China bought 10,000 MT, which may be slightly disappointing for market bulls that were betting on better business after last week's price weakness. Meal sales rose 31% from the prior four-week average. New-crop wheat exports were 398,300 MT, in the middle of trade estimates for 200,000 to 500,000 MT. No new Chinese sales were reported.
The U.S. added 559,000 jobs in May, the Labor Department reported today, as the economy continues recovering from the pandemic. May's non-farm payrolls number was below economists' expectations for an increase of about 667,000. The U.S. unemployment rate fell to 5.8% from 6.1%, stronger than forecasts for 5.9%. The numbers reflect an economy recovering from the While May payroll growth fell short of expectations, it still marked improvement from a disappointing increase of 278,000 in April.
Major beef and pork processor JBS says all its plants are up and running and production losses should be recovered by week's end after a May 30 cyberattack linked to a Russian criminal organization upended its North American and Australian operations. In a statement, JBS said it lost less than one day's worth of food production following the hack. It also said losses will be recovered by week's end.
Agriculture Secretary Tom Vilsack plans to address concerns about a lack of competitiveness in the cattle market, with several moves expected in the coming months to improve cattle market transparency and boost meat processing capacity after complaints of extreme consolidation, Vilsack told Politico. Meanwhile, Vilsack told Montana Ag Network last week that USDA would be "aggressive" in the coming weeks to promote more openness and transparency in the cattle market, but it remains to be seen what USDA plans to do.
Russia's ag ministry kept its estimate for the country's wheat crop at 81 MMT, according to a report from TASS news agency. USDA estimates last year's crop of 85.35 MMT.
CORN: December corn is poised for its highest close in over three weeks amid concerns over Midwest heat and dryness and strong export demand. According to World Weather, the Midwest will see warm temperatures and more sunshine than rain through the next two weeks and "crop stress is likely to increase in the drier areas of the northwestern Corn Belt, where only one round of organized rain is expected during the period. The driest areas from the eastern Dakotas into Minnesota will see quick increases in crop stress today into Saturday when temperatures reach the middle and upper 90s with some lower 100s. Total U.S. corn exports for the marketing year to date, at 51.3 MMT, are up 77% from the same period a year earlier, based on USDA's export sales report today.
SOYBEANS: November soybeans may also be heading for the highest close in over three weeks in the wake of the overnight price surge. As with corn, extreme heat and a lack of soaking rains in much of the Midwest. By June 18, much of the Midwest "will be significantly drier than today and stress to crops should increase in the driest areas of the northwest as well as in Michigan with a rising need for rain in a larger part of the Corn Belt," World Weather said in a report today. Robust exports and tight supplies remain support, with soybean export sales so far this year running 61% above last year's levels.
WHEAT: Prices remain supported by concern over hot and dry weather in the northern U.S. Plains and southern Canada's Prairies, though some rains may develop next week.  U.S. spring wheat this week was rated just 43% "good" and "excellent" with 80% of the crop emerged. Improving weather for U.S. hard red winter wheat harvesting is expected but it will be a slow process.
CATTLE: Firmer
HOGS: Mixed
CATTLE: Futures remain generally supported by ongoing strength in beef prices, which this week reached the highest levels since the pandemic-driven spike about a year ago. Beef cutout values averaged $340.55 per hundredweight yesterday, up nearly $10 from the end of last week, according to USDA reports. Live steers averaged $119.78 yesterday, up from $119.64 at the end of last week. Market-ready cattle supplies will remain heavy and may slow recoveries in futures and cash prices.
HOGS: Nearby hog futures remain near seven-year highs amid strength in wholesale pork markets. Pork cutout values yesterday averaged of $131.52 per hundredweight, up 68% from the end of 2020 and the highest in nearly seven years, according to USDA data. On cash hog markets, carcass values yesterday averaged $108.45 per hundredweight, up from $105.32 at the end of last week. Key to further strength will be export demand for U.S. pork.