Ahead of the Open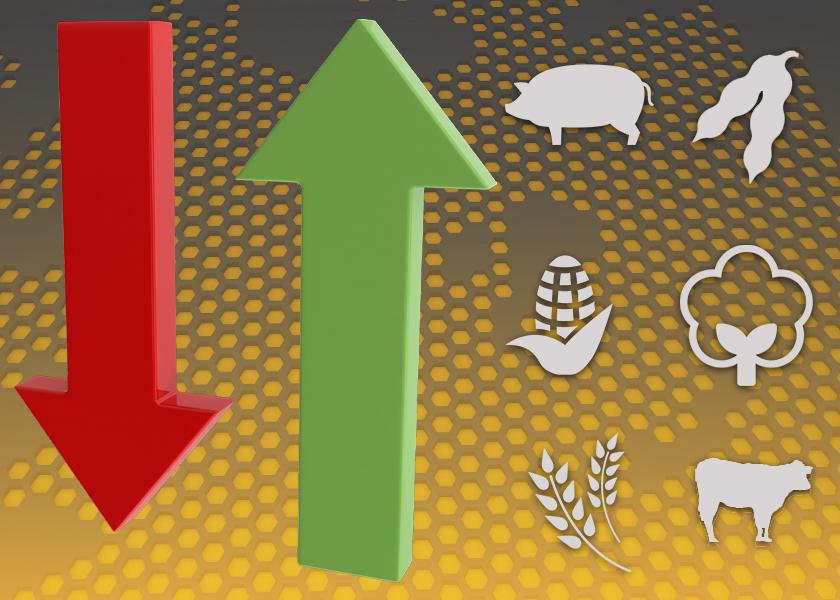 GRAIN CALLS
Corn: Steady to mixed
Soybeans: Up 5 to 10 cents.
Wheat: Spring wheat up 15 to 20; Winter wheat up 4 to 7 cents.

GENERAL COMMENTS: The strong initial USDA corn condition rating pressured corn and soybeans at the open overnight but beans and spring wheat have led the recovery into this morning's break. Dry Midwest areas will get drier with heat and little precip anywhere in the forecast.
Rains remained in the southern U.S. over the past 24 hours and that trend will continue going forward, affecting the far southern Plains, Delta, Southeast, and Ohio River Valley up through the weekend before dryness returns for the 6- to 10-day and 11- to 15-day periods. Temperatures remain safely above-normal right up through mid-June. Today's market trade will be mostly focused on the northern U.S. Plains, southern Canadian Prairies and the upper U.S. Midwest where excessive heat and dryness are expected this week. U.S. hard red winter wheat areas will see improving weather next week after recent moisture excesses.  The overnight weather runs showed a ridge of high pressure strengthens and expands in the central U.S. June 8 – 15, which led to the decreases of rain from June 11 to 16. 
Half of Ukraine's major Black Sea ports have restricted grain loading operations because of poor weather, the state seaport authority said on Wednesday without elaborating.
About 95% of the U.S. corn crop had been planted as of Sunday, which is well ahead of 87% seeded at this point for the five-year average. Eighty-one percent of that corn had emerged, which is 11 points more advanced than the five-year average. USDA's initial crop condition rating for the season of 76% "good" to "excellent" was stronger than expected and is two percentage points above year-ago. Assessing damage from the weekend cold snap for northern locations will take time and may show up more in next week's report. Soybean planting advanced nine percentage points over the past week to 84% complete, which was a bit slower than the 12-point jump analysts surveyed by Reuters expected on average. But planting is still running well ahead of 67% complete for the five-year average. Sixty-two percent of the crop has emerged, meaning USDA's initial crop condition rating for beans will be released next week. The USDA rated 48% of the winter wheat crop in good-to-excellent condition, matching trade expectations and marking an improvement from 47% the previous week. However, spring wheat rated in the top two categories fell 2 points to 43%.
Before the reopening, USDA did not announce any new private exporter sales this morning. The lack of new daily sales may limit new buying in corn and soybeans this morning.
Oil rose on Wednesday, supported by an OPEC+ decision to stick to its plan to restore supply to the market gradually and by the slow pace of nuclear talks between Iran and the United States. The strong demand dynamics and likely delays in the Iran nuclear deal negotiations pushed Brent oil prices above the much watched $70 per barrel level. Expecting a recovery in demand, the Organization of the Petroleum Exporting Countries (OPEC) and its allies, together known as OPEC+, agreed on Tuesday to keep to their plan for a gradual easing of supply curbs through July.   
Euro zone producer prices rose more than expected in April, boosted by a surge in energy prices. Eurostat said prices at factory gates in the 19 countries sharing the euro rose 1.0% month on month for a 7.6% year-on-year increase. Without the volatile energy, the monthly rise of producer prices was exactly as expected by economists -- 0.9% -- and only 3.5% in year-on-year terms. Investor sentiment is finely balanced between lingering inflation angst and optimism about economies reopening.
Chinese Vice Premier Liu He exchanged views with U.S. Treasury Secretary Janet Yellen on issues of mutual "concern", in his second virtual call in a week with top economic and trade officials under the U.S. Biden administration. Liu, who has led China's negotiations in Sino-U.S. trade talks since former U.S. President Donald Trump went on a trade war with Beijing, held a similarly "candid" exchange with U.S. Trade Representative Katherine Tai on May 26.
China's increased engagement between the trade and economic chiefs of the world's largest economy, since Joe Biden took office in January, comes as the U.S. administration criticizes Beijing on human rights abuses and seeks to rally other rich nations to form a united front on China. The Biden administration is conducting a review of U.S.-China trade policy, ahead of the expiry of their Phase 1 deal at the end of 2021. 
Meanwhile, bbuffeted by rising costs, some Chinese manufacturers are refusing to accept new orders or are even considering shutting down operations temporarily—moves that could put more strain on global supply chains and cause more inflation.
CORN: Futures are bouncing around either side of unchanged after surging Tuesday to the highest in more than two weeks. Weather remains supportive but prices are up more than 75 cents from last week's lows and some consolidation is likely. But a high-range weekly close is needed to keep momentum rising. StoneX Group slashed its forecast for Brazil's total corn crop 89.68 MMT, a dramatic drop from May when StoneX projected the crop at 100.25 MMT. Drought has whittled safrinha corn crop prospects, with crop estimates sliding. StoneX's sub-90 MMT projection is certainly on the low end of private analysts' projections. Earlier this week, AgRural pegged the crop at 90.9 MMT. The smaller crop argues for strong new-crop exports. Corn futures on the Dalian Commodity Exchange were higher.  Chinese officials continue try to talk down commodity prices including corn.   
SOYBEANS: New-crop futures are leading higher on the dry forecasts, but it is a long growing season. Old-crop futures are lagging as demand is slowing with Brazil actively exporting its record harvest. Argentine farmers had sold 20 MMT of their 2020-21 soybean crop as of May 26, a 606,000-MT advance from the week prior, the country's ag ministry reported yesterday. Last year at this time, producers had sold 23.8 MMT of their bean crop. Sales have been slow this year, with producers holding on to as many soybeans as they can as a hedge against inflation. On the other hand, Brazil has sold 28.6 MMT of corn, which is 3.2 MMT more than what was registered at this time last year. Malaysian palm oil futures rose 2% overnight, reversing two straight sessions of declines on concerns about tighter global vegoil supplies amid dryness in the U.S. and Canada. Grains were limited by expectations for lower domestic palm oils consumption as Malaysia began a two-week lockdown.   China's soyoil futures on the Dalian Commodity Exchange rose 1.4% and the palm oil futures gained 1.2%. Chinese soybean prices rose Wednesday.
WHEAT: Spring wheat is leading the markets higher with temperatures expected to reach near 100 degrees Fahrenheit in parts of the Northern Plains this week and dry weather is forecast the next two weeks. Russia's new formula-based grain export taxes will remain in place as long as there is increased global demand for food, Deputy Prime Minister Victoria Abramchenko told Reuters Wednesday. That may help to boost demand for non-Russian supplies.
CATTLE: Higher
HOGS: Firmer
JBS SA said it will have most of its plants operational today after a cyberattack shut all of its U.S. operations. A notorious Russia-linked hacking group is behind the attack, according to four people familiar with the assault. The hack also meant none of the pricing data on which agricultural markets rely on was unavailable. It comes only weeks after the Colonial Pipeline was shut down in a similar attack, showing hackers are increasingly focusing on the commodity industry.
CATTLE: Cattle futures tumbled yesterday on surging corn prices and the ransomware attack on JBS that brought slaughter to a halt, pushing Tuesday's estimated kill to just 94,000 head, down 27,000 head from a week ago. Beef prices jumped to start the holiday shortened week. Choice boxed beef rocketed $3.59 higher yesterday and Select soared $5.55. Movement climbed to 139 loads. The resumption of the "vast majority" of its processing today should come as a relief. Last week, cash trade occurred at an average price of $119.64, down 8 cents from the week prior.
HOGS:  The ransomware attack on JBS also interrupted hog processing, with 390,000 head  estimated slaughtered on Tuesday, down 95,000 head from the week prior. But despite the interruptions and uncertainty, lean hog futures extended their rally, with the June contract settling at a seven-year high on Tuesday. The pork cutout value climbed 53 cents yesterday and movement improved to 344.31 loads. Prices reaching extremes and now the key will be export demand. Hog prices in China continue to fall. Even farms using their own piglets are now losing money. That may trim new Chinese purchases.