USDA raises corn and soybean crop estimates, boosting carryover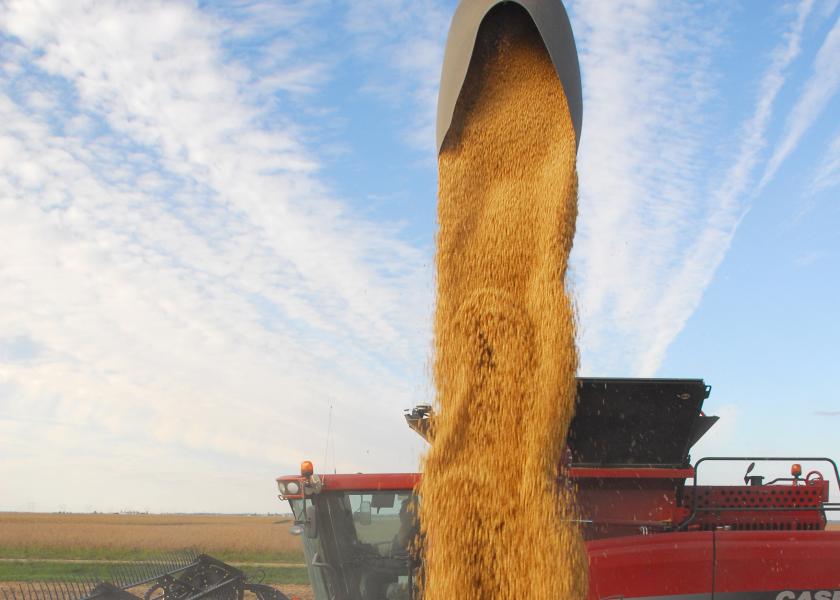 On the other hand, its cotton production and carryover forecasts dropped more than analysts anticipated.
USDA's U.S. wheat carryover estimate was near in line with expectations, but it cut global ending stocks quite a bit more than the market anticipated.  
The following expectations are based on survey work by Reuters (Bloomberg for cotton).
2021 U.S. Production

                Corn     

 

Production
(bil. bu.)

Yield
(bu. per acre)

Harvested acres (mil.)

USDA

15.019

176.5

85.085

Average est.

14.973

176.0

85.095

USDA Sept. est.

14.996

176.3

85.085

 

Soybeans

 

Production
(bil. bu.)

Yield
(bu. per acre)

Harvested acres (mil.)

USDA

4.448

51.5

86.436

Average est.

4.415

51.1

86.349

USDA Sept. est.

4.374

50.6

86.436

 

Cotton

 

Production
(mil. bales)

Yield
(lbs. per acre)

Harvested acres (mil.)

USDA

18.004

871

9.922

Average est.

18.37

NA

NA

USDA Sept. est.

18.51

895

9.92

 
U.S. Carryover

Corn – billion bushels

 

2021-22

USDA

1.500

Average est.

1.432

 USDA September

1.408

 

Soybeans – million bushels

 

2021-22

USDA

320

Average est.

300

 USDA September

185

 

Wheat – million bushels

 

2021-22

USDA

580

Average est.

576

 USDA September

615

 

Cotton – million bales

 

2021-22

USDA

3.20

Average est.

3.44

 USDA September

3.70
Global Carryover

Corn – MMT

 

2021-22

USDA

301.74

World less China

92.58

Average est.

298.76

USDA September

297.63

 

Soybeans – MMT

 

2021-22

USDA

104.57

World less China

68.57

Average est.

100.72

USDA September

98.89

 

Wheat – MMT

 

2021-22

USDA

277.18

World less China

136.16

Average est.

280.82

USDA September

283.22

 

Cotton – million bales

 

2021-22

USDA

87.13

World less China

50.67

Average est.

86.50

USDA September

86.68
Global Production Highlights

Corn – MMT

 

2020-21
October (September)

2021-22
October (September)

U.S.

358.45 (360.25)

381.49 (380.93)

Argentina

50.00 (50.00)

53.00 (53.00)

Brazil

86.00 (86.00)

118.00 (118.00)

South Africa

16.90 (17.00)

17.00 (17.00)

Russia

13.87 (13.87)

15.00 (15.50)

Ukraine

30.30 (30.30)

38.00 (39.00)

China

260.67 (260.67)

273.00 (273.00)

Soybeans – MMT

 

2020-21
October (September)

2021-22
October (September)

U.S.

114.75 (112.55)

121.06 (119.04)

Argentina

46.20 (46.00)

51.00 (52.00)

Brazil

137.00 (137.00)

144.00 (144.00)

Paraguay

9.90 (9.90)

10.50 (10.50)

China

19.60 (19.60)

19.00 (19.00)

Wheat – MMT

 

2020-21
October (September)

2021-22
October (September)

U.S.

49.75 (49.69)

44.79 (46.18)

Argentina

17.65 (17.65)

20.00 (20.00)

Australia

33.00 (33.00)

31.50 (31.50)

Canada

35.18 (35.18)

21.00 (23.00)

EU

126.00 (125.94)

139.40 (139.00)

Russia

85.35 (85.35)

72.50 (72.50)

Ukraine

25.42 (25.42)

33.00 (33.00)

Cotton – million bales

 

2020-21
October (September)

2021-22
October (September)

U.S.

14.61 (14.61)

18.00 (18.51)

Australia

2.80 (2.80)

4.70 (4.70)

Brazil

10.82 (10.75)

12.50 (12.50)

India

28.00 (28.30)

28.00 (28.50)

China

29.50 (29.50)

26.75 (26.75)

Pakistan

4.50 (4.50)

5.00 (5.90)