After the Bell | September 8, 2021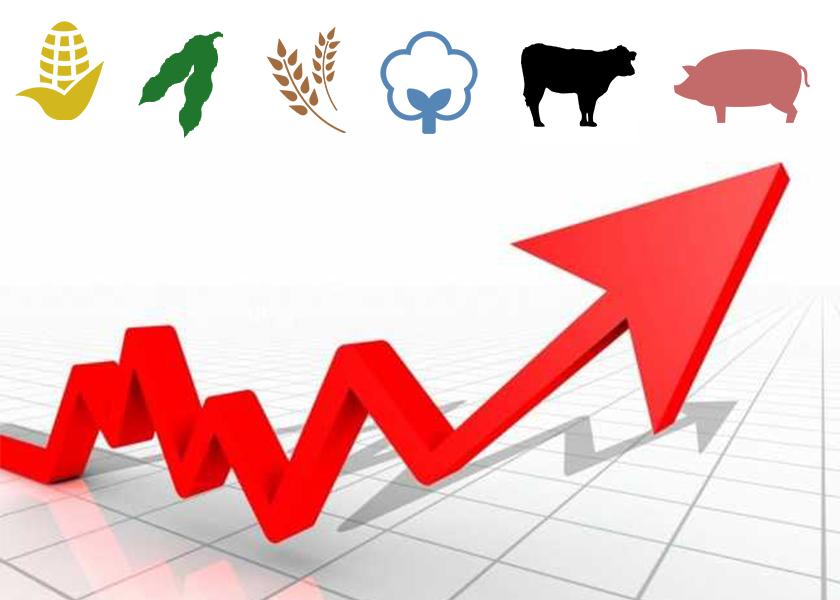 Corn: December corn futures fell 1/2 cent to $ 5.10 1/4 a bushel, a five-month low settlement for the second day in a row. Trading across the ag markets was relatively subdued ahead of USDA's Sept. 10 Crop Production report, which is expected to show larger U.S. corn yield and production estimates. USDA yesterday reported 59% of the U.S. corn crop in "good" or "excellent" condition as of Sept. 5, down from 60% the previous week and one percentage point lower than analysts expected. When USDA's weekly condition ratings are plugged into the weighted Pro Farmer Crop Condition Index (CCI; 0 to 500-point scale, with 500 representing perfect), the corn crop slipped 0.3 point to 355.3 points, 9.7 points below the five-year average. Grain exports from U.S. Gulf Coast terminals in Louisiana remained limited this week following damage from Hurricane Ida, keeping buyers in corn futures timid. The main problem continues to be getting electrical power to the shipping operations.
Soybeans: November soybean futures rose 2 1/2 cents to $12.79 1/2 a bushel. December soymeal ended unchanged at $337.80 per ton, after earlier falling to the lowest price since last November. December soyoil fell 21 points to 57.49 cents per pound. Soybean futures faded from stronger overnight gains but still managed to end slightly higher as fresh Chinese demand bolstered export optimism. Early today, USDA announced a daily sale of 106,000 metric tons (MT) of soybeans to China for the 2021-22 marketing year. Since the beginning of August, USDA has reported over 3.5 million MT of U.S. soybean sales to China or "unknown" destinations. USDA is also expected to raise its forecasts for soybeans. U.S. farmers will harvest 4.377 billion bu. of soybeans this year, 0.9% higher than the USDA's August projection, based on a Reuters survey. USDA's weekly crop condition ratings yesterday were about as expected for soybeans. USDA reported 57% of the U.S. soybean crop in good-to-excellent condition as of Sept. 5, up from 56% the previous week but down from 65% a year ago.
Wheat: December SRW futures fell 10 1/4 cents to $7.09 1/2 per bushel, while December HRW dropped 12 3/4 cents to $7.04 3/4. December spring wheat futures sank 13 3/4 cents to $8.94 1/2. Wheat prices fell after Stats Canada, that country's USDA counterpart, pegged its domestic wheat stocks as of July at 5.71 million metric tons (MMT). By contrast, the USDA recently estimated Canadian stocks at 3.83 MMT. Given its tendency to rely upon other countries' estimates of their domestic data, the USDA is likely to make a similar revision to its Canadian stocks figure in the Sept. 10 Supply and Demand report. Traders probably won't be particularly aggressive in the markets tomorrow with the monthly Supply and Demand and Crop Production reports, as well as the weekly Export Sales report due for release Sept. 10.
Cotton: December cotton futures rose 3 points to 94.08 cents per pound. USDA's Crop Progress report yesterday showed cotton rated good-to-excellent at the start of this week fell to 61% from 70% the week prior. This likely did not reflect damage done by Hurricane Ida, but rather a broad drop suffered by the Texas crop. Moreover, the national "poor" to "very poor" rating rose just 1 percentage point, to 7%. The industry is looking ahead to USDA's weekly Export Sales report Sept. 10, and to the agency's Crop Production and Supply and Demand reports, released the same day. Trading will likely to be muted tomorrow as traders even up positions ahead of the reports.
Cattle: October live cattle fell 65 cents to $123.10 per hundredweight, hitting another three-month low. October feeder cattle fell 77.5 cents to $159.275, reaching a six-week low. Technical selling again pressured futures in the wake of a recent steep downdraft in both live and feeder cattle futures. Declining fresh beef prices have been helping to pressure futures markets. Choice grade cutout values rose 59 cents at noon today, to $335.78, on movement of 72 loads. Cash cattle trade started around $124 in the Southern Plains, steady to higher compared with last week in that area. Last week's average cash price was $125.61, though the northern market pulls up the average. Beef packers are likely bought ahead on slaughter needs and thus traders anticipated cash prices would trade at steady-lower levels this week. Traders await USDA's weekly U.S. export sales report, with market bulls hoping for a repeat of last week's strong numbers.
Hogs: October lean hogs fell 72.5 cents to $87.375 per hundredweight, the contract's lowest closing price since $86.975 on Aug. 24. December hogs fell 22.5 cents to $80.55. Futures settled at a two-week low as a combination of recent wholesale pork market weakness and expectations for rising supplies kept buyers at bay. A sharp jump in cutout values early today may provide some encouragement for market bulls, but the wholesale market has made several such morning "head fakes" in recent weeks. Average carcass cutout values rose $4.73 today to an average of $110.40, led by a jump of over $27 in hams, USDA reported. But cutouts are just a day removed from a decline to the lowest daily price since March 22. The latest CME lean hog index fell 76 cents to $99.30, the lowest since $98.50 March 30, and may continue dropping, given recent declines in national direct carcass prices reported by USDA. October futures' discount to the index remains wide (nearly $12), suggesting excess market pessimism.