After the Bell | September 21, 2021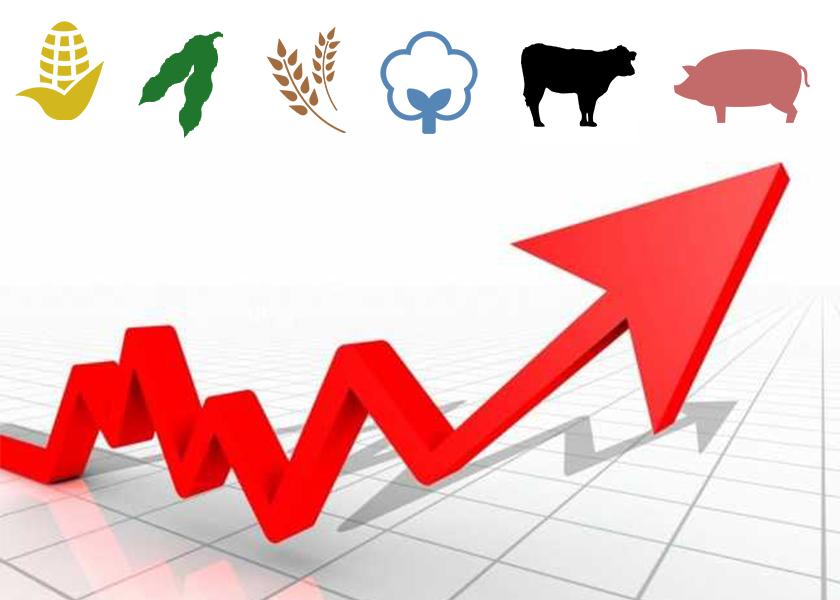 Corn: December corn futures fell 4 3/4 cents to $5.17 a bushel, while deferred contracts dropped 4 to 4 3/4 cents. December futures declined for the fourth consecutive session as the Midwest harvest accelerated and USDA reported an unexpected increase in its crop rating. USDA yesterday said 10% of the U.S. corn crop was harvested as of Sept. 19, matching trade expectations. Harvest progress was up from 4% a week ago and above the five-year average of 9%. The crop was rated 59% "good" or "excellent," up from 58% a week ago. The good-to-excellent rating was expected to hold at 58%. Crop Consultant Dr. Michael Cordonnier kept his U.S. corn crop yield estimate unchanged at 176 bu. per acre, with a neutral to slightly lower bias. Heat and dryness in the central and eastern Corn Belt "took the 'top end' off the corn yields," Cordonnier said in a weekly report.
Soybeans: November soybeans climbed 11 1/2 cents to $12.74 a bushel, while December soyoil gained 42 points to 55.29 cents a pound. December soymeal advanced $2.00 to $341.80 per ton. The soy complex bucked weakness corn and wheat futures to end higher across the board, led by soybeans. The soybean market may be vulnerable to seasonal harvest pressure, especially after the weekly USDA reported the soybean harvest 6% complete as of Sept. 19, about 1 percentage point ahead of the five-year average. The quick start to the harvest may indicate late-summer weather wasn't conducive to a strong finish for the soybean crop. Stability in equity and energy markets today may also have encouraged soy traders that yesterday's widespread breakdown, triggered by concern over China's economy, was overdone.
Wheat: December SRW wheat fell 10 1/2 cents to $6.90 1/4 a bushel and nearer the session low. December HRW wheat fell 9 1/2 cents to $6.90 1/2, also nearer the daily low. December spring wheat fell 6 1/4 cents to $8.87 3/4. HRW and SRW futures led wheat prices lower as the market largely followed weaker corn. USDA yesterday said the U.S. winter wheat crop was 21% planted as of Sept. 19, up from 12% the previous week but 1 percentage point below trade expectations. Limited rainfall is expected at least the next two weeks in HRW country, keeping topsoil moisture in short supply for most of the region. Rainfall needs will increase in October as recently seeded crops begin germination and emergence, said World Weather Inc. Spring wheat areas in the Northern Plains will also see little to no rain the next two weeks, with temperatures mostly above average.
Cotton: December cotton rose 101 points to 90.03 cents a pound, closing nearer the session high on a short-covering and bargain-hunting bounce from six-week lows yesterday. Cotton futures saw a decent rebound, but the bulls have much more work to do in the near term to begin to suggest a price uptrend can be restarted on the daily chart. For cotton price action this week, much will depend on key outside markets, including U.S. stock indexes, the U.S. dollar index and crude oil. If stocks see more selling pressure this week, the cotton market bulls are likely to again run for cover. USDA in its weekly crop progress report said the U.S. cotton crop was in 64% good to excellent condition, with 9% harvested as of Sept. 19. The harvest pace compares to 10% completed a year ago at this time and the five-year average of 11%. Forty-eight percent of the cotton crop had bolls opening.
Cattle: October live cattle futures fell 32.5 cents to $122.45 per hundredweight, while December live cattle fell 27.5 cents to $127.80. November feeder cattle rose 32.5 cents to $156.95. Cattle futures erased early gains to end mixed amid continued weakness in the wholesale beef market. Choice cutout values fell $4.29 today to an average of $311.37, the lowest price since Aug. 11. Still, recent signs of stabilization in beef prices may have helped establish a floor under the future market, portending sideways trade for the time being. Steady to weaker cash prices are expected this week, though strong cash opinions won't likely be formed until around midweek. Live steers last week averaged $123.88, down 91 cents from the previous week and the second consecutive weekly drop, according to USDA reports. USDA's next Cattle on Feed report Sept. 24 is expected to reflect continued contraction in the U.S. herd.
Hogs: October lean hogs fell 60 cents to $84.375 per hundredweight, while most-active December declined 62.5 cents to $73.60. Ideas that cash hogs and wholesale pork will continue sliding seemed weighed on futures. Although historical patterns suggest an intermediate-term bounce in futures is overdue, the cash and wholesale markets continued a recent slide. Pork cutout values fell 13 cents today, to $102.76, following a drop of $2.52 yesterday. On national direct markets, carcass values declined $1.18 to an average of $78.14. The preliminary CME Lean hog index dropped to $93.56, the lowest since March 22 but still over $9.00 above October futures.