After the Bell | September 1, 2021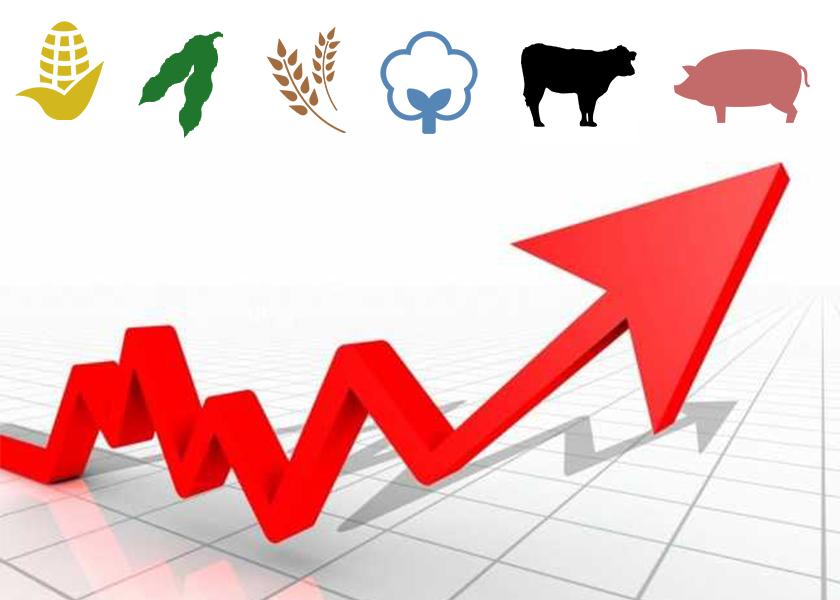 Corn: December futures fell 11 1/2 cents to $5.22 3/4, the lowest closing price since July 9. Fund managers stepped up liquidation of long positions to start the new month. Seasonal patterns suggest additional price pressure this month, as December futures have declined nearly two-thirds of the past 41 years during September – and six of the past 10 years. While funds have dumped part of a large long position, they are still solidly long the market. As of Aug. 24, funds were net long 257,883 futures contracts. Export concerns also continue to weigh on the market in the aftermath of Hurricane Ida. While this situation won't be nearly as severe as Hurricane Katrina in 2005, it's going to take time for U.S. corn exports from the Gulf to recover. USDA's weekly export sales report tomorrow is expected to show new-crop corn sales between 850,000 metric tons (MT) and 1.6 MMT.
Soybeans: November soybeans settled 14 3/4 cents lower at $12.77 3/4 per bushel, the lowest closing price since $12.69 3/4 on June 25. Pressure stemmed from fund selling amid expectations favorable Midwest weather will enable the soybean crop to finish to the growing season strong. Losses may have been limited by reports the Brazilian exporter association cut its estimate of August soybean exports by 200,000 MT. Late today, USDA reported U.S. soybean crushing in July totaled 166.4 million bushels, about 1 million bushels above trade expectations but down 9.8% from a record 184.5 million bushels for the same month in 2020. Soyoil stocks totaled 2.07 billion pounds, modestly below expectations.
Wheat: December SRW futures fell 8 cents to $7.14 1/4 a bushel, the lowest closing price since $7.13 on July 30. December HRW futures fell 8 cents to $7.04, the lowest closing price since $7.03 on Aug. 5. December spring wheat declined 4 3/4 cents to $8.98 3/4. Wheat futures fell on spillover pressure from tumbling corn and soybean prices. While the global wheat supply outlook has tightened due to weather problems in top producers like France, recent export news has been disappointing. That puts tomorrow's weekly USDA export sales report squarely in trade focus. USDA is expected to report U.S. wheat sales of 200,000 MT to 450,000 MT. The previous week, wheat sales totaled just 116,000 MT, a marketing-year low and down 67% from the prior four-week average.
Cotton: December cotton futures fell 23 points to 92.30 cents per pound, the contract's lowest settlement since Aug. 11. Cotton futures closed at a three-week low amid expectations for rising supplies and beliefs Hurricane Ida did little significant crop damage in top U.S. growing areas. A selloff in grain futures contributed to a weaker tone in commodity markets generally. Traders await USDA's weekly export sales report tomorrow. In last week's report, USDA said net U.S. cotton sales for the week ended Aug. 19 totaled 245,100 running bales for the 2021-22 marketing year and another 67,900 RB for 2022-23. So far this marketing year, accumulated exports of all upland cotton were running 37% under the same period a year ago.
Cattle: October live cattle rose 67.5 cents to $127.575 per hundredweight after hitting a three-week intraday low early. October feeder cattle fell 30 cents to $168.05, gaining support from a sell-off in corn. Beef market weakness kept cattle futures under pressure, as Choice cutout values fell $1.53 early today to $340.58. Boxed beef values have dropped from a 15-month high reached Aug. 23. Cash cattle trading has been quiet so far his week, but is expected to be steady-lower once it gets going. Last week's cash cattle trade ranged from $122 to $123 in Texas and Kansas, up to $128 in Nebraska and the western Corn Belt. Meatpackers slaughtered an estimated 357,000 head of cattle the first three days this week, up 8,000 from the same period a week earlier and up 1,000 from the same period a year earlier, USDA reported.
Hogs: October lean hogs climbed $1.35 to $90.15 per hundredweight, while December rose 52.4 cents to $82.475. Slumping cash fundamentals continue to weigh on hog futures. Carcass cutout values fell $2.47 today to $106.54, the lowest daily price since March 23, USDA reports showed. Also, the preliminary quote for the CME lean hog index fell to $102.88, the lowest since mid-April but still above fall and winter futures contracts. Price-supportive factors include strong substitution demand for pork over expensive beef, tight frozen stockpiles and an expected 3% annual decline in fall hog supplies. Hog slaughter totaled 1.43 million head this week through today, up from 1.38 million for the same period a week ago and up from 1.42 million for the same period in 2020, USDA estimated.