After the Bell | June 10, 2021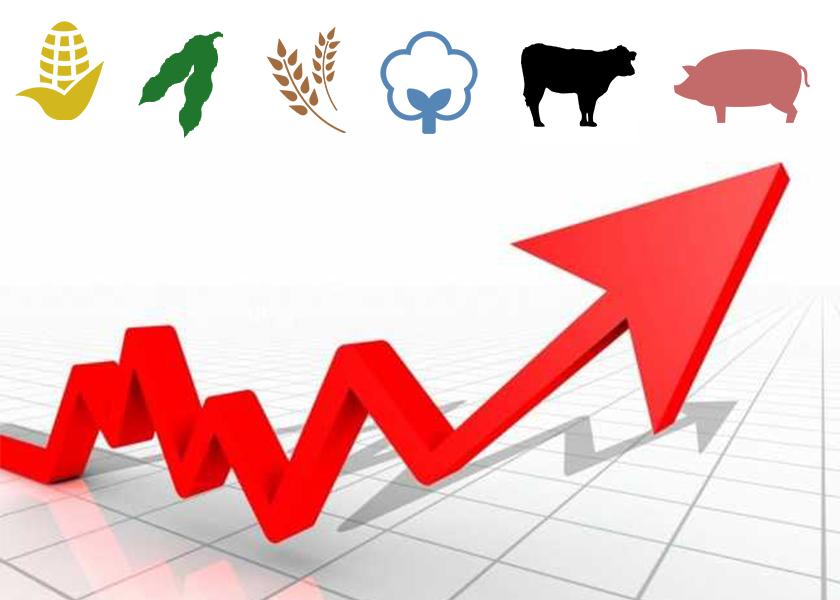 Corn: July futures closed up 8 1/4 cents at $6.99 today. December futures gained 6 3/4 cents at $6.16 1/2. The serious weather market in the grains continues to play out. Big-price-range trading days in corn should continue to be the norm for the near term. The latest European forecast model predicts minimal precipitation in the Corn Belt over the next 10 days, World Weather said. The U.S. model shows a bit better rain chances. The bottom line right now is that most of the Corn Belt "will experience a net decline in soil moisture over the next 10 days to possibly two weeks," said World Weather. USDA in its monthly Supply and Demand report today cut old-crop corn ending stocks by 150 million bu. from last month. Traders anticipated a 50-million-bu. decline. USDA made no changes to the supply side of the balance sheet. On the demand side, USDA raised food, seed and industrial use by 75 million bu. (to 6.47 billion bu.), with all of that going to corn-for-ethanol use. USDA also raise estimated old-crop corn exports 75 million bushels (to a record 2.85 billion bu.).
Soybeans: July soybean futures fell 18 1/2 cents to $15.44, while new-crop November rose 11 1/4 cents to $14.59 1/2. July soymeal fell $4.80 to $381.60, near a six-month low, and July soyoil dropped 113 points to 70.46 cents. Concerns over hot, dry weather stressing Midwest crops continued to support soybean futures, mitigating slightly bearish USDA report numbers, which weighed on July futures and encouraged heavy spreading against the November contract. USDA raised its 2020-21 ending stocks figure to a higher-than-expected 135 million bu., up from 120 million bu. last month. USDA also hiked projected ending soybean stocks for 2021-22 by 15 million bu. to 155 million bushels. However, November futures firmed, suggesting traders are concerned the 15-million-bu. passthrough to new-crop carryover USDA projected may not happen due to weather/crop concerns. Pro Farmer's soybean ending stocks forecasts are 120 million bu. for 2020-21 and 140 million bu. for 2021-22.
Wheat: July SRW wheat settled 1 1/2 cents higher at $6.83 3/4 while July HRW futures gained 4 1/2 to $6.40 ¼. July HRS advanced 10 3/4 cents to $7.75 1/2. The threat of Northern Plains drought is supporting wheat futures prices, although the USDA's Supply and Demand wheat carryout essentially matched expectations. As expected with harvest looming, winter wheat markets continue struggling to sustain gains. USDA boosted its domestic all-wheat production forecast 26 million bushels to 1.898 billion bushels, but cut its U.S. wheat carryout forecast by 20 million bushels, to 852 million in today's WASDE. The reduction reflected a commensurate rise in old-crop exports to 985 million bushels.
Cotton: July cotton settled 74 points higher at 87.36 cents and while December rose 87 points to 88.21 cents. Cotton futures found support from USDA's Supply & Demand Report, which featured lower carryover forecasts for both the 2020-21 and 2021-22 marketing years. USDA cut its old-crop ending stocks forecast to 3.15 million bales, which would be the lowest since 2016-17 and down 4.1 million bales (56.6%) from last year. Ending stocks are projected to tighten to just 2.9 million bales in the new-crop marketing year. Our cotton ending stocks forecasts are even tighter at 3.05 million bales for 2020-21 and 2.7 million bales for 2021-22. With such a tight carryover situation, there will be a more intense focus on weather throughout the growing season.
Hogs: August lean hogs closed down $0.05 at $118.70 today. Prices closed near mid-range today on a pause after hitting a contract high on Monday. A surging cash hog market is keeping futures prices at their second-highest level in the more-than-50-year history of hog futures trading. Cash hogs on a national direct basis rose a solid $5.05 at $115.06 today, which is a good sign given that seasonally hog supplies should be starting to rise. Average hog weights in the Iowa/southern Minnesota/South Dakota market rose 1.3 lbs. in the week ending June 5 to 284.4 lbs. The pork cutout value rose 59 cents at noon Thursday, led by gains in bellies. Movement was 154.63 loads. Today's hog slaughter was estimated at 482,000, compared to 470,000 last Thursday and 455,000 one year ago at this time.
Cattle: August live cattle settled 27.5 cents higher at $118.55, while August feeder cattle erased early declines to end 12.5 cents higher at $148.40. Cattle futures were largely subdued in a trading range before eking out modest gains by the close. Strong beef prices continue to underpin futures. Choice beef cutout values fell 47 cents this morning but remain strong at $338.18. While cutout values continue to ease from a 12-month high last week, the market is still up about 25% for the five-year average for this time of year. On cash markets, live steers averaged around $119.87 this morning, close to last week's average of $119.92.