Vilsack Chides 'Market-Based' Component in China Phase 1 Accord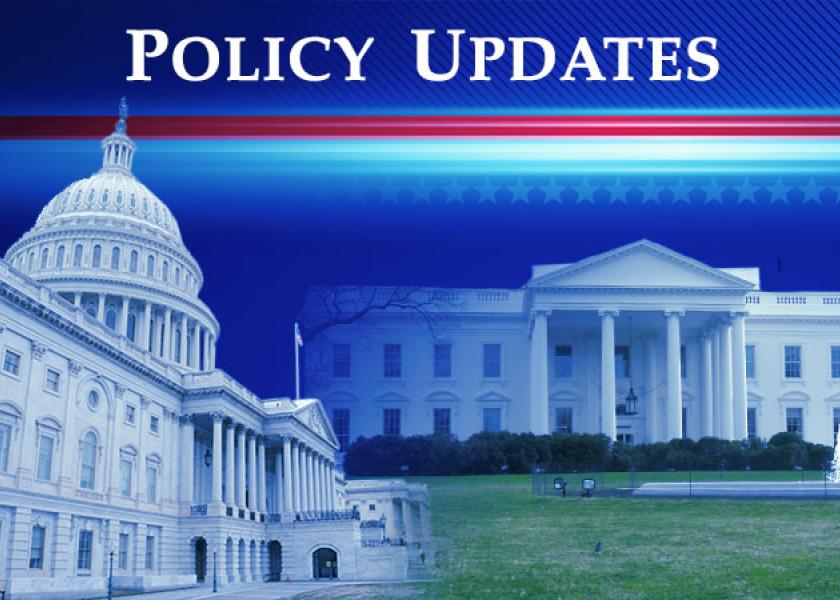 Price surges, logistical constraints continue to impact markets and boost inflation
---
In Today's Digital Newspaper
---
Market Focus:
• World food prices surged by a third over past year 
• Biden to reconvene Major Economies Forum on Energy and Climate (MEF)
• Grocers locking in Thanksgiving turkey, holiday staples as logistics issues, inflation linger
• Big U.S. retailers also rushing to restock
• Fed re-examining rules on trading by officials 
• General Motors extending plans to idle some of North American factories 
• U.S. Steel Corp. plans to begin construction of new steel mill in U.S. next year
• Biden administration "taking a close look" at why gasoline prices are not going down  
• Prices for shipping goods are overwhelming some companies•
• Port congestion continues
• Ag demand update 
• Some overnight pressure on corn and soybeans
• Ukraine wraps up bumper wheat harvest
• Russia lowers tariff on wheat exports for first time in a month
• Equipment workers could be hard to come by as Australia readies for bumper wheat crop
• Japan's use of corn in feed still sliding
• Biofuel producers pushing for modeling change regarding SAF tax credit eligibility
• Bankers report record farmland price index|
• Russia has imposed some restrictions on Brazilian beef imports
• Beef prices still falling
• Pork prices have turned up, but cash market remains under pressure
Policy Focus:
• Biden reframes package as tax relief for working families
• Democrats taking fresh look at proposals for reducing carbon emissions
• Vilsack continues to push changes in stepped-up basis 
Biden Administration Personnel:
• Margo Schlanger nominated by to serve as assistant secretary for civil rights at USDA
China Update:
• IMF head accused of boosting China's rankings in World Bank report
• Big Chinese property developer Evergrande saw its stock price plunge again overnight
• Vilsack chides 'market-based' component in China Phase 1 agreement
Trade Policy:
• China formally applies to join an 11-nation Asia-Pacific trade pact
Energy & Climate Change:
• Additional meetings scheduled at OMB on RFS proposed levels
• Chinese EV Maker XPeng introduced an EV that will cost less than $25,000
• House panel calls oil executives in for questioning about misinformation
• Vilsack outlines new global effort on climate, sustainability

Livestock, Food & Beverage Industry Update:
• USDA to extend PLIP signup 

Coronavirus Update:
• Advisers to FDA meet later today to discuss whether booster shots should be offered
Politics & Elections:
• House Republican who backed impeachment calls it quits 
• Another poll shows President Biden's approval rating dropping 
Other Items of Note:
• More than 10,000 migrants being held outdoors under a bridge in South Texas
• Close to half of new U.S. gun buyers since start of 2019 have been women
---
MARKET FOCUS
---
Equities today: Global stock markets were mixed in overnight trading, with European indexes mostly weaker and Asian indexes mostly firmer. The Dow opened around 40 points lower. The quarterly event known as "triple witching," where stock and index options and futures on indexes expire, is happening today. Asian equities ended mostly higher after weaker start. The Nikkei advanced 176.71 points, 0.58%, at 30,500.05. The Hang Seng Index rose 252.91 points, 1.03%, at 24,920.76. European equities are lower in early trading after opening in positive territory. The Stoxx 600 was down 0.2% with losses of 0.05% to 0.5% in regional markets.
     U.S. equities yesterday: The Dow fell 63.07 points, 0.18%, at 34,751.32. The Nasdaq rose 20.39 points, 0.13%, at 15,181.92. The S&P 500 eased 6.95 points, 0.16%, at 4,473.75.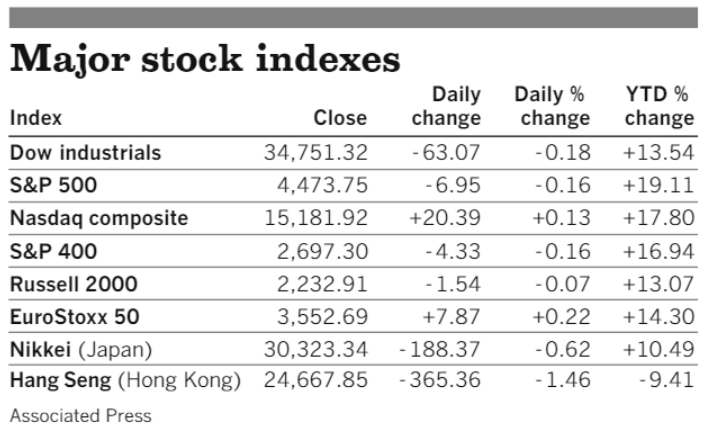 On tap today:
     • President Joe Biden will reconvene the Major Economies Forum on Energy and Climate (MEF) to galvanize efforts to confront the global climate crisis. 8:30 a.m. ET.
     • University of Michigan's preliminary consumer sentiment index for September is expected to rise to 72 from 70.3 in August. (10 a.m. ET)
    •  Baker Hughes rig count is out at 1 p.m. ET.
    •  CFTC Commitments of Traders report, 3:30 p.m. ET.
World food prices surged by a third over the past year, hitting family budgets and causing inflationary headaches for central banks. One United Nations measure shows costs are higher now than for most of the past six decades. The poorest, import dependent nations tend to suffer most. even the biggest economies are feeling the pressure.
     The U.S. — where almost 9% of people said they haven't had enough to eat in the past week — is boosting assistance to low- and middle-income via food stamp benefits. Meanwhile, Hurricane Ida struck the heart of the U.S. fertilizer industry, and Storm Nicholas threatened even more damage in the Gulf of Mexico, potentially driving up the cost to produce food.
     This week, a U.K. government committee said it's starting an investigation into how labor shortages sparked by the pandemic, Brexit and rising commodity prices are plaguing the food sector.  It wants to know if things could get worse and whether the state needs to do more to help.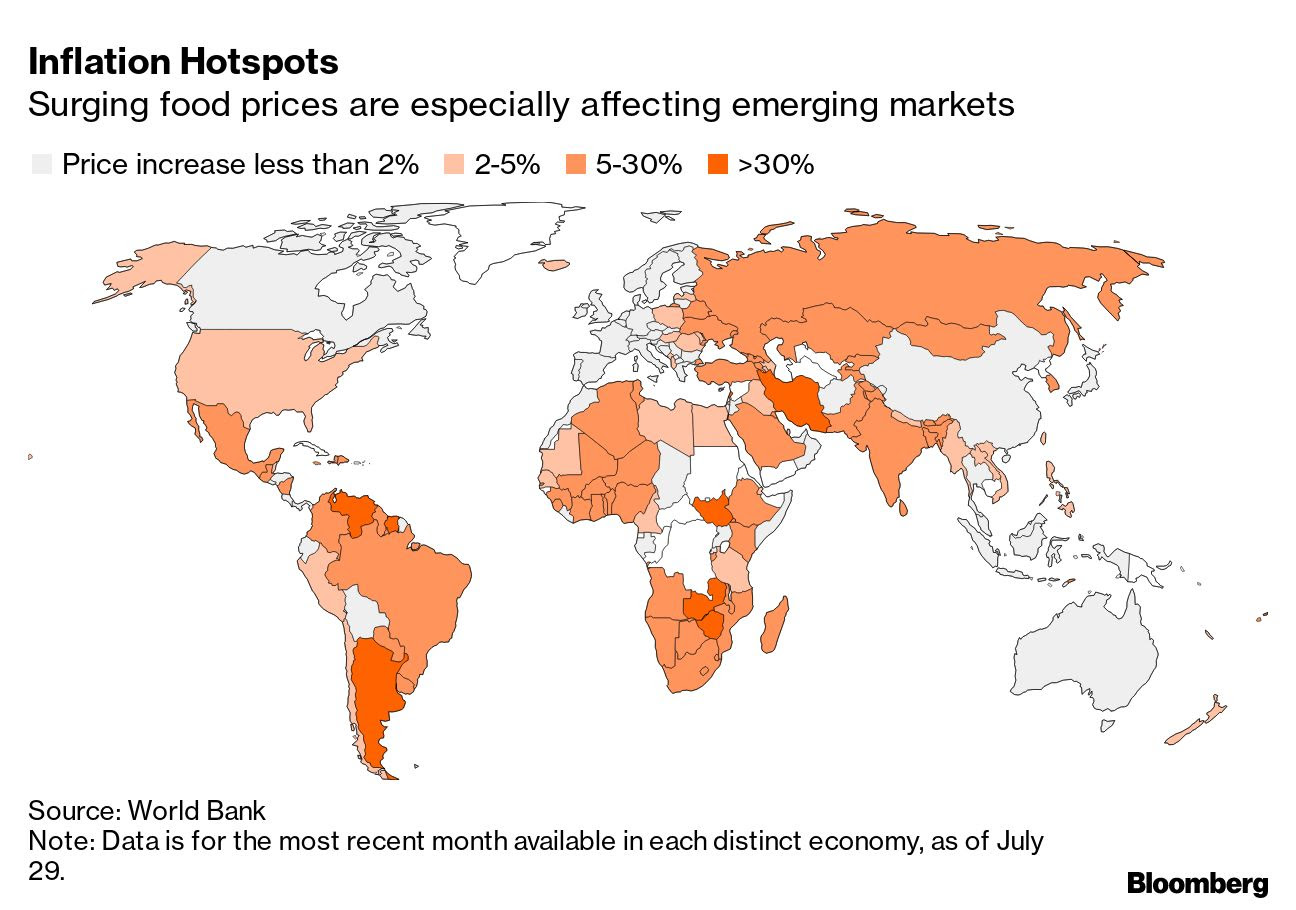 Adjusted for inflation and annualized, costs are already higher now than for almost anytime in the past six decades, according to the United Nations' Food and Agriculture Organization.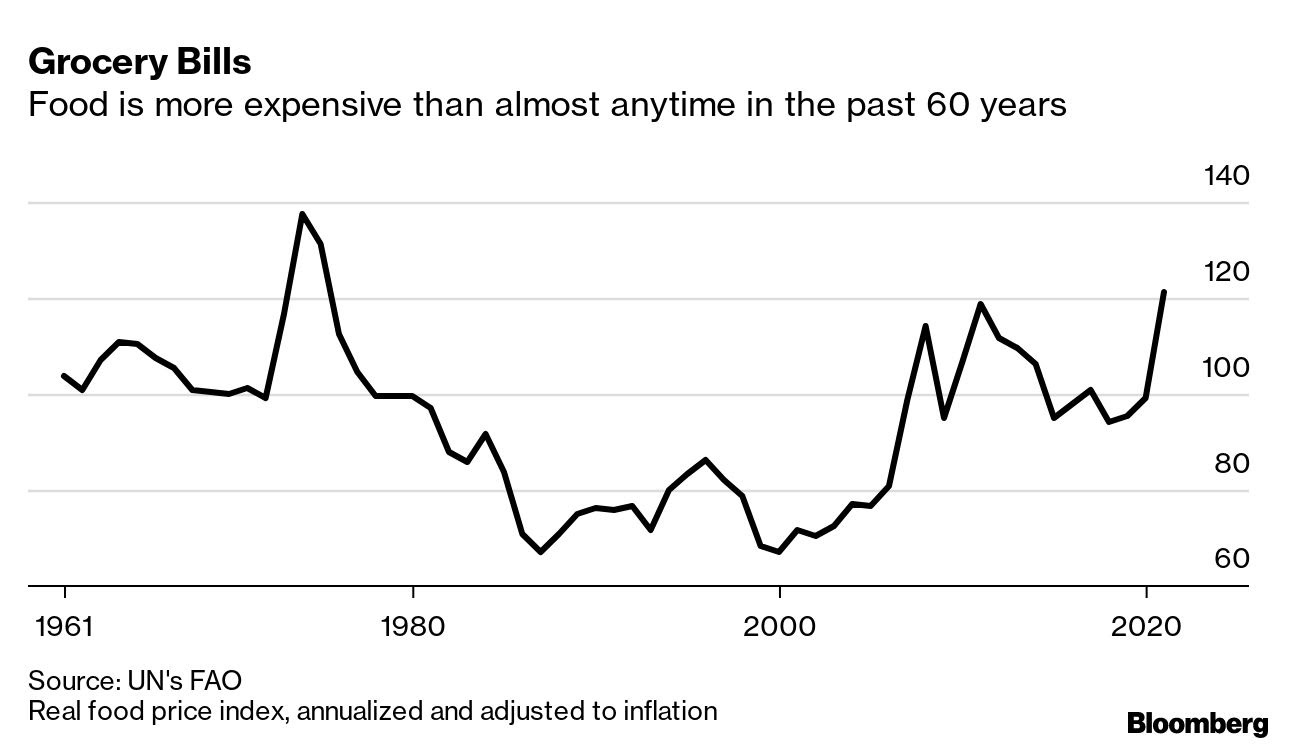 Grocers locking in Thanksgiving turkey, holiday staples as logistics issues, inflation linger. U.S. supermarket chains have already started buying turkeys, cranberry sauce and other holiday staples in preparation for Thanksgiving, traditionally the busiest time of year, hoping to avoid the shortages and supply-chain problems that left some store shelves empty last year. Barron's reports that Jeff Culhane, senior vice president of merchandising for 162-store Tops Markets in Williamsville, N.Y., said the chain "locked down" turkeys in February and ordered gravy, cranberry sauce, nutmeg, cinnamon, and holiday sprinkles early, and is squirreling them away in its warehouses. Grocery delivery provider Fresh Direct started ordering turkeys in February, a month earlier than usual, and 2% to 3% more supplies than usual. It also ordered sugar, flour and other ingredients earlier for its prepared foods. Supermarket executives say they are buying holiday foods earlier than usual from more brands, to lock in supplies. Some say canned pumpkin deliveries have been delayed and they are planning to sell more store-brand versions if needed.
     Grocery sales have been stronger than expected this year, even after restaurants lifted pandemic restrictions. Overall, retail sales rose 15.1% over August 2020 and 0.7% from July, quieting fears that higher prices would reduce consumer demand.
     Prices are expected to be higher, as retailers pass along higher transportation, labor and commodities costs due to ongoing truck driver shortages and shipping delays.
Big U.S. retailers are also rushing to restock. Merchants including Target and Best Buy are reporting heftier inventories on their balance sheets, the Wall Street Journal reports (link), as they make big bets on holiday sales even as the Delta variant and supply-chain disruptions add uncertainty to replenishment efforts. Forecasting has grown more difficult under the pandemic, but the rising merchandise inventory levels suggest that retailers believe the prospect of empty shelves presents a bigger risk than overstocking this year. Turmoil in the shipping sector is only adding urgency to the effort, with retailers including Home Depot and Walmart looking to chartered vessels to keep goods moving. The backup of container ships anchored off the Los Angeles and Long Beach ports stretched to more than 65 vessels on Thursday, suggesting the equivalent of more than 600,000 containers are sitting on the water.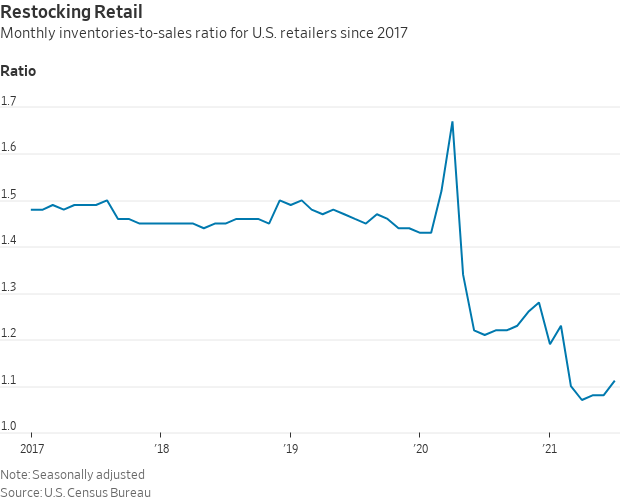 Fed is re-examining its rules on trading by officials. The move follows an outcry over disclosures that the presidents of the Boston and Dallas regional Fed banks bought and sold stocks and real estate-tied assets last year. The transactions complied with Fed guidelines, but involved securities that could be affected by the central bank's decisions.
General Motors is extending its plans to idle some of its North American factories, compounding the effects of the world-wide semiconductor shortage on the auto maker's production. The company said it will add to scheduled downtime at seven plants in the U.S., Canada and Mexico. The move builds upon curtailments that have slammed GM and the broader auto industry throughout the year as supply constraints on computer chips continue to hold back car production.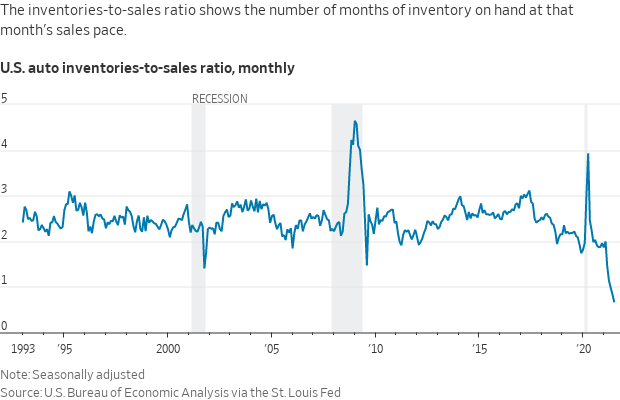 United States Steel Corp. said it plans to begin construction of a new steel mill in the U.S. next year, as the company chases rising demand from a rebounding manufacturing sector. The U.S. Steel mill would increase new production capacity under construction or planned in the U.S. to about 12 million tons annually, or almost 21% of sheet-steel consumption in 2019. The new mill represents a bet by U.S. Steel that demand—and prices—will remain elevated for an extended time.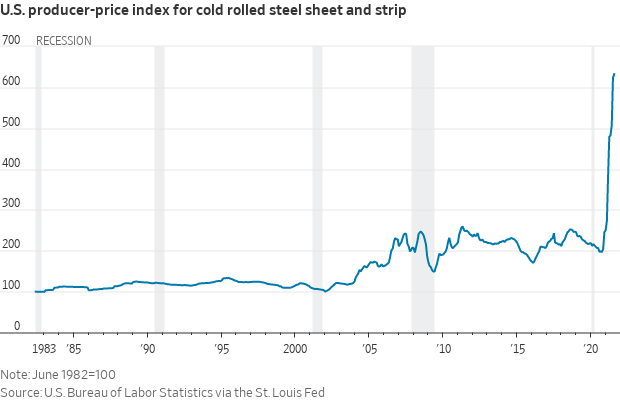 Market perspectives:
     • Outside markets: The U.S. dollar index is weaker as the euro is registering small gains against the greenback. The yield on the 10-year U.S. Treasury note has gained to trade around 1.34%. Gold and silver futures are modest higher ahead of a reading on U.S. consumers. Gold was trading around $1,760 per troy ounce and silver around $22.91 per troy ounce.

     • Crude oil futures are lower ahead of U.S. trading, with U.S. crude around $72.15 per barrel and Brent around $75.35 per barrel. Futures were weaker in Asian action, with U.S. crude down 14 cents at $72.47 per barrel and Brent down 18 cents at $75.49 per barrel.
    •  President Biden said his administration is "taking a close look" at why gasoline prices in the U.S. are not going down. The cost at the pump to consumers has hit the highest level since 2014, as a recent New York Fed survey showing expectations of higher inflation are becoming entrenched. 
     • Prices for shipping goods are overwhelming some companies already paying more for raw materials and labor, the Wall Street Journal reports, and some executives expect the elevated rates hitting international and domestic transport services to stretch into 2023. Dollar Tree, Mondelez International, 3M and Molson Coors are among those saying the high transportation costs are buffeting their businesses. Retailer Jo-Ann Stores says it has spent 10 times more than its historical cost in some cases to move products. Transportation costs as a share of the U.S. economy reached 5.1% in 2020, the highest level recorded over the past decade in the annual State of Logistics report, and have been surging this year. The Cass Freight Index for expenditures reached a record high in August and was up nearly 35% from August 2019.
     • Port congestion. Leaders of U.S. Southeast ports say they expect congestion problems at the sites to persist. Meanwhile, airfreight prices out of Asia are surging heading into the peak season.
     • Recent surge in Covid-19 cases in Southeast Asia has throttled ports and locked down plantations and processors, sparking extended disruptions of raw materials such as palm oil, coffee and tin. Restrictions in Malaysia, the world's second-largest producer of palm oil, have prevented migrant laborers from traveling to plantations, raising prices of the edible oil used to make candy bars, shampoo and biofuel. Lockdowns in Vietnam, the world's No. 2 coffee exporter by volume, have delayed the processing and export of coffee beans. The global tin supply has been hit by Covid-19-related interruptions at a smelter in Malaysia, contributing to higher prices for the industrial metal. Prices for each of these commodities have risen to multiyear highs in recent months, adding costs that are being passed on to consumers.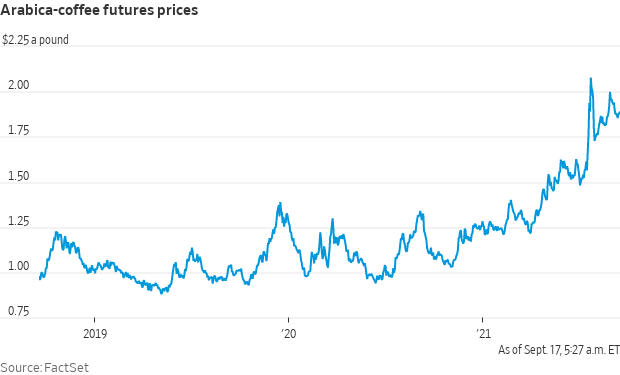 • Ag demand: Algeria is thought to have purchased around 30,000 MT of soymeal in a tender from optional origins. Jordan's state grain buyer has purchased around 120,000 MT of animal feed barley to be sourced from optional origins. South Korean flour mills bought an estimated 81,700 MT of milling wheat to be sourced from Australia. The country's Korea Feed Leaders Committee bought 66,000 MT of animal feed corn to be sourced from optional origins in a private deal.
     • NWS weather: Post-Tropical Cyclone Nicholas will continue to bring a threat of locally heavy rain and flash flooding to portions of the Gulf Coast states over the next couple of days... ...A strong cold front and accompanying plume of deep moisture will bring windy conditions and heavy rains to the Northwest beginning Friday... ...Very warm, windy, and dry conditions will support widespread elevated fire weather conditions from the Great Basin to the northern High Plains Friday and Saturday.
       
Items in Pro Farmer's First Thing Today include:
• Some overnight pressure on corn and soybeans
• Ukraine wraps up bumper wheat harvest
• Russia lowers tariff on wheat exports for first time in a month
• Equipment workers could be hard to come by as Australia readies for bumper wheat crop
• Japan's use of corn in feed still sliding
• Biofuel producers pushing for modeling change regarding SAF tax credit eligibility
• Bankers report record farmland price index|
• Russia has imposed some restrictions on Brazilian beef imports
• Beef prices still falling
• Pork prices have turned up, but cash market remains under pressure
---
POLICY FOCUS
---
— Reconciliation updates:
Biden reframes package as tax relief for working families. President Joe Biden on Thursday reframed his $3.5 trillion economic agenda and $1 trillion infrastructure plan as essential to supporting middle-class families who work hard and pay their taxes, but are still struggling to recover from the pandemic. The president said his proposals would cut taxes for 50 million families, provide universal prekindergarten, reduce healthcare premiums and prescription drug costs, lower child care and elder care costs, and help millions of women return to the workforce. He said Republican lawmakers who object to raising taxes on the largest companies and wealthiest households are the same ones who passed the 2017 tax cuts that favored the wealthy. Biden's plan includes measures to reduce the damage from extreme weather events, from hurricanes and flooding to wildfires and drought. Every dollar spent on investing in clean energy, making the power grid more resilient and fortifying levees and structures "saves $6 down the road," he said.
Democrats are taking a fresh look at the proposals for reducing carbon emissions in their $3.5 trillion spending package, hoping to win over moderate party members who raised concerns about elements of the plan. Current provisions include tax credits for purchasing electric vehicles, a program to push utilities to produce more clean electricity and a fee on methane emissions. Options being considered include a carbon tax.
Vilsack said he hopes reconciliation and infrastructure bills can be passed soon that include significant commitment to climate-smart agriculture, as well as funding for forestry, agricultural research and broadband expansion. He also continued pushing for changes in "stepped-up basis" as a way to pay for the packages, provisions that House Ways and Means Democrats opted to leave out this week. "I am confident that what I've said is accurate, which is that the stepped-up basis presented by the president, in his plan, doesn't impact 98% of farms in this country," Vilsack said, adding that the existing exemptions would protect most farms from being subject to changes. "I sincerely hope that they are able to fund the programs in the president's proposal at a level where we can really, really make a significant difference," he said. Vilsack acknowledged that the Senate Finance Committee could add changes to stepped-up basis into the reconciliation bill although the likelihood is still unknown.
— CR and debt limit. The House Rules Committee is going to take up a bill to fund the government through early December on Monday. The bill is expected to include language on the debt limit, but most Senate Republicans have already vowed to oppose such a package. 
---
BIDEN ADMINISTRATION PERSONNEL
---

— Margo Schlanger has been nominated by President Biden to serve as assistant secretary for civil rights at USDA. Schlanger was most recently a professor at the University of Michigan Law School. During the Obama administration, Schlanger served as the officer for civil rights and civil liberties in the Department of Homeland Security.
---
CHINA UPDATE
---
— IMF head accused of boosting China's rankings in World Bank Report. Kristalina Georgieva, the current managing director of the International Monetary Fund, was accused Thursday in an official report of having applied "undue pressure" on the World Bank's staff to boost China's rankings in its flagship Doing Business report. Georgieva, a Bulgarian national and former European Commissioner, was chief executive of the World Bank in 2018, and overseeing a capital increase for the international institution, which included raising money from the Chinese government. The World Bank said after the publication of the report that it would "discontinue" the publication of its annual Doing Business rankings, because the investigation had "raised ethical matters, including the conduct of former Board officials."
     Georgieva said in a release that she "disagreed fundamentally with the findings and interpretations," without elaborating further. The report found that her intervention had avoided China being downgraded from the 78th to the 85th place in the Doing Business rankings, after the intervention of "high ranking Chinese government officials."
— Big Chinese property developer Evergrande saw its stock price plunge again overnight, which some are taking as a sign there are bigger underlying problems with China's economy. China's central bank injected liquidity into its financial system Friday — the first such action in seven months. The move was aimed at calming jittery Chinese markets.
— Vilsack chides 'market-based' component in China Phase 1 agreement. The Biden administration is conducting a review of the U.S./China trade relationship and the Phase 1 agreement inked between the Trump administration and China. While that assessment still is not yet finished, USDA Secretary Tom Vilsack Thursday criticized a provision in the agreement that allows China to make their purchases based on market conditions. "There is a provision in that agreement that basically gives China the ability to use market conditions as a reason, or an excuse, to not get to a particular level," Vilsack told reporters Thursday.
     He also criticized the enforcement mechanisms in the agreement, saying, "the enforcement mechanism is not really an enforcement mechanism." However, he did not give any indication of what that comment meant.
     Vilsack said China has "obviously improved their purchases from where they were a couple of years ago. But, the challenge is they aren't yet at the level" agreed to in the Phase 1 deal. But Vilsack did comment that China's record level of purchases could be in part due to his conversations with his Chinese counterparts about fulfilling their obligations. 
---
TRADE POLICY
---
— China has formally applied to join an 11-nation Asia-Pacific trade pact made up of American allies. The announcement that China will try to join a pact that was initially championed by former President Barack Obama to counter China came a day after the Biden administration unveiled a new security partnership with the U.K. and Australia in the Indo-Pacific as Beijing's influence grows in the region. China's Commerce Ministry announced Thursday that it submitted the application for the Comprehensive and Progressive Agreement for Trans-Pacific Partnership, or CPTPP.
     White House press secretary Jen Psaki said CPTPP members must decide for themselves whether to allow China to enter the deal. As for the U.S., Psaki outlined conditions that must be met before Biden would reconsider his opposition to the pact. For starters, she said, it would need to be renegotiated with environmental groups and labor unions sitting at the table. "Obviously there'll be a lot of steps for that to be taken in order for that to be a viable option to the president," Psaki noted. "If there's an opportunity to renegotiate, then that could be a discussion we could be a part of." But she also noted the administration was not just looking at trade issues relative to the region. "We're looking at a range of options, of course, to forge stronger economic partnerships in the Indo-Pacific," Psaki said. "Trade is not the only one." Most observers think the U.S. will seek to join the CPTPP at some point but as Psaki noted, it will have to extract changes in the deal in order for that to happen.
---
ENERGY & CLIMATE CHANGE
---
— Additional meetings scheduled at OMB on RFS proposed levels. Three additional meetings have now been scheduled at the Office of Management and Budget (OMB) on the proposed Renewable Fuel Standard (RFS) levels from EPA. Meetings that have been added to the schedule include one that took place yesterday (Sept. 16) with BTR Energy, a technology company based in Washington, DC, that is listed as providing a "data-driven platform" for businesses in the agricultural, electric transportation and power industries to "benefit from participation in low carbon transportation programs." A meeting is currently on the schedule for Sept. r 23 with CITGO Petroleum and another Oct. 4 with the Northwest Ohio Building Trades Council. If all the meetings take place before OMB completes its review, it suggests that it will be into October.
     Comments: One source said he was told it will be published no later than Sept. 27. In the past, OMB has talked with some stakeholders after an announcement was made.
— Chinese EV Maker XPeng introduced an EV that will cost less than $25,000 and comes equipped with the lidar technology that backs autonomous driving functions. And Ford said Thursday preproduction models of its F-150 Lightning truck are rolling off the line.
— House panel calls oil executives in for questioning about misinformation. The House oversight committee has summoned executives from Exxon, Chevron, BP and Shell, as well as related industry groups, to testify next month about their parts in spreading disinformation about the role of fossil fuels in global warming.
— Vilsack outlines new global effort on climate, sustainability. The U.S. will advance a "new coalition" at the U.N. Food Systems Summit next week that USDA Secretary Tom Vilsack said will "elevate sustainable productivity growth as a strategic action priority." The new Coalition of Action for Sustainable Productivity Growth for Food Security and Resource Conservation is that effort which Vilsack announced as he addressed the G20 Open Forum on Sustainability in Italy. He also said the US and United Arab Emirates will be advancing what is dubbed the Agricultural Innovation Mission for Climate (AIM4C) with a launch set for the COP26 in November.
     Vilsack called the global climate efforts a "landmark initiative to accelerate global agricultural innovation through increased investment in research and development, leading to innovative, science-based solutions to help agriculture mitigate and adapt to climate change."
     This comes as the European Union (EU) has launched their Farm to Fork (F2F) initiative which focuses on reducing the use of fertilizers, pesticides and antimicrobials along with taking land out of production. Vilsack did not directly criticize the F2F plan but did express concern that barriers could be put in place "aren't science based." He said he thought that science and innovation can play a role in helping farmers become more productive and sustainable by using things like biotechnology and gene editing. "We believe a more sustainable agriculture can also be a more productive agriculture and can in fact meet the needs and demands of a growing global population," Vilsack said. "Our system works well for our farmers, and there are a lot of other countries who feel similarly, which is why I think there's an interest in this coalition for productivity."
     Vilsack also said he thinks many EU farmers have questions about the F2F initiative and whether it will reduce their income. "They're going to have to resolve this, but in the meantime, the United States is going to continue to do what it's doing," Vilsack observed.
     Unveiling the effort in Italy, Vilsack was also careful to send a signal to U.S. farmers that the global focus on this area will not negatively affect them, stating, "nothing is going to come out of this summit that would make it more difficult for our products to be sold globally or are our way of agriculture to make us less competitive."
     Vilsack said his message to other countries is that there "has to be a recognition that there are multiple ways to get to that goal, multiple strategies, multiple technologies, multiple ways to use science and innovation to get to that goal."
     Focus on sustainability comes as the U.S. is also working on carbon markets as another revenue stream for farmers. "We've listened to farmers, and we're going to structure and do this in a way that they're most comfortable," Vilsack stated. "Our system in the U.S., which is incentive-, market-based and based on voluntary actions and based on utilizing programs that farmers are already very familiar with, is a way, an important way, a successful way, of encouraging climate smart agricultural practices that get us to a point where we can get to net zero and remain competitive on the global market and satisfy the demands of domestic consumers."
     No one has joined the effort.  Countries like Canada, Mexico and some in South America could be potential members of the new coalition sought by the US. Vilsack said that Brazil seems interested in the idea.
     While framing it indirectly as a way to counteract the EU F2F strategy, Vilsack said he did not discuss it when he met with EU Commissioner for Agriculture Janusz Wojciechowski earlier this week. Vilsack summed up the session with his EU counterpart on Twitter, noting, "The U.S. & EU share common commitment to sustainability and climate-smart ag and when we take different approaches, we must make sure not to arbitrarily restrict trade."
     Meanwhile, the House Agriculture Committee has scheduled a hearing on carbon markets next Thursday morning.   
---
LIVESTOCK, FOOD & BEVERAGE INDUSTRY
---
— USDA to extend PLIP signup. Signup for the Pandemic Livestock Indemnity Program (PLIP) was scheduled to end today (Sept. 17), but USDA is opting to extend that signup to the close of business Oct. 12 "to ensure that all producers have adequate time to enroll in PLIP." 
---
CORONAVIRUS UPDATE
---
— Summary: Global cases of Covid-19 are at 227,113,468 with 4,671,514 deaths, according to data compiled by the Center for Systems Science and Engineering at Johns Hopkins University. The U.S. case count is at 41,785,979 with 670,009 deaths. The Johns Hopkins University Coronavirus Resource Center said that there have been 383,038,403 doses administered, 180,086,143 have been fully vaccinated, or 54.9% of the U.S. population.
— Advisers to the Food and Drug Administration meet later today to discuss whether booster shots should be offered to most Americans. President Biden is backing the move, despite some uncertainty over the scientific need for it, and criticism that introducing a third shot will further delay supplies to poorer countries.
---
POLITICS & ELECTIONS
---

— House Republican who backed impeachment calls it quits. Rep. Anthony Gonzalez (R-Ohio) announced on Thursday that he will not run for re-election in 2022. Although he entered office as a Trump-supporting former NFL wide receiver, Gonzalez surprised many in his district earlier this year when he became one of 10 House Republican to vote for former President Donald Trump's second impeachment. Calling Trump "a cancer for the country," Gonzalez told the New York Times that he was stepping down partly because of how his career had upended his family life, citing the death threats he had received since his impeachment vote. Besides family considerations, Gonzalez was facing an uphill primary battle against Max Miller, who was a deputy campaign manager for Trump's 2020 presidential bid. All nine of the other pro-impeachment House Republicans are facing primary challengers as well.
— Another poll shows President Biden's approval rating dropping to its lowest level since he took office. A Reuters/Ipsos poll released on Thursday found that 44% of U.S. adults approve of Biden's job performance, while 50% disapproved. As recently as mid-August, a Reuters poll showed 51% of adults approving Biden's job performance and 43% disapproving, underlining the stark reversal of the president's fortunes in the past few weeks.
---
OTHER ITEMS OF NOTE     
---
— More than 10,000 migrants are being held outdoors under a bridge in South Texas. According to the Washington Post, the situation — sparked by a sudden influx in migrants hailing from Haiti — has created "a humanitarian emergency and a logistical challenge U.S. agents describe as unprecedented."
— Close to half of new U.S. gun buyers since the start of 2019 have been women, a shift for a market long dominated by men.