Major Miss for Jobs Reports as Data Shows Delta Variant Slowing U.S. Economy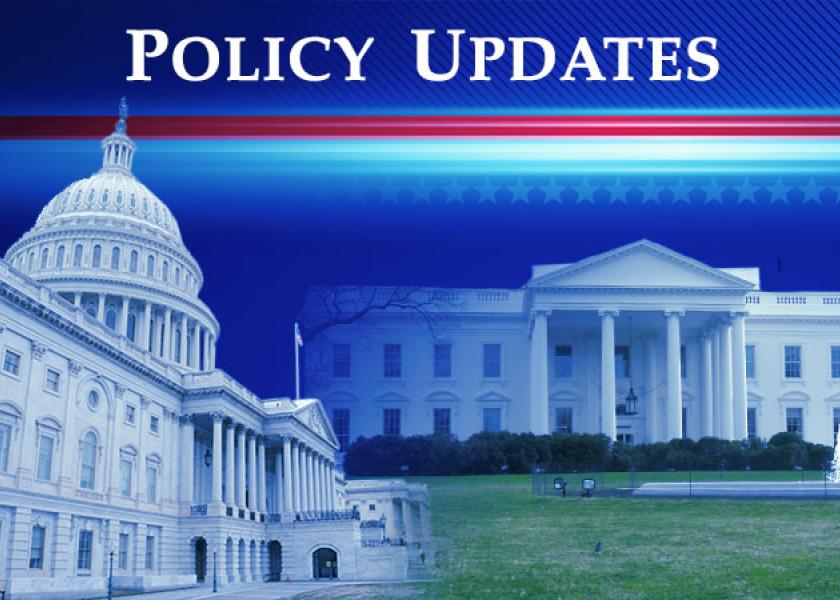 Vilsack says hog, biofuel aid coming soon | USDA boosts farm income forecasts  
---
In Today's Digital Newspaper
---
Market Focus:
• Jobs report shows U.S. economy is slowing
• Huge pre-report miss for Jobs report
• U.S. economy added just 235,000 jobs in August
• Unemployment rate was 5.2%, compared with 5.4% in July
• USDA boosts farm income forecasts
• U.S. trade deficit narrowed in July
• Delta variant may be denting consumer spending growth and consumer confidence
• GM, Ford halt some production as chip shortage worsens
• Semiconductor shortage also impacting heavy-duty truck production
• Walmart will increase minimum wage to $12 an hour, raise pay for hundreds of thousands
• Copper prices at lowest level in more than a year
• Hedge funds adding to sugar price rally
• "You said what about sorghum?"
• Downside risk to $4 for corn, but most say that level won't be hit
• Russia raised wheat export tax to $46.50 last night
• Storm clouds on the horizon, literally
• Ag demand update
• Corn futures under pressure, soybeans and wheat favoring upside
• Normal market hours today
• StoneX raises U.S. corn and soybean yield forecasts after welcome rains
• Rainy weather stabilizes Argentine wheat crop
• Ukraine's grain exports off to a strong start
• French soft wheat harvest nearly complete
• Ideas a top is in weighs on cattle futures
• Short-term uptrend still intact for lean hogs
Policy Focus:
• Manchin to Dems: Hit 'pause' on Biden's $3.5 trillion plan  
• Other hurdles: Keeping gov't funded and avoiding a default
• Vilsack discusses USDA agenda at FJ town hall
• Vilsack: Aid coming soon for hog and biofuel sectors
• Biofuel aid package at Office of Management and Budget
Afghanistan:
• Afghanistan's neighbors closed their land borders
• Taliban fighters carrying out reprisal killings across at least four provinces  
• Biden admin. urged to help get U.S.-government-funded media out of Afghanistan  
China Update:
• China will introduce yuan-denominated commodities futures trading
• China pork demand has not returned to prior levels; consumers switch to other proteins
• China: U.S. tensions threaten fight against climate change
• China's loss of cropland: 7.5 mil ha over 10 years
Trade Policy:
• House Ag Dems press USTR, USDA to confront China, Mexico on biotech trade
Energy & Climate Change:
• Prices soar for lithium-based chemicals that go into rechargeable batteries
• Companies finding carbon emissions hard to measure and verify  
• Ag media covering renewable diesel in a big way
• Chevron to invest in Bunge soy crush facilities
• New soybean crushing plant will be built in Buena Vista County near Alta, Iowa
• City of Los Angeles accelerates clean energy transition schedule

Livestock, Food & Beverage Industry Update:
• USDA seeks comments on the labeling of cell-cultured foods
• U.S. grocers bracing for snack-food disruptions as strike at Mondelez threatens supplies

Coronavirus Update:
• Covid medical bills about to get bigger
• Three doses instead of two?
• White House to invest $3 billion to ensure production of Covid-19 vaccines
Politics & Elections:
• Japanese Prime Minister Yoshihide Suga won't seek re-election
• Russia threatened to fine Apple & Google and accuse them of election interference
Other Items of Note:
• Railroad regs coming
• New farmer insurance policy
---
MARKET FOCUS
---
Equities today: Global stock markets were mixed overnight. The U.S. stock indexes are pointed to slightly higher openings. Asian equities were mostly mixed. Japan's Nikkei was up 584.60 points, 2.05%, at 29,128.11. Hong Kong's Hang Seng fell 188.44 points, 0.72%, at 25,901.99. European equities are mixed. The Stoxx 600 is down 0.2% with most regional markets seeing losses of 0.5% to gains of 0.2%.
     U.S. equities yesterday: The Dow rose 131.29 points, 0.4%, to 35,443.88 and the S&P 500 added 12.86 points, 0.3%, to 4536.95, setting a fresh record high. The Nasdaq Composite, which also set a record on Wednesday, rose 21.80 points, 0.1%, to 15,331.18, as large technology stocks extended their gains.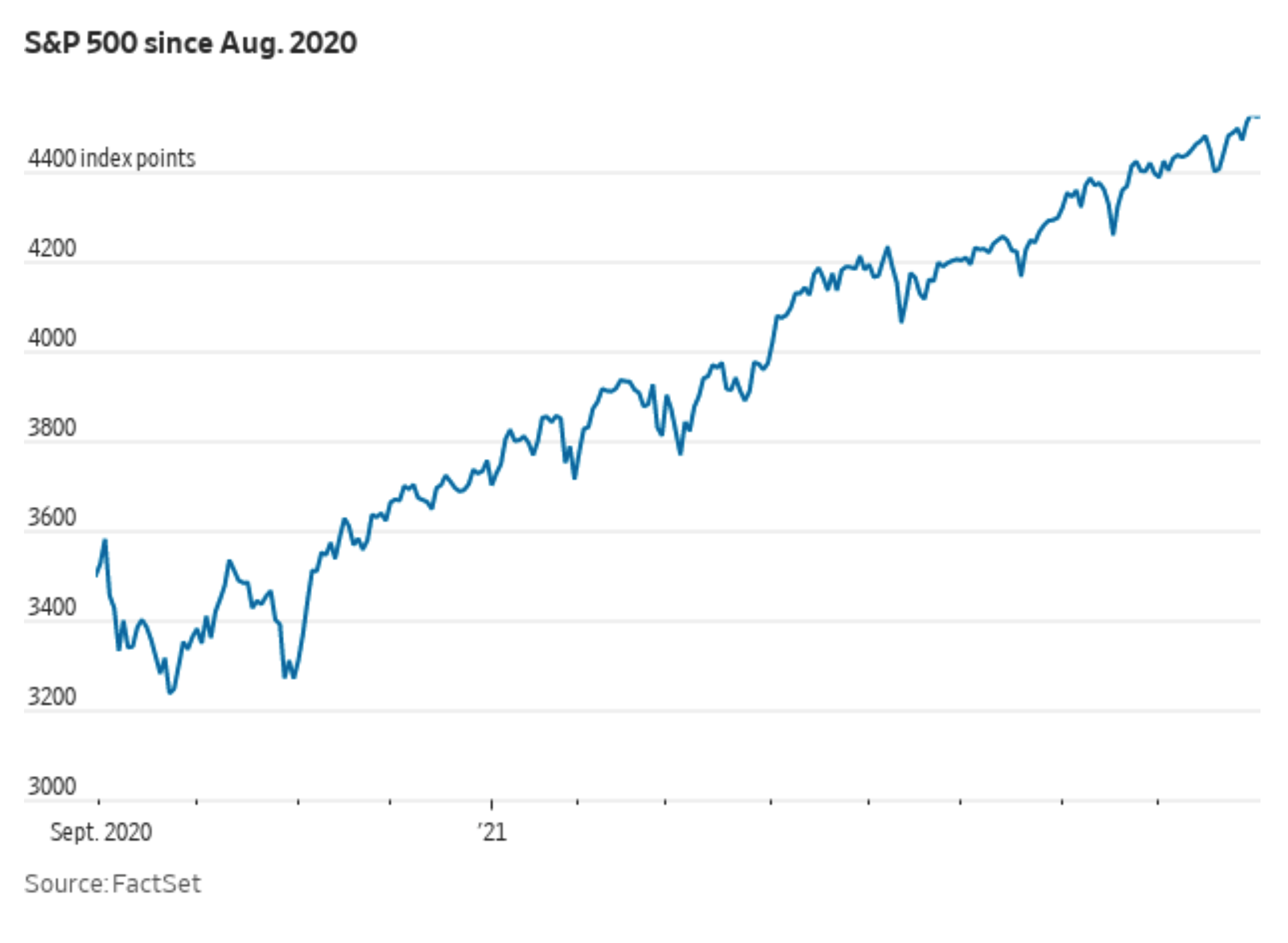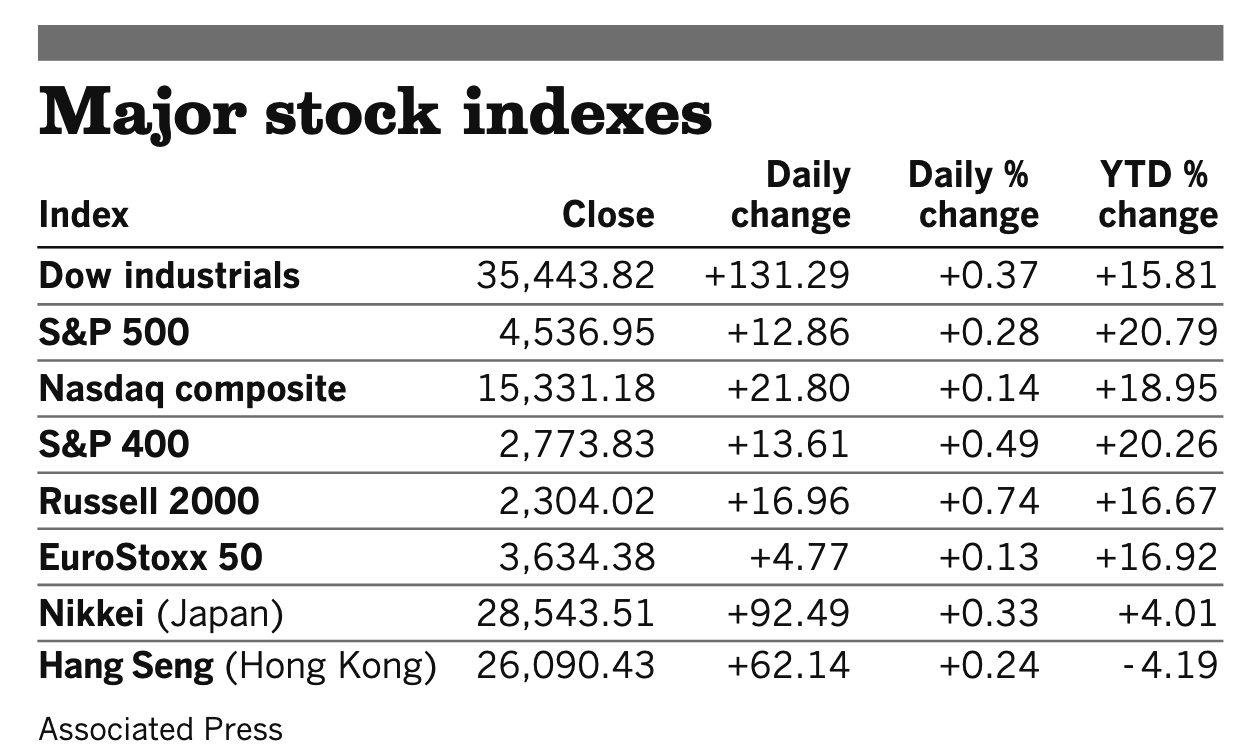 On tap today (see detailed list of events and reports below):
     • Jobs report. U.S. employers are expected to add 720,000 jobs in August and the unemployment rate is forecast to fall to 5.2% from 5.4% a month earlier. (8:30 a.m. ET) Update: The American economy slowed abruptly last month, adding 235,000 jobs, a sharp drop from the huge gains recorded earlier in the summer and an indication that the Delta variant of the coronavirus is putting a damper on hiring. The Labor Department report follows a sharp increase in coronavirus cases and deaths that has undermined hopes that restrictions on daily activities were nearing an end. The unemployment rate was 5.2%, compared with 5.4% in July. "Delta is a game-changer," said Diane Swonk, chief economist at Grant Thornton, an accounting firm in Chicago. "It's not that people are laying off workers in reaction to Delta but people are pulling back on travel and tourism and going out to eat and that has consequences."
     • IHS Markit's U.S. services index for August is expected to tick up to 55.3 from a preliminary reading of 55.2. (9:45 a.m. ET)
     • Institute for Supply Management's services index is expected to fall to 61.6 in August from 64.1 a month earlier. (10 a.m. ET)
     • Baker Hughes rig count is out at 1 p.m. ET.
     • CFTC Commitments of Traders report, 3:30 p.m. ET.
     • Japan's Prime Minister Yoshihide Suga is stepping down.
Net farm income is expected by USDA to rise $18.5 billion this year to $113 billion, its highest level since 2013. Net cash farm income, which tracks producers' cash flow, is forecast at $134.7 billion for 2021. That number is up $6.4 billion from February's forecast and would be an increase of 21.5% from 2020's $110.9 billion. We indicated in February that USDA's farm income forecasts were too low. Link for details.
     Comments: One industry analyst cautions this about USDA's farm income report: "Their farm income chart is in inflation adjusted 2021 dollars, so the year-to-year changes and levels are different than the current dollar numbers they site in other charts throughout the report with exception of production expense chart."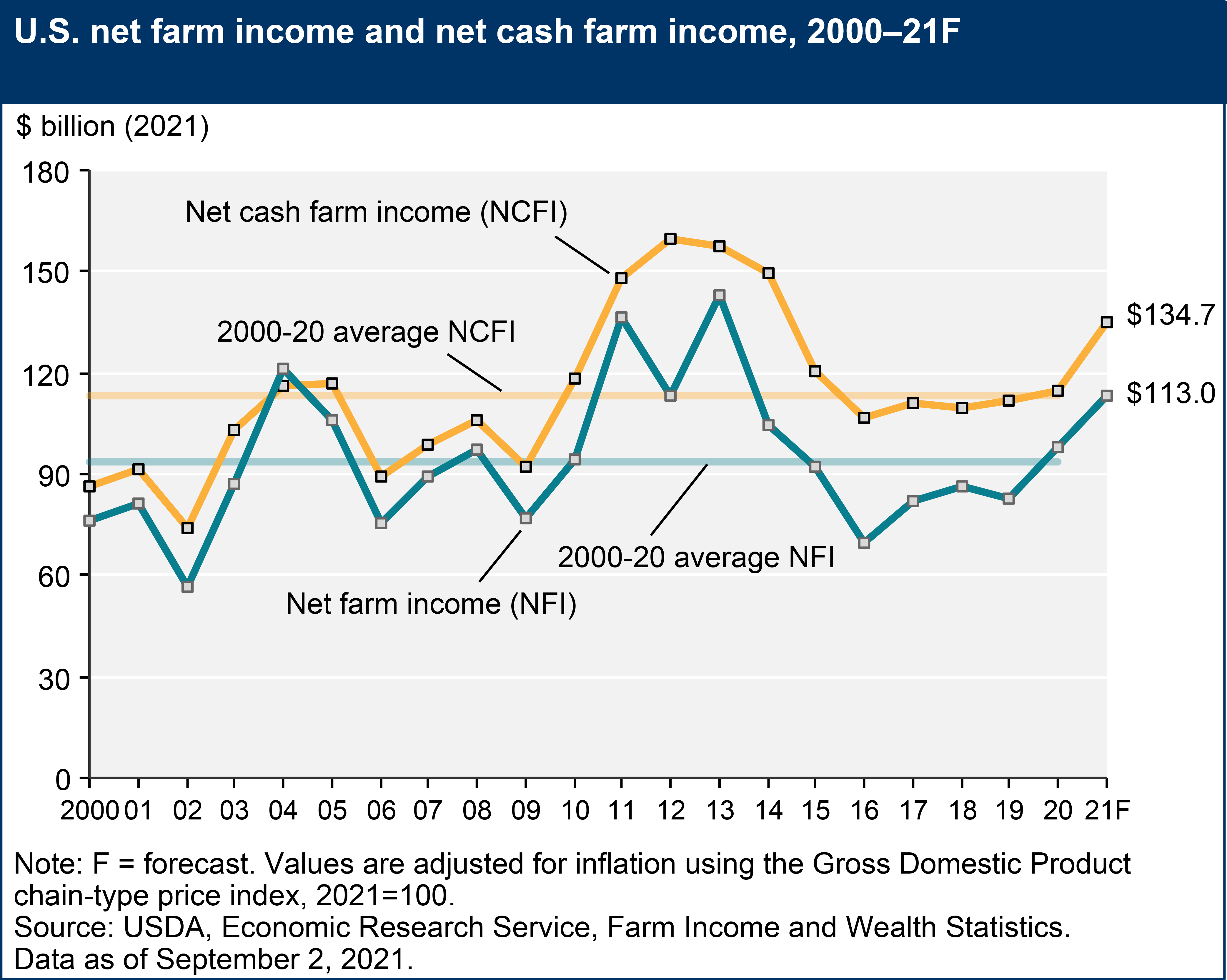 U.S. trade deficit narrowed in July as consumers and businesses pulled back on purchases of imported goods. The trade gap in goods and services shrank 4.3% from the previous month to a seasonally adjusted $70.1 billion, the Commerce Department said. The trade deficit had just reached a record level in June, a result of the U.S. economy's voracious appetite for imports in recent months even as the slower recovery in other parts of the world kept U.S. export growth in check. That pattern was disrupted in July as Americans grew more cautious about spending.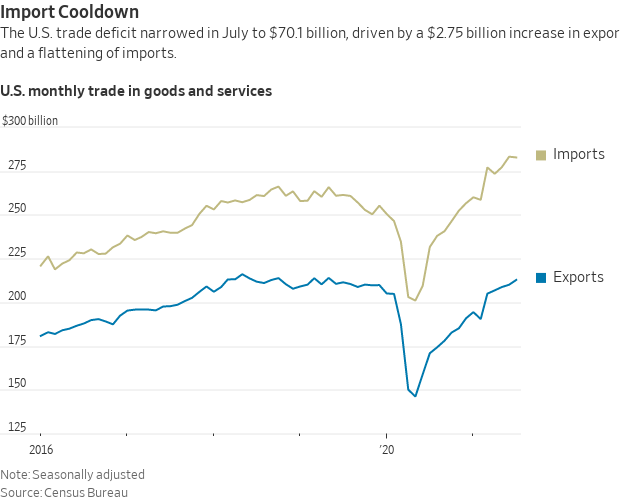 Delta variant appears to be denting consumer spending growth and consumer confidence. Restaurant reservations on bookings site OpenTable were down 9% in the week ending Sept. 2 compared with the same week in 2019, for instance. In another sign of weakening, the number of employees logging hours fell 4% in August from July, according to Homebase, a scheduling-software company with mainly smaller business clients. The number of hospitality employees working dropped 35% from mid-July, while those employed in entertainment fell 20%.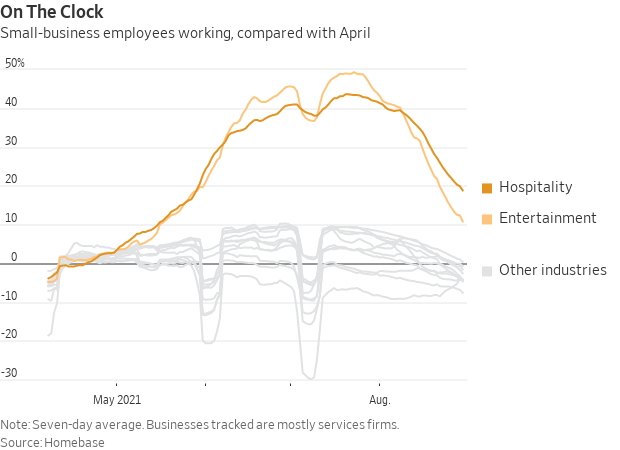 GM, Ford halt some production as chip shortage worsens. The global shortage of computer chips is getting worse, forcing automakers to temporarily close factories including those that build popular pickup trucks. General Motors announced Thursday that it would pause production at seven North American plants during the next two weeks, including two that make the company's top-selling Chevrolet Silverado pickup. Ford will stop making pickups at its Kansas City Assembly Plant for the next two weeks. Shifts will be cut at two more truck plants in Dearborn, Michigan, and Louisville, Kentucky. "These most recent scheduling adjustments are being driven by the continued parts shortages caused by semiconductor supply constraints from international markets experiencing COVID-19-related restrictions," GM said in a statement.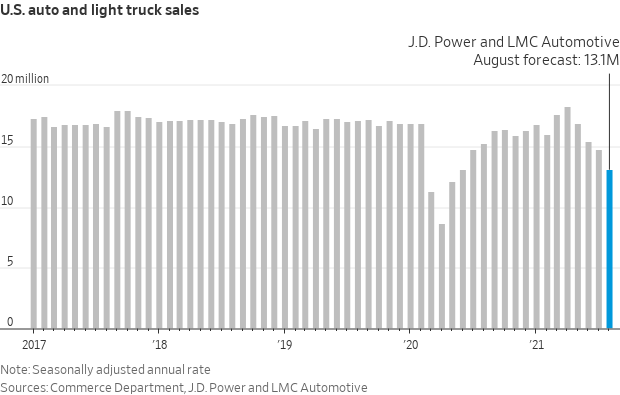 Semiconductor shortage is also impacting heavy-duty truck production. North American production of Class 8 trucks, the big vehicles that haul most domestic freight, sank this summer to its lowest level since May 2020, when the coronavirus had shut down much of the U.S. economy. The backlog of trucks ordered but not built, meanwhile, nearly tripled from the same month a year ago. Link to details via WSJ.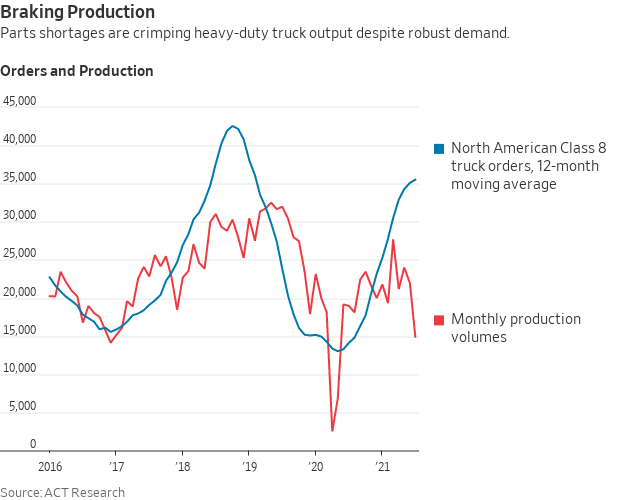 Walmart will increase its minimum wage to $12 an hour and raise pay for hundreds of thousands of its U.S. store workers as a tight labor market continues to create fierce competition for staff. Walmart said it will give raises to more than 565,000 of its 1.6 million U.S. workers, bringing the company's overall average wage to $16.40 per hour for hourly workers. Starting pay will rise from the $11-an-hour floor Walmart established in 2018, though the new rate is still below the $15-an-hour mark at rivals such as Target and Amazon.com.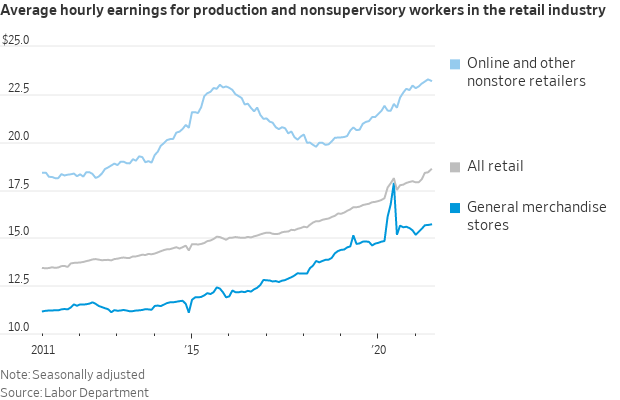 Market perspectives:
     • Outside markets: The U.S. dollar index is little changed. The yield on the 10-year U.S. Treasury note rose, trading near 1.30%, with a higher tone in global government bond yields. Gold and silver futures are up ahead of U.S. trading. Gold is trading at around $1817 per troy ounce, while silver is trading near $24.15 per troy ounce. 

     • Crude oil futures are higher ahead of U.S. trading, with U.S. crude trading at around $70.25 per barrel and Brent near $73.50 per barrel. Futures had been slightly lower overnight in Asian trading.
     • Investors recently pushed bullish wagers on copper prices to their lowest level in more than a year, a sign that traders are worried that higher supply will cool down this year's rally.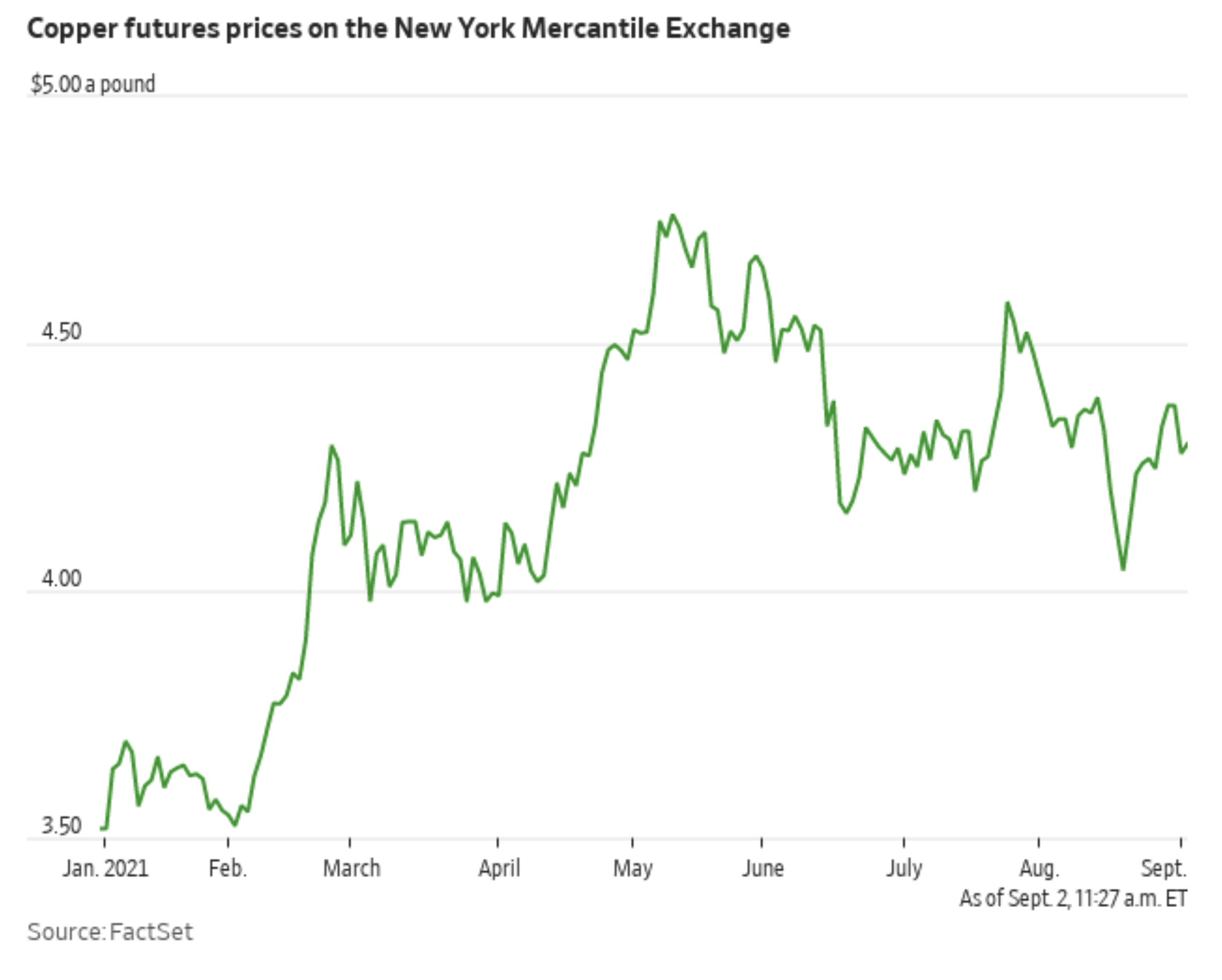 • Sugar prices shot to four-year highs after a frost in Brazil cut the size of the cane crop in the world's biggest producer, and hedge funds are adding to the market's momentum.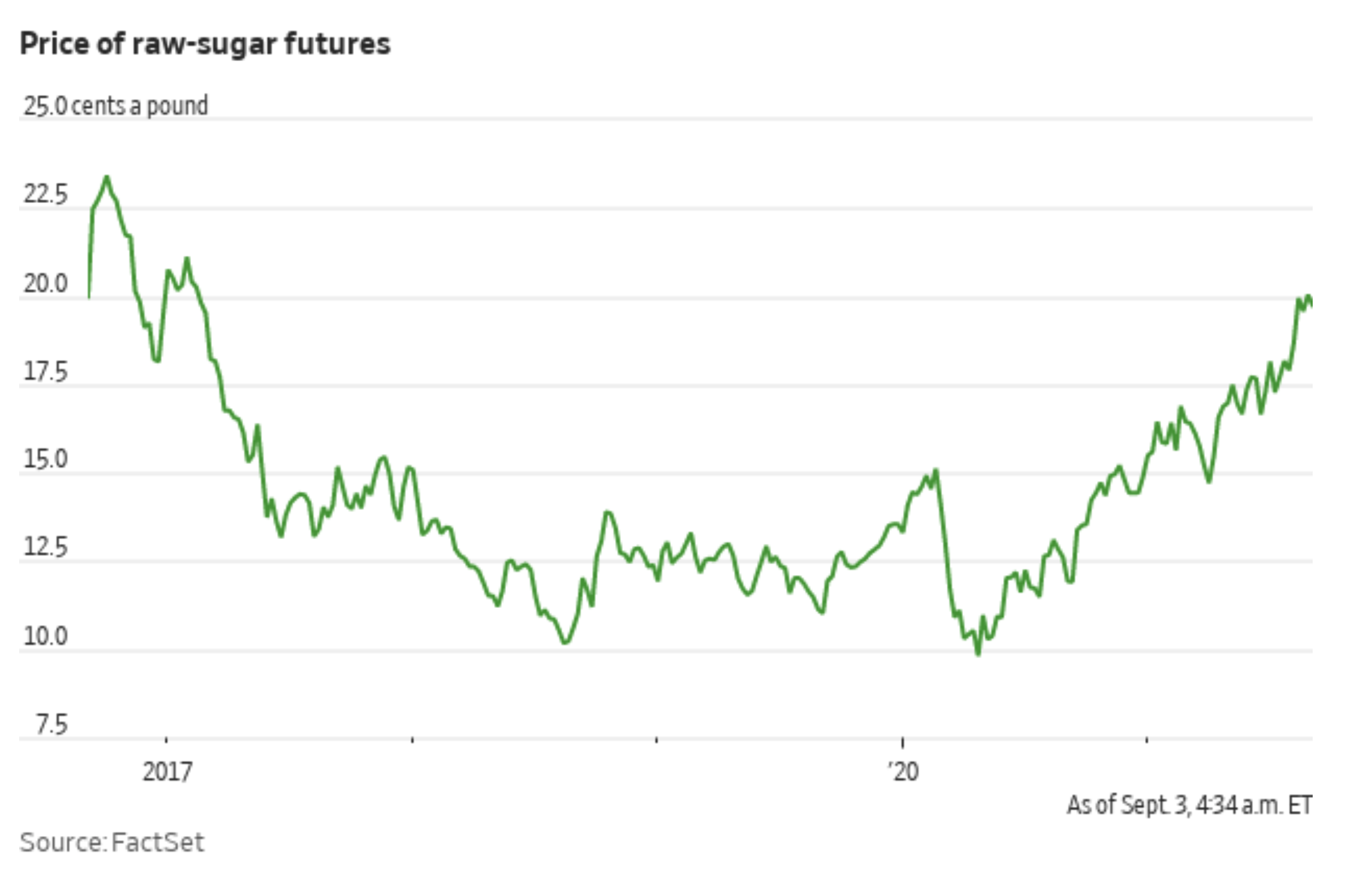 • "You said what about sorghum?" Several readers of Policy Updates either emailed or called me regarding Thursday's item noting a "few" analysts were calling for NASS to increase sorghum acres by "up to 2 million acres" in the Sept. 10 USDA Crop Production Report. One industry analyst said: "In the last ten years, the largest acreage change between June acreage and the January Annual Summary for sorghum was 900,000 acres more for the 2013 crop (no change in August report). So those analysts saying up to 2 million acres more are certainly bucking history...that is a 30% boost in acres!" One reader emailed: "I was reading Policy Updates and when I read up to 2 million acres more sorghum, I spit out my coffee..." Maybe they meant 200,000 acres? Hmmm.
     • Four! No, that's not just a golf term. It's what some analysts say could occur in corn futures as recent corn price action opens up downside risk to $4. Most analysts think a $4 mark is way too low for what will pan out. Says one analyst: "Not much below $5 unless ending stocks push up over 1.5 billion bushels. China and others will buy; Brazil doesn't have enough corn to export."
     • Russia raised their wheat export tax to $46.50 last night. Russia has once more hiked its weekly tax on wheat exports. The duty will rise to $46.50 per metric ton for Sept. 8-14, a $6.90 spike from the week prior. Rising tariffs paired with rising export prices for the grain have clipped export demand for Russian wheat. Some farmers are reportedly holding off on sales.
     • Ag demand: Jordan issued a new tender to buy 120,000 MT of wheat. Egypt's state grains buyer purchased 10,000 MT of soyoil and 19,000 MT of sunflower oil in an international tender. The Taiwan Flour Millers Association bought an estimated 48,875 MT of milling wheat to be sourced from the U.S. PNW.
     • Storm clouds on the horizon, literally. As the Northeast took stock of the deadly impact of Hurricane Ida, leaders acknowledged that extreme weather events were posing an increasingly urgent threat. "There are no more cataclysmic 'unforeseeable' events," Gov. Kathy Hochul of New York said yesterday. "We need to foresee these in advance and be prepared." In New York, New Jersey, Pennsylvania and Connecticut, at least 43 people died after several inches of rain flooded subway platforms and turned cars and basements into death traps. Around the Gulf Coast, where Ida made landfall, the storm knocked out power for hundreds of thousands in Louisiana and left 16 people dead in the region. The weather will get more extreme as the planet gets hotter, climate experts have warned. "The trend is becoming increasingly evident," said Aiguo Dai, a professor of atmospheric science at the University at Albany, SUNY. "This is exactly what both theory and climate models predicted." Link to how Ida got so big, so fast.
     • NWS weather: Cooler and drier weather to support ongoing cleanup efforts in the Northeast and Mid-Atlantic the next couple days... ...Rounds of showers and thunderstorms to drench parts of the Nation's Heartland, severe weather and flash flooding is possible in the Central Plains... ...Spotty showers and thunderstorms along the Gulf Coast and in the southern High Plains; poor air quality due to ongoing bouts of wildfire smoke to continue; hot and steamy in the South Central U.S.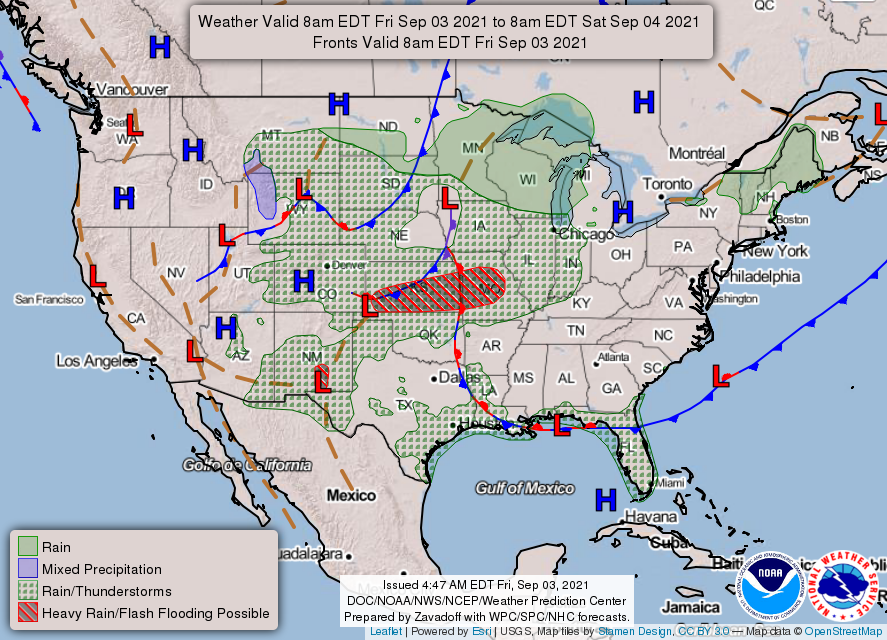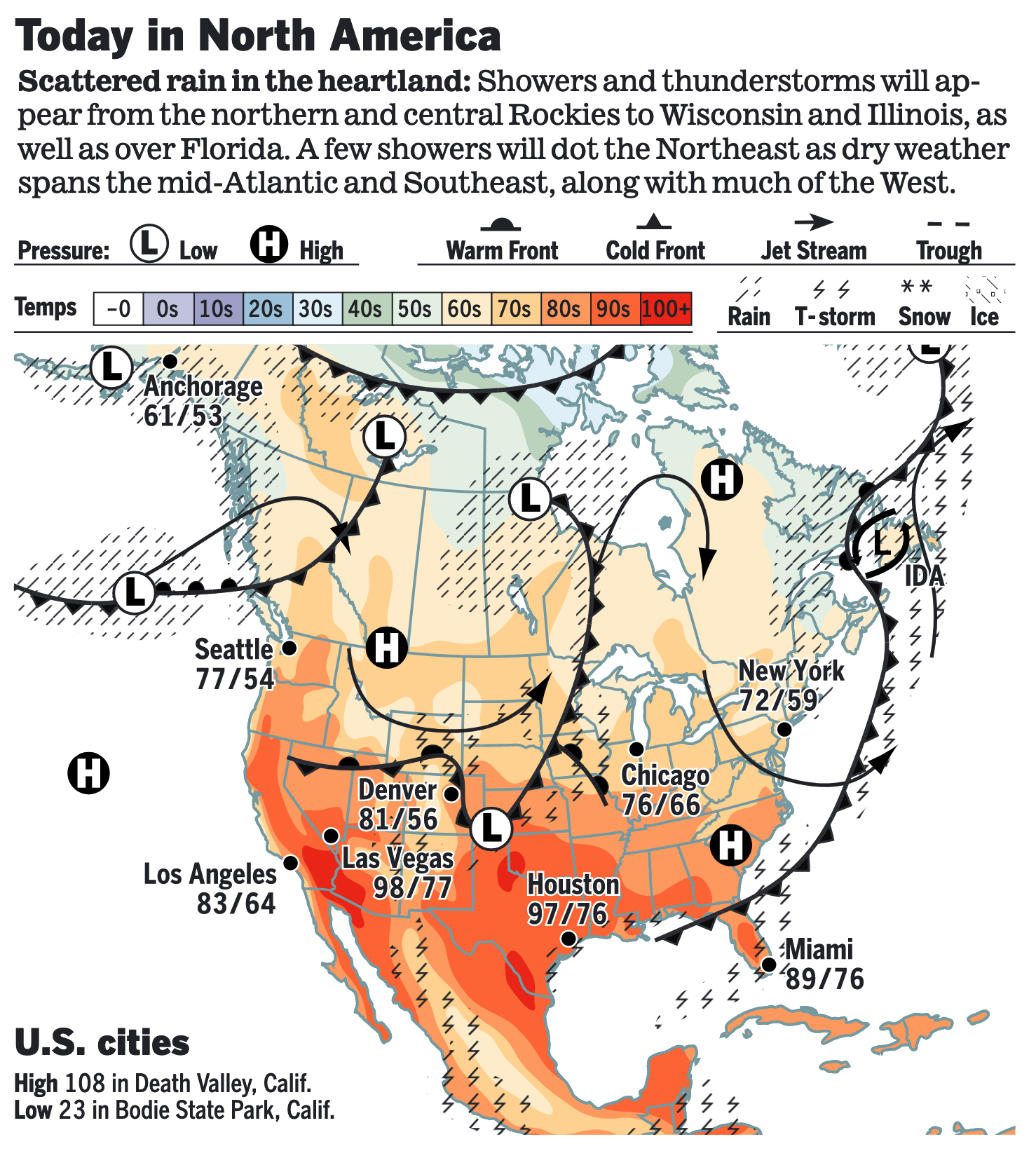 Items in Pro Farmer's First Thing Today include:
     • Corn futures under pressure, soybeans and wheat favoring upside
     • Normal market hours today
     • StoneX raises U.S. corn and soybean yield forecasts after welcome rains
     • Rainy weather stabilizes Argentine wheat crop
     • Ukraine's grain exports off to a strong start
     • French soft wheat harvest nearly complete
     • Ideas a top is in weighs on cattle futures
     • Short-term uptrend still intact for lean hogs
---
POLICY FOCUS
---
— Manchin to Dems: Hit 'pause' on Biden's $3.5 trillion plan. Sen. Joe Manchin (D-W.Va.) said Democrats should hit "pause" on President Biden's $3.5 trillion spending package, sending a significant warning shot at Biden and Democratic congressional leaders' top legislative priority. Link to our special report on this topic.
     Other hurdles: Democrats' efforts to pass trillions of dollars in new spending by the end of September are colliding with other looming deadlines: keeping the government funded and avoiding a default.
— Vilsack discusses USDA agenda at FJ town hall. The highly anticipated top-up payments to hog producers, initially promised at $17 per head, are, according to USDA Secretary Tom Vilsack, coming soon. Meanwhile, he is not sure Congress gave authority for specific biofuel sector payments, but he quickly signaled other biofuel initiatives are ahead. Pro Farmer has learned the biofuel sector aid package is currently at the Office of Management and Budget, with some sources saying a direct payment still cannot be ruled out. Link to details of Vilsack interview.
---
AFGHANISTAN
---
— Afghanistan's neighbors have closed their land borders, and now "tens of thousands" of Afghans who couldn't leave Kabul before Aug. 31 are trapped, the Wall Street Journal reports (link). Locals in Pakistan estimate that several thousand Afghans have been smuggled across Chaman over the last couple of weeks, paying up to $90 a person. And Iran presents an even tougher challenge due to certain visa restrictions.
— Taliban fighters are reportedly carrying out reprisal killings across at least four provinces —Kandahar, Nangarhar, Badghis, and Farah, according to the BBC, which noted it "was not able to independently confirm the killings, and the Taliban have repeatedly denied committing any revenge killings."
— Lawmakers and media organizations are calling on the Biden administration to help get more than 100 employees of U.S.-government-funded media out of Afghanistan.
---
CHINA UPDATE
---
— China will introduce yuan-denominated commodities futures trading that is open to foreign traders and investors. Chinese President Xi Jinping announced the formation of a Beijing Stock Exchange in a bid to channel investment into promising young technology companies as avenues to raise money in the U.S. dwindle. China's State Council announced today it plans to offer more commodities futures, including shipping contracts. China has been gradually opening futures trading on its commodities futures, with the goal of having more global control of commodity pricing. Foreign investors currently have access to China futures markets including crude oil, iron ore, rubber and bonded copper. The official statement announced plans to accelerate the introduction to overseas traders by building an "international commodity futures market priced and settled in renminbi."
— China pork demand has not returned to previous levels, which suggests that many Chinese consumers have permanently switched to other proteins, according to an article in the Financial Times (link).
— China: U.S. tensions threaten fight against climate change. China warned the U.S. that a "strategic miscalculation" in its relations with Beijing had stoked bilateral tensions that risked derailing high-level talks aimed at combating the global threat of climate change. The warning came ahead f a meeting between John Kerry and Xie Zhenhua, the climate envoys for the two nations, in Tianjin, north-eastern China, with the Biden administration calling for Xi Jinping's government to boost its efforts towards cutting carbon emissions.
     Wang Yi, China's foreign minister, said co-operation on climate would not be sustainable without better relations. A "major strategic miscalculation" by Washington had resulted in "the sudden deterioration of bilateral relations in recent years", Wang was quoted as saying by the Chinese state media. "The ball now is in the U.S. court", he added.
     Kerry comments. He said there was "no way for the world to solve the climate crisis without the full engagement and commitment of the [People's Republic of China], which produces 27% of global emissions", according to a state department spokesperson.
     After the meeting, Kerry said he and Xie had agreed to meet again ahead of the COP26 UN climate conference in November to resolve bilateral disagreements and pave the way for global leaders to strike more ambitious climate goals. Beijing is trying to position itself as a global leader on climate change, with Xi pledging last year to reach net-zero carbon dioxide emissions by 2060.
— China's loss of cropland: 7.5 mil ha over 10 years. China's latest survey shows that cultivated land comprised 16% of national land use. Orchards and plantations account for another 3%. Forests and grasslands are the most prevalent land use, covering a combined 68% of land area. Urban/industrial/mining covers 4% of land, according to the survey results. The land survey results were released in a communique by China's Ministry of Natural Resources and National Bureau of Statistics after three years of work. This survey measured land area as of December 31, 2019. The previous land survey had gathered land data as of 2009. (Source: Dim Sums: Rural China Economics and Policy)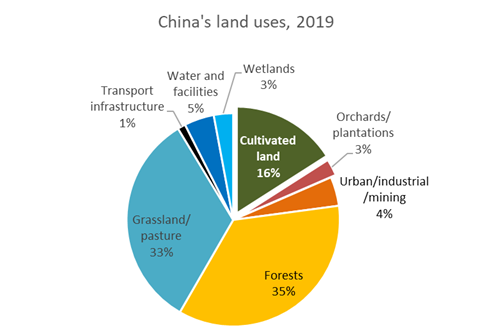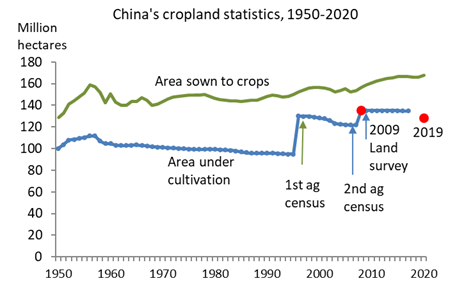 ---
TRADE POLICY
---
— House Ag Dems press USTR, USDA to confront China, Mexico on biotech trade policies. A group of House Agriculture Committee Democrats is asking U.S. Trade Representative (USTR) Katherine Tai and USDA Secretary Tom Vilsack to hold China and Mexico to trade commitments regarding ag biotechnology — including the use of enforcement action against Mexico under the US-Mexico-Canada Agreement (USMCA) if it fails to comply.
     In a letter (link) sent to Vilsack and Tai, the lawmakers recalled the Biden administration's 2021 Trade Policy Agenda which "emphasized expanding export markets for farmers and ranchers, fighting climate change, and enforcing the rules." They said China and Mexico's continued non-tariff trade barriers on ag biotech products "undercut those parts of the agenda."
      Biotech trade barriers "have a chilling effect on global adoption and commercialization of new technologies," forcing farmers to choose "between innovative technologies or access to foreign markets," the lawmakers said. China and Mexico in particular, "are failing to comply with their commitments to science-based, and timely regulatory approval processes," they wrote.
     In China's case, it agreed under the U.S./China Phase 1 trade deal to abide by "predictable and consistent average timelines for regulating biotechnology products for import" and "not to request information unnecessary for assessing the safety of a product for its intended use." However, more than two years into the agreement "timelines for product approvals for import still average more than seven years," the lawmakers noted. "We encourage you to hold China accountable to this Phase One commitment so that American farmers maintain access to these innovative production tools," they wrote.
     Meanwhile, Mexico committed to "enhanced biotechnology measures and sanitary and phytosanitary standards" under the U.S.-Mexico-Canada Agreement (USMCA), but has instead "demonstrated a troubling reversal in its treatment of US biotechnology products," the lawmakers said. They noted that Mexican regulators have not issued a biotech approval in more than three years. Further, "the Government of Mexico published a decree on December 31, 2020, intending to ban the use of biotechnology corn by 2024," they added. Because of Mexico's actions , "U.S. farmers are at risk of losing access to a critical market should they choose to use biotechnology tools," the lawmakers warned. They praised USTR and USDA's "willingness to raise Mexico's delays in agricultural biotechnology product import approvals during your bilateral engagements," and asked Tai and Vilsack to also raise U.S. concerns related to the December 2020 decree on biotech corn.
     If bilateral engagement fails to yield results with Mexico, the lawmakers urged USTR and USDA "to leverage a range of enforcement tools at your disposal to enforce the USMCA."
     Lawmakers signing the letter include House Ag Chair David Scott (D-Ga.), and Reps. Jim Costa (D-Calif.), Stacey Plaskett (D-USVI), Angie Craig (D-Minn.), Jimmy Panetta (D-Calif.), Cindy Axne (D-Iowa), Cheri Bustos (D-Ill.) and Abigail Spanberger (D-Va.).
---
ENERGY & CLIMATE CHANGE
---
— Prices for the lithium-based chemicals that go into rechargeable batteries have soared this year as electric-vehicle sales have revved up. The average price for lithium carbonate, one of the two key compounds used by battery manufacturers, reached $14,386 a metric ton in August, according to Benchmark Minerals, up from $6,124 in December.
— Companies are finding their carbon emissions hard to measure and verify, particularly when it comes to those related to its products but outside its direct operational control because they're emitted by suppliers and customers. These "Scope 3" emissions often make up the lion's share of an entity's carbon footprint. Many companies don't calculate Scope 3 at all, and those that do are generally forced to rely on estimates and assumptions. Link for more via the WSJ.
— Ag media has suddenly covered renewable diesel in a big way. For good reason: It faces a bright future. PLG Consulting's EVP James Shefelbine mentioned renewable diesel during a presentation at the recent Midwest Association of Rail Shippers Summer Meeting. He provided insight into the driving forces for the next decade of the 2020s and noted renewable diesel will be a major factor. Some of his charts presented: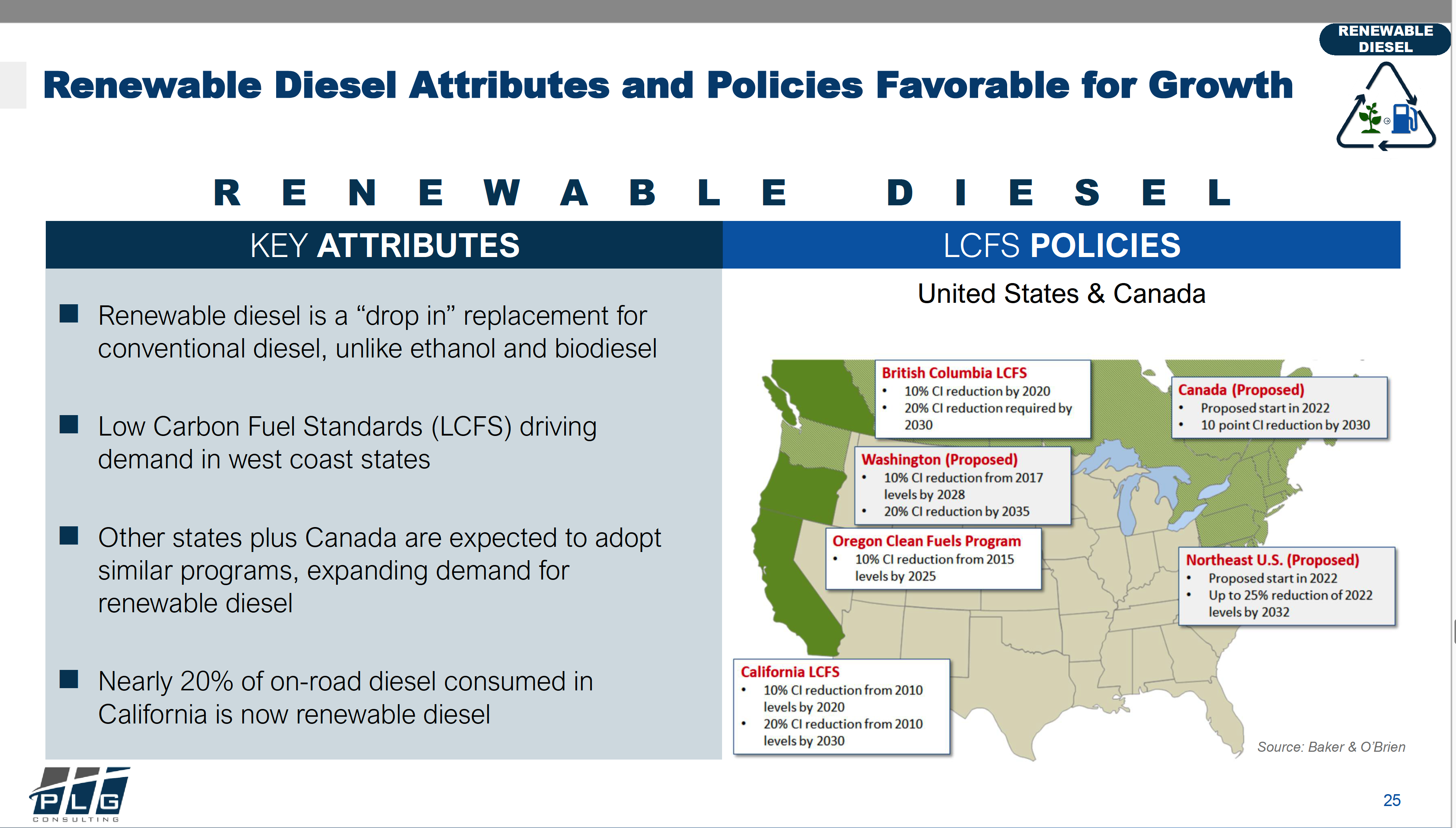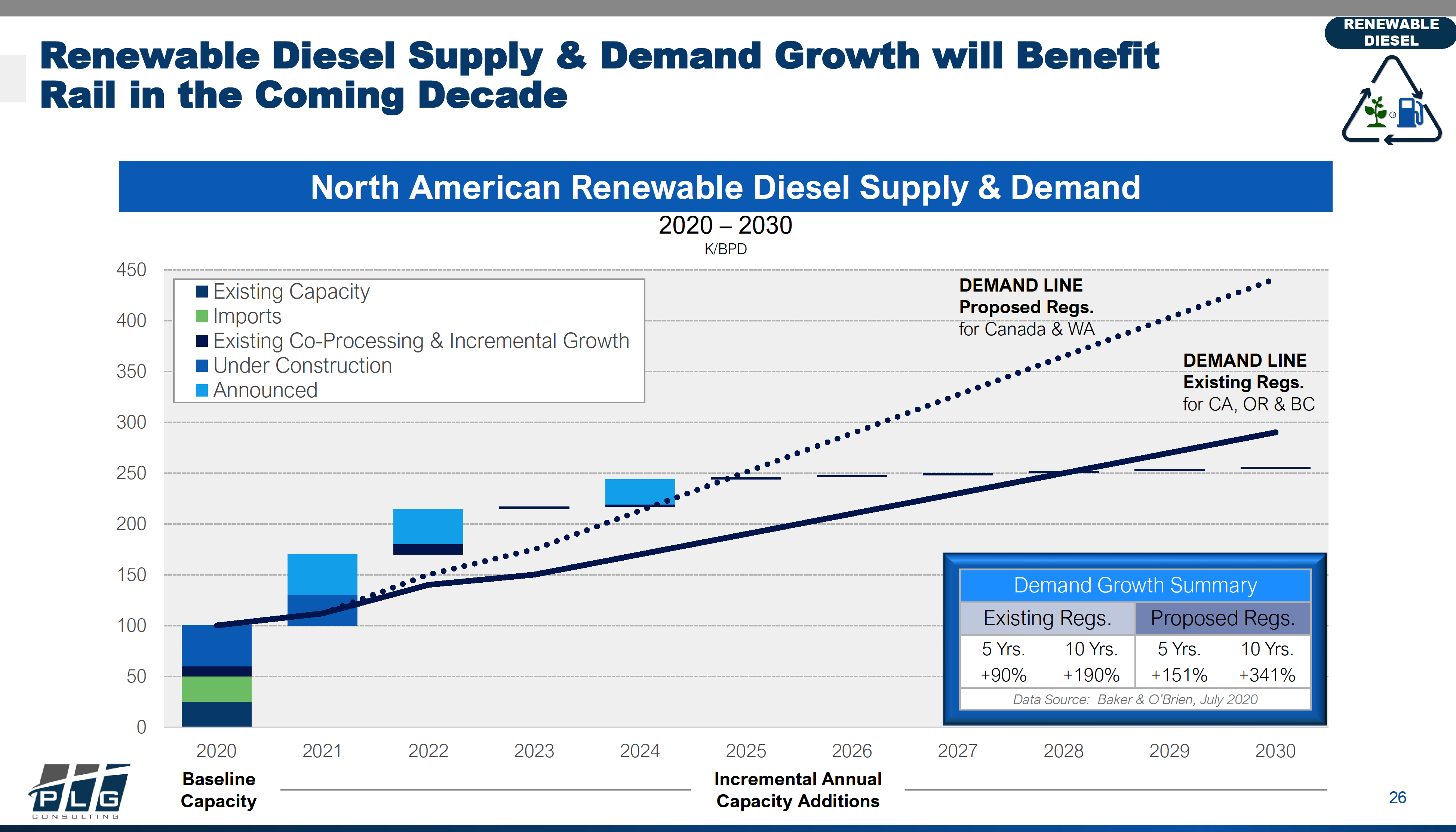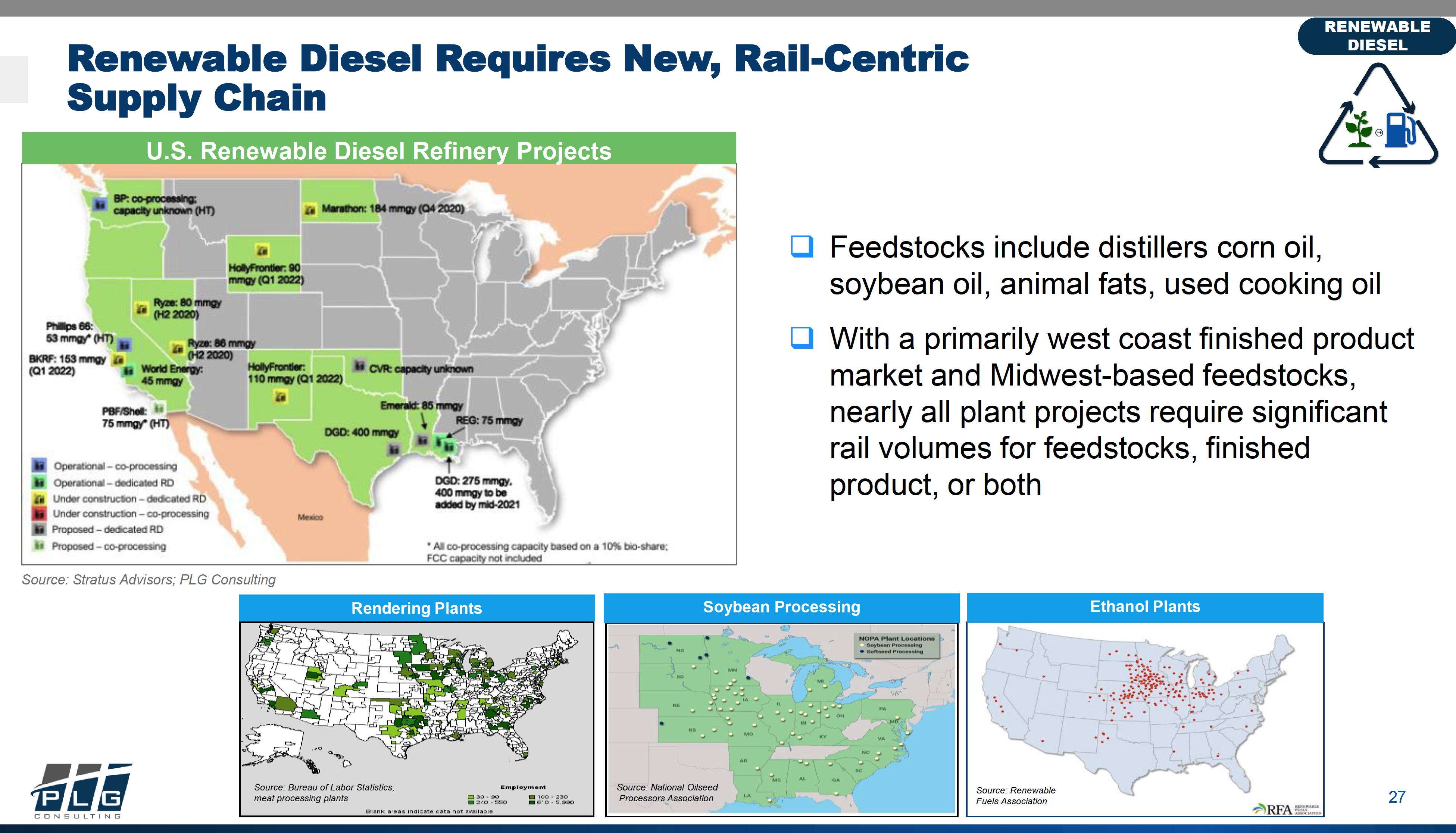 Renewable diesel is not biodiesel. It is molecularly the same as petroleum-based diesel and can fill 100% of the tank. Phillips 66, Marathon Oil, Chevron and others are investing in new soy crush plants so they can obtain the soyoil. Peter Meyer, head grain/soybean analyst for S&P Global Platts, says: "In our opinion, feedstock demand for renewable diesel (RD) and sustainable aviation fuel (SAF) combined could reach 40 billion lbs. by 2025 based on the number/capacity of RD/SAF plants. In our opinion, soyoil will need to account for 68% of total RD and SAF feedstock by 2025, which would be 27 billion pounds. USDA has total biofuel soyoil demand at 11.5 billion lbs. in 2021-22 on production of roughly 25 billion lbs., so we think the soyoil demand number has potential to double in three years, dependent of course on increased crush capacity, and possibly higher oil content, above the current 19.5%."
     "We're crushing for oil instead of meal and we'll use all the oil we make and stockpile meal," says Meyer. "The U.S. export system will have to evolve and that means beans and soyoil stay here and the meal gets exported."
     One reason California is so prominent in the accompanying charts: Stacking the $1-per-gallon biodiesel tax credit on top of California's Low Carbon Fuel Standard credits reduces RIN exposure for those that have it and has encouraged the push for RD production capacity.
— Chevron to invest in Bunge soy crush facilities. Oil refinery Chevron announced it will invest $600 million in two soybean crush facilities owned by the ag commodities trader Bunge Ltd., securing needed feedstock for renewable fuels. The investment will result in a 50/50 joint venture, the companies said. While refiners have been working to boost production of renewable fuels, securing needed vegetable oils, animal fat and used cooking oil has presented problems for some. This deal is meant to skirt that issue. Chevron will have the right of first refusal for soybean oil crushed by Bunge.
     Other refiners are reportedly eying similar partnerships (see next item). Last month, Marathon Petroleum announced it would partner with ADM to build a soybean processing complex in Spiritwood, North Dakota.
     Bunge will expand facilities in Destrehan, Louisiana and Cairo, Illinois, doubling their capacity by 2024. Currently, the facilities crush around 7,000 MT of soybeans per day, which can produce 330,000 to 340,000 gallons of soy-based renewable diesel.
— New soybean crushing plant will be built in Buena Vista County near Alta, Iowa. When the Platinum Crush plant becomes operational around March 2024, it will crush 38.5 million bu. of soybeans annually. This is the latest in a string of new soy crush plants amid increased demand for soyoil used to produce a greater amount of sustainable, carbon-neutral fuels.
— City of Los Angeles accelerates clean energy transition schedule. The City of Los Angeles is accelerating its timeline for transitioning to 100% clean energy to 2035 — a decade earlier than previously planned. The Los Angeles City Council unanimously approved the change Wednesday (Sept. 1) and tasked the Los Angeles Department of Water and Power (LADWP) — the public utility the serves the city — with reporting its progress on the transition every six months.
     The move follows the release of the LA100 study in March, which found LADWP could achieve the 100% renewable goal earlier than the initial 2045 deadline with accelerated deployment of renewable power sources, electricity storage and other technologies. The cost of the transition is pegged at $57 billion to $87 billion, but LADWP General Manager Martin Adams said much of the spending overlaps with existing infrastructure investment needs. "When [the LA100 study] started three-and-a-half years ago ... the idea was to be where we want to be by 2045," Adams explained. "So we have now shaved a decade off that timetable and we know we have a roadmap that will get us to 100% clean energy by 2035."
---
LIVESTOCK, FOOD & BEVERAGE INDUSTRY
---
— USDA seeks comments on the labeling of cell-cultured foods. USDA's Food Safety and Inspection Service (FSIS) published an advance notice of proposed rulemaking (ANPR) to solicit comments and information regarding the labeling of meat and poultry products made using cultured cells derived from animals under FSIS jurisdiction. Comments will be due 90 days from the date of publication in the Federal Register.  Link to USDA release.
     The ANPR is requesting comment on specific topics to be considered during rulemaking related to statutory and regulatory requirements for the labeling of these meat and poultry products: consumer expectations about the labeling of these products, especially in light of the nutritional composition and organoleptic qualities (taste, color, odor, or texture) of the products; names for these products that would be neither false nor misleading; economic data; and any consumer research related to labeling nomenclature for products made using animal cell culture technology.
— U.S. grocers are bracing for potential snack food disruptions, as a weekslong strike at Mondelez International facilities prompts fears of shortages in Ritz crackers and Premium saltines, the Wall Street Journal reports (link). Disruptions to snack production stemming from the strike would mark the latest supply challenge for food sellers since the start of the pandemic last year.
---
CORONAVIRUS UPDATE
---
— Summary: Global cases of Covid-19 are at 219,126,141 with 4,542,726 deaths, according to data compiled by the Center for Systems Science and Engineering at Johns Hopkins University. The U.S. case count is at 39,903,289 with 643,683 deaths. The Johns Hopkins University Coronavirus Resource Center said that there have been 370,955,041 doses administered, 174,973,937 have been fully vaccinated, or 53.31% of the U.S. population.
— Covid medical bills are about to get bigger. As some insurers focus on encouraging vaccination, temporary waivers that kept patient costs low are expiring. Link to NYT article for details.
— Three doses instead of two? White House chief medical advisor Dr. Anthony Fauci would not be surprised if the recommended full regimen of Covid vaccines from Pfizer-BioNTech and Moderna becomes three doses instead of two. According to Fauci, who heads the National Institute of Allergy and Infectious Diseases (NIAID), giving an additional dose or perhaps a final dose for fully vaccinated people a few months after their initial vaccine regimen will help the immune system to mature. The remarks come before the U.S. is set to roll out Covid-19 booster shots for all Americans in a few weeks.
— White House is planning to invest $3 billion to ensure the country can continue to produce Covid-19 vaccines. The funding will be earmarked to companies making ingredients and inputs that go into vaccine production, as well as facilities that fill and finish vaccine vials. Other areas of focus will include lipids, bioreactor bags, tubing, needles, syringes, and personal protective equipment, before a booster campaign kicks off on Sept. 20.
---
POLITICS & ELECTIONS
---

— Japanese Prime Minister Yoshihide Suga won't seek re-election as ruling-party leader, effectively ending his term after just a year. The Wall Street Journal took a look at four possible successors, Link.
— Russia threatened to fine Apple and Google and accuse them of election interference if they don't remove an app developed by supporters of jailed opposition leader Alexei Navalny.
— It's still all about Covid. "Until swing voters feel like it's ok to stop worrying about COVID, it is going to be hard to get them to pay attention to the Democrats' plans on anything else," writes Amy Walter of the Cook Political Report with Amy Walter.
---
OTHER ITEMS OF NOTE     
---
— Railroad regs coming. Regulators are expected in coming months to consider mandating that railroads share track access with competitors, which could lower shipping costs and consumer prices.
— New farmer insurance policy. Corn farms that "split-apply" nitrogen fertilizer by making multiple applications during the growing season instead of a single dose at planting time are eligible for a new crop insurance policy. It would compensate them for lower yields if they are unable to make the in-season applications. Link for details.
---
EVENTS AND REPORTS
---
Friday, Sept. 3
· Kansas City Southern has a special shareholder meeting to seek approval for its proposed merger with Canadian National Railway. In May, Kansas City Southern agreed to combine with Canadian National in a cash and stock transaction valued at roughly $34 billion.
· Covid response in Europe. Business Council for International Understanding virtual discussion that is closed to the press on the European Investment Bank's response to Covid-19.
· Nuclear power. National Academy of Sciences, Engineering, and Medicine virtual workshop on "Understanding the Societal Challenges Facing Nuclear Power."
· Economic reports. Employment | PMI Composite Final | ISM Services Index  
· Energy reports. Baker-Hughes Rig Count
· USDA reports. ERS: Livestock and Meat International Trade Data | US Agricultural Trade Data Update NASS: Peanut Prices | Dairy Products
---