Vilsack Discusses USDA Agenda at FJ Town Hall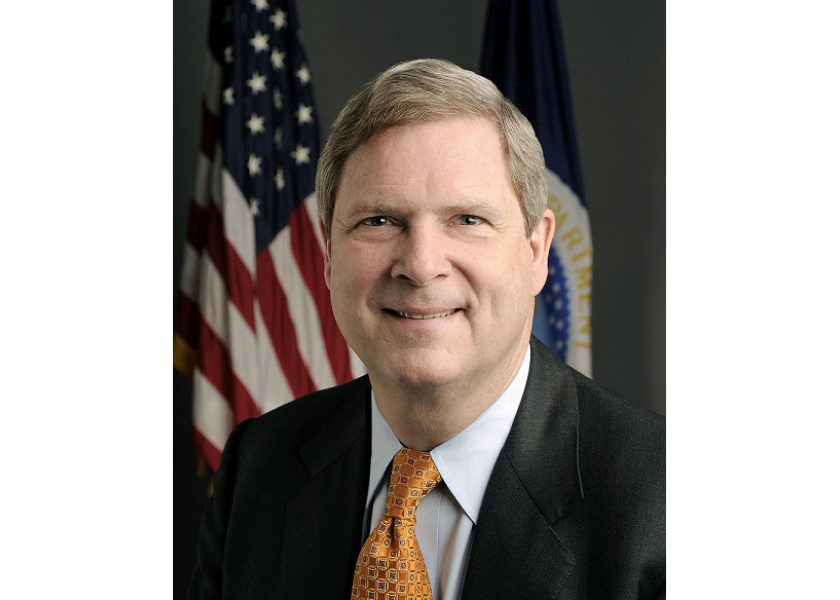 Says more announcements coming on aid, climate; promises details soon for hog, biofuel sector aid
---
The highly anticipated top-up payments to hog producers, initially promised at $17 per head, are, according to USDA Secretary Tom Vilsack, coming soon. Meanwhile, he is not sure Congress gave authority for specific biofuel sector payments, but he quickly signaled other biofuel initiatives are ahead.
Those were just a few of the cautionary wiggles made by Vilsack in discussing the department's actions on trade, aid, climate change, WOTUS and recent natural disasters as he joined Farm Journal editor and AgDay host Clinton Griffiths on Thursday (Sept. 2) for a Farm Journal Farm Country Update town hall event.
Vilsack began by recounting USDA's flurry of action during the first eight months of the Biden administration, including the roll out of additional Covid-19 aid for producers, efforts to bolster food and ag supply chains, and work on key ag trade issues.
On Covid aid, Vilsack detailed that more than $11 billion has been committed via USDA's Pandemic Assistance for Producers (PAP) initiative so far. Still to come, he said, are plans for aid to organic producers and "in a number of different areas." Besides PAP, Vilsack pointed to USDA's moves relative to the Biden administration broader "Build Back Better" effort and said a key for the department is opening "more, new and better markets" for ag goods.
Covid-19 aid for producers. While Vilsack touted the rollout of Covid-19 aid for producers — noting recent actions on dairy sector aid and assistance for contract growers — he faced questions about why the $17 per head top-up payments to hog producers and details on aid for the biofuel sector have not yet been announced. "We just recently announced that those payments are going to be forthcoming very, very soon," Vilsack said of payments to hog producers. He added that some livestock payments were made earlier in the pandemic and suggested the delay in rolling out additional aid was due in part to staffing shortages inherited from the prior administration. "We had significantly fewer people than we had last time I was secretary, I think it's somewhere in the neighborhood of 3,000 to 4,000 fewer people working at USDA," he detailed.
On aid for the biofuels sector, Vilsack said to expect announcements "in the next couple of weeks." In an interesting exchange, Vilsack said he is "not sure that Congress necessarily approved" specific funding, specifically for biofuels. "In the previous administration," Vilsack said, "there was no assistance and no help for the biofuel industry. When this administration came into being, we decided that the resources that were made available to the USDA, with enough discretion to be able to make decisions about how to allocate those resources, we made the decision to put resources into the biofuel industry. Vilsack then said to expect and anticipate additional announcements on biofuel resources from the White House in the next couple of weeks.
Vilsack touted other ways the Biden administration has sought to support the biofuel industry. One example he gave was a shift in approach regarding EPA's granting of small refinery exemptions (SREs). "This administration has made the vow not to essentially play with the waiver process [but instead] to use it as it was intended," he remarked.
Vilsack also teased upcoming administration biofuel moves related to aviation and marine fuels. "I think you're going to see in the very near future a commitment by this administration as it relates to aviation and marine fuel, that opens up a whole new vista for the biofuel industry."
Another issue raised relative to biofuels was the shift towards electric vehicles (EVs), and the potential impacts that could have on demand for liquid transportation fuels. "There's no question that's part of the future," Vilsack said of EVs, but he said, "the reality is we're not going to stop building cars that use gas." And even if automakers follow through on plans to phase out production of internal combustion-powered vehicles by 2035, he said he was fairly certain "by 2050 we're still going to have cars on the road that use gas."
Other opportunities for biofuels include new fuel efficiency and emissions standards, Vilsack said. "You've got this administration essentially saying we want higher mileage standards, we want cars to be more efficient, well how do you get there? You get there through high octane. How do you get to higher octane? You get there through biofuels." He said another potential opportunity could come from new tax credits that incentivize the storage of carbon dioxide, saying biofuel producers may be able to take advantage of such credits.
Bottom line on biofuels, "the headlines always go to this new shiny object," Vilsack said referring to EVs, "but there's still going to be a need for and still investment in and support for the biofuel industry — there's no question."
Vilsack again pointed to Biden administration's actions on climate change as another area that will bring new opportunities for ag producers. Expect announcements "later this month" related to climate smart agriculture, such as rewarding farmers "for taking the steps necessary to reduce their greenhouse gas emissions," Vilsack alerted. With the marketplace beginning to put a premium on the market value of being able to tell customers that the food they're consuming has been sustainably produced, Vilsack said farmers should be able to maximize their profits. "What we want is the ability for more farmers to meet that threshold of value added and capture that additional value from the marketplace. Then, as they do, it puts them in a position to be able to qualify for existing carbon markets and reward them."
Regarding the budget reconciliation bill being drafted in Congress, Vilsack said it "dramatically increases the amount of investment we can make in those climate-smart agricultural practices," and helps farmers reap new income from on-farm emissions reductions.
Disaster aid. Vilsack also repeated his view that disaster aid programs may need to be reworked so they are resourced and nimble enough to respond to issues including wildfires and drought. "What we've learned from recent experience is that our programs — we have so many programs, and they're all very good— but they're relatively small," he explained. "These are challenges that span months and years as opposed to days and weeks, and we really need to take a look at our disaster assistance programs to make the adjustments necessary to provide the flexibility so we can respond quickly to whatever the needs might be."
Recent wildfire-related losses, according to Vilsack, could have easily been prevented, Vilsack said, saying the infrastructure bill entails language specific to the prevention of future devastation. "The fact is that over the course of many, many years, we have attempted to do forest management on the cheap," he said. "We have invested some money, but not enough money in terms of hazardous fuel reduction — getting that wood out of the forest so that when there is a fire, it's not as catastrophic as we are currently experiencing."
Another focus of the administration, he said, is ensuring open and transparent markets — including in the ag sector. "That's one of the reasons why we're looking at strengthening the Packers and Stockyards Act, taking a look at drawing a bright line in terms of what discriminatory practices might be, what unfair practices might be," Vilsack remarked.
On trade policy, focal points are making sure Canada and Mexico "follow through" on commitments under the U.S.-Mexico-Canada Agreement (USMCA), Vilsack said, adding the same is true of China relative to the Phase 1 trad deal. On opening new markets for U.S. exporters, Vilsack listed positive recent steps by Vietnam to reduce ag import duties, Mexico opening its market to more U.S. potatoes, and work to ink new trade deals — including a U.S./Kenya free trade agreement.
Asked how the conclusion of the Phase 1 agreement at year end might impact ag exports going forward, Vilsack revealed he has been in contact with his Chinese counterpart and said, "at this point in time, the expectation is that we're going to continue to see purchases," calling it in both countries' best interests.   Describing the overall U.S./China relationship as layered and complex, Vilsack said USDA's priority is "to continue to keep the lines of communication open, continue to encourage and look for ways in which we can trade with China, and receive the benefits of them purchasing our agricultural products."
Push for other market opportunities. Fostering the trade relationship with China is one focus, but Vilsack said another priority is "figuring out ways in which we can expand market opportunities in Southeast Asia so that we're not overly reliant on a single market." He noted discussions with Vietnam and other Southeast Asian nations aimed at reducing tariff and non-tariff barriers. He added that a "long term" goal is to expand trade with African countries and pointed to discussions between U.S. Trade Representative (USTR) Katherine Tai and Kenyan officials on an eventual U.S./Kenya free trade agreement.
Regarding prospects for U.S. re-entry to the Trans-Pacific Partnership (TPP) — now dubbed the Comprehensive and Progressive Agreement for Trans-Pacific Partnership (CPTPP) — Vilsack indicated that securing congressional approval of such a move might be difficult. He suggested one way to ease concerns over negative trade impacts on workers and businesses would be through the passage of President Joe Biden's domestic policy priorities in the physical infrastructure bill and the budget reconciliation measure currently being drafted in Congress. "You have to get to a point where trade is not as much of a hot button issue as it has been in the past and that's why the first step in that process is to strengthen and shore up domestically," he reasoned.
A key trade policy linkage: U.S. economy. Once you "feel a little bit more secure" about the U.S. economy, Vilsack said, "it makes it a little bit easier to get the votes you need to get a trade agreement through the process" in Congress. He said the same reasoning is true for related issues like reauthorizing Trade Promotion Authority (TPA/fast-track).
Regulatory actions. Aside from Packers and Stockyards Act rulemaking, Vilsack also discussed other aspects of the ag regulatory agenda — both at USDA and other agencies. Regarding USDA moves on organics, Vilsack said the department is working on "two very large rules that I think are important to the organic industry," the origin of livestock rule and the organic poultry rule. He anticipates work on the organic livestock rule may be done by this fall.
In terms of the organic poultry rule, Vilsack acknowledged the regulation has proven "quite controversial," acknowledging that USDA decided to "take a step back" to conduct an economic analysis of the regulation "so that we have the strongest possible support for whatever that rule ultimately ends up being."
Asked his view of EPA's decision to replace the Trump-era Navigable Waters Protection Rule (NWPR) with a new definition of "waters of the U.S." under the Clean Water Act (CWA), and what the recent court decision vacating the NWPR might mean, Vilsack stressed EPA's commitment to consult with stakeholders — including in the ag sector — on the new rulemaking and predicted the final product will avoid pitfalls seen with both the NWPR and the 2015 WOTUS rule promulgated during the Obama administration. "I think at the end of the day, we'll be in a much better place than we have been on this issue over the last two administrations," he said. In terms of the impacts on farmers from a new rule, Vilsack said "to the extent that it creates challenges for farmers," he believes EPA will give USDA "some direction about how we might be able to use our tools to mitigate the consequences of whatever the challenges might be for producers."
Ag labor. Asked about prospects for passage of the Farm Workforce Modernization Act (FWMA), Vilsack said his "hope and anticipation is that the Senate in some way shape or form finds a vehicle for getting [the FWMA] latched onto a bill that gets enough votes to get through the process." He stressed that lawmakers know the system is "broken" and pitched the FMWA as a narrowly tailored measure "that represents a compromise on the part of both sides."
---