Infrastructure End Zone Faces Big Hurdle as Biden, Dems Link to Social Spending Package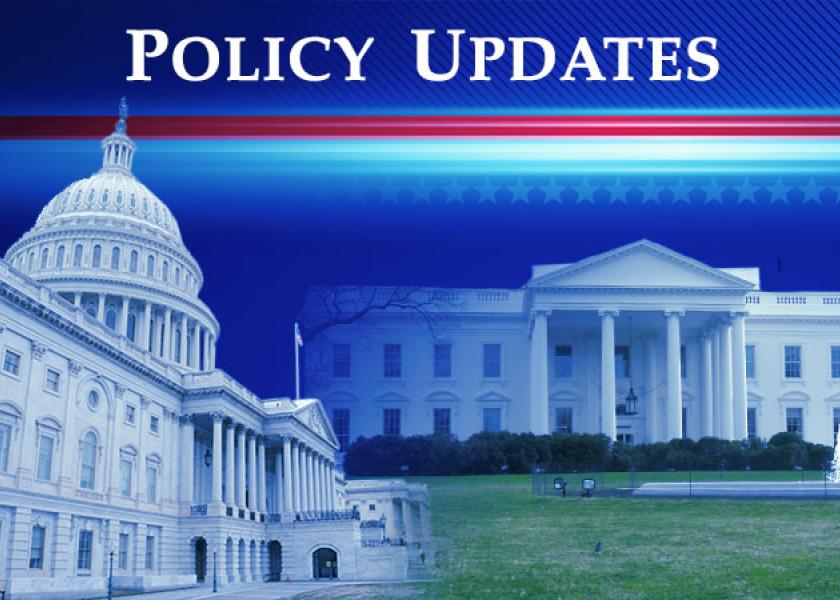 Up to $1 billion in direct payments to dairy producers coming: Sources
---
In Today's Digital Newspaper
---
Market Focus:
• PCE shows more inflation
• Annual rate for PCE highest since 2008; core rate highest since 1992
• Consumer steady in May after incomes declined 2%
• USDA daily export sale: 122,200 MT soybean cake and meal to Mexico
• ADM shoring up defenses against what it views as inevitable cyberattacks
• Ag demand update
• Buying fading for corn and beans as overnight session winds down
• Heavy rain and storms on tap for southern and eastern areas of the Midwest
• Another consultancy drops Brazilian corn crop peg near 90 MMT
• Argentine corn yields continue to impress
• French wheat crop rating slips
• Russian tariff on wheat exports continues to climb
• Gearing up for Cattle on Feed
• Big gain for the pork cutout
Policy Focus:
• Another $750 mil. to $1 bil. coming for dairy producers: Sources
• Compromise deal on infrastructure but linkage to social spending faces GOP hurdle
• Infrastructure pay-fors don't add up, include smoke-and-mirrors techniques
China Update:
• Chinese hog prices rebound
Trade Policy:
• Mexico rejected three pork skin shipments from Smithfield plant before delisting
• Reports: Russia considering levying $2.3 billion in export taxes
Energy & Climate Change:
• Senate clears bipartisan ag climate legislation
• EPA advances proposed rule to OMB to reconsider Trump SAFE vehicles rule
Coronavirus Update:
• FDA clears emergency use of Roche arthritis drug for Covid patients
• U.S. plans to deliver three million doses of J&J vaccine to Afghanistan
Politics & Elections:
• Jan. 6 riot probe announced
Congress:
• House Appropriations subcmte to markup FY 2022 USDA/FDA/CFTC funding
Other Items of Note:
• Moratorium extended
• Giuliani suspended
 
---
MARKET FOCUS
---
Equities today: Global stock markets were mostly higher overnight. The U.S. stock indexes are pointed toward modestly higher openings. In Asia, Japan's Nikkei 225 rose almost 0.7% by the close, China's Shanghai Composite Index added 1.2% and Hong Kong's Hang Seng climbed 1.4%.  European equities are narrowly mixed in early action as traders digest economic updates. The Stoxx 600 was pivoting around unchanged with other markets down 0.1% to up 0.2%.
     U.S. equities yesterday: The Dow closed up 322.58 points, 0.95%, at 34,196.82. The Nasdaq gained 97.98 points, 0.69%, at 14,369.71. The S&P 500 rose 24.65 points, 0.58%, at 4,266.49.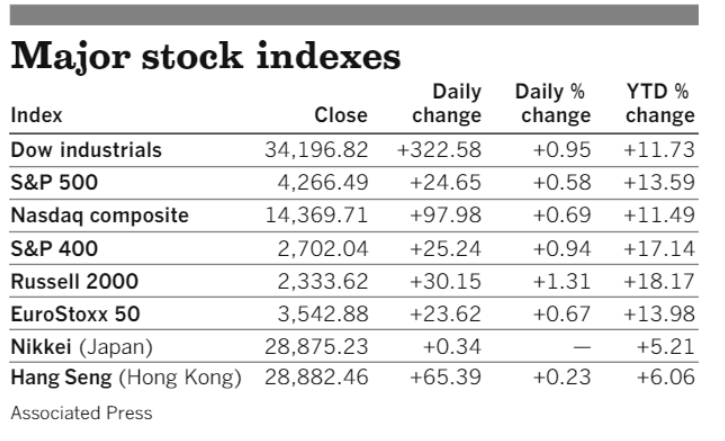 On tap today:
     • U.S. consumer spending rose 0.5% in April from the previous month. Economists expect another 0.4% rise in May. (8:30 a.m. ET) Update: Consumer spending was steady in May after incomes declined 2%, from April, as the impact faded from government stimulus checks sent out earlier in the year. April spending was upwardly revised to a 0.9% increase from a previously reported 0.5% rise.
     • University of Michigan index of consumer sentiment is expected to rise to 86.5 in June from 82.9 in May. (10 a.m. ET)
     • CFTC Commitments of Traders report, 3:30 p.m. ET.
Some inflationary pressures are evident as the Personal Consumption Expenditures (PCE) price index was up 0.4% from April and was up 3.9% from May 2020. The core PCE price index, the Fed's preferred inflation reading, was up 0.5% from APril and up 3.4% from year ago. The level had been at 3.1% in April. The month-to-month core PCE at 0.5% was down from the 07% level registered in April. The annual rate for PCE was the highest since 2008 and the core rate the highest since 1992, but Fed officials have continued to insist that current inflation readings are expected to ebb.
ADM is shoring up defenses against what it views as inevitable cyberattacks, CEO Juan Luciano said at WSJ's Global Food Forum (link).  Agriculture Secretary Tom Vilsack also discussed how the agency can reduce cyberthreats to the U.S. food system.
Market perspectives:
     • Outside markets: The U.S. dollar index is weaker with other foreign rivals except the euro weaker versus the U.S. currency. The yield on the 10-year U.S. Treasury note was slightly weaker to trade just under 1.49% with a mixed tone in global government bond yields. Gold and silver futures were higher ahead of the US inflation update, with gold trading around $1,785 per troy ounce and silver around $26.25 per troy ounce.

     • Crude oil is seeing mild pressure with U.S. crude trading around $73.10 per barrel and Brent around $74.65 per barrel. Futures had been higher in Asian action, with U.S. crude up 14 cents at $73.44 per barrel and Brent up 16 cents at $75.72 per barrel.
     • USDA daily export sale: 122,200 MT soybean cake and meal to Mexico. Of the total, 84,150 metric tons is for delivery during the 2021-2022 marketing year and 28,050 metric tons is for delivery during the 2022-2023 marketing year.
     • Weather outlook from NWS: Unprecedented and dangerous heat likely throughout the Pacific Northwest and Northern Great Basin this weekend... ...Several rounds of showers and thunderstorms to create numerous instances of flash flooding today between the Central Plains and Middle Mississippi Valley... ...Heavy rain and severe weather chances linger from the Southern Plains to the Great Lakes through Sunday.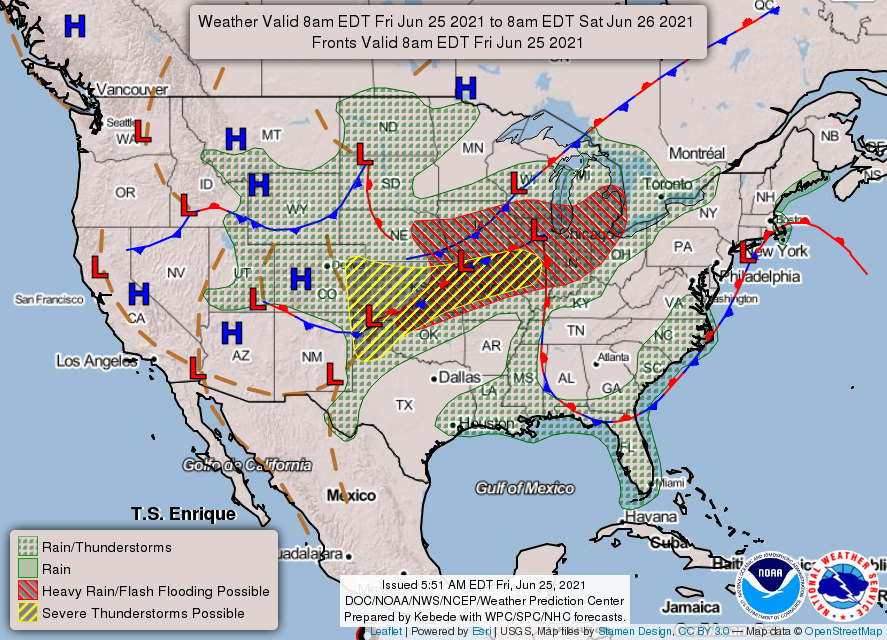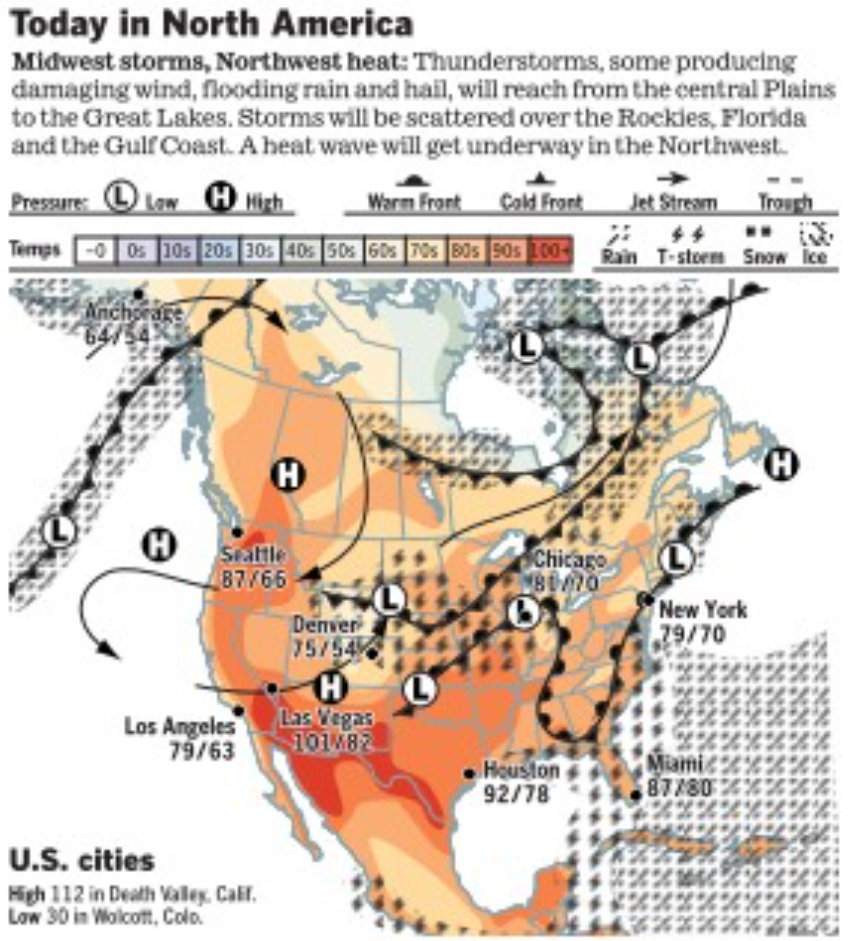 • Ag demand: Turkey provisionally purchased around 320,000 MT of animal feed barley in an international tender.
Items in Pro Farmer's First Thing Today include:
     • Buying fading for corn and beans as overnight session winds down
     • Heavy rain and storms on tap for southern and eastern areas of the Midwest
     • Another consultancy drops Brazilian corn crop peg near 90 MMT
     • Argentine corn yields continue to impress
     • French wheat crop rating slips
     • Russian tariff on wheat exports continues to climb
     • Gearing up for Cattle on Feed
     • Big gain for the pork cutout
 
---
POLICY FOCUS
---
— Biden administration likely to announce another $750 million to $1 billion in direct payments to dairy producers. The total of the coming direct payments has changed several times, as well as how it will be distributed. It is unclear if this will be part of an announcement on June 29 when President Joe Biden and USDA Secretary Tom Vilsack visit Wisconsin.
— Infrastructure agreement, but there is a signing caveat. President Joe Biden and a bipartisan group of senators — five Democrats, five Republicans — announced that they had reached a compromise on part of it: a $1.2 trillion framework to fund roads, electric-vehicle charging stations, broadband and other physical infrastructure. Link to White House fact sheet. But this agreement would cover only a fraction of what Biden originally called for in his $4-trillion proposal to invest in "hard" infrastructure of roads and bridges, alongside "human" infrastructure, such as child care and elder care programs. The "human" portion will come later via a budget reconciliation package that will be linked to the infrastructure compromise, a linkage that is already facing Republican opposition.
     Details: In all, the total package would spend $973 billion in new and baseline dollars over five years or $1.2 trillion over eight years. While some Republicans put the new spending at $559 billion because they counted $20 billion in already appropriated broadband dollars as existing spending, a release from Biden's office put the figure at $579 billion. The deal would spend:
$109 billion for roads, bridges and major projects, $11 billion for safety, $49 billion for transit, $66 billion for rail and $7.5 billion for electric vehicle infrastructure, a key Biden priority.

$1 billion to remove or modify infrastructure that isolated Black and Brown communities, a Biden priority that is aimed at advancing racial equity.

$7.5 billion for electric buses and transit.

$25 billion for airports, $16 billion for ports and waterways, $55 billion for water infrastructure and $65 billion for broadband.

$21 billion for environmental remediation; $73 billion for power infrastructure, including grid authority, $5 billion for western water storage and $47 billion to rebuild infrastructure in a way that endures severe weather events.
     Two-step approval process means hurdles ahead. Biden and Democratic leaders said that advancing the deal on transportation, water and broadband infrastructure will hinge on the passage of more elements Biden's $4 trillion economic agenda. The two-track process sets up weeks of negotiations to gather support for both the bipartisan plan and a separate Democratic proposal. "What we agreed on today is what we could agree on. The physical infrastructure. There's no agreement on the rest," said Biden, who said he wouldn't sign the bipartisan deal into law until a bill containing the rest of his agenda also is on his desk. "If this is the only one that comes to me, I'm not signing it."
     House Speaker Nancy Pelosi (D-Calif.) said that she will hold off on passing the bipartisan plan until the Senate approves the reconciliation bill in order to link the two proposals together. "We will not take up a bill in the House until the Senate passes the bipartisan bill and a reconciliation bill," she said during a press conference. Pelosi called bipartisan legislation "important" for symbolic reasons while asserting that legislation focused mainly on traditional infrastructure doesn't meet the needs of the moment.
     Senate Majority Leader Chuck Schumer (D-N.Y) said he plans to move both the bipartisan bill and approve a budget resolution in July. That resolution, once adopted by the House and Senate, will launch the reconciliation process, which would likely include Biden's more partisan priorities, such as universal Pre-K, two years of free college and national paid leave. "Everyone in our caucus knows we can't do one without the other," Schumer said. "You don't even have votes for the one unless you have the votes for the other."
     The second bill would have to be approved through the reconciliation process, which circumvents the Senate filibuster and would require the backing of all 48 Democrats and the two independents who caucus with them in the evenly divided chamber. If the vote comes to a 50-50 split, Vice President Kamala Harris would cast the tiebreaking vote. Pelosi's pledge addresses the concern held by progressive Democrats that their party's key moderates — Sens. Joe Manchin III of West Virginia and Kyrsten Sinema of Arizona — could opt to not support the larger, more progressive bill after helping negotiate the smaller, bipartisan infrastructure package. Manchin didn't rule out supporting a partisan bill but wouldn't commit until the details were fleshed out. "I'm open to everything. You can't go in with a closed mind," he said.
     Bottom line: The infrastructure finish line is further away than most think. Far-left Democrats and moderates are already at odds over how much to spend in the reconciliation bill, and how high to lift taxes on corporations and wealthy Americans to pay for Biden's plans. Democratic leaders hope to advance the bipartisan plan and start the reconciliation process next month, with the goal of passing both bills by the fall. The new deadline for getting both to Biden's desk, per Democratic leaders, is Sept. 30, when a bunch of surface transportation programs expire. Senate Minority Leader Mitch McConnell (R-Ky.) accused Democratic leaders of "pulling the rug out from under their bipartisan negotiators" with the new interconnected strategy. That clearly signals big hurdles ahead. Linking the two plans together could make it harder to get Republican support. "Less than two hours after publicly commending our colleagues and actually endorsing the bipartisan agreement, the president took the extraordinary step of threatening to veto it," McConnell said in response. "That's not the way to show you're serious about getting a bipartisan outcome. But he didn't rule out supporting it. "I hope our colleagues can recover and get their good-faith efforts back on track," he said. Despite bipartisan progress, advancing the infrastructure plan in the Senate is a tall order. "We made serious compromises on both ends," Biden said, acknowledging that Republicans weren't going to back the investments in "human infrastructure" he's called for. He said he would push those in a separate package that would require support from every Democratic senator. "We'll see what happens in the reconciliation bill and the budget process," he said. One of the Republican supporters of the agreement already seems to be backing away. Sen. Lindsey Graham of South Carolina told Politico that Biden's plan to link the bipartisan bill with the reconciliation package made him "look like a xxx idiot" for announcing his support for the compromise. "If he's gonna tie them together, he can forget it!" Graham said. "I'm not doing that. That's extortion!" Graham is one of 11 Republicans who had announced support for the bipartisan deal. If all 50 Democrats support it, 10 Republicans would need to join them to form a filibuster-proof majority. But whether the plan can maintain unanimous Democratic backing is up in the air as well.
— Infrastructure pay-fors. The bipartisan infrastructure agreement includes a wide range of options to pay for the five-year plan, including:
Increased IRS tax enforcement targeting top earners that would net $100 billion after an investment of $40 billion.

Redirecting unused unemployment insurance relief for $25 billion.

Repurposing $125 billion of unused Covid relief dollars, which President Biden had initially opposed.

Revenue from the sale of radio spectrum for 5G wireless phone service for $65 billion.

Extend expiring customs user fees to bring in $6.1 billion.

Selling some of the Strategic Petroleum Reserve (SPR) to bring in $6 billion.

$20 billion for broadband came from repurposing money previously appropriated for broadband that has not yet been spent.

$58 billion from dynamic scoring and $100 billion from private activity bonds, direct pay bonds, public private partnerships and asset recycling for infrastructure investment.

$30 billion in credit to the federal gov't from tolls to meet state/local match requirements. 
Bottom line on pay-fors: The bipartisan plan's reliance on funding sources can't possibly cover the measure's cost. Besides such smoke-and-mirrors techniques as extending mandatory spending cuts and cracking down on tax cheats, the negotiators propose to reclaim unspent Covid-19 relief dollars from 2020 — spending that wasn't paid for in the first place. But the plan calls for no increase in tax rates, a red line even for moderate Republicans. However, the second step coming does indeed raise taxes, which is why some Republicans are already warning the linkage is more of a chain and a sucker move to get the process moving, similar to the approach taken by Democrats when they cleared the controversial ObamaCare health package.

 
---
CHINA UPDATE
---
— Chinese hog prices rebound. China's live hog futures rebounded in response to improved spot prices as fewer heavy pigs were sent to market. This comes against the backdrop of China's state planner last week urging hog producers to keep production capacity at reasonable levels, adding that it would monitor pig production and market price trends and adjust reserves as necessary. The country's government-backed livestock industry body also urged producers not to panic in the face of rising feed and hygiene costs that along with sliding hog prices have pushed margins to their lowest level since 2014.
 
---
TRADE POLICY
---
— Reuters: Mexico rejected three pork skin shipments from Smithfield plant before delisting. Mexican inspectors rejected three cargoes of pork skins from the Smithfield plant in Tar Heel, North Carolina, before delisting the plant relative to its ability to ship pork into Mexico June 16, according to a report from Reuters. Rava Forwarding was also delisted by Mexico June 18 and the country's health safety agency Senasica said Rava was the third-party company involved in the situation. Smithfield issued a statement earlier this week after the delisting that issue was not linked to Smithfield or the Tar Heel plant but an unnamed third-party company. Reuters reported that Senasica said it rejected a shipment April 15 from the Tar Heel plan after inspectors observed rotting product covered with "yellowish spots." Two more rejections took place in June, the report said, which may have included a mix of product from both plants. Senasica said the decision to delist the two facilities was based on the "accumulation" of tainted cargoes of refrigerated pork skins. It is not clear how long the delisting will last, but it could take at least a few months, the agency said.
— Reports say Russia is considering levying $2.3 billion in export taxes for steel products, nickel, aluminum and copper. Russia is looking to protect its defense and construction industries from rising international commodity prices. Some analysts said the impact of the extra taxes may be to raise international metals prices still higher.
---
ENERGY & CLIMATE CHANGE
---
— Senate cleared bipartisan ag climate legislation Thursday. The measure would direct USDA to establish a framework to help farmers, ranchers and private forestland owners move into voluntary carbon credit markets. Supporters rejected (11-89) a substitute amendment by Sen. Mike Lee (R-Utah). The bill passed on a 92-8 vote.
     Senate Ag ranking member John Boozman (R-Ark.) called the legislation farmer friendly with its emphasis on voluntary participation and a needed step to help farmers, ranchers and forest owners "navigate a complex and costly landscape" to determine whether carbon markets are for them. The bill would provide a reliable information resource through the USDA. He said the bill recognizes the diversity of agricultural conditions, soils and practices. "Many farmers and stakeholders are excited by this bill," Boozman said. 
     The bill by Sen. Mike Braun, R-Ind., and Senate Agriculture Chairwoman Debbie Stabenow (D-Mich.) had broad bipartisan support. Braun and Stabenow hailed the vote, saying the bill will provide a framework to move farmers closer to opportunities to tap into new economic opportunities in addressing climate change. "The bottom line is this gives them the opportunity to work with the U.S. Department of Agriculture to design a carbon market that works for them, not Wall Street," Stabenow said on the floor, noting that 175 organizations backed the bill .
     The legislation directs USDA to help farmers, ranchers and private forestland owners participate in environmental credit markets. There is a companion bill (HR 2820) in the House.
     USDA would provide technical assistance on sustainable land management practices through vetted and certified third parties. USDA would also review and certify third-party verifiers who determine if a project meets required protocols and qualifies for credits.
     The measure directs USDA to establish an advisory council on technical assistance and third-party certification, with the Agriculture secretary appointing members, of which 51% must come from agriculture and private forestry, including socially disadvantaged or other historically underserved farmers, ranchers or land owners.
     An environmental credit is based on the prevention, reduction or mitigation of greenhouse gas emission or carbon sequestration on agricultural land or private forest land. Greenhouse gases covered by the bill are carbon dioxide, methane, nitrous oxide and any other emission that USDA in consultation with the advisory council designates as a heat-trapping gas.  Credits can be bought or sold.
     USDA would also establish a technical assistance and verification program within 270 days of enactment. And USDA would have to report if it determines a program is unworkable or won't help farmers enter environmental credit projects.
     USDA is to develop criteria and qualifications for technical assistance providers and will periodically review and update the protocols and standards certified entities must meet.
     Within 180 days of establishing the program, USDA would have to publish steps an entity can take to self-certify as a provider of technical assistance.
     The measure includes a code of conduct under the heading of Fair Treatment of Farmers. Certified entities are to provide realistic estimates of costs and revenues relating to activities and verification of processes.
     Within 240 days of enactment, USDA in consultation with the EPA would assess factors including the type of non-federal actors in nonprofit and for-profit sectors involved in selling, buying or trading agriculture or forestry credits in voluntary environmental credit markers, the total number of agricultural and forestry credits, compliance and verification barriers to entry into markets, the potential role of the USDA on supply and demand for agriculture-related credits, and other factors that affect voluntary credit markets.
     The bill authorizes $1 million per year for fiscal years 2022 through 2026 with funds to come from a rescission of $4.1 million in unobligated funds from a March economic recovery bill.
—  EPA advances proposed rule to OMB to reconsider Trump SAFE vehicles rule. EPA has sent a proposed rule to reconsider the Trump administration's Safer Affordable Fuel Efficient (SAFE) Vehicles Final Rule for Model Years 2021-2026, a move the agency signaled was coming in April. EPA in April said it was reconsidering the Trump administration's action to withdraw California's waiver to enforce greenhouse gas (GHG) standards for cars and light trucks. That effort is still ongoing with a public comment period open until July 6 on its notice of reconsideration. The review of the SAFE Vehicles Rule was ordered via an executive order issued by President Joe Biden on Jan. 20. EPA indicated that based on its reevaluation of the SAFE Vehicles Rule, it would determine whether or not it would revise vehicle GHG standards.
---
CORONAVIRUS UPDATE
---
— Summary: Global cases of Covid-19 are at 180,036,101 with 3,901,300 deaths, according to data compiled by the Center for Systems Science and Engineering at Johns Hopkins University. The U.S. case count is at 33,590,550 with 603,178 deaths. The Johns Hopkins University Coronavirus Resource Center said that there have been 320,687,205 doses administered, 151,252,034 have been fully vaccinated, or 47.5% of the total U.S. population.
— FDA clears emergency use of Roche arthritis drug for Covid patients. The Food and Drug Administration gave an emergency use authorization (EUA) for the Roche arthritis drug Actemra to treat adults and pediatric patients hospitalized with Covid-19. Reports note the drug has already been given to severely ill Covid-19 on a compassionate-use basis. FDA said that studies showed the drug helped reduce the risk of death and speed recovery. However, FDA said Actemra is not authorized for use in outpatients with Covid-19 or as a treatment for the virus.
— U.S. plans to deliver three million doses of the Johnson & Johnson Covid-19 vaccine to Afghanistan. The country is battling its deadliest wave of infection amid a rapidly deteriorating security situation. The White House offer came ahead of President Biden's meeting today with Afghan President Ashraf Ghani and Afghanistan's chief peace negotiator, Abdullah Abdullah.
 
---
POLITICS & ELECTIONS
---

— Capitol-riot probe. House Speaker Nancy Pelosi (D-Calif.) said she will establish a select committee to investigate the Jan. 6 assault on the U.S. Capitol, after Senate Republicans blocked an earlier effort to establish a bipartisan independent commission.

 
---
CONGRESS  
---
— House Appropriations subcommittee today to markup FY 2022 USDA/FDA/CFTC funding package. The House Ag Appropriations subcommittee today will markup the fiscal year (FY) 2022 spending plan covering USDA, the Food and Drug Administration (FDA) and the Commodity Futures Trading Commission (CFTC). The plan would boost discretionary spending by 1.3% to $26.6 billion compared with $23.4 billion in FY 2021. Total spending in the plan would be at $196.7 billion. Among provisions in the package is an increase for the ReConnect program that is aimed at expanding broadband service in rural communities. The plan would allocate $800 million for the effort, up from $635 million in FY 2021 and above the $700 million requested by the Biden administration. There is another $347.4 million that will go toward USDA programs on climate change. There are not expected to be any major amendments or changes to the bill at the subcommittee level, but the markup set for June 30 by the House Appropriations Committee could see more activity.

 
---
OTHER ITEMS OF NOTE     
---
— Moratorium extended. The moratorium on evictions of tenants who have fallen behind on their rents during the pandemic has been extended by a month, to the end of July, reports Andrew Ackerman. The Biden administration says the extension is needed to distribute about $47 billion in rental assistance authorized by Congress to cover back rent. Progress has been slow. The move comes as the Supreme Court is weighing an emergency request by landlords to clear the way for evictions. The moratorium was originally set to expire at the end of last year but has been extended several times since.
— Giuliani suspended. A New York court suspended Rudy Giuliani's state law license after concluding that he made false statements in his effort to reverse the results of the 2020 election.
---