Ahead of the Open | September 15, 2021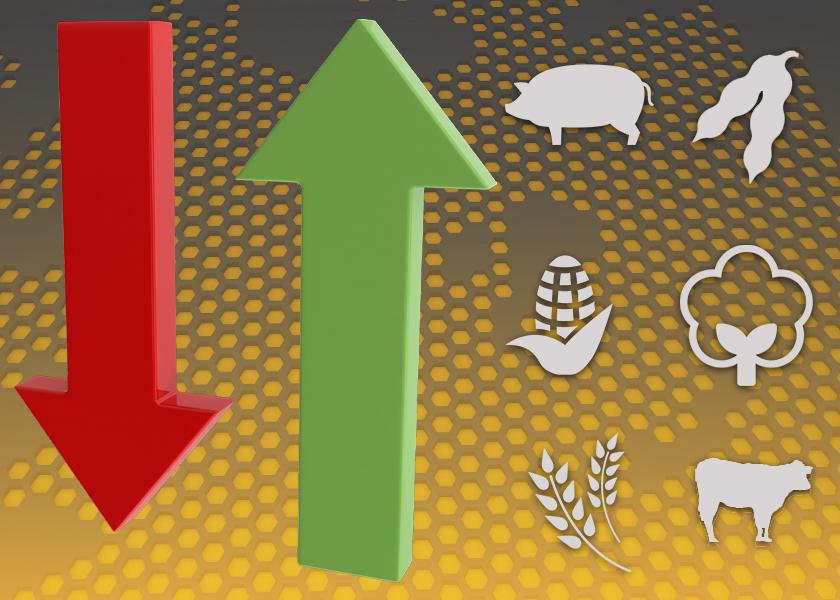 GRAIN CALLS
Corn: 5 to 7 cents higher.
Soybeans: 4 to 8 cents higher.
Wheat: 2 to 5 cents higher.
GENERAL COMMENTS: Corn futures rose overnight to the highest level in nearly two weeks and soybean futures also climbed. Wheat futures rose on concern over tighter global supplies. Malaysian palm oil futures rose over 2% on strong exports and production concerns, while Nymex crude oil futures reached a six-week high. The U.S. dollar index was slightly weaker.
USDA reported soybean sales cancellations of 132,000 MT to China and 196,000 MT to unknown destinations – both for 2021-22 delivery.
Port Houston container terminals are expected to open today after shutting down Tuesday as Nicholas made landfall as a Category 1 hurricane. Nicholas, now a tropical depression, is expected to stall in Louisiana today into the weekend, resulting in flooding in central and southern Louisiana, southern Mississippi and southwestern Alabama, World Weather Inc. said.
Soybean crushing activity last month likely extended this year's sluggish pace. Members of the National Oilseeds Processing Association (NOPA) crushed an estimated 154.2 million bu. of soybeans during August, according to analysts surveyed by Reuters. That would be a 0.6% decline from July and a 6.6% drop from August 2020. The NOPA report will be released at 11:00 a.m. CT.
Brazil will export an estimated 4.8 million metric tons (MMT) of soybeans this month, according to ANEC, a Brazilian association of grain exporters. That figure would mark a 400,000-MT increase from ANEC's forecast last week. ANEC also raised its soybean export forecast by 230,000 MT to 2.9 MMT. Brazil's exports typically slow as U.S. supplies come available during the northern hemisphere fall.
France's farm office expects the country to export 9.6 MMT of soft wheat outside the European Union in 2021-22, a 900,000-MT cut from its July outlook. The ministry has cut crop size by a similar amount compared with July.
CORN: December futures overnight reached $5.27 1/2, the highest intraday price since $5.28 on Sept. 3. The market's upturn this week suggests prices may have established a near-term bottom after a brief dip below $5.00 last Friday following USDA's larger-than-expected crop estimate.
SOYBEANS: November futures rose as high as $12.93 overnight but remained within the past week's trading range. Concern over adverse effects of Midwest heat as the crop finishes have provided support this week. Chart levels to watch include last week's low at $12.62 3/4.
WHEAT: December SRW futures overnight reached $7.05 3/4, the highest price since Sept. 9. Russian farmers are expected to sow less winter wheat this autumn than record levels seen a year ago due to unfavorable weather conditions, a switch to oilseeds in some regions and concerns about the country's grain export tax, Reuters reported.
LIVESTOCK CALLS
CATTLE: Steady-weak
HOGS: Steady-mixed.
CATTLE: Yesterday's sharp futures bounce-back suggested the market may be stabilizing from a two-week nosedive to four-month lows, even as wholesale beef prices remain under pressure. Choice cutout values fell $3.04 yesterday to an average of $322.89, the 12th consecutive daily decline and the lowest price since Aug. 12. Cash markets generated light tests at $124 in Iowa and Texas, steady with the previous week, with the western Corn Belt leading gains. Meatpackers slaughtered an estimated 234,000 head of cattle so far this week, down 2.5% from the same period a year earlier, USDA reported. Chart levels to watch in October live cattle include the Sept. 13 low at $120.85 and the 100-day moving average around $126.00
HOGS: The wholesale pork market's surge yesterday may stir beliefs a price upturn is at hand, though futures' technical posture has weakened considerably. Pork cutout values rose $4.08 yesterday to $105.20, up from a six-month low reached Sept. 13. Movement was a strong 409 loads. National direct carcass values fell 41 cents to $84.07. The next CME lean hog index is expected to fall to $96.75, which would be the lowest since late March. Chart levels to watch in October lean hog futures include yesterday's low at $79.775, the lowest intraday price since March 4, and the 200-day moving average around $83.35.