Ahead of the Open | September 10, 2021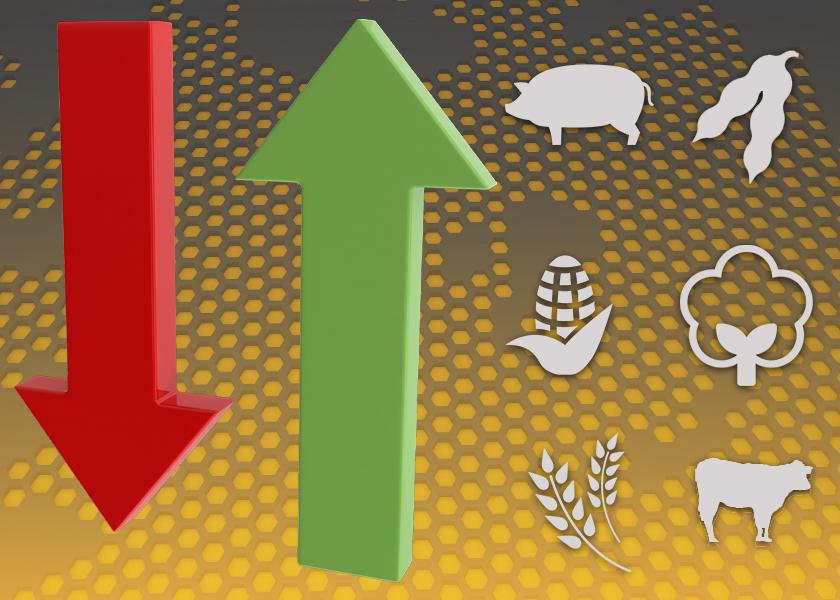 GRAIN CALLS
Corn: 1 cent lower to 3 cents higher.
Soybeans: Steady to 3 cents higher.
Wheat: HRW and SRW steady to 2 cents higher, spring wheat 3 to 15 cents lower.
GENERAL COMMENTS: Corn and soybean futures traded mixed overnight and winter wheat futures fell to six-week lows ahead of today's USDA Crop Production and Supply and Demand Reports. Malaysian palm oil futures fell 2.5%. Nymex crude oil futures rose over $1.50 while the U.S. dollar index was near unchanged.
USDA announced a daily sale of 132,000 metric tons (MT) of soybeans to China for the 2021-22 marketing year, which followed a similarly-sized sale yesterday. Since the beginning of August, USDA has reported over 3.7 million MT of U.S. soybean sales to China or "unknown" destinations.
USDA's September Crop Production Report will feature the first objective yield surveys for corn and soybeans. Analysts expect USDA to raise its estimate for the U.S. corn crop about 1.3% from its previous forecast, to 14.94 billion bu., based on a Reuters survey. USDA is expected to boost its forecast for the U.S. soybean crop by about 0.9%, to 4.377 billion bu., and hike its projected average national yield to 50.4 bu. an acre, from 50 bu. per acre previously. Analysts also expect USDA to trim its U.S. and global wheat carryover projections. Its final 2021 wheat crop estimate will come at the end of the month via the Small Grains Summary.
Archer-Daniels-Midland Co. says it plans to resume export loadings at its Louisiana Gulf Coast terminals in Ama and Reserve by the end of September. Repairs at its Destrehan terminal will take "a few weeks longer." The company also said it has resumed loading export shipments using its midstream equipment on the lower Mississippi River.
Argentine producers will likely bring in a 48.8 million metric ton (MMT) soybean crop in 2021-22, forecasts the Rosario Grain Exchange. That's down 200,000 MT trim from the exchange's previous forecast as it expects better returns for corn to shift some acres.
Russia again hiked its tax on wheat exports, boosting the tariff $6.00 to $52.50 per metric ton for Sept. 15-21. The tariff has soared nearly 73% over the past month.
China cut its corn consumption in feed forecast by 3 MMT to 187 MMT, as domestic hog prices remain low, slowing expansion. China's corn crop is expected to climb 11.1 MMT from year-ago.
CORN: Net weekly U.S. corn sales totaled 905,800 MT for 2021-22 and included Mexico (334,100 MT) and "unknown destinations" (234,900 MT) as the top buyers. The sales were in the middle of trade expectations between 600,000 MT to 1.2 MMT. A total of 2.98 MMT in sales were carried over from the 2020-21 marketing year, which ended Aug. 31.
SOYBEANS: Net weekly soybean sales for 2021-22 marketing year totaled 1.47 MMT and included China (764,000 MT) and unknown destinations (453,600 MT) as the top buyers. Trade expectations ranged from 1 MMT to 1.6 MMT. A total of 1.81 MMT in sales were carried over from the 2020-21 marketing year.
WHEAT: Net weekly sales totaled 388,400 MT, up 32% from the previous week and up 54% from the prior four-week average. Expectations ranged from 200,000 to 450,000 MT. Overnight, December SRW futures fell as low as $6.88 3/4, the lowest intraday price since $6.84 on July 28. December HRW futures fell as low as $6.81 1/2, the lowest intraday price since July 30.
LIVESTOCK CALLS
CATTLE: Steady-firmer.
HOGS: Steady-mixed.
CATTLE: Futures may find followthrough support from yesterday, when live cattle rose for the first time in five days. Boxed beef movement yesterday totaled 132 loads, continuing an upturn in movement this week. Choice cutout values fell $2.28 today to $332.58, extending a decline to three-week lows. Cash market reports reflected relatively active trading averaging around $124.28, down about $1.50 from last week. Some additional cash cattle trade took place in Iowa yesterday around $126, in Nebraska at $125 and in Kansas at $123. Net weekly beef sales of 12,400 MT reported for 2021 were down 20% from the previous week and down 2% from the prior four-week average.
HOGS: October lean hogs plunged $1.90 yesterday to the lowest closing price since $83.875 on Aug. 10 amid expectations for a seasonal rise in market-ready supplies and a slowdown in consumer demand. Average carcass cutout values fell $1.70 to $108.70 as hams dropped over $10. Movement was about 344 loads. Carcass base prices on national direct markets fell $3.29 to an average of $86.42. The latest CME Lean Hog index fell 78 cents to $97.96, the lowest since late March but still nearly $13 above October futures. Slaughter so far this holiday-shortened week totaled an estimated 1.427 million head, down from 1.907 million head for the same period last week, USDA reported. Net weekly pork sales of 33,800 MT were up 1% from the previous week, up 47% from the average for the previous four weeks and included Chinese purchases of 15,000 MT.