Ahead of the Open | August 13, 2021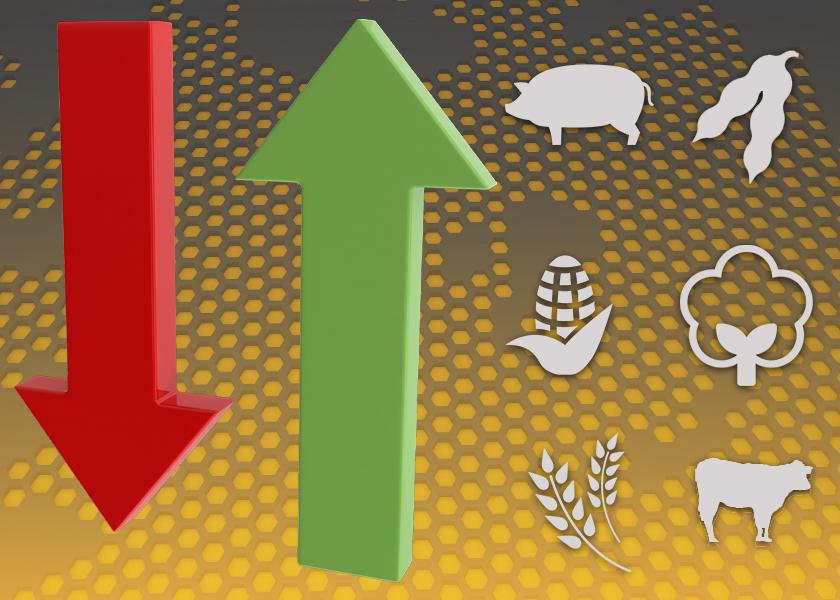 GRAIN CALLS
Corn: 6 to 9 cents higher.
Soybeans: 14 to 20 cents higher.
Wheat: 8 to 18 cents higher.
GENERAL COMMENTS:
Wheat futures rallied to contract highs overnight after yesterday's USDA reports significantly tightened the global supply outlook. Soybean futures rose over 1% and corn futures also rose following yesterday's USDA-driven gains. Malaysian palm oil futures gained about 1%, while Nymex crude oil futures fell about 0.3%. The U.S. dollar index is lower this morning.
USDA announced more daily soybean export sales this morning – the seventh straight day of soybean sales. The latest sales were 326,000 MT of soybeans to unknown destinations and 126,000 MT to China for 2021-22 and 200 MT to unknown for 2020-21. USDA also announced sales of 200 MT to "unknown" for 2020-21.
French farmers harvested 72% of their soft wheat crop as of Aug. 9, up from 66% the week prior as late-season rains continued to slow efforts and raise concern over quality, the French farm office reported. The harvest lags the five-year average by about five days, but drier weather during the last half of this week is expected to help accelerate efforts.
China sold nearly 123,600 MT of imported the GM corn at its latest auction of state reserves, which represented 47% of the grain put up for auction, an improvement from recent poor showings.
CORN: December future are on track to gain over 4% on the week after USDA reported a bigger-than-expected cut in its corn crop estimate, illustrating that persistent dryness in parts of the western Midwest has taken a bigger bit out of the crop than previously thought. U.S. farmers will harvest an estimated 14.75 billion bu. of corn this fall, USDA said yesterday in its first survey-based forecast of the crop. That's down from the previous, trendline-based projection, at 15.165 billion bushels. The estimated nationwide average yield, at 174.6 bu. per acre, is down 4.9 bu. from USDA's trendline.
SOYBEANS: November soybeans are poised to close at the highest levels since late July following USDA's smaller-than-expected crop estimate. USDA estimated U.S. soybean production 4.339 billion bu., below average trade expectations and down 1.5% from the July projection. USDA estimated the national average soybean yield at 50.0 bu. per acre, 0.8 bu. below trendline.
WHEAT: USDA's unexpectedly large cuts to global harvest and supply projections have unleashed explosive upside in wheat futures. September SRW futures overnight rose as high as $7.73 3/4, topping the previous contract high of $7.67 1/2 and reaching the highest price for a nearby contract since early 2013. September HRW and spring wheat future also hit contract highs, at $7.55 1/2 and $9.49 3/4, respectively. Lower production in France, Russia and the U.S. prompted USDA to cut it's forecast for global wheat ending stocks in 2021-22 by 4.3%, to 279.1 MMT, a five-year low. USDA also lowered estimated all U.S. wheat production 2.8% to 1.697 billion bu., a 19-year low.
CATTLE: Steady-firmer
HOGS: Steady-weaker
CATTLE: Firm cash fundamentals should trigger followthrough buying in live cattle futures, which are poised for a slight gain on the week, while corn market strength will weigh on feeders. Choice beef cutout values rose another $7.13 yesterday to $317.93, the highest since June 21. Live slaughter-ready steers in five top feedlot regions averaged $122.35, down from last week's average of $123.83 but still up over 20% from year-ago levels. Producers appear to be digging in on their asking prices as the wholesale market climbs, determined to be greater participants in the beef price rally. Meatpackers slaughtered an estimated 462,000 head of cattle this week through yesterday, down 3.8% from the same period last week and down 0.6% from the same period in 2020.
HOGS: August lean hog futures go off the board today. October futures posted a technical recovery in recent days but remain down on the week and will take over lead-month status at a major discount to the cash index. Carcass cutout values yesterday tumbled $4.59 to $119.37, the lowest since July 14, according to USDA. National direct carcasses rose 51 cents to an average of $100.12, up from $99.15 at the end of last week. Meatpackers slaughtered 1.878 million head of hogs this week through yesterday, up 3.4% from the same period last week and up 0.3% from the same period in 2020. Also yesterday, USDA, in its Supply and Demand report, cut estimated 2021 U.S. pork exports by 1.9% and cut projected 2022 exports 3.3%.