Pro Farmer Crop Tour: Is the U.S Going to Produce Enough Corn and Soybeans to Keep Pace with Demand?
U.S. Farm Report 08/21/21 - Pro Farmer Crop Tour Supply and Demand
As Pro Farmer Crop Tour wrapped up this week, scouts counted a consistent crop on the eastern half of the tour. The theme on the western portion of the tour this year was the opposite, with scouts searching fields with clear signs of stress, while portions of western Iowa actually produced promising potential. And it's that inconsistency on the western half of the tour that stood out to scouts this week.
"The summary is what we've talked about all year long," says AgriTalk host Chip Flory. "We've got two very different growing seasons going this year. We've got the dryness in the West, we've got the very timely and adequate - or more than adequate rains - in the East."
While the western portion of the tour didn't shine in the scouts' eyes, the crop isn't a failure in the western Corn Belt this year.
"The thing about the West is we kind of spoon fed the moisture to the crop in the West," adds Flory. "And it helped it build that yield. Now, can we hold on to the yield that we built in the western belt? A year ago, we couldn't. And there was more moisture available to it a year ago in some areas than what there is this year. So, we've got to have rain. We have to get it now if we're going to hold on to the yield that we did look at."
As Pro Farmer Crop Tour kicked off  the week in the East on Monday, the tour was off to a racing start, with scouts seeing an Ohio crop that was one of the best crops the tour has ever calculated in the state.
"The consistency stood out to me," says Brian Grete, director of Pro Farmer Crop Tour. "I think we saw in Ohio and Indiana, the corn crop was better than the soybean crop in both Ohio and Indiana. And in my estimation, it was flipped in Illinois. The soybean crop was better in Illinois than the corn crop. "
The first few days of the tour this week is when scouts were searching fields east of the Mississippi River, which crop tour scouts said proved the east is a beast as far as crop production goes this year. And it's the Mississippi River that seems to be a line for crop conditions this year.
"Then in eastern Iowa, both crops were about the same," adds Grete. "They were very inconsistent. So, consistency east of the Mississippi River is what we saw, and then inconsistency west of the Mississippi River."
The Crop Tour final numbers reflected what Grete and Flory saw, with big numbers and potential in the East.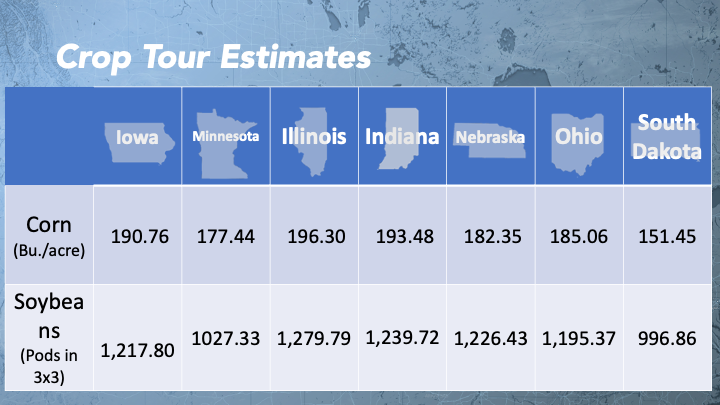 After the Pro Farmer Crop Tour wrapped up Thursday night, Pro Farmer released its crop estimates Friday. While the projections are separate from the Crop Tour final results, the Pro Farmer final numbers on Friday took into account data gathered during Crop Tour and other factors like crop maturity, acreage adjustments, historical differences in Tour data versus USDA's final yields, areas outside those sampled on Tour, etc.
Pro Farmer broke down the production forecasts by state, and the national corn and soybean crop estimates revealed Friday include:
Corn: 15.116 billion bu.; Average yield of 177 bu. per acre

Corn +/- 1% = 15.267 billion bu. to 14.965 billion bu.; 178.8 bu. to 175.2 per acre

Soybeans: 4.436 billion bu.; Average yield of 51.2 bu. per acre

Soybeans +/- 2% = 4.525 billion bu. to 4.347 billion bu.; 52.2 bu. to 50.2 bu. per acre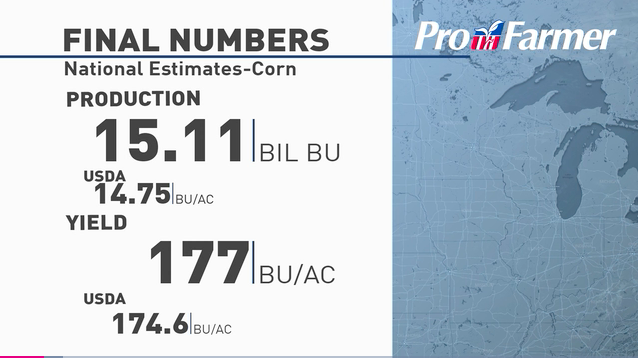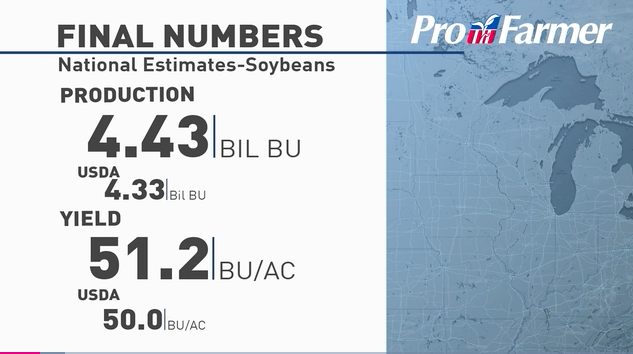 Supply Vs. Demand
Flory categorized Iowa as a "swing state" in the overall crop production picture this year, and scouts saw two different crops across Iowa this week.
"The Iowa crop is a good crop," says Flory. "I think some of the bushels that we've lost out of Iowa, we may have picked up in Ohio and maybe in Indiana. I'm not exactly sure yet, as it's a real jumbled, mixed up bag on this crop this year. The bottom line is, are we going to produce enough of corn and enough soybeans keep up with demand in the year ahead?"
The supply versus demand question is a debate that is just starting to heat back up. Crop production problems in places could create an even tighter balance sheet. With current demand and tighter stocks to start the marketing year, Grete says the current crop balance sheet doesn't provide much wiggle room for crop issues this year.
"When you look at the balance sheet, there's very little supply side cushion," says Grete. "So, if we take more off the supply, and it does come down from where USDA estimated as of August 1, that's even less that there's available to buy without tightening up the balance sheet."
Grete says in situations like this, it's almost a tug of war. If supply continues to pull back, he says something has to give when it comes to soybeans and corn.
"You just don't have margin for error," says Grete. "And we don't have margin for error into the end of the growing season. We don't have margin for error on the demand side of things. And that means that price is going to be the driver."
China has come back to the market for U.S. soybeans the past two weeks. Daily sales, which haven't been monster buys, but enough to inch toward the bar China set last marketing year.
"The demand that we're seeing from China right now is consistent, and it's nice to see, but this is the time of the year that China needs to be booking that new crop supply," adds Flory. "And typically, we would be seeing maybe two or three, 1 million metric ton sales, not 100,000 metric ton sales that happened in a week. So, it's nice to see the consistency, but we need to see some bigger sales and some more aggressive purchases from China, and I think it's coming."
Whether or not China comes in with larger purchases of U.S. corn or soybeans for the new crop marketing year, is an answer that hinges on one major factor: price.
"If prices go down, China's going to probably show up and buy, along with others," says Grete. "If everything becomes cheaper and they know that supplies are tight, they're going to book, and that's what we're seeing right now. If prices go up, you're probably going to slow down your demand pace. And that's how the markets work."
Watch Brian Grete and Farm Journal editor Clinton Griffiths break down Pro Farmer's final crop estimates.