After the Bell | September 14, 2021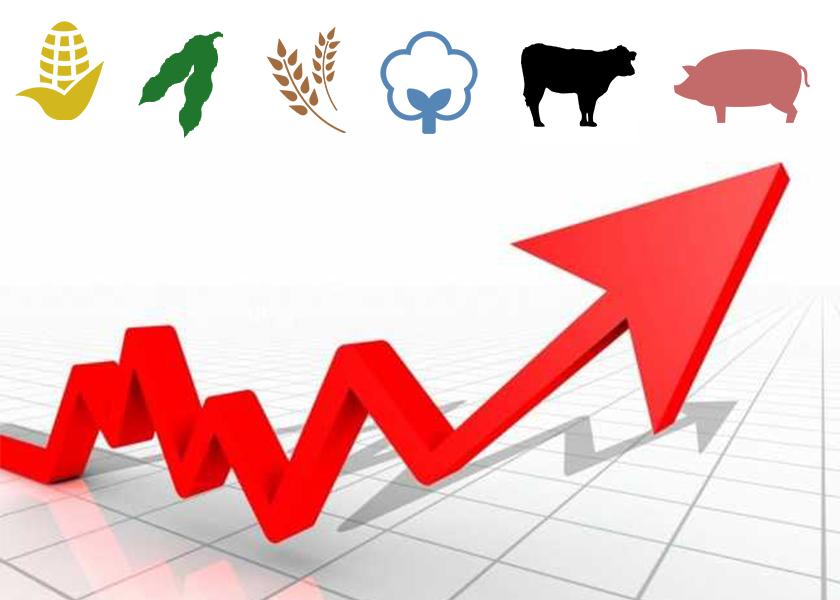 Corn: December corn futures rose 7 cents to $5.20 1/4 a bushel, the contract's highest closing price since $5.24 on Sept. 3. Corn futures rose after an unexpected decline in weekly USDA crop ratings suggested higher-than-normal temperatures recently in the Midwest may be crimping yield potential. USDA yesterday reported 58% of the U.S. corn crop in "good" or "excellent" condition at the start of this week, down from 59% the previous week. The good-to-excellent reading was expected to hold unchanged. The Midwest is expected to experience "much-warmer-than-usual temperatures" through this week, with highs ranging from the middle 70s Fahrenheit through the 80s, with some lower 90s in southern areas, according to World Weather Inc. Warm, dry conditions in early September have accelerated crop maturity, though the heat may hinder final stages of development for corn and soybeans, crop consultant Michael Cordonnier said.
Soybeans: November futures fell 2 1/4 cents to $12.82 1/2 a bushel. December soymeal fell $3.40 to $341.80 per ton, while December soyoil rose 88 points to 56.87 cents a pound. Soybean futures gained an early boost from yesterday's USDA Crop Progress report, which showed soybeans' good-to-excellent rating unchanged at 57%. USDA also said 38% of the crop was dropping leaves, above the five-year average of 29%, which may have spurred buying on speculation the crop might not "finish" as well as previously thought. Traders await tomorrow's NOPA crush report, which is expected to show a drop in crushing activity during August. U.S. processors crushed 153.44 million bushels of soybeans last month, based on the average analyst estimate. That figure would be down from month- and year-ago levels of 155.11 million and 165.06 million, respectively.
Wheat: December SRW wheat rose 13 3/4 cents to $7.00 3/4 a bushel. December HRW wheat rose 15 1/2 cents to $7.01 3/4. Spring wheat futures also climbed, with December up 11 1/4 cents to $8.87 1/4. Short covering helped push wheat futures higher following recent losses. Gains in corn futures were also supportive for wheat. Traders are watching hot, dry weather in the U.S. Plains, where planting of the winter wheat crop is underway. USDA yesterday reported 12% of the U.S. winter wheat crop was planted as of Sept. 12, up from 5% a week earlier and higher than the five-year average of 8%. Also today, Statistics Canada reported Canada's wheat production is projected to decrease 38% year-over-year to 21.7 MMT in 2021, on lower anticipated yields (down 32.6% to 35.2 bu. per acre) and less harvested area (down 8.5% to 22.7 million acres).
Cotton: December cotton closed up 85 points at 93.66 cents. Sellers remain scarce in the cotton futures market, with big fund traders still net-long the market in a lopsided fashion. The weaker U.S. dollar index today also worked in favor of the cotton market bulls. Traders are keeping an eye on Tropical Storm Nicholas, which is bringing heavy rains and flooding from Texas and the southern Delta into Alabama and northern Georgia. USDA's weekly crop progress report yesterday showed the U.S. cotton crop in 64% good-to-excellent condition, up from 61% last week, and 5% harvested. Fitch Solutions said it expects cotton production in India to fall by 1% year-on-year to 28.3 million 480-lb. bales in 2021-22, Reuters reported.
Cattle: October live cattle futures rose $1.85 to $124.125 per hundredweight, up from yesterday's plunge to four-month lows and the highest settlement since Sept. 3. October feeder cattle rose $2.70 to $158.15. Cattle futures posted a technical rebound amid beliefs the market was oversold in the wake of a recent selloff. While cash fundamentals remain soft, a relatively small decline in wholesale beef prices earlier today may have stirred beliefs the market may be stabilizing after an extended slide. Choice cutout values early today fell 74 cents to an average of $325.19, USDA reported. If the today's final cutout price remains lower, it would mark the 12th consecutive daily decline and the lowest price since Aug. 13. A JBS beef plant in Grand Island, Nebraska, that was partially idled by a fire over the weekend resumed processing today. Meatpackers slaughtered an estimated 234,000 head of cattle so far this week, down 2.5% from the same period a year earlier, USDA reported.
Hogs: October lean hog futures settled 40 cents lower at $80.375 per hundredweight, the contract's lowest close since March 5. Pessimism over red meat demand this fall amid the COVID-19 resurgence appeared to weigh on hog futures, even as pork cutout values surged $4.08 to $105.20. Traders likely anticipate an afternoon reversal of that increase, especially with beef cutout values continuing to decline. The next CME lean hog index is expected to fall to $96.75, the lowest since late March. Market bulls continue to wait for the hog market's usual seasonal strength to emerge. However, the October futures contract's persistent discount to the index suggests a preponderance of bearish sentiment over the near-term.