After the Bell | September 10, 2021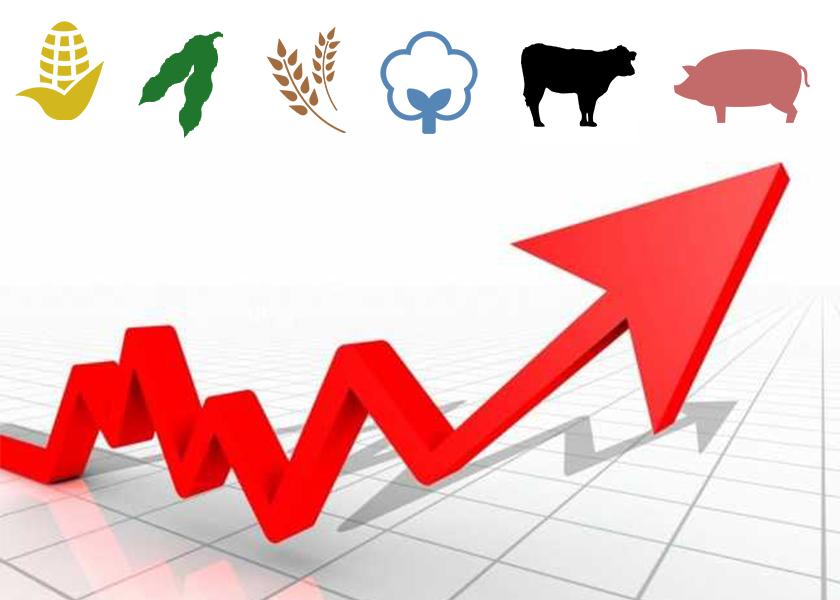 Corn: December corn gained 7 1/2 cents after falling to the lowest level since mid-April earlier in the day. For the week, December corn dropped 6 1/2 cents to $5.17 1/2. The corn market had a bullish reaction to bearish report data, signaling a larger crop was already factored into prices. USDA raised its U.S. harvest estimate to 14.996 billion bu., up 246 million bu. from its August forecast and about 54 million bu. above trade expectations. If futures generate followthrough buying next week, it would be a sign the market has bottomed for now. But a push below today's lows may trigger another wave of fund liquidation. We've been saying for months the $5.00 level in December corn was too cheap given the supply/demand outlook. Next week's trade will go a long way in determining if that's still the case. There's risk of seasonal pressure over the next month as corn harvest increases.
Soybeans: November soybeans rose 16 cents to $12.86 1/2 per bushel, a 5 1/2-cent weekly decline. October soyoil futures slid 28 points to 55.78 cents per pound, down 322 points over the past week. October soymeal rallied $4.40 to $339.50 per ton, up $1.40 from last Friday. Although USDA raised its 2021 soybean harvest estimate and trimmed usage forecasts, the 2021-22 production and carry-out forecasts were comparable to pre-report estimates by industry analysts. That triggered a relief rally from those concerned about even larger numbers. The strong ending to this week's trading seems likely to give the market some bullish momentum to start next week. Having daily export sales announced a couple of times this week will likely encourage bulls as well. The NOPA crush report and the release of the weekly USDA Export Sales reports will be watched closely.
Wheat: December SRW wheat futures fell 3 3/4 cents to $6.88 1/2 a bushel and hit a seven-week low. December HRW futures fell 1/4 cent to $6.92 1/2 and hit a six-week low. December spring wheat fell 6 1/4 cents to $$8.78 3/4. Look for the wheat futures markets to be a follower of corn and soybean futures for the next several weeks. If corn and beans put in early harvest lows, the downside will be limited in wheat futures. There were no major surprises for wheat in today's USDA Supply and Demand report for September. USDA projected U.S. wheat carryover at 615 million bu. for 2021-22, down from 627 million bu. in the August report. USDA puts the national average on-farm cash wheat price for 2021-22 at $6.60 a bu., down 10 cents from the August report. A rise in estimated global wheat carryover was a bit of a surprise, at 292.56 MMT for 2020-21, up from 288.83 MMT in the August report.
Cotton: December cotton futures rose 28 points to 93.50 cents, down 52 points on the week. USDA increased its U.S. cotton production forecast by 1.245 million bales from August, by about 819,000 bales more than traders expected. The agency raised the national average cotton yield by 95 lbs. per acre, but cut harvested acreage by 434,000 acres, to 9.922 million. USDA reduced old-crop U.S. cotton carryover 50,000 bales compared to an August estimate, to 3.15 million bales. The projected national average on-farm cash cotton price for 2020-21 is 66.5 cents per pound, unchanged from last month. On new-crop, USDA increased total U.S. cotton stocks by 1.19 million bales, a bigger crop estimate and more than offset the slight cut to beginning stocks. USDA now projects the national average on-farm cash cotton price for 2021-22 at 84 cents, up 4 cents from the August report.
Cattle: October live cattle futures fell 32.5 cents to $123.425 per hundredweight, down 1.1% for the week. The lead contract earlier fell as low as $123.025, matching a two-month low posted Sept. 8. October feeder cattle futures fell $1.525 to $157.725, down 2.9% for the week and the lowest settlement since June 11. Cattle futures showed signs of stabilizing late this week following a steep, two-week tumble, but may remain under pressure from an extended slide in the wholesale beef market. Choice cutout values early today fell $3.13 to an average of $329.45 per hundredweight, down 2.1% from the end of last week and the lowest since Aug. 13, USDA data showed. Cash trade appeared to soften late this week, compared to last week's live steer average of $125.61. Cattle futures' technical posture turned decidedly more bearish this week, though signs the market is oversold may limit downside. October live cattle settled just above the 200-day moving average around $123.20.
Hogs: October lean hog futures plunged $3.025 to $82.45 per hundredweight, a drop of 8% for the week and the lowest closing price since mid-April. Historical patterns suggest cash hog and wholesale pork values will turn seasonally higher next week. The recent breakdown in both markets certainly slowed late this week. For example, the preliminary quote for yesterday's CME lean hog slipped just 23 points to $97.73, which means October futures ended the week over $15 below the cash equivalent price with just over a month of trading left until expiration. Pork carcass cutout values were up 64 cents, to $109.34, at midday today after swinging widely earlier in the week. A reversal may be in store next week, especially if the hog index turns higher.